This Chocolate Chip blondies recipe makes bar cookies with chocolate chips that are chewy, moist, & utterly outrageous – Cookie Bar Perfection!
Have you ever found yourself in a cookie conundrum, craving the comforting sweetness of homemade chocolate chip cookies but feeling you don't have the time or the heart for the chilling, scooping, and baking routine? I've been there, too, and that's why I'm thrilled to share this game-changing Chocolate Chip Cookie Bars recipe with you! Imagine your favorite cookies' delectable goodness packed into rich, gooey, and wonderfully easy-to-make blondies.
Yes, you read that right – with this chocolate chip blondies recipe, you're just 40 minutes away from indulging in the ultimate treat. It's a breeze to prepare, taking just a short time to mix and a brief 20 minutes in the oven. The outcome? Gooey, chewy chocolate chip blondies that are simply irresistible.
Why This Recipe Works
Combining brown and white sugar keeps the blondies flavorful without being too sweet.
Using all butter instead of shortening gives these blondies a buttery richness that's just delicious.
Vanilla extract adds an extra depth of flavor.
What is a Blondie?
A blondie is a delightful variety of bar desserts that resemble brownies in their dense, moist, and chewy texture but stand out with their unique flavor profile and color.
The key to a blondie's distinct taste lies in its base of vanilla and brown sugar, which creates a rich, sweet flavor with hints of caramel and gives it a golden or blond hue – hence the name "blondie." In terms of ingredients, blondies commonly include flour, baking powder, butter, eggs, and brown sugar, and they often feature delicious add-ins like chocolate chips, nuts, white chocolate, or butterscotch chips for added texture and taste.
Tested and perfected Cookie Bars
This recipe is one of my go-to recipes when I need to fill a gift basket during the holidays. These blondies (and their chocolate chip cookies counterpart) are the most requested treat by family and friends each year.
I have made this recipe more times than any other baked recipe on this site. It's as perfect as perfect can get, and they are loved (and craved) by anyone I have ever made them for.
Ingredient Notes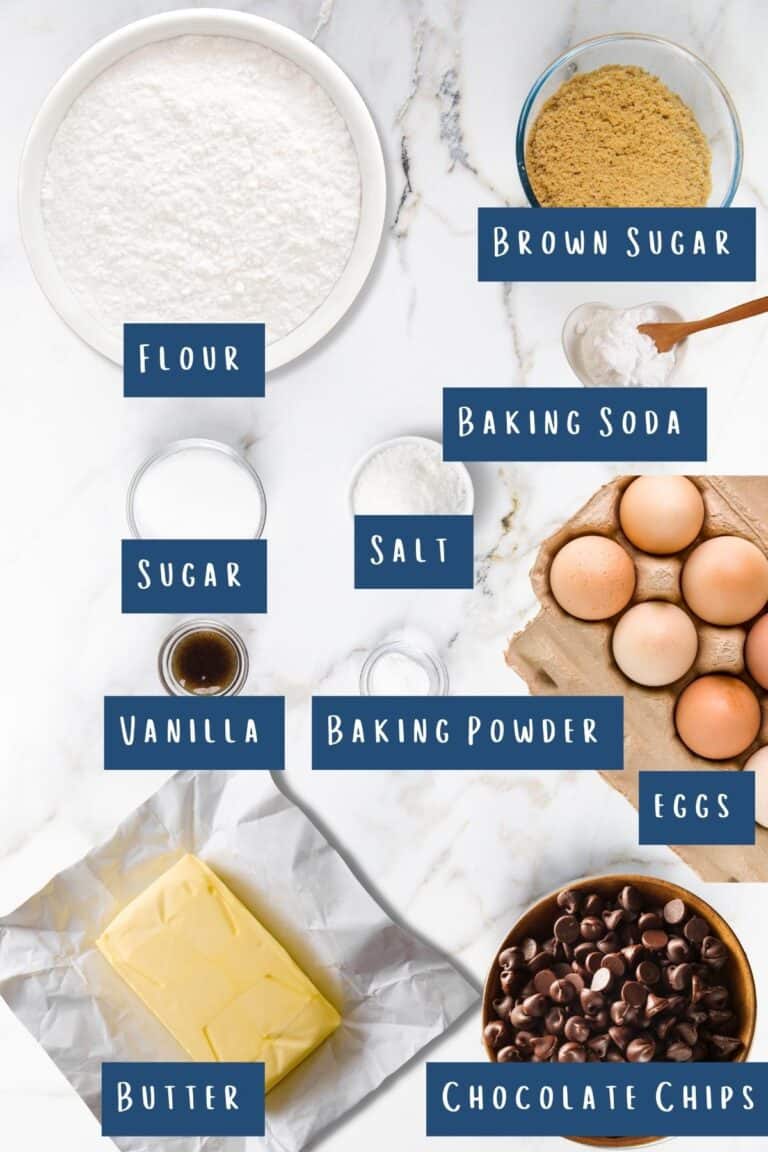 Salt: Kosher or fine sea salt is recommended. If unavailable, regular table salt can be substituted in the same quantity.
Baking Powder & Baking Soda: Ensure these are fresh to guarantee proper leavening. If baking soda is unavailable, use the baking powder three times.
Butter: Opt for unsalted butter to control the overall salt content. If using salted butter, reduce the added salt by half. For a dairy-free option, consider a plant-based butter substitute.
Light-Brown Sugar: This adds moisture and a caramel flavor to the blondies. Dark brown sugar is a suitable alternative for a richer molasses flavor.
Granulated Sugar: Standard granulated sugar works well, but caster or superfine sugar can also be used.
Eggs: Large, room-temperature eggs are ideal for the best texture. As a vegan option, flax eggs (1 tablespoon flaxseed meal with 2.5 tablespoons water per egg, left to thicken for 5 minutes) can be used.
Vanilla Extract: Pure vanilla extract is recommended for its superior flavor. In a pinch, artificial vanilla flavor can be used but may alter the taste slightly.
Semisweet Chocolate Chips: These are classic, but for a different flavor profile, try milk chocolate, dark chocolate, or white chocolate chips. For a dairy-free version, vegan chocolate chips are available.
JUMP TO RECIPE
Detailed Instructions
Preheat and Prep
Start by setting your oven to a warm 350°F (about 175°C). This is the sweet spot for baking these treats. While the oven heats up, take a 9 x 13-inch (23 x 33 cm) baking pan and spray with baking spray. You can also line the pan with some baking paper. This will ensure your blondies will slide out easily once they're baked to perfection.
Mix the Dry Ingredients
In a large mixing bowl, whisk together 2½ cups (312.5 grams) of all-purpose flour, 1 teaspoon (5 grams) of salt, 1 teaspoon (5 grams) of baking powder, and 1 teaspoon (5 grams) of baking soda. This combination will form the supportive structure for your blondies, creating that perfect chewy texture we all crave.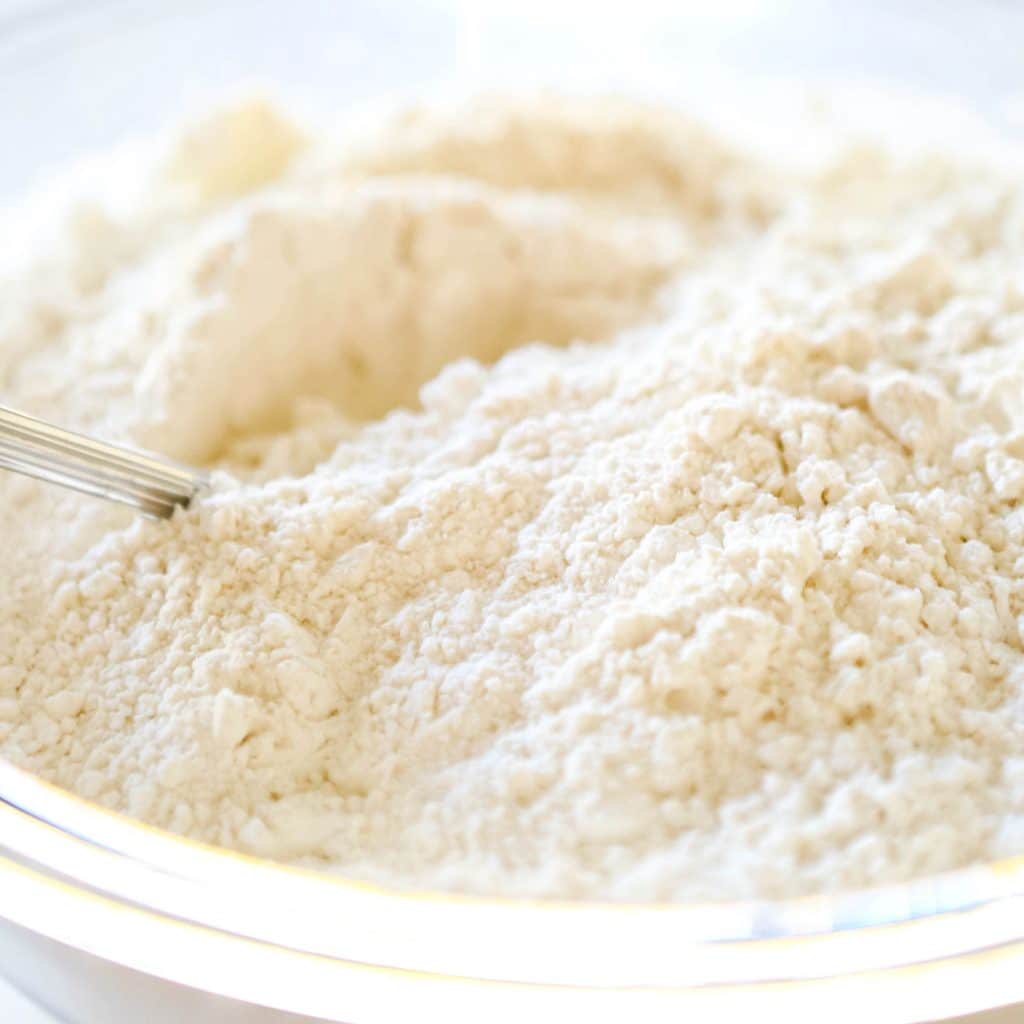 Cream the Butter and Sugars
In a separate, equally large bowl, start your magic by beating together 8 ounces (1 cup or 227 grams) of unsalted butter, which you've let soften to room temperature. Add 1½ cups (330 grams) of packed light-brown sugar and ¼ cup (50 grams) of granulated sugar. Beat these until they're fluffy and light, creating a sweet and airy foundation.
Making The Dough
Crack 2 large eggs, ideally at room temperature, into your butter and sugar mixture. Add them one at a time, blending well after each addition. Then stir in 1½ teaspoons (7.5 ml) of pure vanilla extract. These ingredients will bind the mixture, adding moisture and a rich depth of flavor.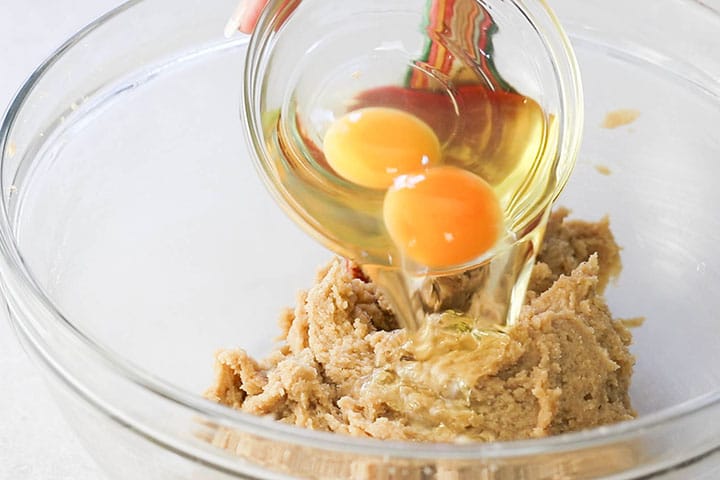 Add the dry ingredients to the bowl.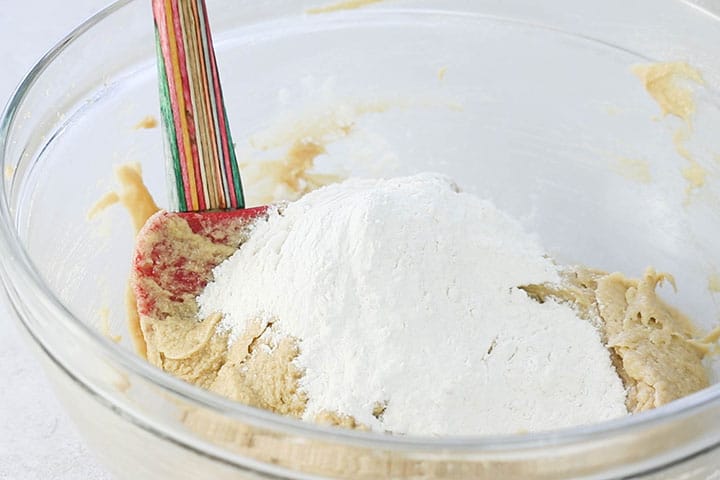 Now, gently fold your dry ingredients into the butter mixture. Do this by hand to avoid overmixing, which can lead to a cakey texture. We're aiming for dense and chewy here, the hallmark of a great blondie.
Add 2 cups (about 340 grams) of semisweet chocolate chips.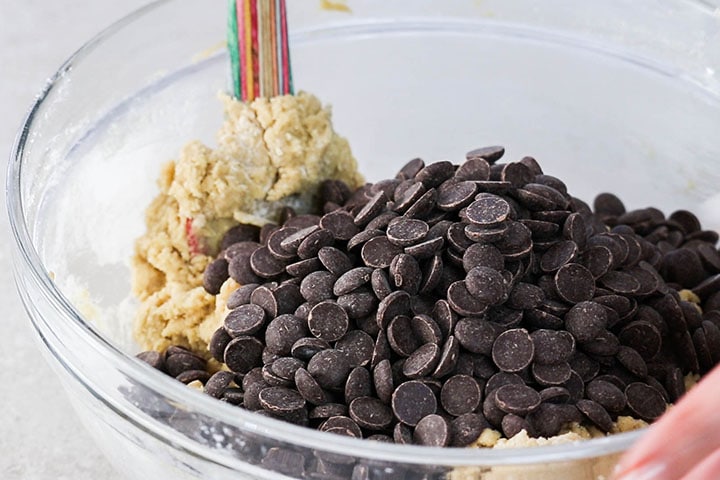 Gently fold in the chocolate chips. This step is where the blondies get their irresistible chocolatey pockets that melt in your mouth.
Baking The Blondies
Spread the dough into your prepared pan, smoothing the top for an even bake.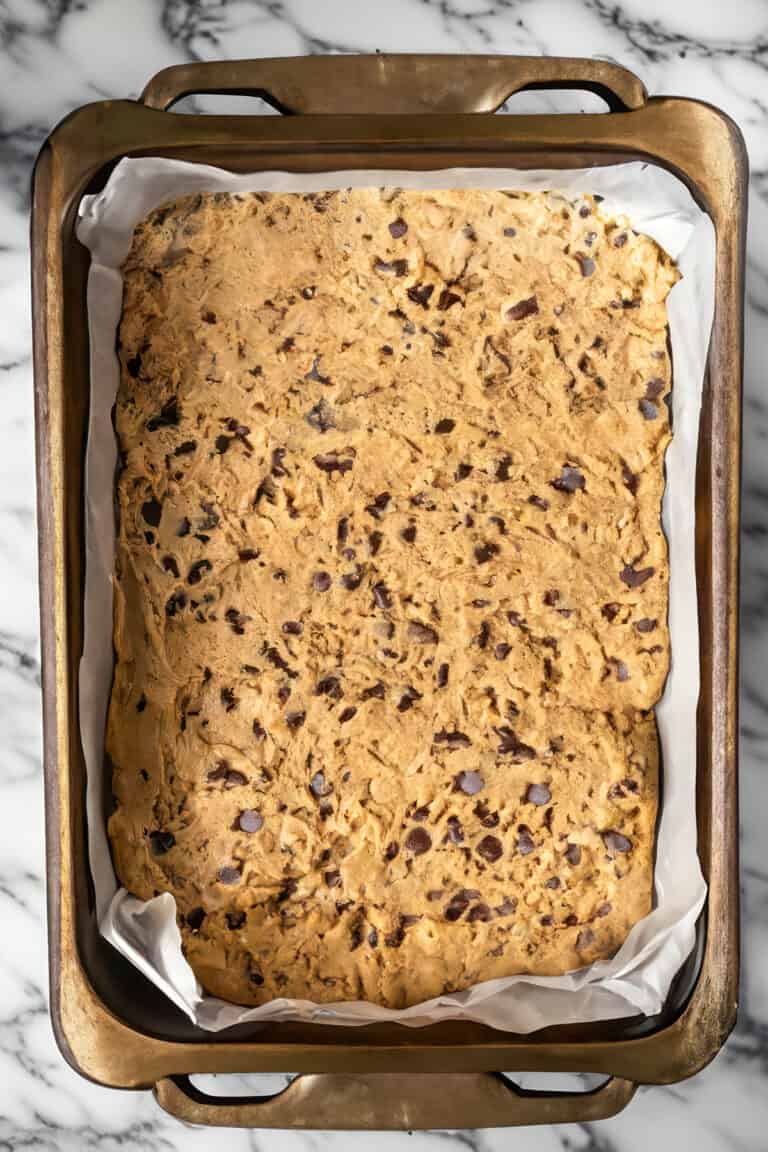 Slide the pan into your preheated oven and bake for about 25 to 30 minutes. You're looking for a golden top and a set center.
How To Tell When Bar Cookies Are Done
Just give the pan a little shake. If it jiggles in the middle, put the pan back in and try again every 5 minutes until there is no longer a jiggle.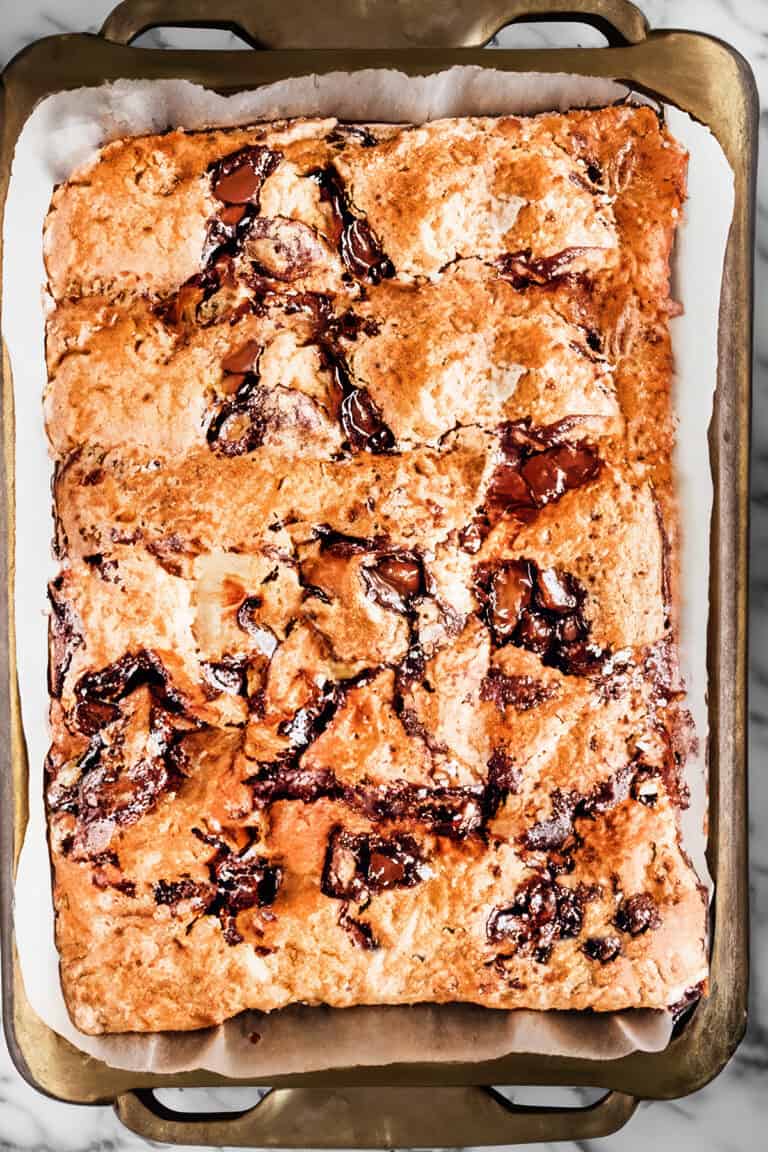 Serving
Once baked, remove your pan from the oven and cool for 15 to 20 minutes. This patience is key; it allows the blondies to set and develop their flavors (don't worry, they will still be warm).
Then, cut the Chocolate Chip Blondies into squares and serve. Each bite is a delightful blend of gooey, chewy, and chocolatey – a true treat for the senses.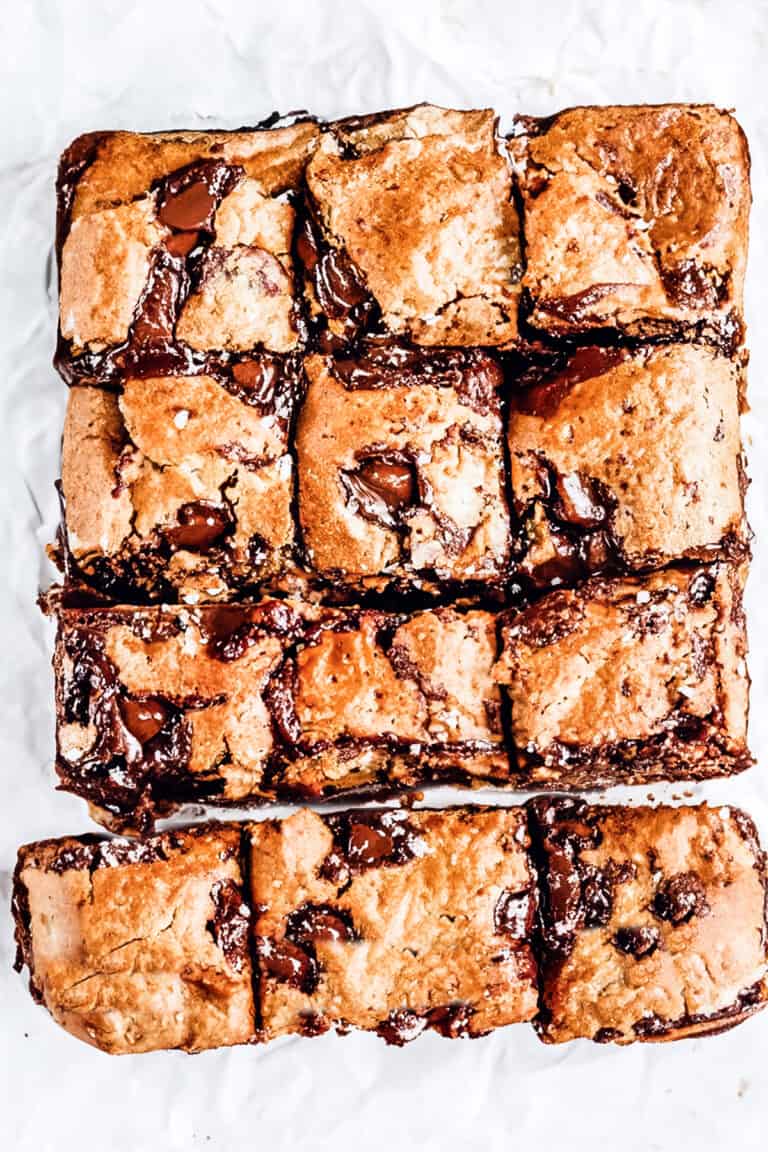 Erren's Top Tips
If you're short on time, mix the butter with the sugars before adding the flour. The result will be a soft, chewy texture.
Mix the flour in by hand. Overmixing can cause the blondies to come out cakey instead of gooey and dense as they should be.
The key to making blondies chewy and fudgy is not to overcook them. I bake them for 25 minutes, and to check if they're perfectly baked, I gently shake the pan. If they jiggle, put them back in the oven for five minutes at a time until just set (they can still have a very slight jiggle). Keeping them from being overbaked keeps the blondies perfectly moist.
How do you store blondies?
Blondies can be stored in an airtight container for three days (although I've never had them last that long).
Can Blondies Be Frozen?
I'm often asked if Blondies can be frozen. I'm sure they could be, but my advice is to freeze the dough, defrost it, and then bake them. My opinion is that freshly baked is always best.
Do blondies need to be refrigerated?
No, blondies should be stored at room temperature. Refrigerating them will dry out the blondies.
Stay Updated
Receive new recipes & dinner ideas straight to your inbox!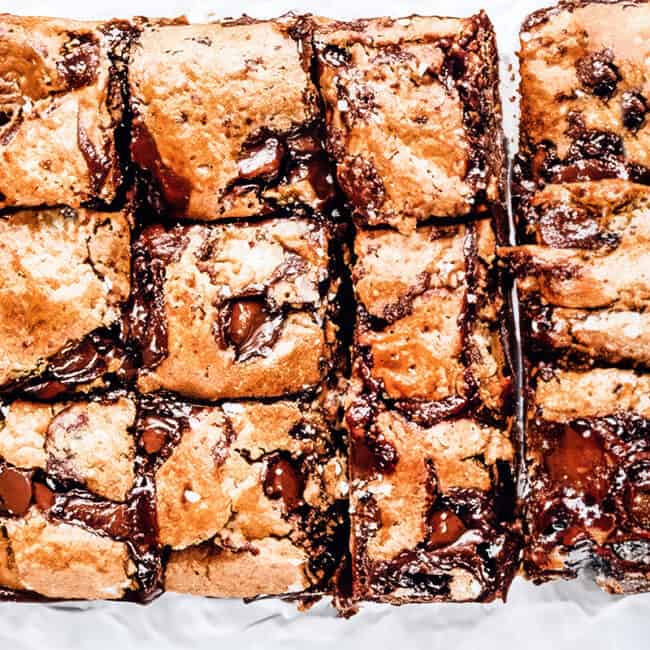 Let's Make Chocolate Chip Blondies
Decadent Blondies, also known as chocolate chip cookie bars, offer the same dense and fudgy texture as brownies.
Prep10 minutes
Cook30 minutes
Total40 minutes
Ingredients
2½ cups all-purpose flour
1 teaspoon salt
1 teaspoon baking powder
1 teaspoon baking soda
8 oz butter 1 cup/2 sticks, softened
1½ cups light-brown sugar packed
¼ cup granulated sugar
2 large eggs at room temperature
1½ teaspoons vanilla extract
2 cups semisweet chocolate chips
Instructions
Preheat the oven to 350°F (180°C).

Grease and flour a 9 x 13-inch baking pan.

In a large mixing bowl, combine the flour, salt, baking soda, and baking powder.

In a separate large mixing bowl, beat the butter, brown sugar, and granulated sugar until fluffy.

Mix in the eggs one at a time, then stir in the vanilla extract.

Gradually mix in the flour mixture by hand until just combined (to avoid a cake-like consistency).

Fold in the chocolate chips.

Spread the batter evenly into the prepared pan and smooth the top.

Bake for 25-35 minutes, or until the center is set. If the center is still jiggly after 25 minutes, continue baking, checking every 5 minutes.

Cool in the pan for 15 to 20 minutes before slicing and serving.
Tips + Notes
If you're short on time, melt the butter and mix it into the sugars before adding the flour. The result will be a soft, chewy texture.
Mix the flour in by hand. Over-mixing can cause the blondies to come out cakey instead of gooey and dense as they should be.
The key to making blondies chewy and fudgy is not to overcook them. I bake them for 25 minutes, and to check if they're perfectly baked, I gently shake the pan. If they jiggle, put them back in the oven for five minutes until just set (they can still have a very slight jiggle). Keeping them from being overbaked keeps the blondies perfectly moist.
Nutrition Information:
Calories: 258 (13%)| Carbohydrates: 31g (10%)| Protein: 2g (4%)| Fat: 13g (20%)| Saturated Fat: 8g (50%)| Cholesterol: 34mg (11%)| Sodium: 220mg (10%)| Potassium: 138mg (4%)| Fiber: 1g (4%)| Sugar: 21g (23%)| Vitamin A: 265IU (5%)| Calcium: 34mg (3%)| Iron: 1.6mg (9%)
Erren's Kitchen is written and produced for informational intentions only. We are not certified nutritionists, and the nutritional information found on this site has not been assessed or authorized by a nutritionist or the FDA. The nutritional information found in our recipes is offered as an estimate and should not be considered a guarantee or fact. The estimated data is provided as a courtesy and calculated through a third-party online nutritional calculator, spoonacular API. Although we do our best to provide accurate nutritional information, these figures should be considered rough estimates. Many factors, such as brands or products purchased and the nutritional fluctuations that naturally occur in fresh produce, can alter the effectiveness of the nutritional information in any recipe. Furthermore, various online calculators provide different results depending on their particular algorithms and nutrition fact sources. To obtain the most precise nutritional information in a provided recipe, you should calculate the nutritional information with the exact ingredients you are using when preparing the recipe using your preferred nutrition calculator.
Update Notes: This recipe was originally published in 2014, but was re-posted to include new photos, recipe updates, and tips in 2020.