This recipe for 10 Minute Greek Couscous Salad with Feta uses Sun-dried Tomatoes, olives, fresh mint and parsley that's brought together with a Sun-dried Tomato Dressing.
Couscous Salad That's Perfect for Picnics or Summer Party
This colorful salad makes a fabulous lunch or side dish for picnics or barbecues and it's thrown together in just minutes!
My husband and I are picnic snobs. Don't get me wrong, we love a picnic, but we hate bad picnic food. We have one of those luxury picnic baskets with all the utensils, silverware, glasses and other essential items (ie a corkscrew/bottle opener) included.
In the summertime, we use it a lot. When you're filling a picnic basket like that, who wants to fill it with boring sandwiches and packaged foods? We fill ours with beautiful antipasti items, fresh bread, and gorgeous salads.
We used to go to a gourmet supermarket to get our goodies, but it added so much time to our day, we perfected making delicious home-cooked foods to pack our picnics with. This salad is one of those items we make a lot.
What is Couscous?
Couscous may look like a grain, in reality, couscous is actually tiny pasta. This includes Israel couscous which is just a larger variety of couscous.
The Key to Perfect Couscous
This may seem obvious but be sure to read the package instructions. Different brands of couscous may have variations on the proportions of liquid to couscous.
If the instructions in this recipe don't match the instructions on the package – go by the package and adjust the recipe accordingly.
How to make 10 Minute Greek Couscous Salad with Feta:
Start with cooking about 1 cup of couscous according to the package instructions.
Meanwhile, to make the dressing, in a small bowl, mix together the sundried tomato paste, lemon juice, and olive oil.
Prepare the rest of the ingredients and when the couscous is ready, fluff it using two forks.
Top with the prepared dressing.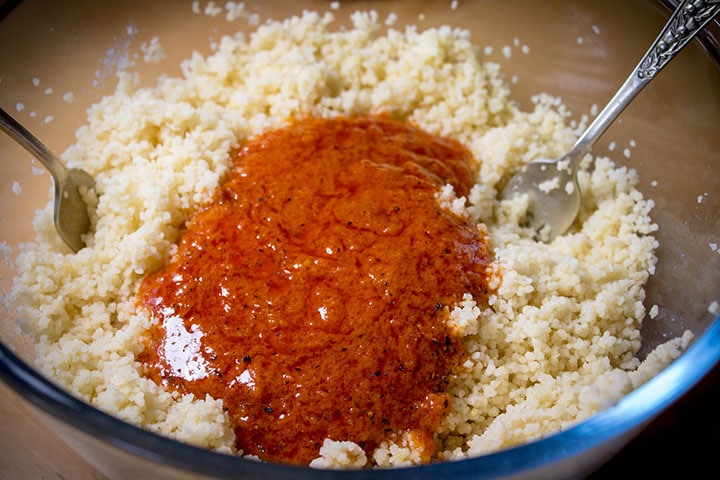 Coat well with the dressing.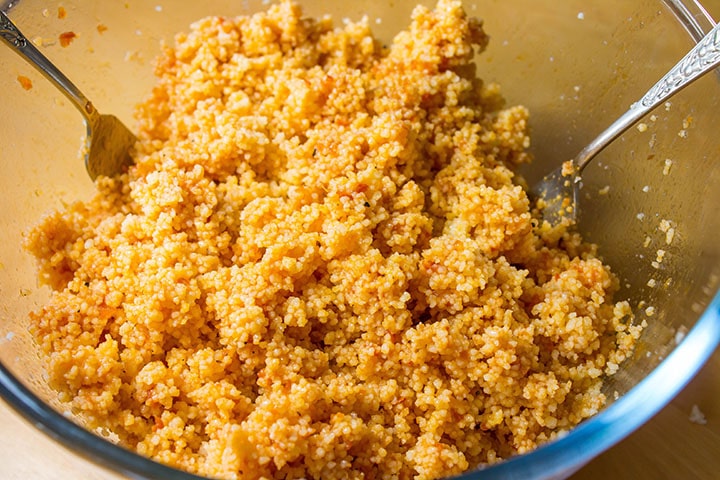 Add the sundried tomatoes, olives, herbs, and feta cheese.
Toss to mix well and taste to see if more seasoning is needed.
Serve warm or chilled – Either way is delicious.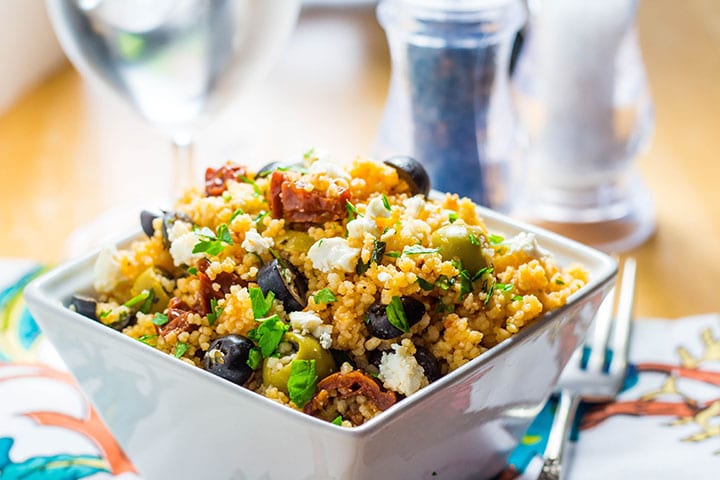 Cook's Tips:
This recipe calls for instant couscous. Instant couscous is cooked by covering it with water and leaving it to sit for 5 minutes.
Read the package instructions for your couscous. If the directions and measurements, do not match my instructions, just adjust the liquid measurement according to the amount of couscous in the recipe, add the spices and follow then follow the package instructions. Once cooked, add the vegetables and mix to combine.
This salad uses couscous, but barley, quinoa, or any other hearty grain can easily be substituted.
Variation: Easily make an Italian style version by using fresh mozzarella, Italian meats, and olives.
The base of the salad is made with sun-dried tomato paste and it's such a simple base, it makes it really versatile and easy to build on so experiment with any of your favorite Mediterranean ingredients.
This recipe stores very well chilled in the refrigerator for a couple of days which makes it the perfect make-ahead dish.
FAQs
How do you safely store leftover couscous?
To avoid the growth of bacteria, once cooked allow the couscous to cool for at least an hour before refrigerating, but don't let it stay at room temperature longer than two hours.
Store in the fridge in an airtight container. Once refrigerated, leftovers should be eaten within three days.
★ Did you make this recipe? Please give it a star rating below!
Stay Updated
Receive new recipes & dinner ideas straight to your inbox!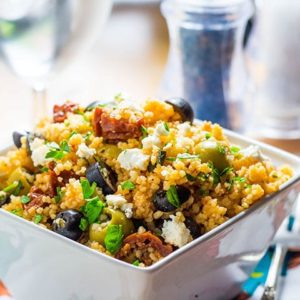 Let's Make 10 Minute Greek Couscous Salad with Feta
This full-flavored recipe is the perfect lunch or side dish, it tastes as good warm as it does cold.
Prep5 minutes
Cook5 minutes
Total10 minutes
Ingredients
1 cup couscous
4 teaspoons sun-dried tomato paste
1 tablespoon dried oregano
1 lemon Juiced (discard the peel)
extra virgin olive oil
salt and pepper to taste
2 mint leaves
2 tablespoons fresh parsley chopped
2 tablespoons fresh cilantro
¾ cup Greek olives sliced
½ lb feta cheese cubed or crumbled
¾ cup Sun-dried tomatoes sliced or chopped
Instructions
Prepare the 1 cup of couscous according to the package instructions.

Meanwhile, prepare the dressing by mixing the sun-dried tomato paste, oregano, lemon juice, olive oil, and salt and pepper to taste.

Fluff the couscous by running two forks through it. Top with the dressing and mix well to coat.

Add the mint, parsley, cilantro, sun-dried tomatoes, olives and feta mix to combine. Taste to see if more seasoning is needed and serve warm or chilled.
Nutrition Information:
Calories: 326kcal (16%)| Carbohydrates: 51g (17%)| Protein: 17g (34%)| Fat: 10g (15%)| Saturated Fat: 9g (56%)| Cholesterol: 50mg (17%)| Sodium: 778mg (34%)| Potassium: 888mg (25%)| Fiber: 6g (25%)| Sugar: 10g (11%)| Vitamin A: 910IU (18%)| Vitamin C: 25.1mg (30%)| Calcium: 355mg (36%)| Iron: 3.9mg (22%)
Update Notes: This post was originally published in 2014, but was republished with an updated recipe, new photos, step by step instructions, and tips in March of 2018.