This recipe for Vanilla Bean Cinnamon Buns puts a new twist on Classic Cinnamon Buns. These fluffy, soft buns are bursting with buttery, vanilla & cinnamon swirls.
Who doesn't love Cinnamon buns? It's one of my favorite things in the whole world so I'm always trying to come up with new versions.
Let me tell you, these Vanilla Bean Cinnamon Buns are absolutely amazing! They are decadently vanilla flavored (with a nice hit of cinnamon) and after just one taste they will most definitely leave you craving more.
Over the holidays, I watched a baking show where they made an Austrian bread swirled with not only cinnamon but vanilla too and I knew I had to try it in a bun!
I had some vanilla pods I was dying to use and knew this creation was just the thing I was waiting for. I added the vanilla bean right into the butter that gets spread onto the dough before adding the cinnamon and sugar.
If you haven't used vanilla pods before, they are really easy to use and the flavor is far superior to extract.
Here's what you do. Start by slicing them lengthwise.

Then run the knife down the inside of the pod to scrape the vanilla beans out of the pod.

I used half for the filling and half for the icing. Half of the vanilla pod is equal to 1 1/2 teaspoons of vanilla extract or vanilla bean paste (although beans have a much deeper flavor). You can buy them here on Amazon.com (As an Amazon Associate, a small commission is made from qualifying purchases).
To make the buns:
Prepare the dough and allow to rise until doubled in size. Roll out, add the beans to the butter and spread it onto the prepared dough.
Just look at those beautiful speckles of flavor!
Cover it with the cinnamon and sugar.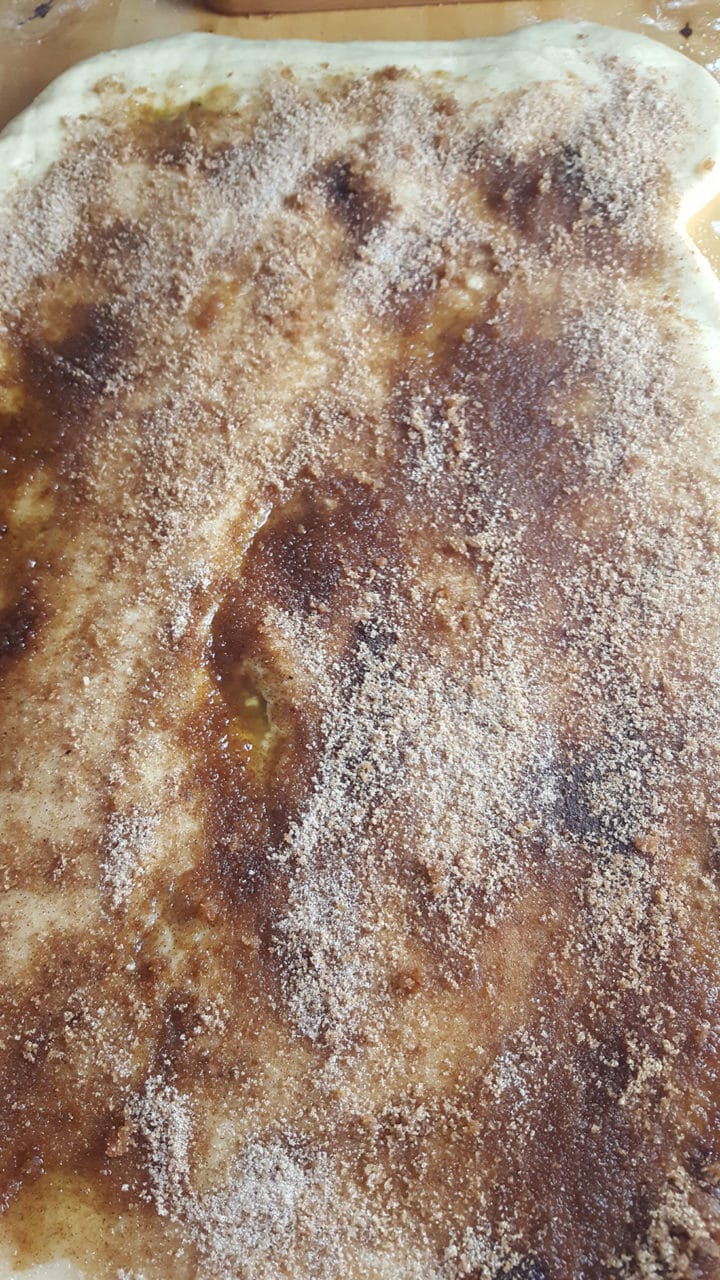 Roll the dough and pinch edge together to seal. Cut into 12 slices.

Add them to a buttered pan to rise before baking.

Once Doubled in size, bake 30 minutes.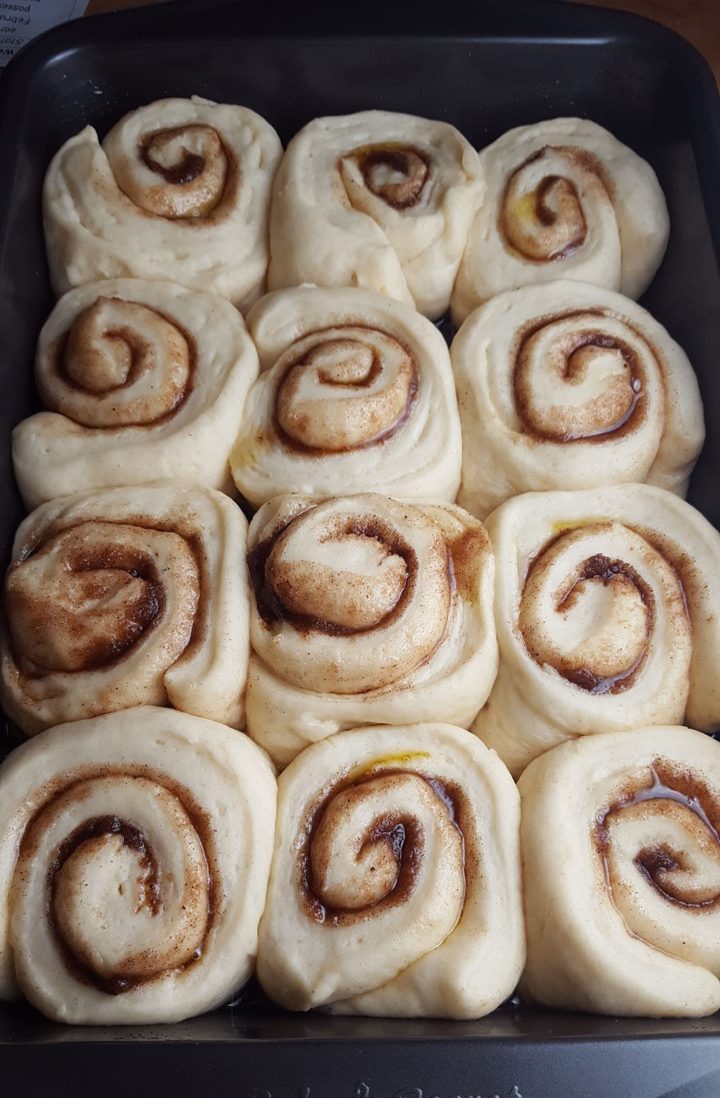 Cool for 5 minutes before adding the glaze.
I used half the pod for the icing which I made while it baked to let the beans infuse. I like a glaze so I added it while
the buns were still warm, but you can wait until they cool if you like you're iced.
Serve warm for a special treat!

TIP: Used half 00 flour (which is usually used to make pasta, Italian bread, and pizza crust) for buns that turn out softer than any bun you've made before. It's not required for this recipe, but defiantly worth mentioning.
★ Did you make this recipe? Please give it a star rating below!
Stay Updated
Receive new recipes & dinner ideas straight to your inbox!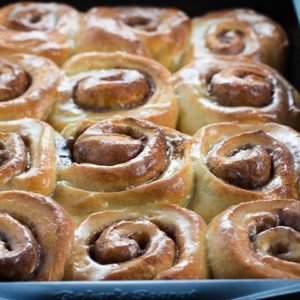 Let's Make
Vanilla Bean Cinnamon Buns
This recipe puts a new twist on classic cinnamon rolls. These fluffy, soft buns are bursting with buttery, vanilla & cinnamon swirls.
Prep20 minutes
Cook25 minutes
Total45 minutes
Ingredients
For the dough:
1¼ cups hot milk about 110F
2¼ teaspoons instant dry yeast
¼ cup granulated sugar
1 large egg at room temperature
¼ cup butter melted
3-4 cups all-purpose or 1/2 all-purpose & 1/2 00 Flour
1 teaspoon salt
For the filling:
Beans from 1/2 Vanilla pod or 1 1/2 teaspoons Vanilla extract or paste
3 tablespoons melted butter plus more for pan
¼ cup light brown sugar
¼ cup granulated sugar
2 teaspoons ground cinnamon
For the glaze:
4 tablespoons melted butter
1 cup powdered sugar
Beans from 1/2 Vanilla pod or 1 1/2 teaspoons vanilla extract or paste
1-2 tablespoons milk
Instructions
In a small bowl, dissolve yeast in a 1/4 cup of the hot milk and set aside.

In a large bowl mix milk, sugar, melted butter, salt, and egg.

Add 2 cups of flour and mix until smooth. Add yeast mixture. Mix in more flour as needed until dough is formed but still a bit sticky (this isn't as easy to work with, but makes a lovely soft bun)

Knead dough on a lightly floured surface for 5 to 10 minutes. Place in an oiled bowl, cover and let rise until doubled in size, usually 2 - 3 hours.

When doubled in size, punch down dough.

Roll out on a floured surface into a 15 by 9-inch rectangle.

Scrape the beans from 1/2 vanilla pod to the melted butter (see post for instructions and photos).

Spread vanilla melted butter all over the dough.

Mix sugar and cinnamon and sprinkle over buttered dough.

Beginning at the 15-inch side, roll up the dough and pinch edge together to seal. Cut into 12 slices.

Place the buns into a 13×9 pan about 2 inches apart. Cover with a clean dish towel and leave in a warm place to rise until dough is doubled (about 45 minutes to an hour).

Bake on 350f/175c for 20 - 30 minutes or until golden brown.

Meanwhile, In a mixing bowl whisk together the melted butter, the beans from the remaining half vanilla pod, and powdered sugar and 1 tablespoon of milk.

Add in more milk as needed 1 tablespoon at a time until it is the desired consistency.

Spread over warm buns to glaze or wait until the buns cool for iced buns.
Nutrition Information:
Calories: 210kcal (11%)| Carbohydrates: 25g (8%)| Protein: 2g (4%)| Fat: 11g (17%)| Saturated Fat: 7g (44%)| Cholesterol: 44mg (15%)| Sodium: 305mg (13%)| Potassium: 66mg (2%)| Sugar: 23g (26%)| Vitamin A: 385IU (8%)| Calcium: 42mg (4%)| Iron: 0.2mg (1%)