This recipe for Quick Rise Cinnamon Rolls uses a microwave to rise the dough. You can have yeast dough Cinnamon Rolls in about an hour! Try it and you won't wait for your dough to rise again!
One of my favorite UK TV shows is the Great British Bake Off. I never miss an episode. This past week, one of the contestants used a microwave to rise her yeast dough to save on time. I couldn't believe it! I never heard of such a thing and knew I had to try it. The next morning, I went straight to it. I mean homemade cinnamon rolls that you can have for breakfast without having to start the day before? I'm in! This idea worked so well for me that I used it again for my Quick Rise Chocolate & Salted Caramel Sticky Buns recipe and again for my one-hour homemade Monkey bread which is equally delicious, so if this is your sort of thing, be sure to check it out! I promise you can't have enough quick rise recipes so be sure to check back to see what else I end up doing!
Here's what I did (although please see the baker's tips at the bottom of this post for a microwave test before attempting this method. I wouldn't want you to ruin dough you spent a lot of time on)…
I made the dough as I always do, but instead of leaving the dough to rise in a warm place, I put it in a bowl, covered it in plastic wrap, and set it aside while I put a mug full of hot water in the microwave on high for 3 minutes (just to add some moisture to the oven).
This is what the dough looked like before I started.
Then I put the microwave on the lowest possible setting (10% power) and put the bowl with the dough in it in for 3 minutes. After the 3 minutes, I left the dough to rest without touching it in the microwave for another 3 minutes. This is what it looked like after that…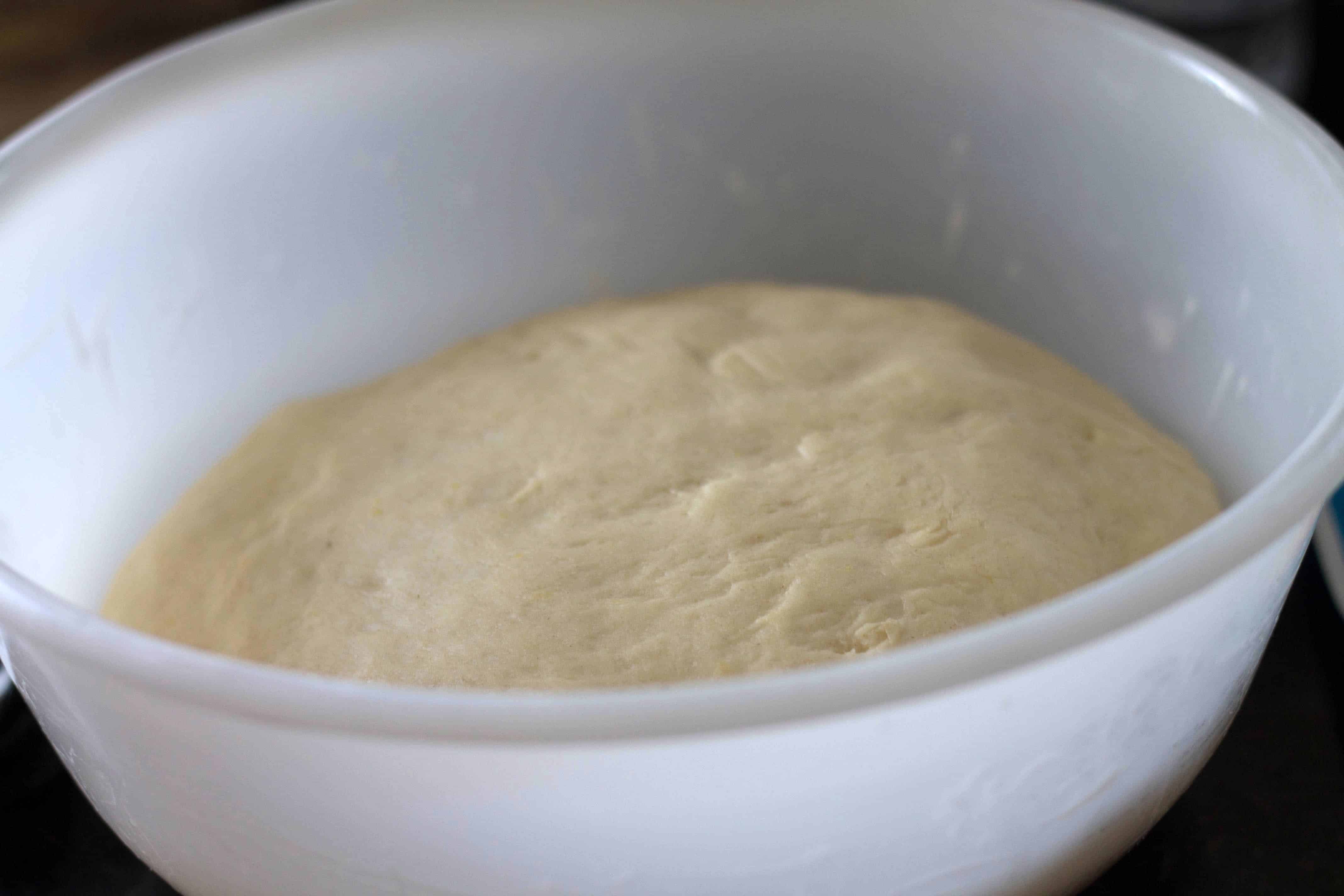 I was pretty impressed.
I then repeated the process, but this time I left the dough to rest for 5 minutes. and this is what it looked like after that…
Pretty amazing right?
Next, I rolled out the dough and added the filling followed by rolling it up and slicing it into the rolls.
I placed the rolls in a greased pan and reaped the rising process. This is what it looked like before…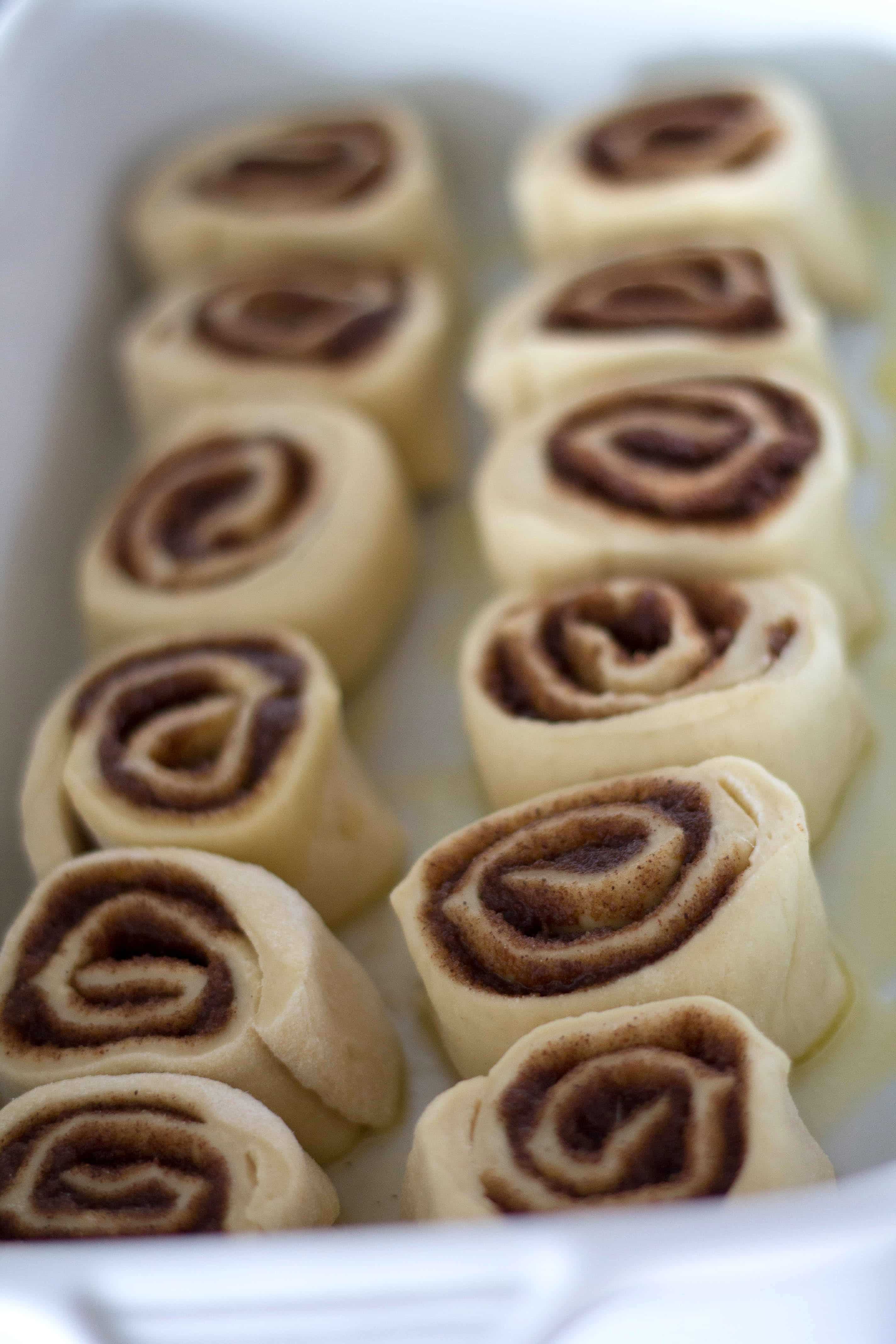 and this is after…
After just over a half hour, my rolls were ready for the oven!
Beautiful right? I let them cool for 10 minutes, iced them and ate them warm! Let me tell you, they were soft and delicious and I couldn't see one difference between these and the ones I make the traditional way!
Baker's Tips:
I highly recommend checking your microwave owner's manual to see if proofing is recommended. If you don't have your manual handy, just do the following test before trying it on the dough you spent a lot of time on: Place two tablespoons of cold, stick margarine in a glass cup in the center of the microwave (don't use corn oil spread or shortening sticks). Cook uncovered on 10% power (low) for 4 minutes. If the margarine doesn't completely melt, your microwave can proof yeast dough. If it does melt then your microwave is just too powerful and will kill the yeast and make your dough rock hard.
Never Miss A Single Recipe!
Join the free Erren's Kitchen mailing list & get the latest tasty goodness straight to your inbox!
Total Time:
1
hour
27
minutes
Ingredients
FOR THE DOUGH:
1¼

cups

milk hot milk

about 110F/ 43C

1

packet instant dry yeast

¼

cup

granulated sugar

1

large egg

at room temperature

¼

cup

butter

melted

3 - 4

cups

all-purpose/plain flour

1

teaspoon

salt
FOR THE FILLING:
4

tablespoons

melted butter

plus more for pan

¼

cup

light brown sugar

¼

cup

granulated sugar

2

teaspoons

ground cinnamon
FOR THE GLAZE:
4

tablespoons

cream cheese

2

tablespoons

melted butter

1

cup

powdered sugar

1⁄2

teaspoon

vanilla extract
Instructions
In a small bowl, dissolve yeast in a ¼ cup of the hot milk and set aside.

In a large bowl mix milk, sugar, melted butter, salt, and egg.

Add 2 cups of flour and mix until smooth. Add yeast mixture. Mix in remaining flour until dough is easy to handle.

Knead dough on lightly floured surface for 5 minutes. Place in a bowl, cover with plastic wrap and set aside.
To rise:
Place an 8-ounce cup of hot water into the microwave and heat on high for 3 minutes to moisten the oven.

Remove the mug and place the bowl with the dough into the microwave and heat on it's lowest setting (10% power) for 3 minutes.

Then let the dough rest in the microwave for 3 minutes.

Heat the dough (still on it's lowest setting) for another 3 minutes.

then let the dough rest in the microwave for 5 minutes.

When doubled in size, punch down dough.

Roll out on a floured surface into a 15 by 9-inch rectangle.

Spread melted butter all over the dough. Mix sugar and cinnamon and sprinkle over buttered dough.

Beginning at the 15-inch side, roll up the dough and pinch edge together to seal. Cut into 10 - 12 slices.

Coat the bottom of a nonmetal baking pan with butter. Place the cinnamon rolls on the pan with a bit of room for the second rise (about 2 inches).

Preheat the oven to 350f/175c

repeat the rising process in the microwave.

Bake on 350f/175c for 20 - 30 minutes or until golden brown.

Meanwhile, In a mixing bowl whisk together cream cheese, the melted butter powdered sugar, and 1⁄2 tsp vanilla extract.

Add in more milk as needed 1 teaspoon at a time until it is the desired consistency. Spread over slightly cooled rolls.
Nutrition
Calories:
211
kcal
|
Carbohydrates:
24
g
|
Protein:
1
g
|
Fat:
12
g
|
Saturated Fat:
7
g
|
Cholesterol:
46
mg
|
Sodium:
310
mg
|
Potassium:
51
mg
|
Sugar:
24
g
|
Vitamin A:
420
IU
|
Calcium:
45
mg
|
Iron:
0.1
mg