This slow cooker recipe for Italian Pulled Pork can be served in a sandwich smothered in Mozzarella or with pasta – either way it's one fantastic dish!
*This is a Sponsored post from Smithfield*
Everybody loves pork, but why is it such an under rated meat in the kitchen? Even on this blog, pork has seemingly taken a back seat to the likes of chicken, and beef! But this shouldn't be the case. Pork offers immense flavor and dimension into a dish, and to show you, I've prepared an amazingly delicious Italian Pulled Pork recipe.  After trying this dish, you'll be seeing a lot more pork on this site because I am truly blown away!
Pulled pork is extraordinarily  popular.  Let's be honest here, pulled pork is the new bacon when it comes to additions to sandwiches, salads, and even eggs.  My go to choice when it comes to pork? I like using Smithfield Boneless Pork Shoulder.   Even if this wasn't a sponsored post, this would still be my go-to choice. Why Smithfield? Simple. Their boneless pork shoulder is hand trimmed and a perfect companion to a slow cooker (or a smoker if you really want to get Southern BBQ on it!). Secondly, Smithfield is giving away a slew of prizes to one lucky person who submits a dish that they have "porkified", and I want that person to be one of my readers!
The rules are simple: take a photo of a delicious dish that has been "porkified" and then share on Instagram or Twitter using the hashtags #porkify and #contest. All eligible entries will be automatically uploaded to the Most Valuable Pork Website, and friends can even vote for your picture to win! So if you have a larger family, you're already ahead of the curve!
Now back to the recipe.  I'm big into Italian food so when we decided to have a Game Day party to celebrate football season being underway, I decided to do a dish I can leave in the slow cooker to cook all day and then serve it up in sandwiches when my guests were ready to eat.  The pork was beautifully tender and the tomato sauce was rich and packed full of flavor.  It was so good, we had it left over the following day with pasta.  I'm telling you, I have never gotten so many compliments on a meal.  
As you can see, Smithfield Pork is an incredibly versatile that can take on any flavor combination you throw at it! It's a meat that you can dress up and serve for a fancy dinner, but at the same time it's something that you can throw in a slow cooker until it's melt-in-your-mouth tender and heave it onto a roll for a football party or tailgate. So next time you're thinking about using chicken, turkey, or beef, you should give pork a fighting chance! You might end up realizing that pork is your new favorite choice of meat!
Never Miss A Single Recipe!
Join the free Erren's Kitchen mailing list and get all the latest tasty goodness straight to your inbox!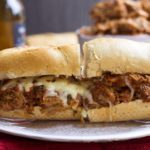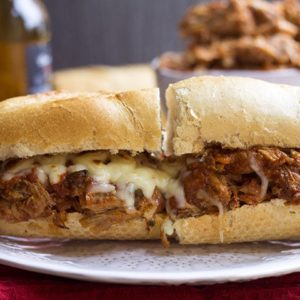 Slow Cooker Italian Pulled Pork
Ingredients
1

Smithfield Boneless Pork Shoulder Roast

1

teaspoon

salt

Black pepper

2

tablespoon

olive oil

separated

6

cloves

garlic

minced

1

onion

diced

1

28oz

crushed canned tomatoes

3

tablespoon

tomato paste

1

cup

of wine

red or white whatever your prefer

2

good handfuls fresh basil

torn

1

good handful fresh parsley

chopped

Extra salt and pepper

to taste

For the Sandwich:

Italian bread

mozzarella cheese
Instructions
Heat the olive oil in a large saucepan, add the onion and cook for 4-5 minutes, or until softened.

Add the garlic and cook another minute

Dilute the tomato paste in the wine. Increase the heat, stir in the diluted tomato paste and continue to cook until the volume of the liquid is reduced by one-third.

Add the pork to the slow cooker (whole with the netting removed)

Once the diluted wine has reduced, Add the tomatoes, basil, and parsley to the wine mixture. Season with salt and black pepper and stir well.

Bring to the boil, then cover the pork with the sauce by ladling it into the slow cooker.

Cook on low for 8 hours.

Remove the pork to a cutting board and using two forks pull the pork apart.

To make the sandwich

Pile Italian bread high with the pulled pork. Cover with a little of the sauce and then with shredded mozzarella cheese

and place under the broiler until the cheese has melted.
Nutrition Facts
Slow Cooker Italian Pulled Pork
Amount Per Serving
Calories 0
* Percent Daily Values are based on a 2000 calorie diet.
Never Miss A Single Recipe!
Join the free Erren's Kitchen mailing list and get all the latest tasty goodness straight to your inbox!
*This is a Sponsored post from Smithfield*