Dish up a hearty bowl of comfort on a chilly day with this simple recipe for Beef and Barley Soup. This filling and tasty dish is a cross between a soup and a stew and it's perfect for melting away the chill on those coldest of days.
It was a cold and rainy day yesterday and there is almost nothing better on a rainy day than a hearty bowl soup.
This simple recipe cooks low and slow making the beef unbelievably tender. I add the vegetables in stages to make sure none of them end up too soft. There's nothing worse than a bowl of mushy vegetables.
I remember as a child going to a friend's house and having beef and barley soup. I walked into the house and the whole place was filled with this amazing aroma of home-cooked soup.
I couldn't wait to dig in and when I did, the only things left in the soup with any texture were the beef and the barley. Even as a child, I knew this wasn't the way it should be.
I never forgot that soup and when I started cooking myself, I learned from it. There are 45 minutes between the first batch of vegetables and the second so there's no hassle and believe me, it's worth it.
If you love a hearty soup why not try my Split Pea and Ham Soup or for the veg lover, my Healthy Creamy Broccoli Soup. Indulge yourself.
This soup is a flavorful, delicious soup that the entire family will enjoy on those cold and rainy days that just need a dish like this. Enjoy!
Other Great Comfort Foods
Stay Updated
Receive new recipes & dinner ideas straight to your inbox!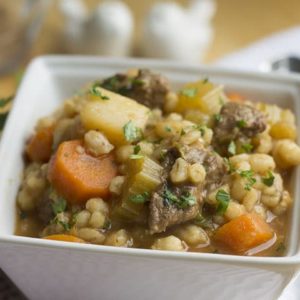 Let's Make Beef & Barley Soup
This simple soup, is simply, comfort in a bowl
Prep20 minutes
Cook1 hour 30 minutes
Total1 hour 50 minutes
Ingredients
1 tablespoon olive oil
1½ lbs stewing beef cubed
2 medium onions sliced
2 garlic cloves chopped
3 stalks of celery sliced
4 carrots sliced into chunks
2 bay leaves
small bunch fresh parsley chopped
½ cup pearl barley
4 cups beef stock
6 medium potatoes cut into cubes
Instructions
Heat the oil in a large, oven safe pan over medium high heat.

Working in batches, brown the beef on all sides in the olive oil.

Remove the meat with a slotted spoon.

Add the onions, celery and herbs to the pan, then cook for about 5 mins until softened.

Add the garlic and cook another minute.

Return the meat to the pan, pour over the stock, then bring to a boil and then turn down the heat. Simmer for 45 minutes.

Stir in the barley, carrots and potatoes, bring to a boil, lower heat and simmer for another 45 minutes or until the carrots are tender.

Serve with crusty bread.
Nutrition Information:
Calories: 704kcal (35%)| Carbohydrates: 74g (25%)| Protein: 63g (126%)| Fat: 17g (26%)| Saturated Fat: 5g (31%)| Cholesterol: 132mg (44%)| Sodium: 639mg (28%)| Potassium: 2564mg (73%)| Fiber: 15g (63%)| Sugar: 7g (8%)| Vitamin A: 10325IU (207%)| Vitamin C: 45.5mg (55%)| Calcium: 180mg (18%)| Iron: 16.1mg (89%)