Dish up a hearty bowl of comfort on a chilly day with this simple Beef & Barley Soup recipe. Comfort food at its best!
This filling and tasty dish is a cross between a soup and a stew and it's perfect for melting away the chill on those coldest of days.
If you love a hearty soup why not try my Split Pea and Ham Soup or for the veg lover, my Healthy Creamy Broccoli Soup. Indulge yourself.
On a cold and rainy day, I love nothing more than a delicious bowl of comforting soup. Soup is my go-to dish, I love soups and this soup is one of my favorites.
As a child I remember going to a friend's house and having beef and barley soup. I walked into the house and the whole place was filled with this amazing aroma of the home-cooked soup. I just had to recreate this soup and share it with you!
Why This Recipe Works
The slow cook method ensures the most tender flavorful beef.
Adding the vegetables later in the cooking process guarantees no sogginess!
Fresh ingredients and herbs make this a wonderful alternative to packaged soups.
How to make beef & Barley soup
Heat the oil. Brown the beef and remove it from the pan.
Sautee onions celery and herbs in the pan.
Add the garlic to the pan and fry for a minute.
Return the meat to the pan, add stock, and simmer.
Stir in the barley, carrots and potatoes, cook until tender.
Serve and enjoy!
This soup is a flavorful, delicious soup that the entire family will enjoy on those cold and rainy days that just need a dish like this. Enjoy!
Other Great Comfort Foods
Stay Updated
Receive new recipes & dinner ideas straight to your inbox!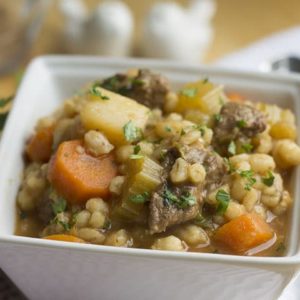 Let's Make Beef & Barley Soup
This simple soup, is simply, comfort in a bowl
Prep20 minutes
Cook1 hour 30 minutes
Total1 hour 50 minutes
Ingredients
1 tablespoon olive oil
1½ lbs stewing beef cubed
2 medium onions sliced
2 garlic cloves chopped
3 stalks of celery sliced
4 carrots sliced into chunks
2 bay leaves
small bunch fresh parsley chopped
½ cup pearl barley
4 cups beef stock
6 medium potatoes cut into cubes
Instructions
Heat the oil in a large, oven safe pan over medium high heat.

Working in batches, brown the beef on all sides in the olive oil.

Remove the meat with a slotted spoon.

Add the onions, celery and herbs to the pan, then cook for about 5 mins until softened.

Add the garlic and cook another minute.

Return the meat to the pan, pour over the stock, then bring to a boil and then turn down the heat. Simmer for 45 minutes.

Stir in the barley, carrots and potatoes, bring to a boil, lower heat and simmer for another 45 minutes or until the carrots are tender.

Serve with crusty bread.
Nutrition Information:
Calories: 704kcal (35%)| Carbohydrates: 74g (25%)| Protein: 63g (126%)| Fat: 17g (26%)| Saturated Fat: 5g (31%)| Cholesterol: 132mg (44%)| Sodium: 639mg (28%)| Potassium: 2564mg (73%)| Fiber: 15g (63%)| Sugar: 7g (8%)| Vitamin A: 10325IU (207%)| Vitamin C: 45.5mg (55%)| Calcium: 180mg (18%)| Iron: 16.1mg (89%)