Love risotto? Why not try this healthy, low-fat recipe for Skinny Mushroom & Barley Risotto. It swaps traditional risotto rice for fiber-rich pearl barley. This recipe is not only healthier, but it's wonderfully delicious too!
If you're a regular visitor to this site, then you know I'm trying to lose weight. I am a big believer in following a weight-loss plan that isn't too far off how you normally eat. My reasoning for this is that if you're miserable on a diet, then you may not stick to it, and if you're not too drastic, it can become a lifestyle change you'll be able to stay with once you reach your goal.
If I was to try something like a no-carb diet (which I wouldn't bother with as I'm not a big meat eater), I would probably find it difficult to stick to and once I started eating carbs again, I'd put the weight back on again. So I'm trying to stick to what I love, but find healthier low-fat versions.
My sister suggested I look into grains that can replace the carbs I know and love. In my research, I found out that although pearl barley has carbs, it's is high in fiber which means your body breaks it down slowly and you stay fuller longer. Not only that, but it's also higher in protein than rice. According to the Harvard School of Public Health, Pearl Barley has more fiber than rice – with 6 grams of fiber in a cup, while both brown rice and wild rice have about 3 grams of fiber.
White rice has the least amount of fiber with only 1 gram per cup. It may have the same amount of carbs, but it's a good place to start with having the right kind of carbs.
When looking for ideas, I came across a recipe on Good Food for Creamy barley & squash risotto and I just knew I had to try something using barley. So I decided to make something I love, using pearl barley instead of rice (and I LOVE risotto).
I made it almost exactly like I would make regular risotto and the outcome was really wonderful. It has a deep, rich mushroom flavor, and the texture of the barely added a really nice change.
I also added almost no fat (using only low-fat cooking spray in place of butter or oil). I did use Parmesan cheese though, but only added a tablespoon to my portion.
I'll tell you the best part – it made me feel really good doing something I knew was positive in helping me with my weight loss journey. Try this dish and I promise you, you won't feel like you are sacrificing a thing. It is truly delicious.
Other Great Comfort Foods
★ Did you make this recipe? Please give it a star rating below!
Stay Updated
Receive new recipes & dinner ideas straight to your inbox!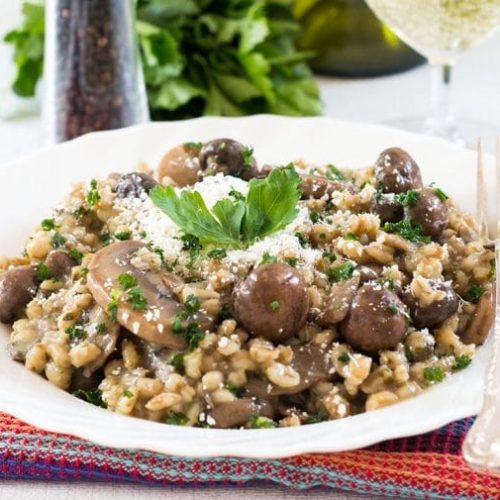 Let's Make Skinny Mushroom & Barley Risotto
Replace the usual rice with filling, healthy barley. This mushroom risotto has a wonderfully rich flavor and it's healthier too!
Prep15 minutes
Cook40 minutes
Total55 minutes
Ingredients
low fat cooking spray
1 medium onion chopped
3 cloves garlic chopped
1½ cups pearl barley
½ cup white wine
1 lb mixed mushrooms of your choice chopped, sliced or broken up
4½ cups chicken or vegetable stock
4 tbsp grated Parmesan cheese optional
a good handful of fresh parsley chopped
salt and pepper to taste.
Instructions
Coat a large heavy saucepan with cooking spray and heat on medium high. Add the onion and sauté with some seasoning for 5 mins or until the onion is translucent (if the pan starts to look too dry, you can add a bit more cooking spray).

Add the garlic and cook another minute.

Add the mushrooms and saute until the liquid is released and evaporates.

Raise the heat to high, add the barley, coat with the mushroom mixture and cook for another minute.

Pour in the wine and stir until it is absorbed and the alcohol has cooked down. Stir 4 cups of the stock and parsley. Cover, lower the heat to low and cook for 40 mins on a slow simmer until the barley is tender (stirring occasionally and adding remaining stock if it looks dry). Remove from the heat and stir in the grated Parmesan cheese (if using).

Taste and season with salt and pepper to taste.

Serve immediately.
Nutrition Information:
Calories: 460kcal (23%)| Carbohydrates: 79g (26%)| Protein: 19g (38%)| Fat: 6g (9%)| Saturated Fat: 1g (6%)| Cholesterol: 12mg (4%)| Sodium: 482mg (21%)| Potassium: 908mg (26%)| Fiber: 15g (63%)| Sugar: 9g (10%)| Vitamin A: 60IU (1%)| Vitamin C: 3.3mg (4%)| Calcium: 98mg (10%)| Iron: 3mg (17%)