This simple side dish of Buttery & Sweet Roasted Squash Mash served in its shell makes a beautiful presentation. It's the perfect vegetarian side dish for holidays or dinner parties alike.
This is a beautiful side dish. A table scattered with them at every place setting looks absolutely amazing.
It's really easy to make and because it's served in its shell (and its own handy lid), it even keeps it warm until you are ready to eat!
I recently took my son to a farm for some pumpkin picking.
The farm had a huge display of every variety of squash you can think of. Some I had never seen before.
Since I started this blog, I see things with new eyes. Food has beauty I never saw before and seeing this display sent me into overdrive. I hope you like squash because this is what I came home with.
and this
and this
The thing I didn't think of was what I was going to do with all this squash! I spent the whole day on Saturday experimenting with different types of squash and creating new recipes to share with you.
My Mom said the best way to serve squash was to simply add some butter and brown sugar. I thought that sounded great and so it's exactly what I did!
I started with preparing the quash by cutting the top off and removing the seeds (just like when you make a jack–o'-lantern).
Then instead of coating it in olive oil, I sprayed it with cooking spray. I did this because, in my experience, squash tends to absorb oil like a sponge which can make it greasy.
I also didn't season it because salt takes the moisture out of foods and a lot comes out of it when cooked anyway. I didn't want to flood the pan so I waited on the seasoning.
I placed the squash with its lid on a baking tray and roasted it for 45 minutes. This is how it looked just out of the oven.
Then I quite simply added the butter and brown sugar right into the shell and used a fork to break up and mash the flesh.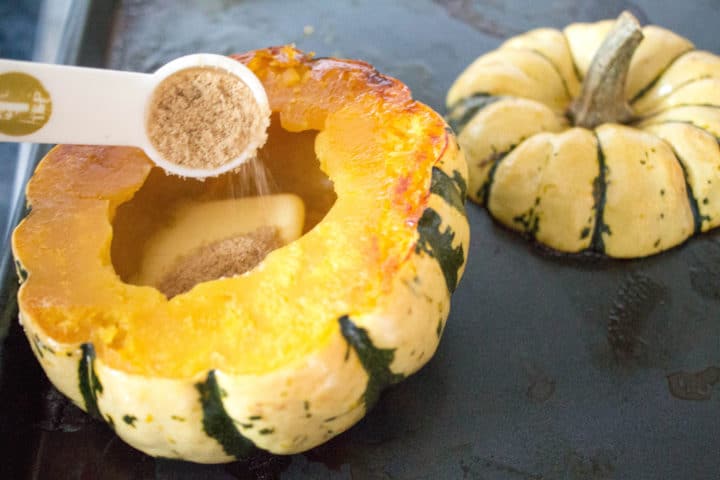 I seasoned it with salt and pepper and served it right in the shell. It really was delicious. Sometimes simple is best!
Please note – if you want to fill the shell as pictured, you will have to make an extra squash and add it to the one you'll be serving.
Stay Updated
Receive new recipes & dinner ideas straight to your inbox!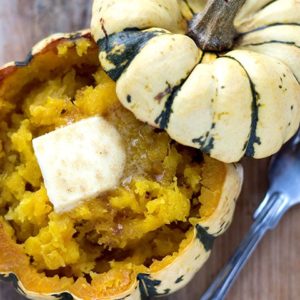 Let's Make
Buttery & Sweet Roasted Squash Mash
This dish not only looks good, but it also tastes good too!
Prep15 minutes
Cook45 minutes
Total1 hour
Ingredients
4-8 Squash Sweet Dumpling or acorn squash work well
cooking spray
8 tablespoons butter
4 teaspoons brown sugar
Instructions
preheat the oven to 400F/200C

Start by cutting the top off the squash and removing the seeds (just like when you make a jack-o'-lantern).

Coat with cooking spray.

Place on a baking sheet with the tops and roast for 45 minutes

Add the butter and brown sugar directly into the shell.

Using a from, gently remove the flash from the sides and bottom of the shell.

If using an additional squash to fill the shell, remove the flesh from the skin and add it to the one with the butter. Using the same fork, mash the squash with the butter & sugar until smooth.

Salt & pepper to taste and serve.
Nutrition Information:
Calories: 553kcal (28%)| Carbohydrates: 91g (30%)| Protein: 7g (14%)| Fat: 23g (35%)| Saturated Fat: 14g (88%)| Cholesterol: 60mg (20%)| Sodium: 231mg (10%)| Potassium: 2640mg (75%)| Fiber: 15g (63%)| Sugar: 20g (22%)| Vitamin A: 80425IU (1609%)| Vitamin C: 157.5mg (191%)| Calcium: 370mg (37%)| Iron: 5.3mg (29%)