This recipe for Quick Rise Chocolate & Salted Caramel Sticky Buns brings traditional sticky buns to a whole new level. Better yet, using this quick rise method, you can have homemade sticky buns in about an hour!
Who doesn't love a sticky bun?
I'll be honest, I haven't met a bun that I didn't love and I'm always looking for excuses to make them so it was time to come up with something new.
Salted caramel and chocolate are two of my very favorite things and I've never seen it in a bun before so I just had to try it.
These buns came out absolutely amazing!
They are gooey, addictive and although they are fabulous warm, they were nearly as good leftover the next day (and they warm leftover nicely with just 15-20 seconds in the microwave).
I made them with dark chocolate because it's not as sweet and I don't think milk chocolate would work. The balance between the bittersweet chocolate, salted caramel, and a soft bun is pure perfection!
If you are a regular visitor to this site then you probably already know about my quick rise method for yeast dough.
I've made Quick Rise Cinnamon Rolls and One Hour Homemade Monkey Bread both using the method in which I use a microwave to proof the dough.
If you haven't tried it, or you're not convinced, you have to try it at least once.
So far, I haven't had one review that wasn't singing it's praises. For step by step pictures of the process please see my Quick Rise Cinnamon Rolls post.
You really will be impressed!
NOTE: Before attempting this method, please see the baker's tip at the bottom of this post for a microwave test. I wouldn't want you to ruin dough you spent a lot of time on in a microwave that won't rise dough.
Here's how to make them:
For these little beauties. I made the dough and used the microwave for the rising process.
While it was resting at the end of the process, I made the caramel.
Pour the mixture into a glass 8×8 inch baking dish.
Set the caramel aside and roll out the dough into a rectangle. top with melted butter and scatter with the cinnamon-sugar mixture and chocolate chips.
Beginning at the longer side, roll up the dough and pinch edge together to seal. Cut into 10 – 12 slices.
Place the buns on the pan with the caramel leaving a bit of room for the second rise (about 2 inches).
Repeat the rising process until doubled in size and then bake until golden.
Let it cool for 5 minutes before Turing onto a serving plate.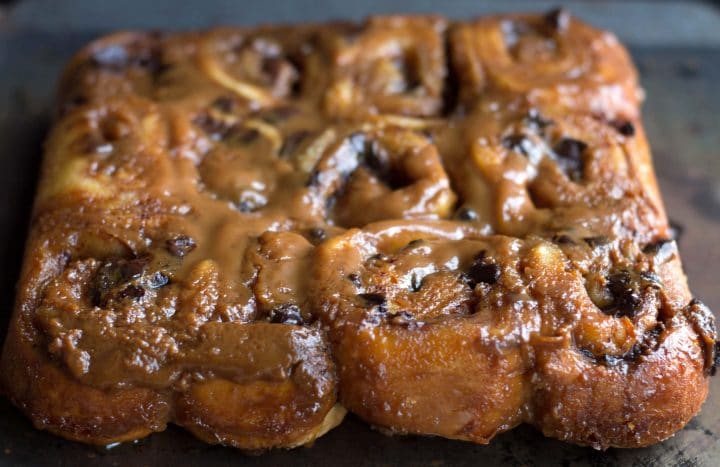 Serve and enjoy!
Baker's Tips:
I highly recommend checking your microwave owner's manual to see if proofing is recommended. If you don't have your manual handy, just do the following test before trying it on the dough you spent a lot of time on: Place two tablespoons of cold, stick margarine in a glass cup in the center of the microwave (don't use corn oil spread or shortening sticks). Cook uncovered on 10% power (low) for 4 minutes. If the margarine doesn't completely melt, your microwave can proof yeast dough. If it does melt then your microwave is just too powerful and will kill the yeast and make your dough rock hard. If your microwave does not pass the test, you can proof the dough the old fashioned way.
Using a bread maker: If you'd rather use a bread maker to do your dough, just add the yeast first, followed by the flour, the rest of the dry ingredients next and top with the wet. Use the dough function. When the cycle finishes, punch down the dough and go to the rolling step. You'll have to do the next rise the traditional way.
To make your buns ahead to bake in the morning: Prepare the buns to the point of cutting the dough and putting them in the pan. Then cover them and place them in the fridge overnight. The following morning, take the buns from the fridge and place them in a cold oven. Set the oven temperature and bake for 40 – 45 minutes. By the time the oven gets to baking temperature, the buns will have raised the correct amount.
More Great Buns & Rolls
★ Did you make this recipe? Please give it a star rating below!
Stay Updated
Receive new recipes & dinner ideas straight to your inbox!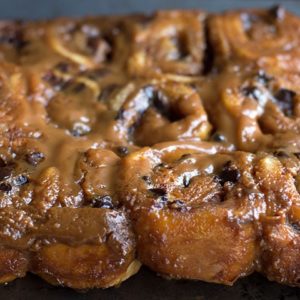 Let's Make
Quick Rise Chocolate & Salted Caramel Sticky Buns
These soft buns are stuffed with cinnamon and dark chocolate filling and glazed with a sticky, salted caramel. It's like heaven on a plate!
Prep20 minutes
Cook30 minutes
Total1 hour 10 minutes
Rising time: 30 minutes
Serves: 12 buns
Ingredients
FOR THE DOUGH:
1¼ cups hot milk about 110F/ 43C
1 packet instant dry yeast
¼ cup granulated sugar
1 large egg at room temperature
¼ cup butter melted
3½ cups all-purpose flour plus more if needed
1 teaspoon salt
FOR THE FILLING:
4 tablespoons melted butter plus more for pan
¼ cup light brown sugar
¼ cup granulated sugar
2 teaspoons ground cinnamon
1 cup semi-sweet chocolate chips
FOR THE CARAMEL:
½ cup granulated sugar
2 tablespoons golden syrup or corn syrup
½ cup butter
¼ cup cream or milk
1 teaspoon salt
2 teaspoons vanilla extract
Instructions
In a small bowl, dissolve yeast in a ¼ cup of the hot milk and set aside.

In a large bowl mix milk, sugar, melted butter, salt, and egg. Add 2 cups of flour and mix until smooth. Add yeast mixture. Mix in remaining flour until dough is easy to handle.

Knead dough on a lightly floured surface for 5 minutes. Place in a bowl, cover with plastic wrap and set aside.
To quick rise the dough:
Place an 8-ounce cup of hot water into the microwave and heat on high for 3 minutes to moisten the oven.

Remove the mug and place the bowl with the dough into the microwave and heat on its lowest setting (10% power) for 3 minutes.

Let the dough rest in the microwave for 3 minutes.

Heat the dough (still on it's lowest setting) for another 3 minutes and let the dough rest in the microwave for 5 minutes.

While the dough rests, prepare the caramel.
For the caramel:
Combine the sugar and syrup in a medium saucepan. Cook on medium heat, stirring constantly until it becomes a light caramel color.

Add the butter, salt & cream stir until smooth. Remove from heat and mix in the vanilla.

Set aside to cool slightly, then pour into a microwave-safe baking pan. (I used an 8-inch square).

Roll out on a floured surface into a 15 by 9-inch rectangle.

Spread melted butter all over the dough. Mix sugar and cinnamon and sprinkle over buttered dough and then scatter with chocolate chips.

Beginning at the 15-inch side, roll up the dough and pinch edge together to seal. Cut into 10 - 12 slices.

Preheat the oven to 350f/175c

Place the buns on the pan with the caramel leaving a bit of room for the second rise (about 2 inches). Repeat the rising instructions with the buns in the pan until doubled in size.

Bake on 350f for 20 - 30 minutes or until golden brown.

Let cool in the pan for 5 minutes before flipping onto a serving tray and serve warm.
Nutrition Information:
Calories: 489kcal (24%)| Carbohydrates: 61g (20%)| Protein: 6g (12%)| Fat: 24g (37%)| Saturated Fat: 14g (88%)| Cholesterol: 64mg (21%)| Sodium: 544mg (24%)| Potassium: 172mg (5%)| Fiber: 2g (8%)| Sugar: 30g (33%)| Vitamin A: 615IU (12%)| Calcium: 60mg (6%)| Iron: 2.8mg (16%)
Update Notes: This post was originally published in May of 2015, but was republished with an updated recipe, new photos, step by step instructions and baking tips in April of 2018.