This indulgent recipe for Pumpkin Pie Sticky Buns is autumn on a plate!
These, soft, gooey buns are filled with a pumpkin pie filling and coated with a buttery sweet sauce that's to die for!
It's that time of year – the time of year that brings Pumpkin recipes all over Pinterest and the blogosphere.
I'll be honest, I never understood the craze.
Growing up, I hated the smell of pumpkin pie and refused to even try it.  I assumed I didn't like it.
I was wrong.
Last year, my English mother-in-law asked me to make pumpkin pie for Christmas dinner.  I was a little worried.  I didn't know where to start.
I went with a recipe I found on The Food Network as my first try and with one bite, I was won over.
Since then, I've played around with different flavors and came up with my own Pumpkin Pie Filling.  I'll post that recipe another time, but I used it as a base for the filling for these amazing sticky buns.
I've seen a lot of Pumpkin Cinnamon bun recipes, but was surprised that I couldn't find even one that used pumpkin to fill the buns.
The recipes I've seen added pumpkin to the dough, which I guess would be good, but I wanted to give you a big hit of pumpkin to start the pumpkin craze off right.
For the dough, you can use my quick rise method that I've used quite a bit.
You rise the dough using a microwave which cuts the wait in half.  If you want to know how to do that, check out my Quick Rise Cinnamon Rolls recipe.
I was multitasking today and wanted to have them warm from the oven when my son got home from school so I used the old fashion way of doing things.
I'll warn you – these sticky buns are truly addictive so make them at your own risk.
The spiced pumpkin pie filling with the sweet, buttery sauce is the perfect combination and they balance each other out beautifully.
I highly recommend eating them warm, but they are pretty darn good cool as well!  I hope you enjoy them!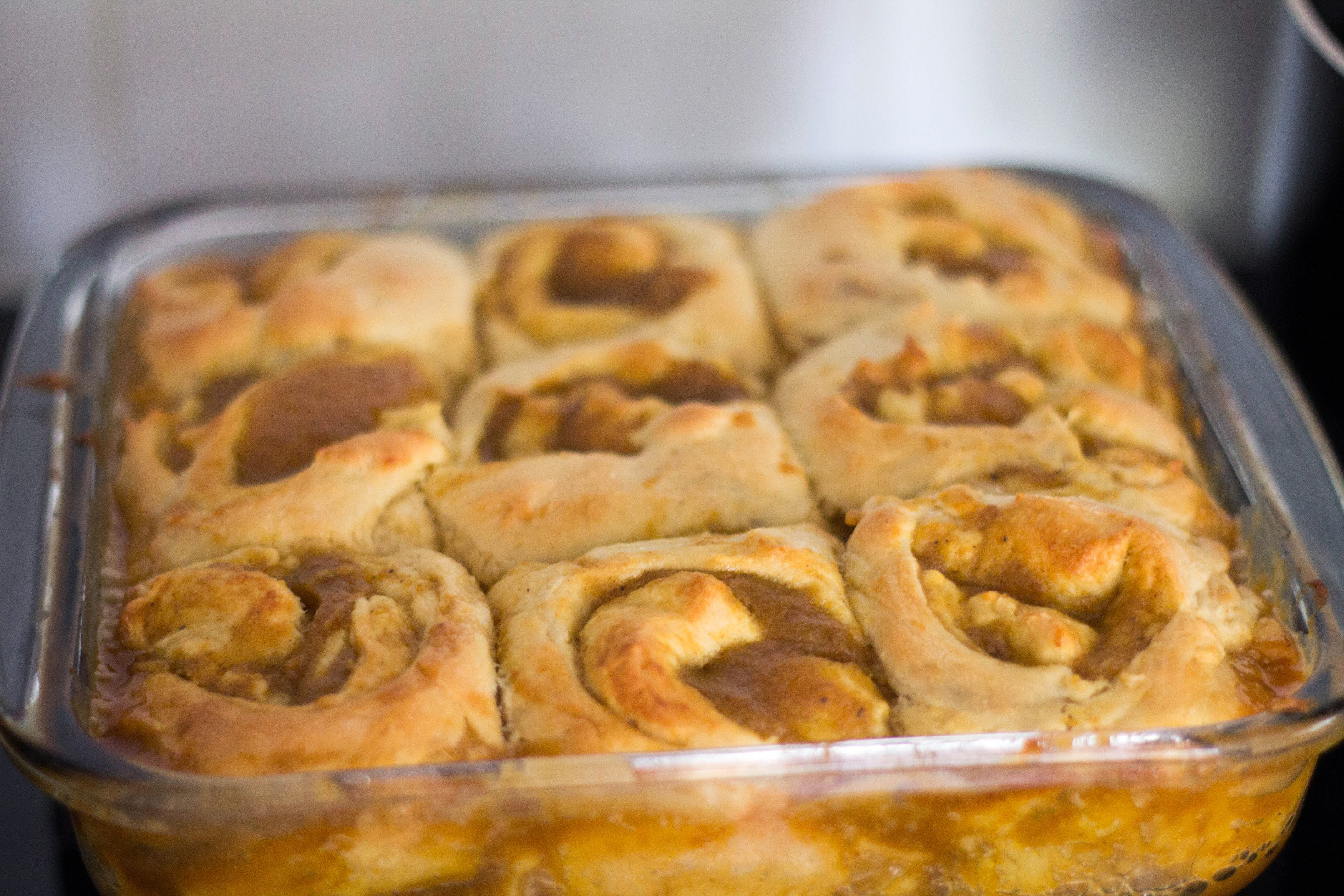 Never Miss A Single Recipe!
Join the free Erren's Kitchen mailing list and get all the latest tasty goodness straight to your inbox!