Garlic and Parmesan lovers, don't miss out on this! Quick and easy crispy panko chicken with juicy chicken and a delicious crunch.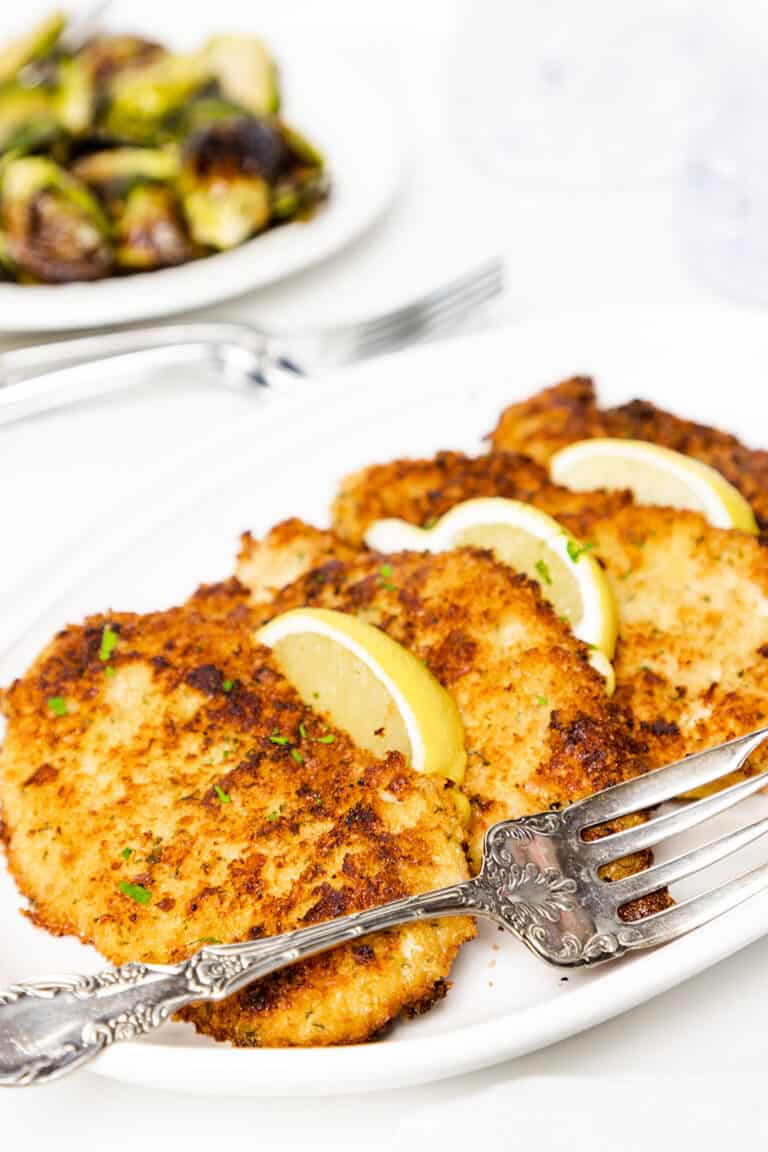 Get ready for a crispy chicken dish that's packed with flavor! This recipe mixes minced garlic with eggs and milk for the breading, creating a subtle but mouthwatering taste that perfectly complements the Parmesan cheese and panko breadcrumbs. You'll be hooked with one bite of this crispy, garlicky goodness.
Why This Recipe Works
Minced garlic mixed with eggs and milk for the breading helps to infuse the chicken with a subtle garlic flavor.
Parmesan cheese and panko breadcrumbs coat the chicken, adding a crispy texture.
Pan-frying the chicken results in a crispy, golden-brown coating.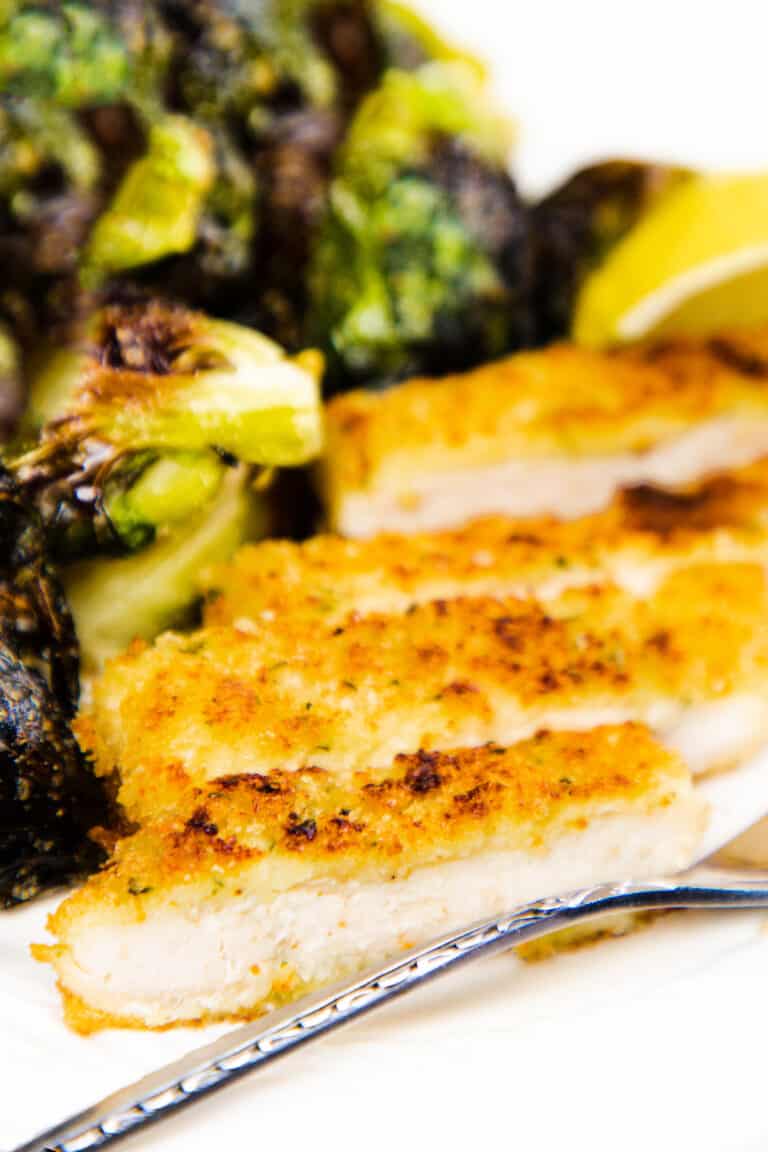 Chicken Breast Buying Guide
When buying chicken breasts, you should look for chicken that has a light pink or cream color. Choose breasts that are firm with no dark spots or bruises. Avoid chicken with an off smell or a slimy texture.
Buying chicken breasts in bulk can save you money, but storing them properly is essential to prevent spoilage. You can also freeze chicken breasts for later use.
Ingredient Notes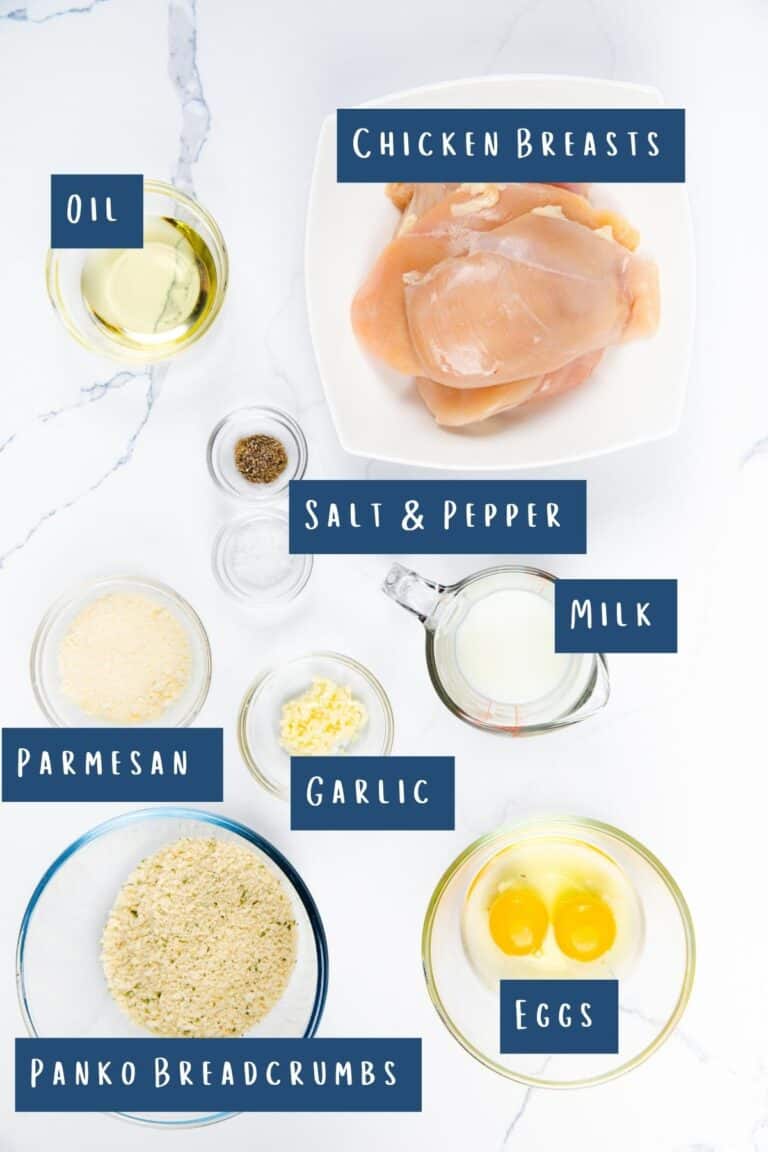 Chicken Breasts: Boneless, skinless chicken breasts work best; make sure to slice them thinly for faster cooking.
Eggs: Large eggs work best and serve as a binding agent for the breading.
Milk: Any milk can be used for this recipe.
Garlic: Minced garlic adds flavor to the breading and can be substituted with garlic powder.
Panko breadcrumbs: Panko breadcrumbs are recommended for their crispy texture, but regular breadcrumbs can be used as a substitute.
Parmesan cheese: Freshly grated cheese adds a delicious salty flavor to the breading. Pre-grated Parmesan or other hard cheeses can also be used as a substitute.
Salt and pepper: Add these to taste the chicken and breading seasoning.
Step By Step Instructions
Preparing The Chicken
Using a sharp knife, slice two chicken breasts into thin, even-sized slices. You should get about four to six cutlets from two breasts of chicken.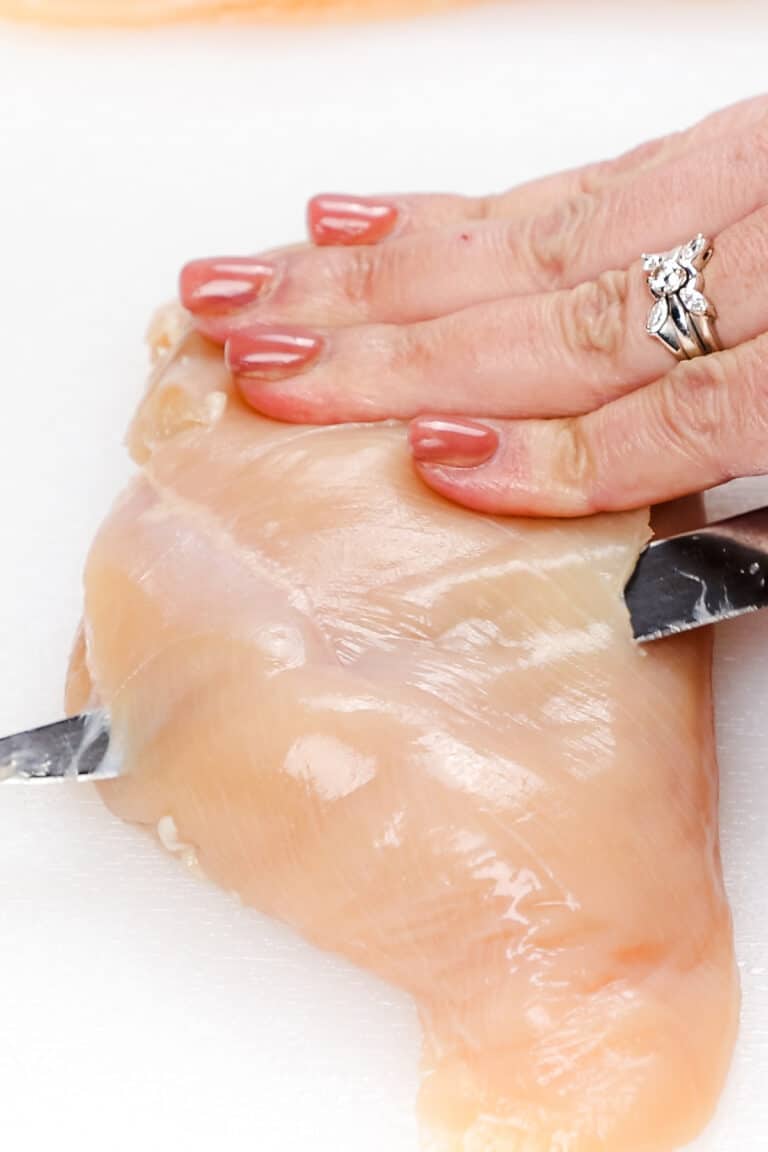 Give them a sprinkle of salt and let them hang out for a minute while you prepare the rest of the ingredients.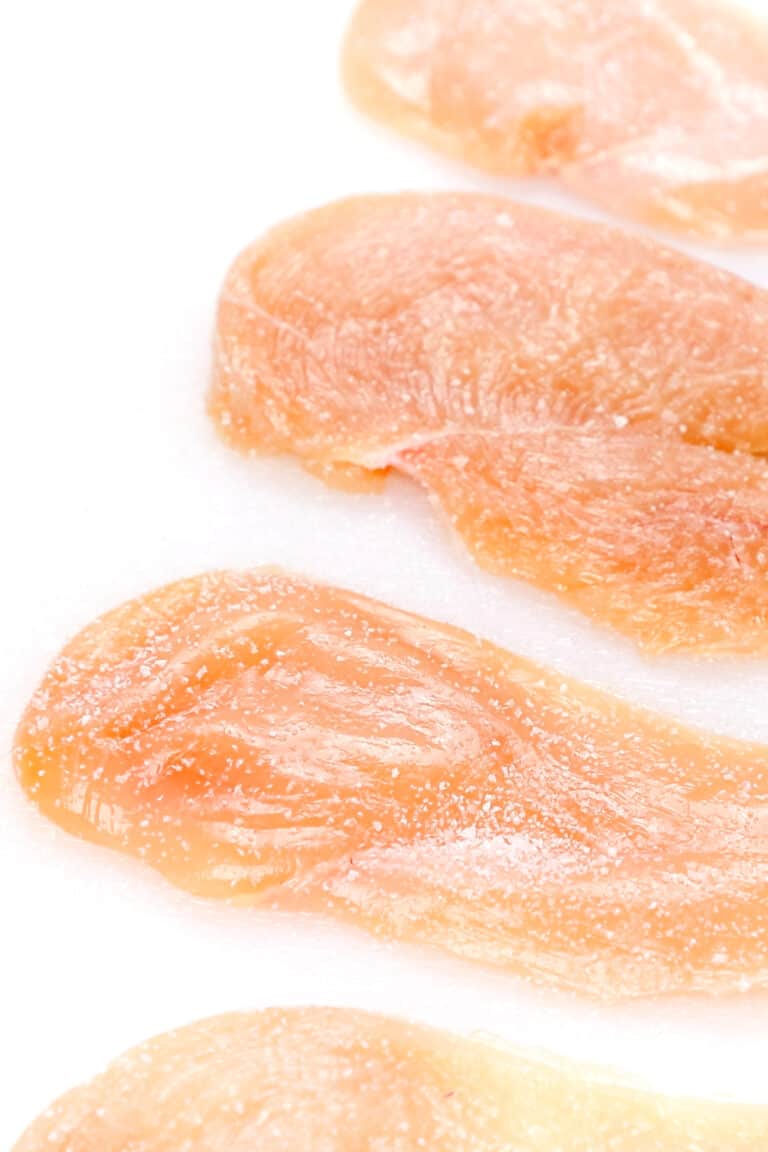 Crack two eggs into a bowl with a quarter cup of milk and 3 minced garlic cloves.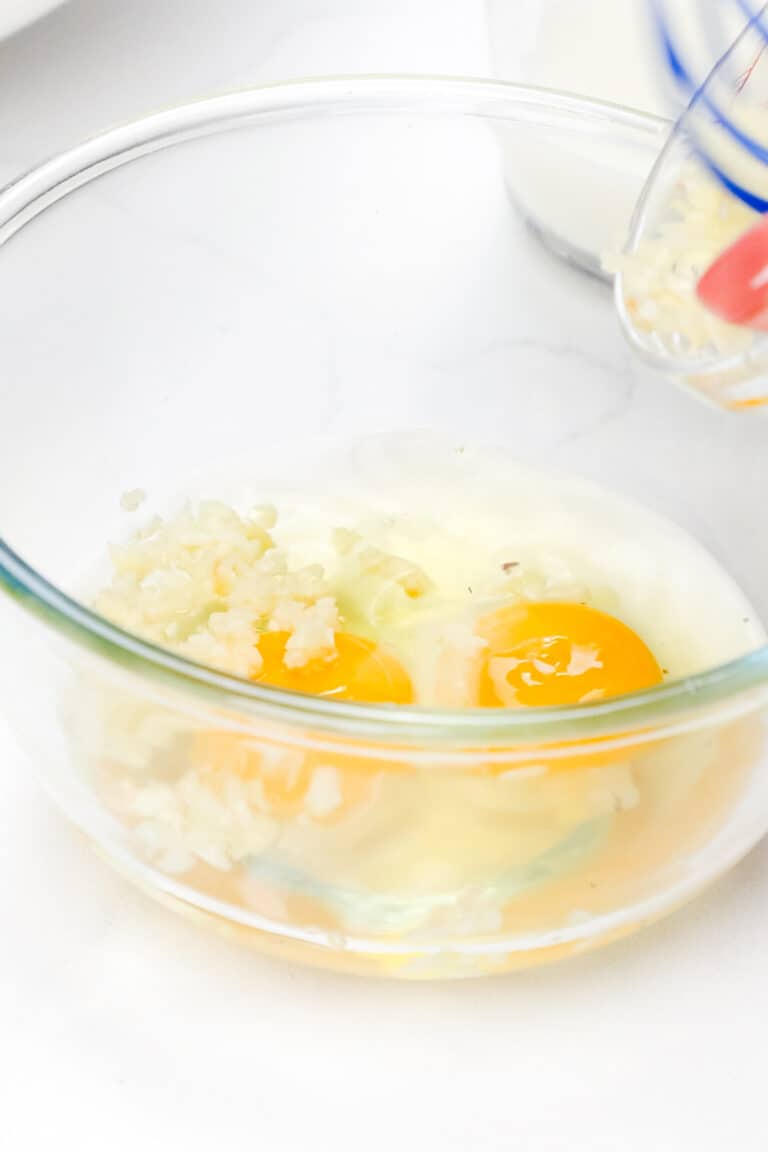 Then beat them until the mixture is well-combined and ready for action.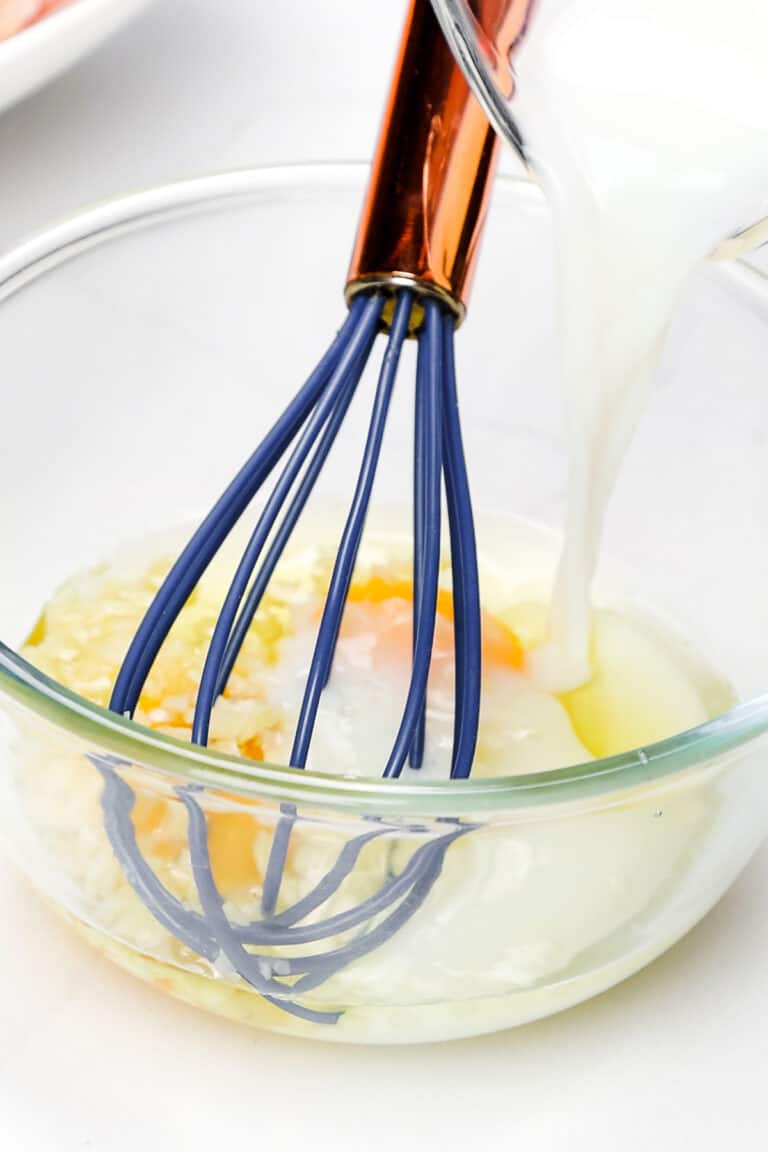 Mix one cup of panko breadcrumbs in another shallow bowl with four tablespoons of grated Parmesan cheese, a pinch of salt, and pepper. This will make the crispy coating that will make your chicken taste amazing.
Pat the chicken slices with paper towels to dry them. Then take a slice of chicken and dip it into the egg mixture, ensuring it's fully coated.
Then press it into the panko mixture, making sure it's evenly coated.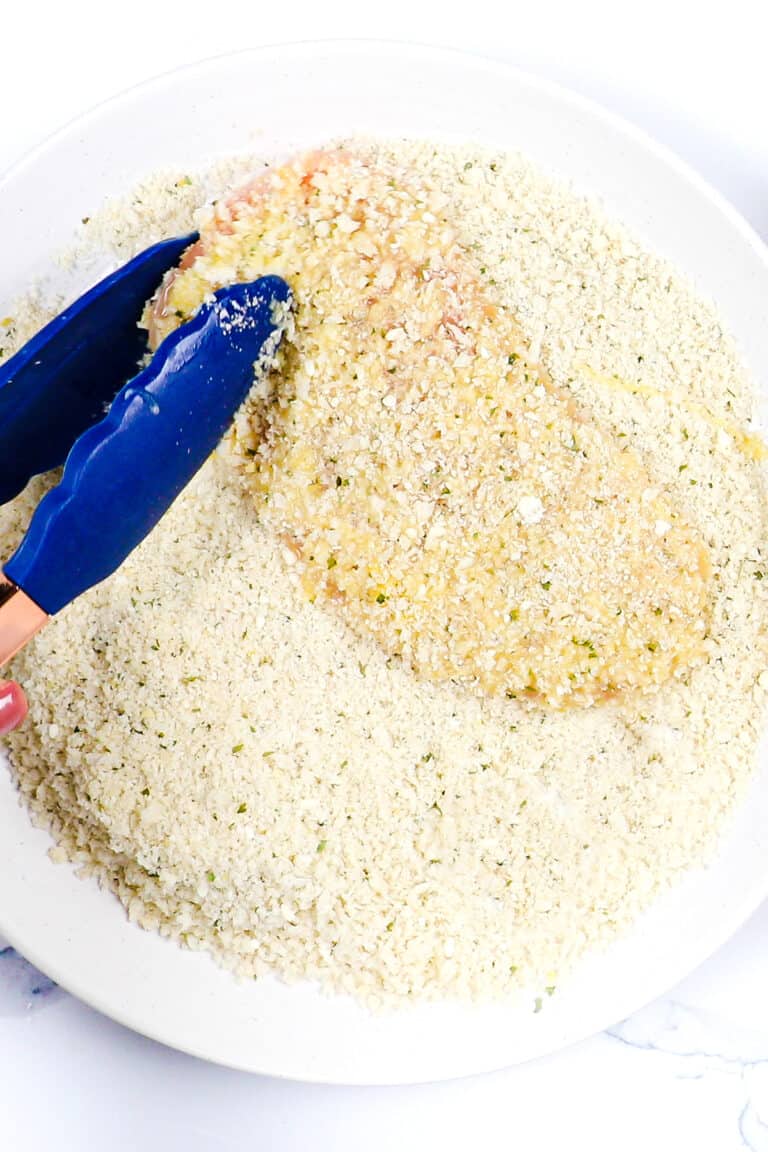 If you prefer a thicker coating on your chicken, you can double-coat it as I did in the video. In that case, make sure to double the coating ingredients as well. However, this is a personal preference, and single-coated chicken can be just as delicious.
Cooking Instructions
Heat ¼ inch of vegetable oil in a skillet on medium-high heat. Test the oil by dropping a few breadcrumbs in. If they sizzle immediately, the oil is ready.
Working in batches to not crowd the pan, Cook the coated chicken in the hot oil until golden brown, about 3 to 4 minutes per side. Don't overcrowd the pan.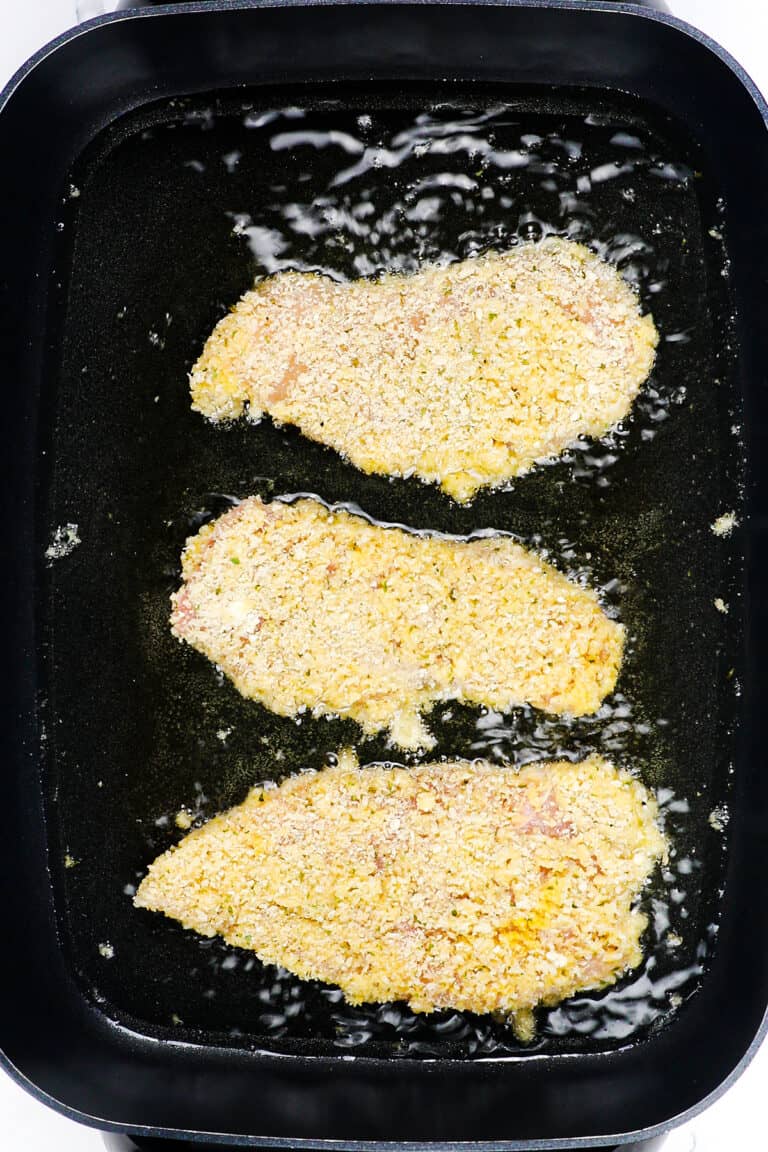 Once perfectly browned on one side, flip them over and cook for another two minutes until they're equally brown on the other side.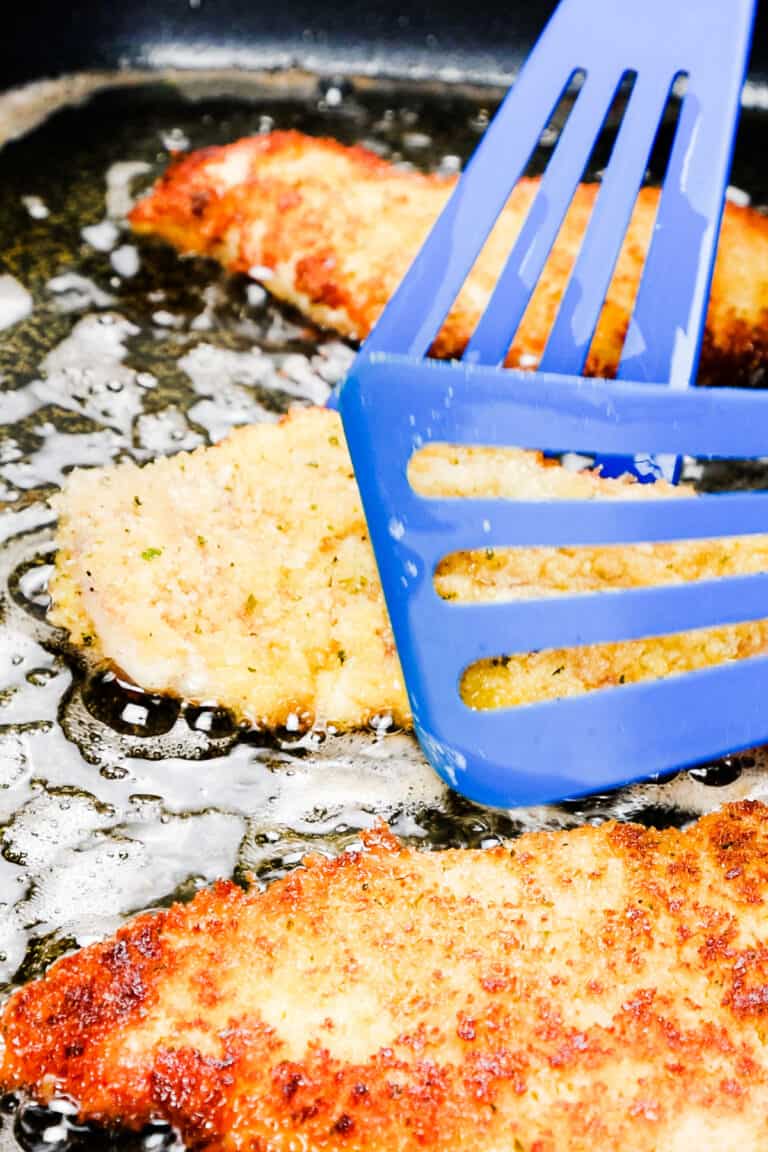 Transfer the chicken to a paper towel-lined plate to drain any excess oil when cooked and golden brown on both sides.
Use a meat thermometer to check that chicken cutlets reach 165°F (74°C) internal temperature when fully cooked. This is the safe minimum temperature recommended by the USDA to ensure chicken is safe to eat.
Repeat with the remaining chicken cutlets, adding more oil to the pan between batches.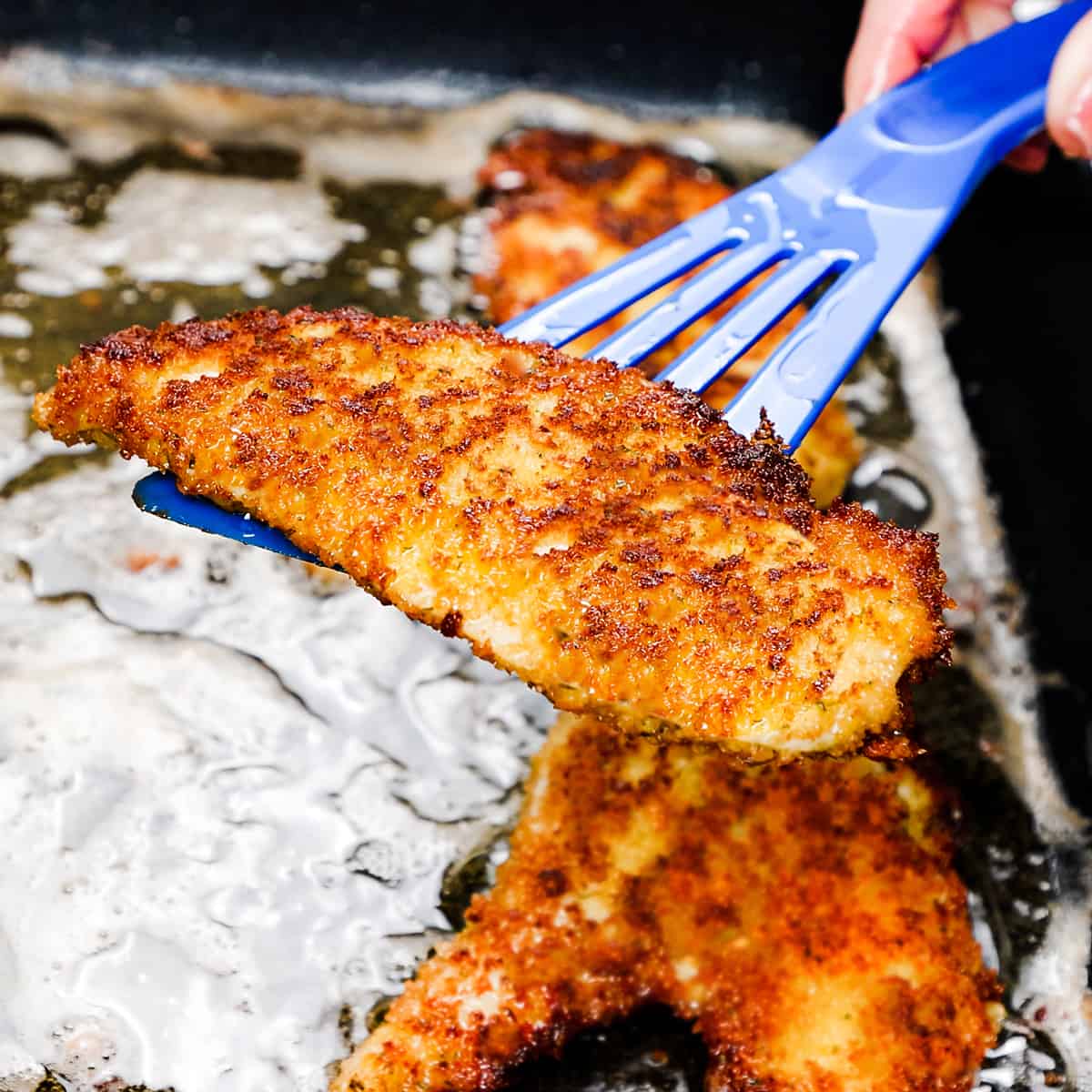 To prevent the oil from burning when cooking panko chicken in batches, keep the temperature consistent, remove any burnt bits between batches, and replace the oil if it starts to smoke or turn brown.
Before serving, season the cutlets with a little more salt while they're still hot.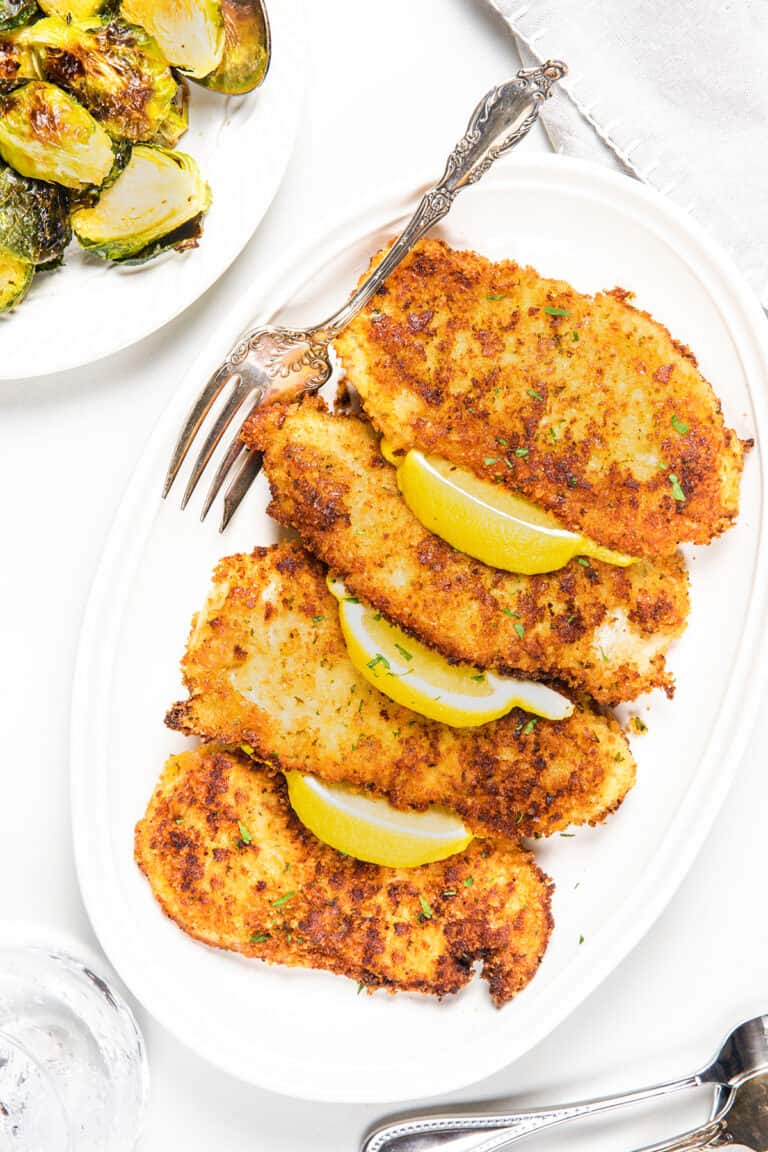 Erren's Top Tips Tips
Pound the chicken breasts to an even thickness before slicing to ensure they cook evenly.
Season the chicken with salt beforehand (45 minutes to one day before) so it has time to absorb the flavor.
Use freshly grated Parmesan cheese for the best flavor and texture.
Ensure the oil is hot enough before adding the chicken to the pan. You can test this by adding a small piece of bread or a drop of water to the oil – if it sizzles and starts to cook, the oil is hot enough.
Don't overcrowd the pan when cooking the chicken. This will prevent the chicken from getting crispy.
Use a paper towel-lined plate to absorb any excess oil after cooking.
Serve the chicken hot and fresh for the best taste and texture.
Storage & Freezing Instructions ❄
Make Ahead: You can prepare Panko Chicken cutlets ahead of time and store them in the refrigerator for up to 24 hours before cooking. Follow the recipe as directed and place the cutlets in a single layer on a baking sheet. Cover the sheet with plastic wrap and refrigerate until ready to cook.
Freezing: If you want to freeze the chicken cutlets, place them on a baking sheet and freeze them for 1 to 2 hours until firm. Then, transfer the cutlets to a freezer-safe bag or container and store them in the freezer for up to 3 months. To cook the frozen cutlets, bake them in a preheated 400°F oven for 20 to 25 minutes or until heated and crispy.
Troubleshooting Tips
Sometimes things don't go as planned in the kitchen. Here are a few common problems and some tips for how to fix them.
Breading isn't sticking: Ensure the chicken is completely dry before coating it with the egg wash and the egg mixture is not too thin. You can also try using a fork to poke holes in the chicken to help the breading stick.
The panko chicken turns out too dry: It could be overcooked, or the chicken breasts could be too thin. To fix this, you can try cooking the chicken for a shorter time or using thicker chicken breasts. You can also try marinating the chicken before cooking to add moisture and flavor.
The coating falls off during cooking: The breading may fall off for several reasons. One is that the chicken wasn't dry before coating or wasn't coated evenly. Another reason could be that the oil wasn't hot enough. It's essential to ensure the chicken is thoroughly coated and the panko mixture is pressed firmly into the chicken. It's also helpful to heat the oil to the right temperature and test it with a small piece of breading before adding the cutlets.
The breading is burning: If it is burning, it's probably because the heat is too high. Lower the heat or use a different oil with a higher smoke point, such as vegetable or canola oil.
The chicken isn't crispy enough: it could be because the oil wasn't hot enough or the chicken wasn't cooked long enough. Ensure to heat the oil to the correct temperature and cook the chicken for the time specified in the recipe. You can also use a wire rack to let the chicken cool instead of paper towels.
The chicken tastes bland: If it tastes flat, it could be because there wasn't enough seasoning in the panko mixture or on the chicken itself. Make sure to add enough salt to the chicken and the panko mixture.
Oil is splattering: Make sure the chicken is completely dry before placing it in the hot oil. You can also lower the heat and use a splatter screen to protect yourself from hot oil.
The Perfect Pairings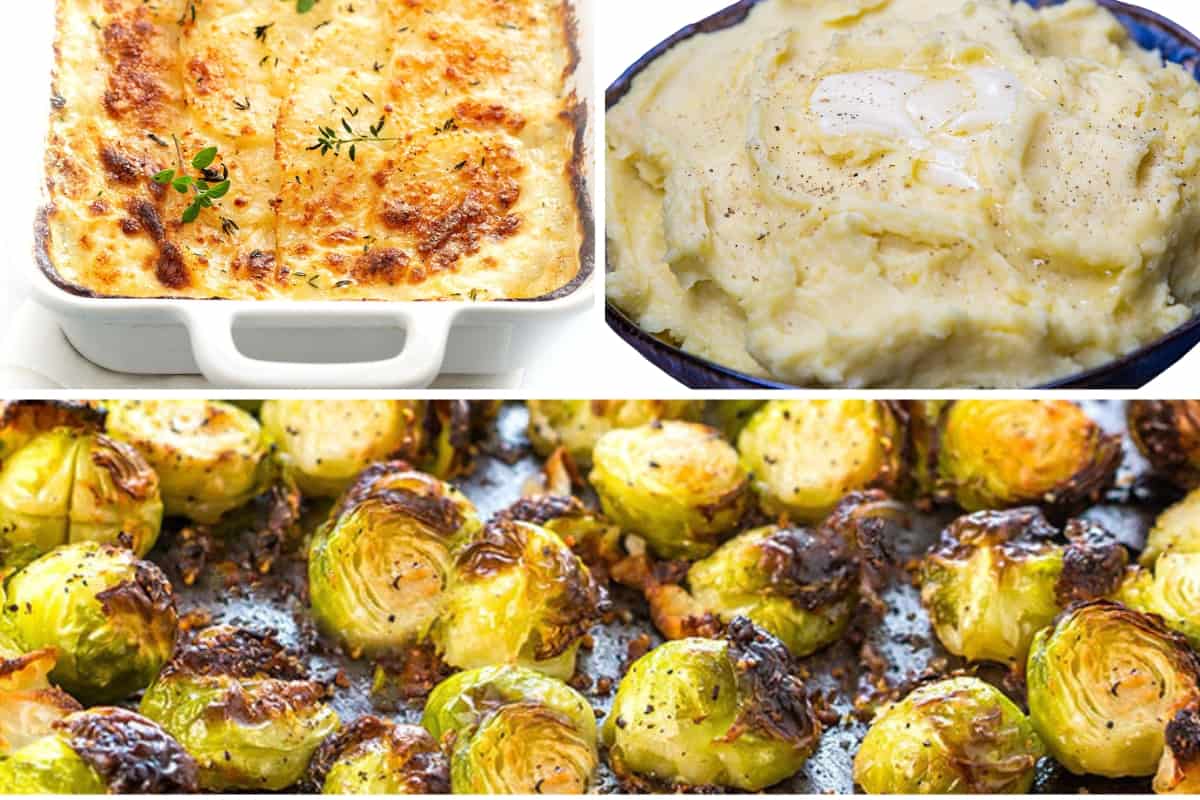 Stay Updated
Receive new recipes & dinner ideas straight to your inbox!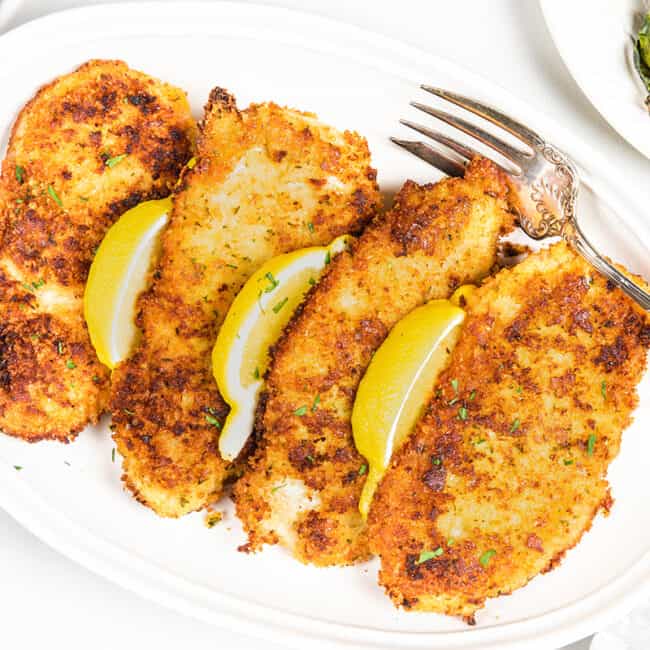 Let's Make Panko Chicken
Golden-brown chicken cutlets coated with panko breadcrumbs, Parmesan cheese, and garlic. Its satisfying crunch and juicy, tender chicken will have you coming back for more.
Prep20 minutes
Cook20 minutes
Total40 minutes
Ingredients
2 chicken breasts boneless skinless
2 large eggs
¼ cup milk
2 cloves garlic minced
1 cup panko breadcrumbs
4 tablespoons Parmesan cheese freshly grated
Salt & pepper to taste
Instructions
Slice the chicken breasts into thin slices, season with salt, and set aside.

Beat the eggs with the milk and garlic in a shallow bowl.

In another shallow bowl, mix the breadcrumbs, Parmesan cheese, salt, and pepper to taste.

Pat the chicken cutlets dry with paper towels and dip them one by one into the egg mixture, then coat them with panko mixture and press to adhere.

Coat the pan with oil about ¼ of an inch deep and heat the oil over medium-high heat in a large, heavy skillet.

Working in batches, Cook the chicken without turning until golden brown, 3 to 4 minutes per side.

Then flip the cutlets and cook until browned on the other side (about 2 minutes more). Salt the cutlets and place them on a paper towel-lined plate or wire rack while you cook the rest.

Repeat with the remaining cutlets, adding oil (as needed) between batches until golden brown.
Nutrition Information:
Calories: 251 (13%)| Carbohydrates: 12g (4%)| Protein: 31g (62%)| Fat: 8g (12%)| Saturated Fat: 3g (19%)| Polyunsaturated Fat: 1g| Monounsaturated Fat: 2g| Trans Fat: 0.02g| Cholesterol: 159mg (53%)| Sodium: 358mg (16%)| Potassium: 511mg (15%)| Fiber: 1g (4%)| Sugar: 2g (2%)| Vitamin A: 217IU (4%)| Vitamin C: 2mg (2%)| Calcium: 126mg (13%)| Iron: 2mg (11%)
Erren's Kitchen is written and produced for informational intentions only. We are not certified nutritionists, and the nutritional information found on this site has not been assessed or authorized by a nutritionist or the FDA. The nutritional information found in our recipes is offered as an estimate and should not be considered a guarantee or fact. The estimated data is provided as a courtesy and calculated through a third-party online nutritional calculator, spoonacular API. Although we do our best to provide accurate nutritional information, these figures should be considered rough estimates. Many factors, such as brands or products purchased and the nutritional fluctuations that naturally occur in fresh produce, can alter the effectiveness of the nutritional information in any recipe. Furthermore, various online calculators provide different results depending on their particular algorithms and nutrition fact sources. To obtain the most precise nutritional information in a provided recipe, you should calculate the nutritional information with the exact ingredients you are using when preparing the recipe using your preferred nutrition calculator.