Could there be a better way to serve anything than when covered with a creamy sauce and cheese? This recipe for Cheesy Scalloped Potatoes is comfort food at it's finest! This dish goes beautifully with Crispy Breaded Chicken Cutlets or as an alternative to pasts with my Slow Cook Beef and Ale with Mushrooms.
Get your comfort food right here! I know this isn't exactly a summery dish, but who needs to wait until winter to indulge in creamy, cheesy goodness?
I have very little time today so this post will be super short, but I promise I'm making up for my lack quantity with a huge amount of quality because this dish is outstanding!
It's super easy to make so throw it together, grab yourself a plate and dig in! You will not be disappointed!
Other Indulgent Sides
Stay Updated
Receive new recipes & dinner ideas straight to your inbox!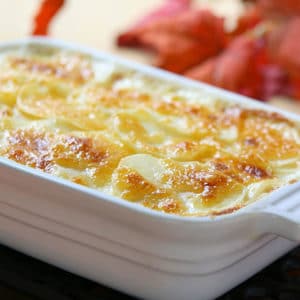 Let's Make Cheesy Scalloped Potatoes
There is no better combination than cheese and potatoes, this wonderfully saucy dish is a winner that's for sure.
Prep15 minutes
Cook45 minutes
Total1 hour
Ingredients
1½ cups cream (whipping cream) heavy cream, low fat half & half - your choice)
1 bay leaf
a good handful of fresh parsley tied with cooking twine.
2 garlic cloves peeled and crushed
2 pounds potatoes (russet or any favorite potato of your choice) peeled & sliced
salt and freshly ground black pepper
½ cup grated Parmesan cheese plus more for topping
1 cup grated white cheddar
butter for greasing the pan
Instructions
Preheat the oven to 400 degrees F.

Grease a casserole dish with butter.

In a saucepan, heat the cream with the bay leaf, parsley, and garlic and simmer for 5 minutes.

Salt and pepper to taste.

Using a slotted spoon, remove the bay leaf, garlic and parsley. Mix in the Parmesan cheese and set aside.

Slice the potatoes and add them to a large bowl. Pour the cream over potato slices. Mix to coat the potatoes. Mix gently to incorporate.

Add the mixture to the casserole dish and spread the mixture evenly over the dish.

Top with some Parmesan cheese & the cheddar, cover the dish with aluminum foil (making sure the foil is not laying directly onto the cheese), and bake for 30 minutes.

Remove the foil and bake another 10 minutes or until the top is golden brown.
Nutrition Information:
Calories: 560kcal (28%)| Carbohydrates: 31g (10%)| Protein: 23g (46%)| Fat: 38g (58%)| Saturated Fat: 24g (150%)| Cholesterol: 133mg (44%)| Sodium: 603mg (26%)| Potassium: 1040mg (30%)| Fiber: 5g (21%)| Vitamin A: 1375IU (28%)| Vitamin C: 26.6mg (32%)| Calcium: 590mg (59%)| Iron: 7.8mg (43%)