This easy recipe for Garlic & Herb Cream Cheese Log is a savory mix of garlic, cream cheese, and fresh parsley that's utterly addictive. This tasty spread is a fantastic appetizer on crackers, but great in sandwiches or spread on a bagel.
I recently helped a friend arrange a wine and cheese event for her business. She wanted to have a gathering for her clients to show them how much she appreciates them. She asked me if I could help come up with a few easy recipes to serve. We went to the grocery store to see what inspiration we could come up with. In the gourmet cheese section, we found a slice of what they called cheese roule. I'd never heard of it, but it looked pretty and it piqued my interest. We bought it to sample along with a few other items.
We liked the idea of it, but it tasted flat and artificial. I have to say, I'm pretty ruined for store-bought anything; because I always cook from scratch, I'm never happy with anything store-bought. It always tastes of chemicals to me. We threw out the roule and I decided to make my own. On the ingredients list of the roule (among other unnatural sounding things) was cream cheese, garlic, cornstarch, and parsley. So that's what I used in mine (minus the fillers and preservatives). If you want to add other herbs, feel free – the sky's the limit.
This spread is creamy, delicious, and full of flavor. I only used one clove of garlic because raw garlic can pack a punch. If you aren't keen on the taste of raw garlic, I've included garlic powder as an alternative. This recipe should be made on the same day you plan to serve it as cream cheese can sweat quite a bit and it could end up looking wet.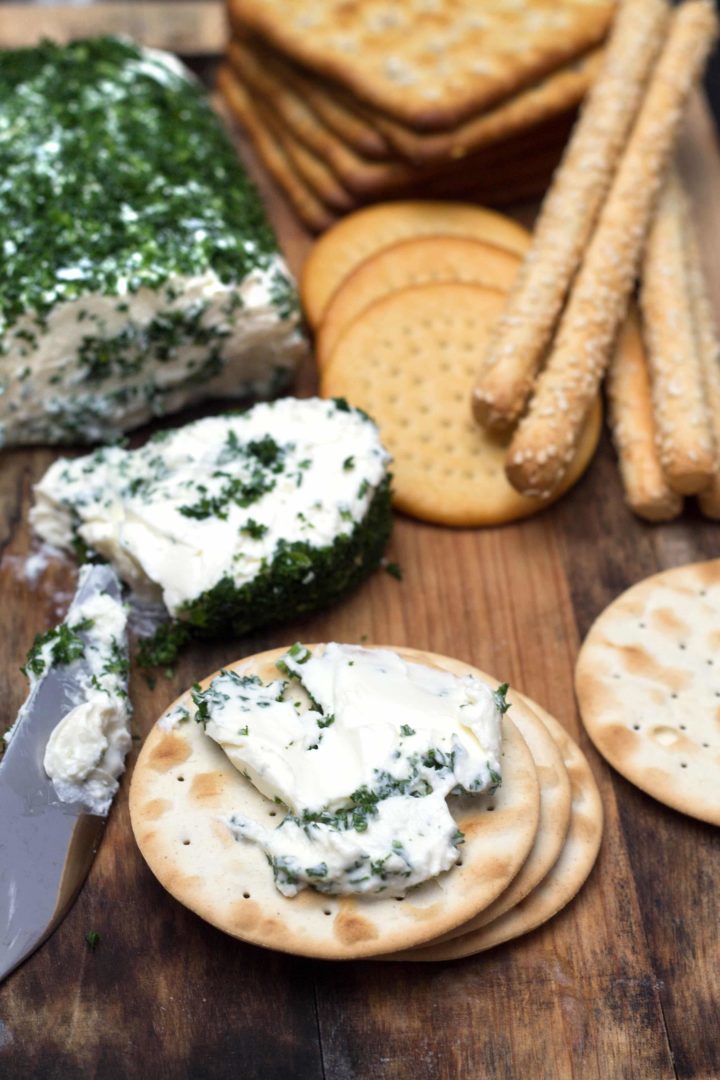 Stay Updated
Receive new recipes & dinner ideas straight to your inbox!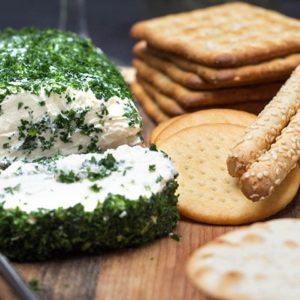 Let's Make
Garlic & Herb Cream Cheese Log
This easy recipe for Garlic & Herb Cream Cheese Log is a savory mix of garlic, cream cheese and fresh parsley that's utterly addictive.
Prep30 minutes
Total1 hour 30 minutes
Chilling time: 1 hour
Serves: 8 servings
Ingredients
8 ounces cream cheese softened
1 tablespoon cornstarch
1 teaspoon garlic minced or 1 garlic powder
salt & pepper to taste
1 cup fresh curly parsley finely chopped
Instructions
In a medium mixing bowl, beat the cream cheese, cornstarch, and garlic until combined.

Season with salt & pepper to taste and mix again to combine.

Line a loaf pan with plastic wrap.

Place a layer of chopped parsley evenly over the lined loaf pan.

Gently spread the cream cheese mixture over the parsley

Cover the pan with plastic wrap & chill for 30 minutes

Gently lift the cream cheese mixture with the plastic wrap lining the pan and place it on a flat surface.

The bottom of the cream cheese will now be coated with the parsley

From the short end, gently roll the coated cream cheese by lifting one end of the plastic wrap into a log.

Place the log onto a serving dish, cover and chill for at least one hour before serving.
Nutrition Information:
Calories: 104kcal (5%)| Carbohydrates: 2g (1%)| Protein: 1g (2%)| Fat: 9g (14%)| Saturated Fat: 5g (31%)| Cholesterol: 31mg (10%)| Sodium: 95mg (4%)| Potassium: 80mg (2%)| Vitamin A: 1015IU (20%)| Vitamin C: 10.1mg (12%)| Calcium: 38mg (4%)| Iron: 0.6mg (3%)