This recipe for Feta and Caramelized Onion Tartlets makes delicious tarts perfect for dinner parties, picnics or even just as a snack.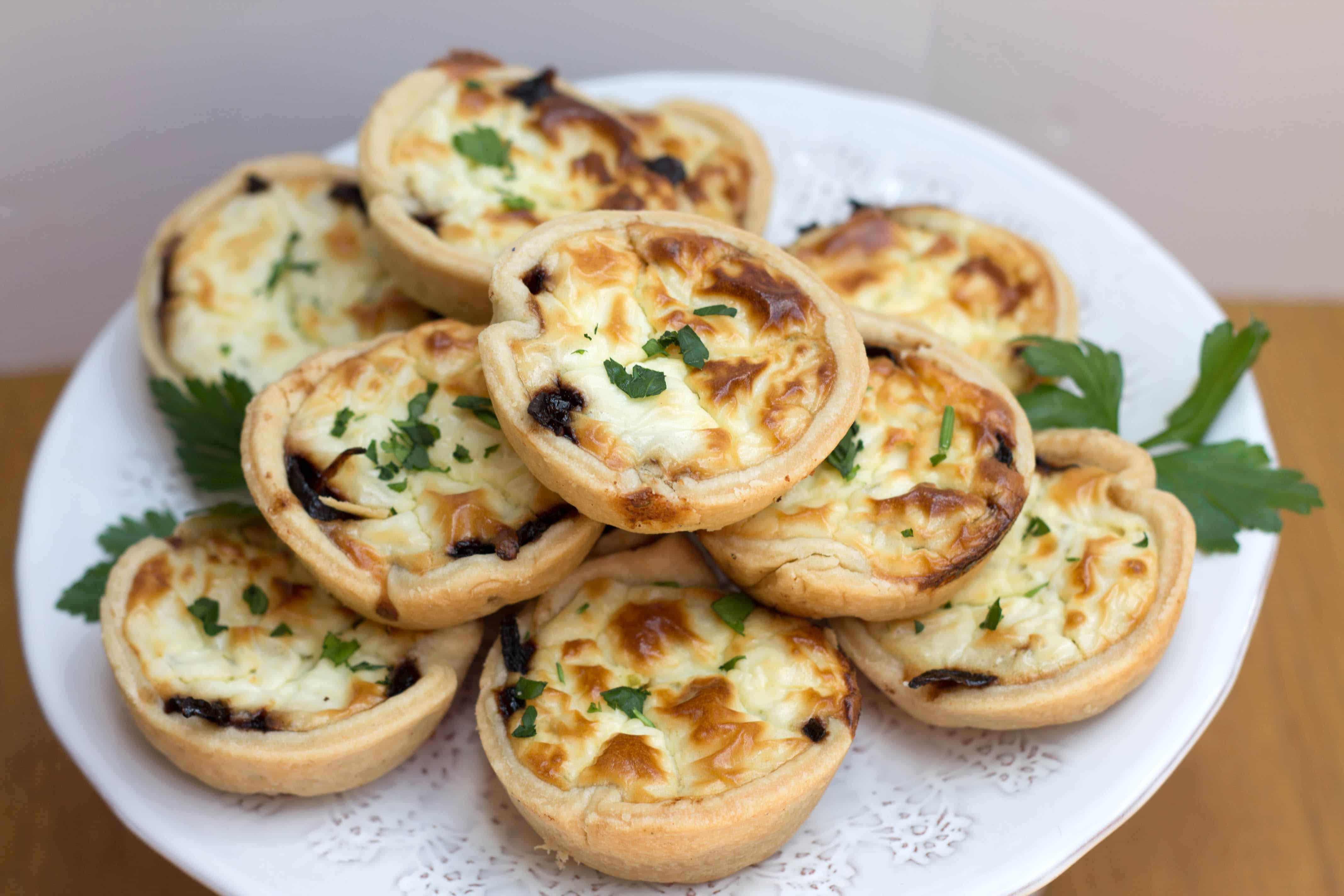 These tarts are really fantastic. The creamy, salty flavor of the feta mixed with the sweetness of the onions is a perfect combination.
On the day I made this recipe, my husband stopped in for something he needed for work. I had just finished shooting the pictures for this post, and when he saw the tarts on the table he asked if he could try one (you always have to ask when you live with a food blogger). I gave him the OK, he took one bite, and his eyes lit up. He said they were amazing and asked if he could take some to bring back to the guys at work. I told him to take them all (knowing they'd be calling my name for the rest of the day and I'd eat way too many than I should).
He text me later saying that the guys loved them and one said it was the best thing he's eaten in a long time. I LOVE hearing things like that and get great joy from people enjoying my food (which is why I do what I do). I hope you like them just as much as they did! 🙂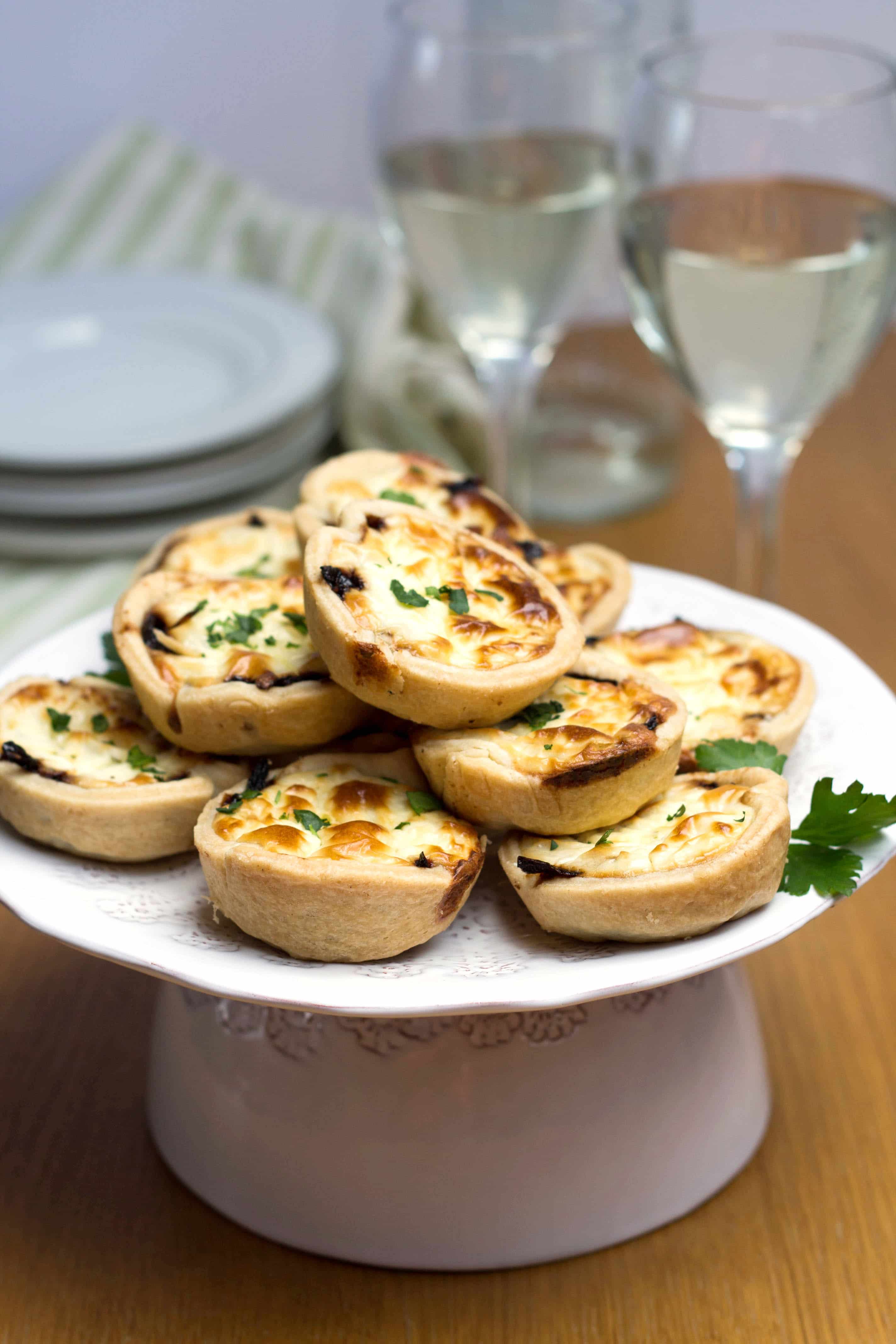 After making my recipe for Roasted Eggplant Couscous Salad last week, I had some feta I wanted to use for something different and warm. A lot of people only use feta cheese cold. I know until seeing Jamie Oliver add it to a recipe, it never occurred to me either, but once you try it, you'll be finding ways to serve it warm.
I was in the process of creating a recipe for the feta when I saw a TV show with Mary Berry (a British TV cook & cookbook author) where she made Goats' cheese and shallot tarts.
She made them with a walnut crust. I thought it looked really good, but I'm not a fan of goats cheese and didn't have a shallot in the house, but I ran with it anyway and thought it was the perfect opportunity to use up my feta and put my own spin a fantastic recipe.
For this recipe, you can use store bought crust if you are short on time, but I recommend using homemade because, to me, nothing tops homemade.
I've included my crust recipe in the directions. It's a tried and true recipe that I love and know works with both savory and sweet pies and tarts. So instead of the walnut crust that Mary Berry used, I went with my own crust that I had in the freezer all ready to go. I thawed it, rolled out the crust and cut it into rounds a bit larger than the sections of my muffin pan.
Mary Berry added brown sugar and balsamic vinegar to her shallots to add sweetness which I thought would work with the red onions as well, but I added some honey too, just for a bit of extra sweetness along side the feta. I cooked them until soft and added a tablespoon to each tart and used the back of the spoon to flatten them.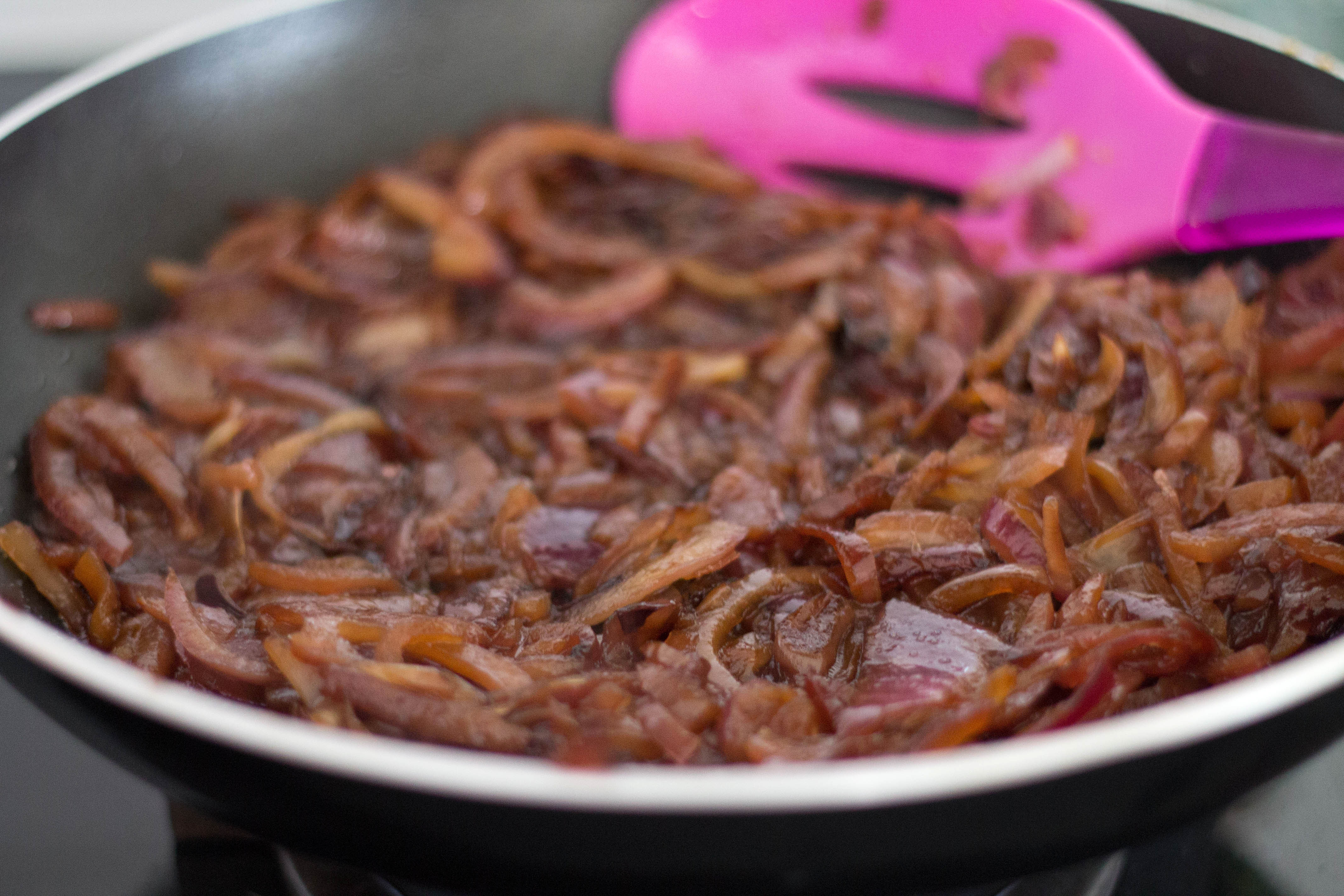 To add a bit of creaminess, I added some cream cheese to the feta as well as some chopped parsley. Feta has a strong flavor so I wanted to keep it simple. I also added an egg just to help it set. I blitzed it together in the food processor and topped the red onions with it. Then I baked them for 20 minutes.
Never Miss A Single Recipe!
Join the free Erren's Kitchen mailing list & get the latest tasty goodness straight to your inbox!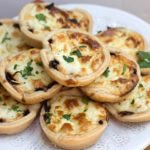 Red Onion & Feta Tarts
This recipe for Red Onion & Feta Tarts is like the best cheese and crackers of your life (only baked into a tart)! These delicious tarts are perfect for dinner parties, picnics or even just as a snack.
Ingredients
For the crust:

1¾

cups

all-purpose flour

½

cup

butter

1

teaspoon

salt

1

teaspoon

sugar

3-6

tablespoons

ice water

For the filling:

1

tablespoon

olive oil

6

medium red onions

sliced

1

tablespoon

balsamic vinegar

3

tablespoons

light brown sugar

1

tablespoon

honey

salt and pepper

to taste

6

ounces

feta cheese

2

ounces

cream cheese

1

egg

2

tablespoons

fresh parsley

chopped
Instructions
To make the crust, sift the flour onto some baking paper and then add it to a food processor.

Add the sugar, and salt and pulse a couple times to mix.

Add about half of the butter and pulse several times.

Then add the rest of the butter and pulse 6 to 8 times until the largest pieces of butter are about the size of large peas.

Sprinkle the mixture with about 2 tablespoons of the ice water (leaving the cubes behind) then pulse again.

Then add more ice water, a tablespoon at a time, pulsing once or twice after each addition until the dough just barely begins to hold together.

You know that the mixture is ready if when you pinch some together with your fingers and it holds together. Be careful with the amount of water you add, too much and the crust will be tough.

Empty the crumbly dough mixture from the food processor onto a clean, dry, floured surface.

Form a mound with the mixture and knead briefly (just a couple of turns). Form into a ball, cover with plastic wrap and chill for at least 1 hour (although it can be up to a few days or even frozen at this point).

Once chilled, let the dough sit at room temperature for 10 minutes before rolling.

Roll out the crust on a lightly floured surface to about ¼ inch thick.

Using 4½ cutter, cut out twelve circles and line 12 sections of a muffin pan with the circles. The dough should overlap enough to be able to crimp the edges.

Prick the bottom of each one with a fork and chill in the pan in the fridge while you make the filling.

preheat the oven to 350F/175C
For the filling:
Heat the oil in a lidded frying pan, add the red onions and cook over high heat for 2-3 minutes, stirring often to keep them from sticking to the pan.

Lower the heat, cover and cook for 8-10 minutes until soft.

Add the vinegar. sugar, and honey and cook for 10 minutes, stirring occasionally until the onions are caramelized.

Season to taste with salt & pepper if desired and set aside to cool.

Put the feta cheese, cream cheese, egg, and half the parsley in a food processor and blitz until smooth.

Fill the chilled tart crusts with 1 tablespoon of the onion mixture and flatten with the bottom of the spoon.

Pour cheese mixture over the onions.

Bake for 20 minutes, or until the pastry is crisp and the filling is just golden brown and set Sprinkle chopped parsley and serve. These tarts are good warm or cold.
Nutrition Facts
Red Onion & Feta Tarts
Amount Per Serving
Calories 244
Calories from Fat 126
% Daily Value*
Total Fat 14g 22%
Cholesterol 51mg 17%
Sodium 444mg 19%
Potassium 127mg 4%
Total Carbohydrates 24g 8%
Protein 5g 10%
* Percent Daily Values are based on a 2000 calorie diet.
Never Miss A Single Recipe!
Join the free Erren's Kitchen mailing list & get the latest tasty goodness straight to your inbox!