Elevate your salads with this creamy homemade Garlic Dressing. Using fresh ingredients, it's easy to make and truly delicious!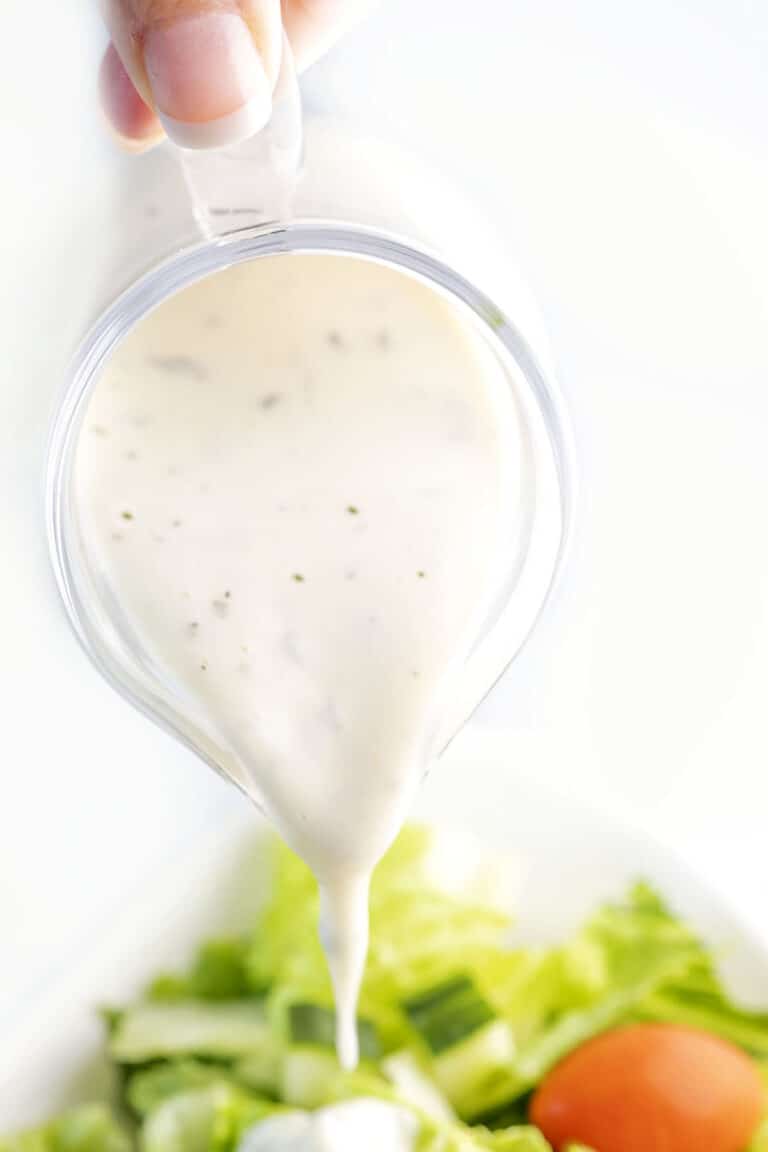 Are you tired of store-bought dressings that lack that special touch? We've got the recipe for you! This delightful creamy garlic dressing recipe will take your salads to the next level. Bursting with the robust flavors of fresh garlic and Parmesan cheese and boasting a creamy texture, this dressing will surely be your go-to.
In addition to salads, you can enjoy the versatility of this Creamy Garlic Parmesan Dressing in other dishes too! It adds a burst of flavor to Cob Salad, Pasta Salad, and more. Use it as a dip for veggies, a sandwich spread, or even a marinade. Let your taste buds explore the delightful possibilities this dressing brings to your meals!
Why This Recipe Works
Fresh Garlic: Using fresh garlic imparts a vibrant and authentic flavor to the dressing, ensuring it stands out from the crowd.
Creamy Texture: The combination of mayonnaise, sour cream, and Parmesan cheese creates a luxurious and velvety consistency, coating your salads beautifully.
Tangy Twist: The addition of lemon juice adds a zesty tang that balances the richness of the dressing, making it irresistibly flavorful.
Parmesan Perfection: The inclusion of Parmesan cheese adds a delightful nuttiness and depth of flavor, elevating the dressing to a whole new level.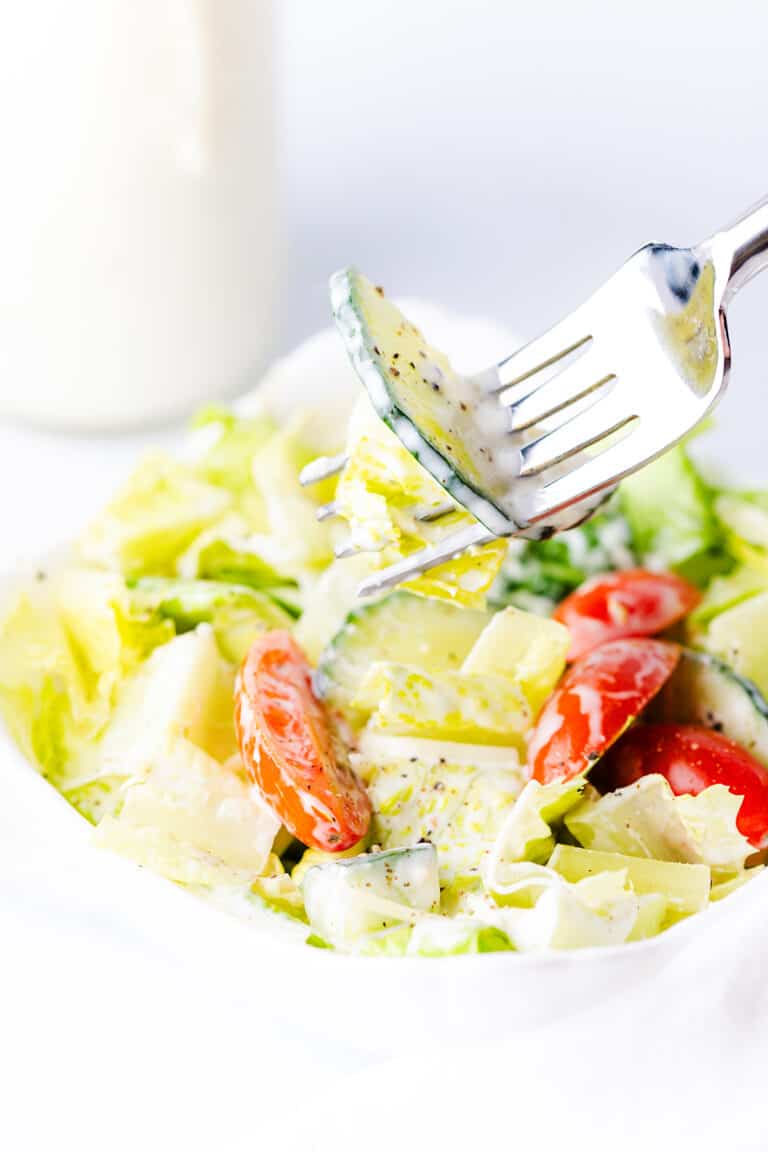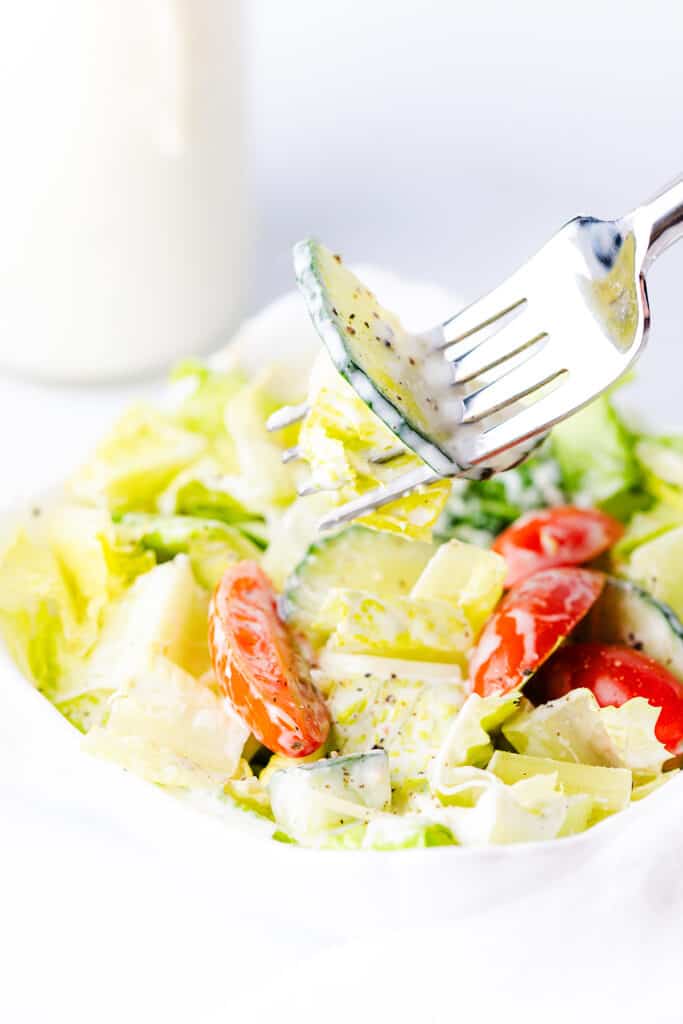 Ingredient Notes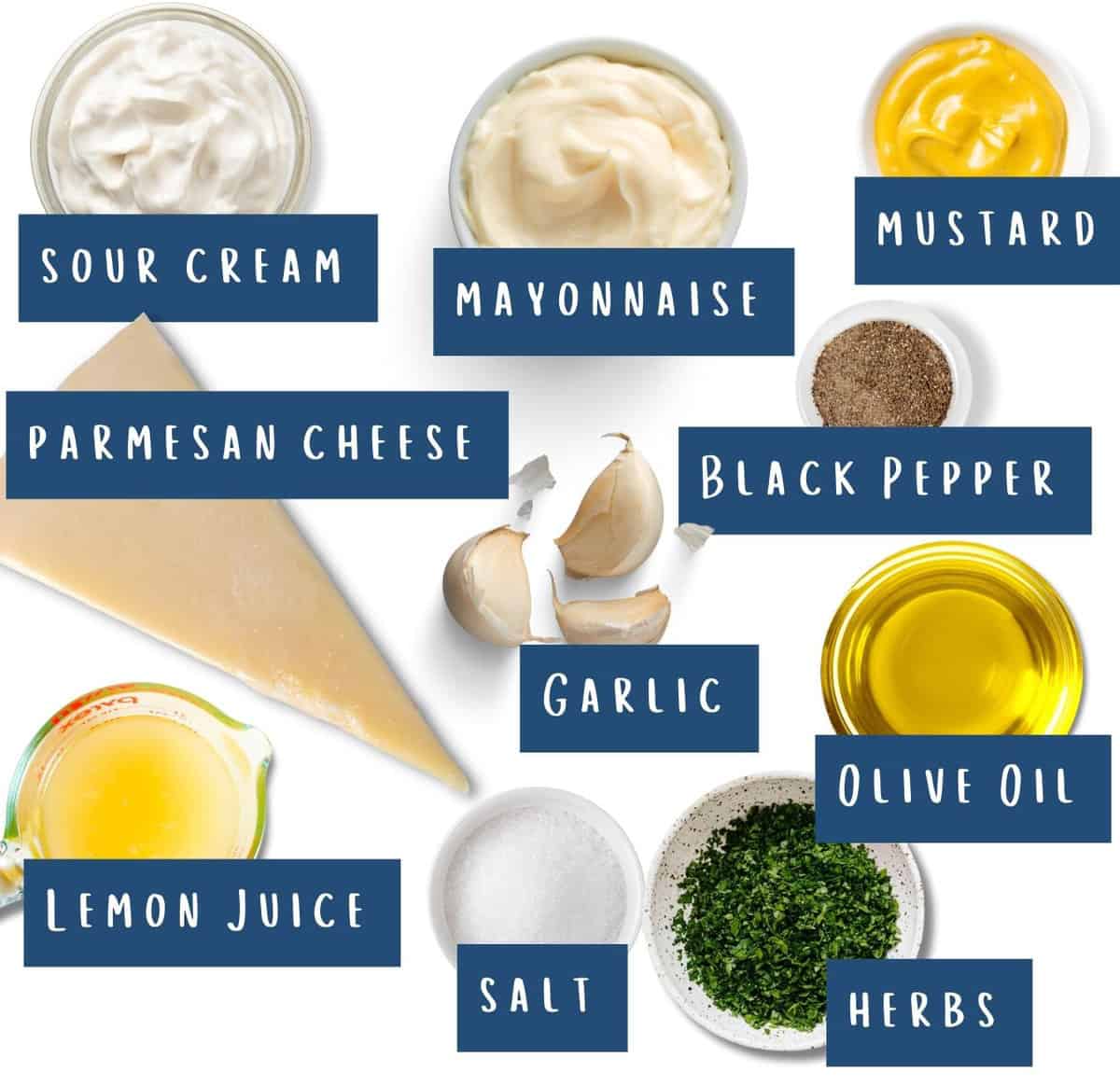 Fresh Garlic: Opt for plump and firm garlic cloves for the best flavor. You can substitute with 1 teaspoon of garlic powder and then adjust to taste.
Mayonnaise: Use a high-quality mayonnaise for optimal taste and texture. You can substitute it with additional sour cream or Greek yogurt.
Sour Cream: Look for full-fat sour cream for a rich and creamy dressing. Greek yogurt can be a substitute if desired.
Lemon Juice: Freshly squeezed lemon juice yields the best results, but vinegar can be used as a substitute.
Oil: Extra virgin olive oil is our preferred choice for this recipe. Alternatively, choose a neutral-tasting oil like vegetable or canola oil.
Mustard: Dijon mustard is smooth, creamy, and slightly tangy. It adds a subtle, sophisticated flavor, or use yellow mustard for a classic, mildly tangy flavor.
Parmesan Cheese: Grate fresh Parmesan cheese for the best results. The cheese adds a delightful nutty flavor. If desired, you can substitute with grated Pecorino Romano or Asiago cheese.
Step By Step Instructions
Gather your ingredients: 2 cloves of fresh garlic, 1/4 cup mayonnaise, 1/4 cup sour cream, 3 tablespoons lemon juice, 1/4 cup extra virgin olive oil, 2 teaspoons mustard, and add it to a food processor or blender.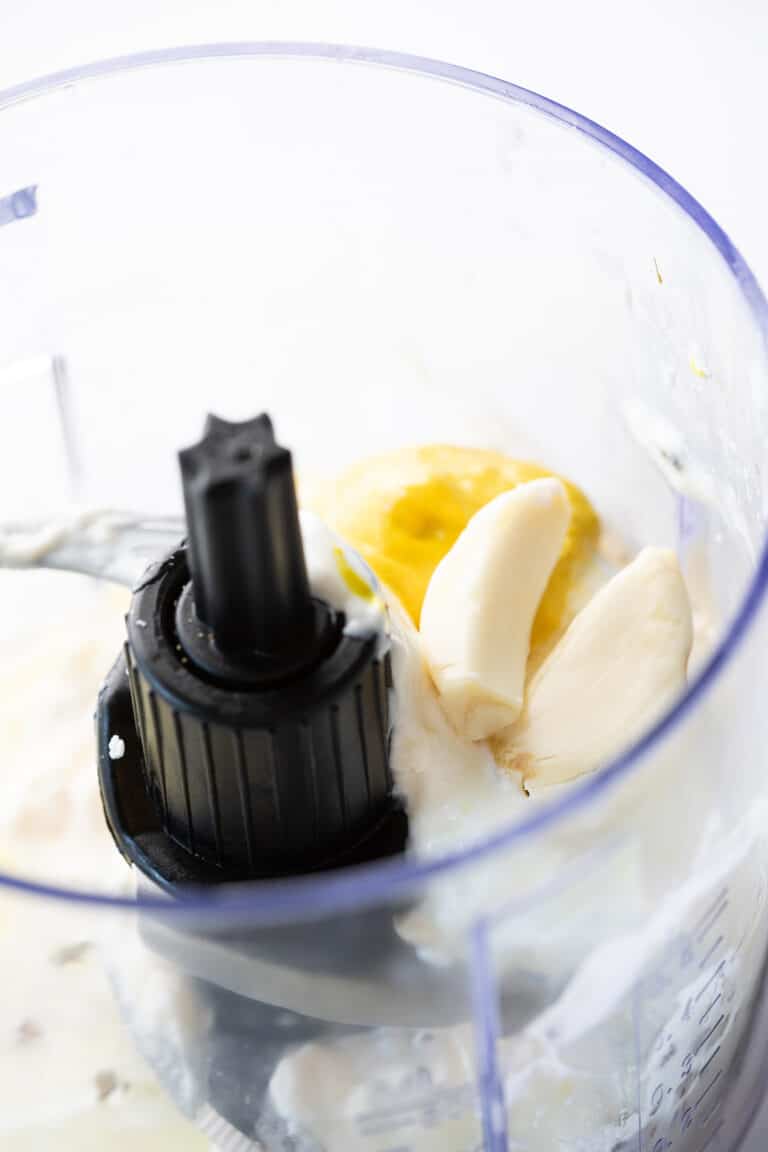 Add a 1/4 cup freshly grated Parmesan cheese and salt and pepper to taste.
Blend until smooth and creamy.
Taste and adjust: Give the dressing a taste and adjust the seasoning as needed. Add salt, lemon juice, or Parmesan cheese, according to your preference.
Transfer and store: Pour the creamy garlic dressing to an airtight container and refrigerate for at least 30 minutes to allow the flavors to meld together before using.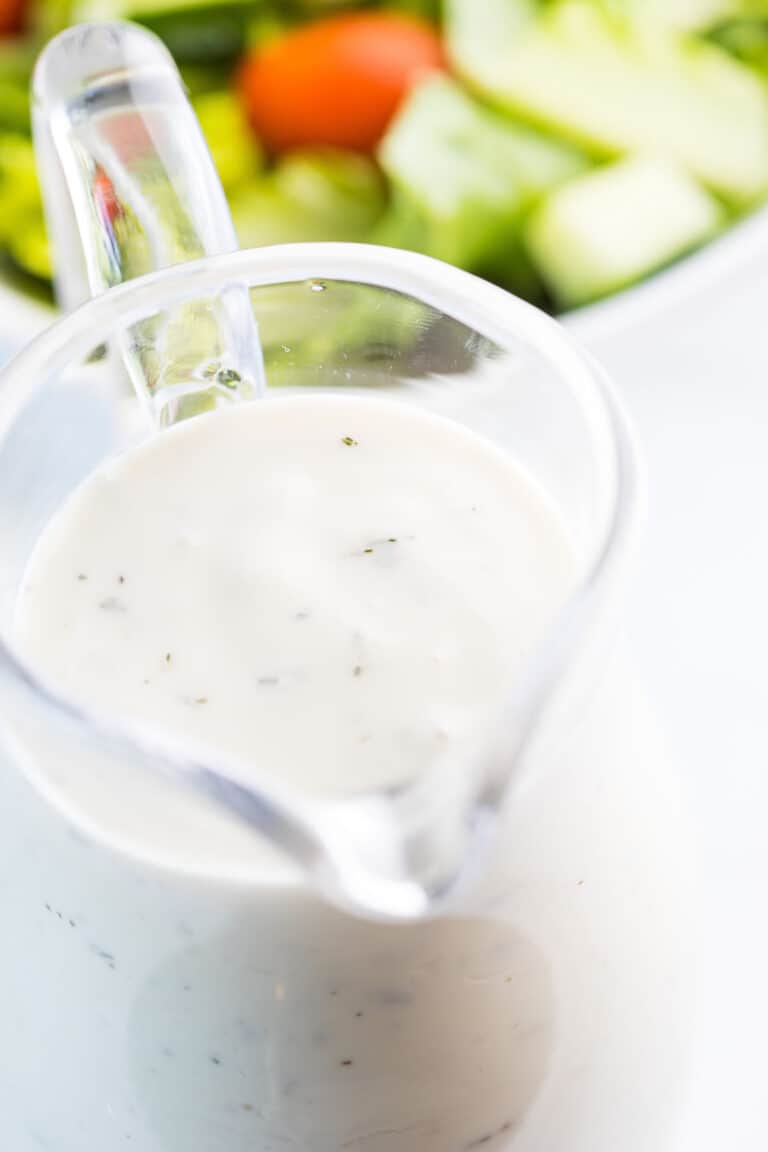 Enjoy: Drizzle this delectable dressing over your favorite salads, use it as a dip, or sauce up your sandwiches and wraps.
Recipe Tips
For a thinner consistency, add a splash of milk or buttermilk to the dressing until desired thickness is achieved.
Customize the herbs according to your taste preference or what you have on hand.
Experiment with adding other flavors, such as a touch of garlic powder or a pinch of Italian seasoning, for a creative twist.
Storage & Freezing Instructions ❄
Store the creamy garlic Parmesan dressing in an airtight container in the refrigerator for up to one week.
Before using, give the dressing a good stir to recombine any separated ingredients.
This dressing is not suitable for freezing as the texture may become compromised.
Stay Updated
Receive new recipes & dinner ideas straight to your inbox!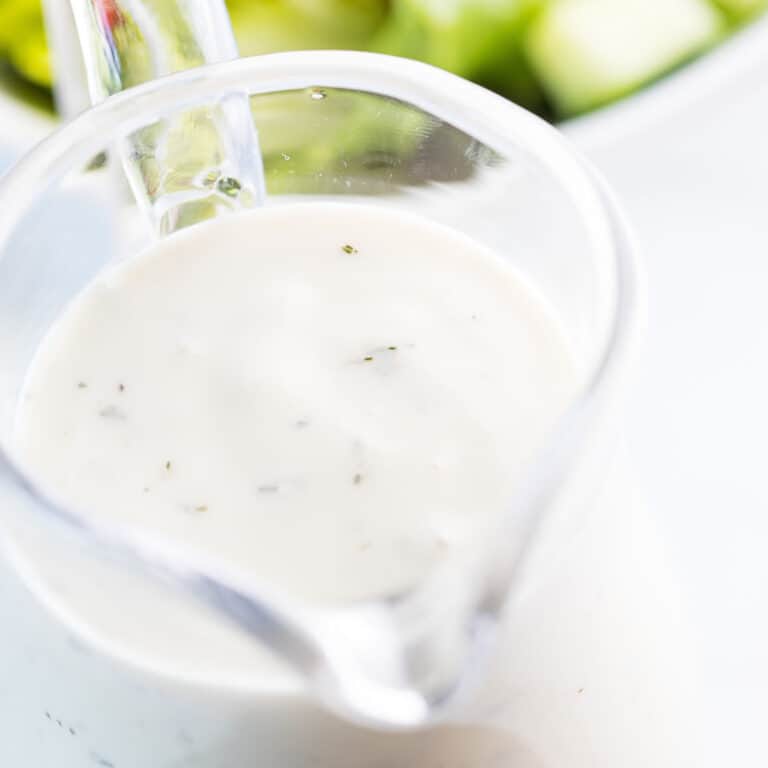 Let's Make Easy Garlic Dressing
Indulge in the rich flavors of our homemade Creamy Garlic Parmesan Dressing. This velvety dressing combines the boldness of fresh garlic with the nutty notes of Parmesan cheese, creating a taste sensation that will elevate your salads and more.
Prep10 minutes
Cook0 minutes
Total10 minutes
Ingredients
2 cloves fresh garlic whole peeled
1/4 cup mayonnaise
1/4 cup sour cream
1/4 cup parmesan cheese
3 tablespoons lemon juice adjust to taste
1/4 cup oil such as olive oil
2 teaspoons mustard optional, for added flavor
Salt and pepper to taste
Chopped herbs such as parsley, dill basil or chives
Instructions
Add the whole garlic cloves, mayonnaise, sour cream, parmesan cheese, lemon juice, salt, pepper, oil, and mustard (if using) to a food processor or blender.

Blend the ingredients well until they are thoroughly combined and the garlic cloves are finely chopped and incorporated into the dressing.

Add the chopped fresh herbs (parsley, chives, and dill) to the mixture and blend briefly to distribute the herbs throughout the dressing.

Taste the dressing for seasoning and add salt as needed. Adjust the salt and other seasonings according to your preference.

Transfer the creamy garlic dressing to an airtight container.

Store the dressing in the refrigerator to chill and allow the flavors to meld together.
Tips + Notes
This recipe should still make approximately 8 ounces (about 1 cup) of creamy garlic dressing. Remember to keep the dressing refrigerated and consume it within a week for optimal freshness. Enjoy your homemade creamy garlic dressing with whole garlic cloves!
Nutrition Information:
Calories: 138 (7%)| Carbohydrates: 1g| Protein: 1g (2%)| Fat: 14g (22%)| Saturated Fat: 3g (19%)| Polyunsaturated Fat: 5g| Monounsaturated Fat: 6g| Trans Fat: 0.04g| Cholesterol: 9mg (3%)| Sodium: 111mg (5%)| Potassium: 21mg (1%)| Fiber: 0.1g| Sugar: 0.5g (1%)| Vitamin A: 75IU (2%)| Vitamin C: 2mg (2%)| Calcium: 46mg (5%)| Iron: 0.1mg (1%)
Erren's Kitchen is written and produced for informational intentions only. We are not certified nutritionists, and the nutritional information found on this site has not been assessed or authorized by a nutritionist or the FDA. The nutritional information found in our recipes is offered as an estimate and should not be considered a guarantee or fact. The estimated data is provided as a courtesy and calculated through a third-party online nutritional calculator, spoonacular API. Although we do our best to provide accurate nutritional information, these figures should be considered rough estimates. Many factors, such as brands or products purchased and the nutritional fluctuations that naturally occur in fresh produce, can alter the effectiveness of the nutritional information in any recipe. Furthermore, various online calculators provide different results depending on their particular algorithms and nutrition fact sources. To obtain the most precise nutritional information in a provided recipe, you should calculate the nutritional information with the exact ingredients you are using when preparing the recipe using your preferred nutrition calculator.