Risottos have a reputation for being difficult to make, but this easy Bacon & Mushroom Risotto makes a one pot  dish changes that!
I know I've been using a lot of bacon and pancetta lately, but I got a big batch of it from the butcher and had to use it all while it was fresh because I really don't like to freeze cured meets.  Plus, if you ask me you can never have too much bacon!
I absolutely love risotto and used to hate making it.  All of those cooking shows that insisted I stand there and mix for 20 minutes straight really made it a chore to make.  Plus, any time I tried making it that way I ended up with a gloopy mess that was never the right consistency.
I'm really stubborn though and hate when I'm not good at something.  I'm pretty sure my husband used to dread when I'd try tackling risotto again knowing he was going to end up with something that sat like a rock for hours after our meal!
Then one day I got a weight watchers risotto recipe from a friend that had absolutely no stirring!  That recipe changed my way of making risotto from that day forward.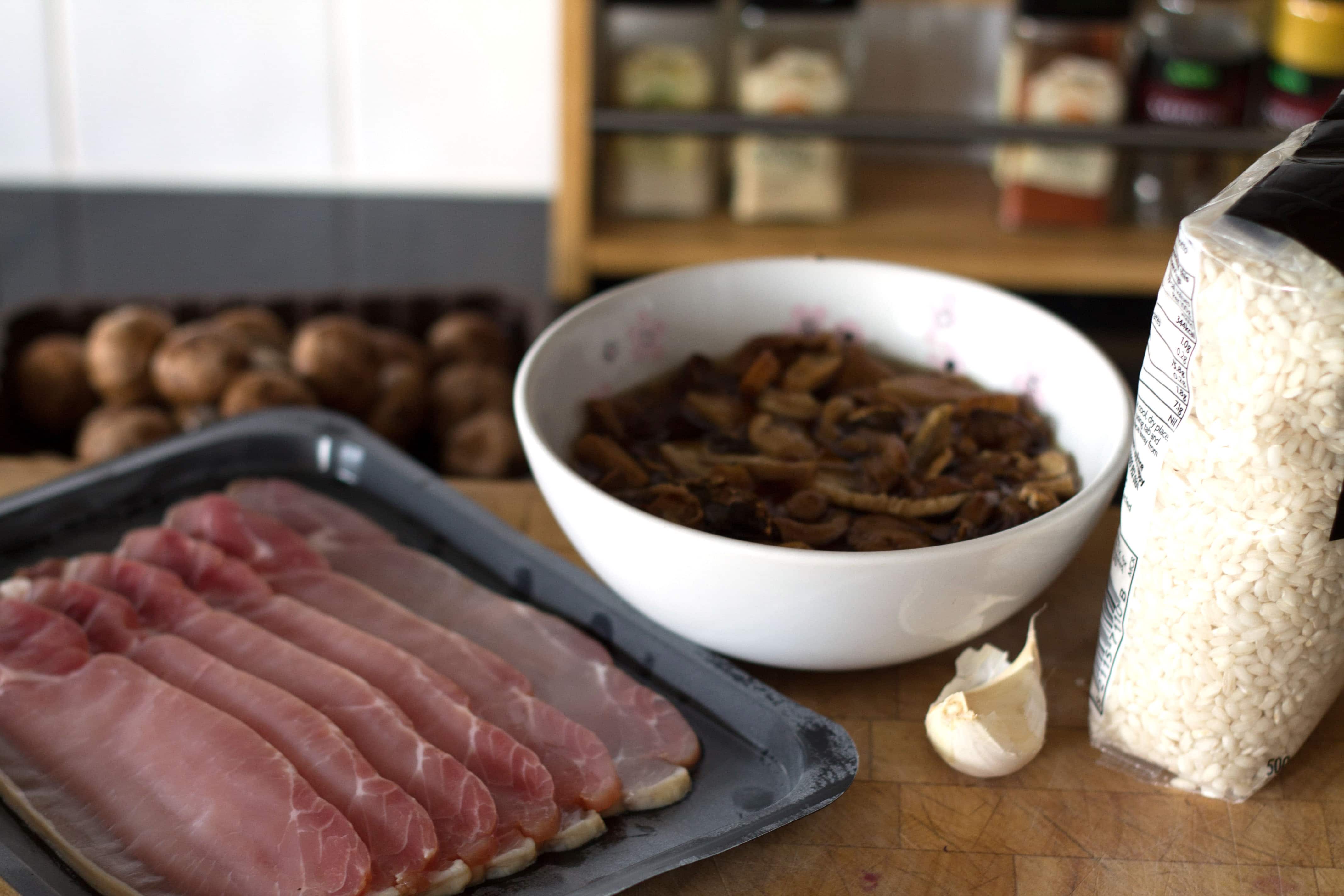 I know extra thick sliced bacon isn't always easy to find, but if you go to your butcher, they can slice it for you there.  If you have trouble, I'm sure thin sliced would work fine as well.  Just make sure you drain the extra fat before adding anything else.
The bacon is the star of this dish.  It adds a smokey depth of flavor that is the perfect combination with the richness of the mushrooms.

Easy Bacon & Mushroom Risotto
Ingredients
1

oz

dried morel/porcini mushrooms

8

oz

thick sliced bacon

cut into bite sized pieces

2

tbsp

olive oil

1

onion

chopped

2

garlic cloves

chopped or finely sliced

8

oz

cremini/chestnut mushrooms

sliced

1½

arborio rice

⅔

cup

dry vermouth

2

cups

chicken stock

hot

a good handful of fresh parsley

chopped

2

tablespoons

salted butter

⅔

cup

grated parmesan cheese

plus more for serving

salt and freshly ground black pepper

to taste
Instructions
Soak the mushrooms in 2-3 cups of hot water for 20 minutes, then remove the mushrooms from the water with a slotted spoon and reserving 2 cups of the liquid.

Slice the mushrooms and set aside.

Heat the oil in a large saucepan and add the bacon to the pan and cook until brown.

Add the onion. Fry over a gentle heat for 2-3 minutes, until softened.

Add the garlic and cook another minute.

Add the mushrooms and fry for another 2-3 minutes, until browned.

Stir in the rice and coat in the oil.

Pour in the vermouth and cook, stirring constantly, until the liquid has been absorbed.

Add a 1/2 cup of the mushroom liquid and the stocks, stir and bring to a boil.

Reduce the heat to a simmer, cover and simmer for 15 -20 minutes until the liquid has been absorbed and the rice is plump and tender.

If the risotto appears too dry, you can add some more of the reserved mushroom liquid to loosen it up (a little at a time until it's the desired constancy).

Add the parsley, Parmesan cheese and butter. Stir to combine.

Salt and pepper to taste.

Serve with freshly grated Parmesan.