This recipe for Easy Lemon Shrimp Risotto is a delicious one-pot meal that's simple to whip up after a hard day's work.
Making risotto doesn't have to involve ages of stirring over the stove, and this easy recipe proves it! So if you love risotto, but hate making it, this version just may change your life!
I'm a big fan of risotto. This is my 5th risotto recipe since I started this site and I promise it won't be the last. There's just something about the comforting, creamy dish that just makes my mouth water. That said, I'm not a big fan of the traditional way of making risotto that involves constant stirring and a sore arm! But not this risotto! – If you think this is easy, why not try my Easy Mushroom & Bacon Risotto for another twist on the classic dish.
This risotto takes just about 30 or so minutes to make, so while most people save risotto for a weekend or special occasions, this one can be made on a Wednesday night without a worry in sight! So go ahead – whip it up, spoon into a bowl, top it with some grated cheese and call it dinner!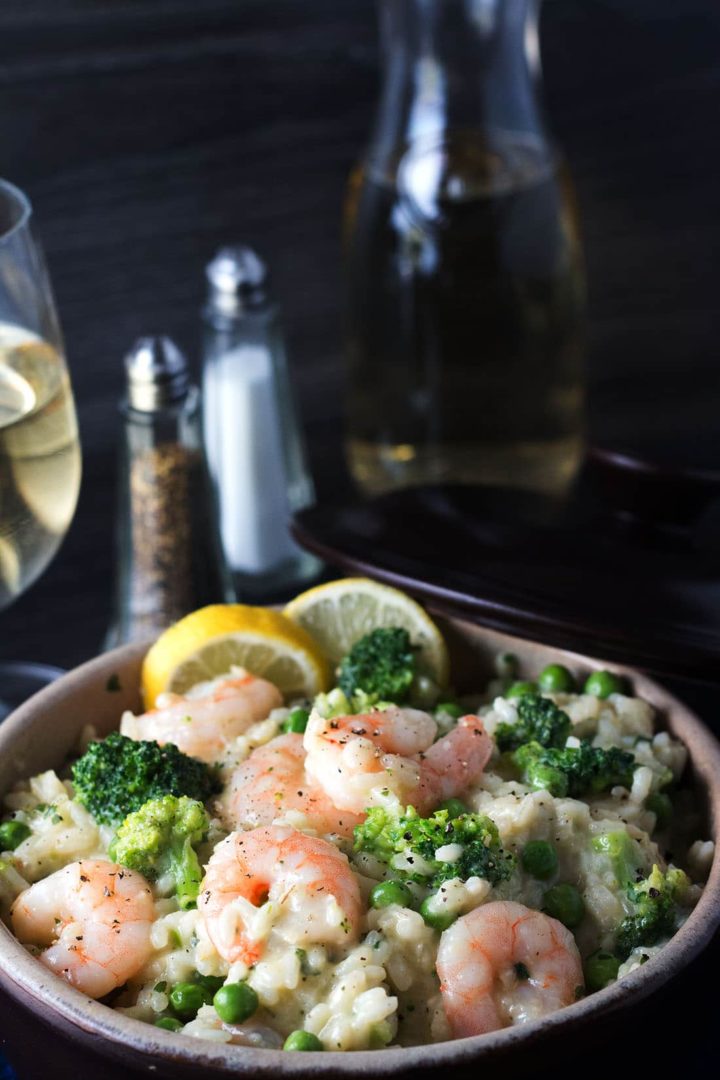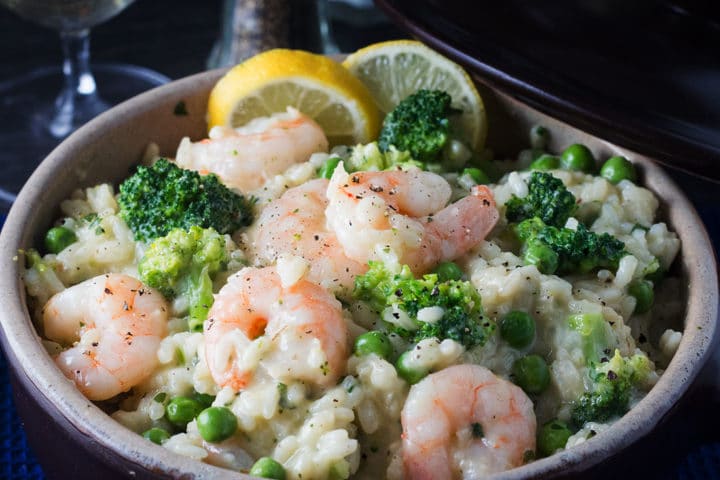 I've made this risotto with broccoli and peas, but you can make it with any vegetables you like.
Other Risotto Dishes You'll Love
Stay Updated
Receive new recipes & dinner ideas straight to your inbox!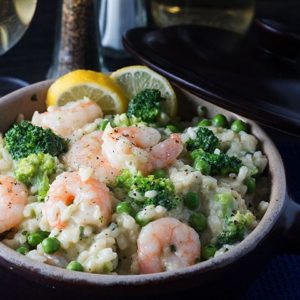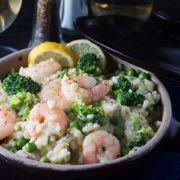 Let's Make Easy Lemon Shrimp Risotto
A wonderfully simple yet decadent dish, perfect for weeknight meals.
Prep10 minutes
Cook18 minutes
Total28 minutes
Ingredients
4 Tablespoons butter
2 small shallots peeled and finely chopped
2 cloves of garlic finely chopped
2 cups risotto rice
1 cup dry white wine
4 cups chicken stock
the zest of 1/2 a lemon
2 tablespoons lemon juice
6 ounces broccoli florets
8 ounces raw peeled shrimp seasoned with salt and pepper
½ cup frozen peas
a handful of flat-leaf parsley chopped
¼ cup grated Parmesan or Romano cheese plus more for serving
salt and freshly ground pepper to taste
Instructions
In a large pan, saute the shallots 2 tablespoons of butter until they are cooked and soft but not browned.

Add the garlic and cook for another minute.

Add all the rice and stir it around with the other ingredients to toast the grains thoroughly without browning.

Raise the heat to high, add the wine and reduce it until nearly all of the liquid is absorbed into the rice.

Stir in the stock, lemon zest, and lemon juice. reduce the heat, stir and leave to cook covered 15-18 until the rice is just undercooked (Checking after about 15 minutes to make sure no additional stock is needed. If the risotto looks dry, add some of the remaining stock).

Add the shrimp, broccoli, and peas. Cook 5 minutes.

Add the chopped parsley, the remaining butter, and grated cheese. Mix together and season to taste before serving.

Nutrition Information:
Calories: 479kcal (24%)| Carbohydrates: 65g (22%)| Protein: 19g (38%)| Fat: 11g (17%)| Saturated Fat: 6g (38%)| Cholesterol: 123mg (41%)| Sodium: 666mg (29%)| Potassium: 424mg (12%)| Fiber: 3g (13%)| Sugar: 4g (4%)| Vitamin A: 540IU (11%)| Vitamin C: 34.9mg (42%)| Calcium: 135mg (14%)| Iron: 4.6mg (26%)