This recipe for No Cream Creamy Celery Soup makes a low fat version of cream of celery soup that's not only low in calories, but it's delicious too!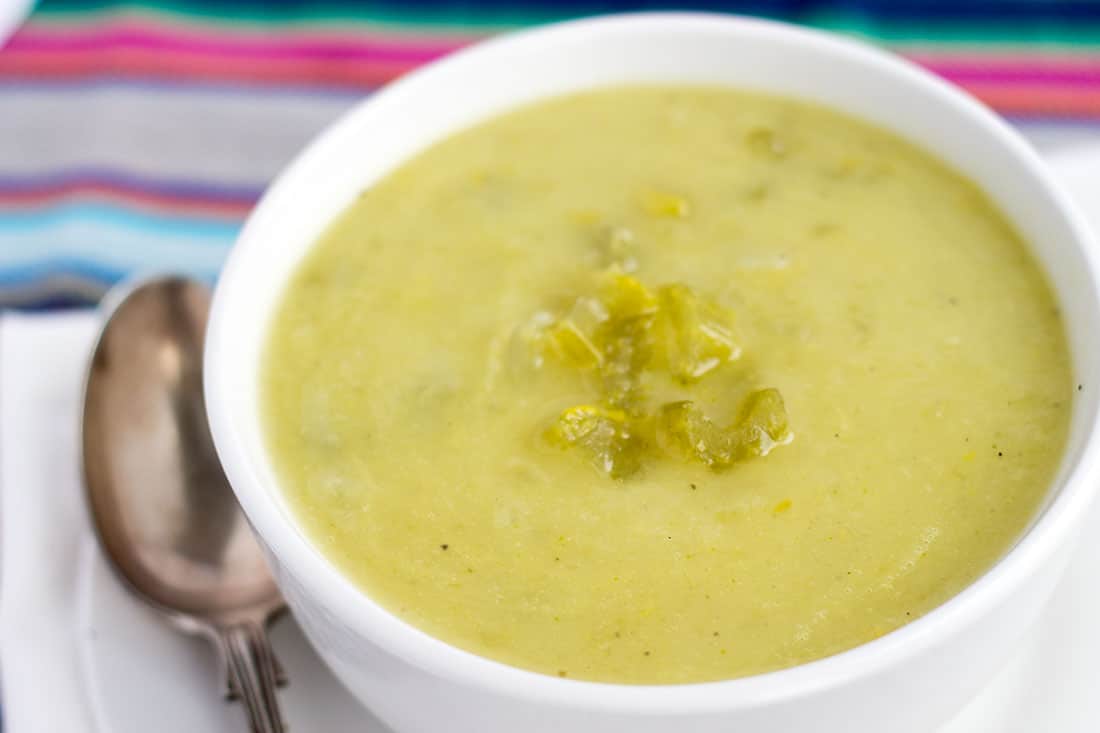 There's nothing quite like a warm bowl of creamy celery soup on a cold day! Cream of celery soup will always be one of my top 5 favorites soups. It's velvety, smooth, creamy and it's just oh so delicious!
This one is my go-to recipes when I'm craving soup I love how quick it comes together.  The only tedious part is chopping up the celery and onions and peeling just one potato. It really is simple to make!
Being a food blogger, I spend my life on a diet.
No joke, imagine how hard it would be if you spent your days cooking, baking or looking at food.  It's not easy if you don't want to gain weight.
I often try to create recipes that are not only delicious, but low in fat as well.
I love creamed soups, but if I ate them all the time, I'd be as big as a house.  So, to cut calories, I've found a way to make beautiful creamy soups that don't have a bit of cream.
If you look at my savory recipes, you'll notice that most of them have one thing in common – they aren't very high in fat.
Since, I am on a constant diet, I am always trying to eat very healthy low fat foods.  This soup is creamy without cream.  Want to make this recipe a meal in a bowl – enjoy it with a salad and fresh bread to make the perfect lunch or light dinner!
The trick – adding a potatoes which adds to bulk as well as adding a creamy constancy.  This is a lovely soup.  I have friends that absolutely love it even though they don't normally like celery.
Love low fat soups?  Check out some of these other recipes here on Erren's Kitchen
Never Miss A Single Recipe!
Join the free Erren's Kitchen mailing list and get all the latest tasty goodness straight to your inbox!
No Cream Creamy Celery Soup
Ingredients
1-2

tablespoons

olive oil

1

medium onion

chopped

2

garlic cloves

peeled and crushed

1

lb

fresh celery

chopped

1

qt

chicken or vegetable stock

1

large Russet/King Edward potato

peeled the potato and cut it into quarters

a good handful of fresh parsley

roughly chopped, including stems

salt and Pepper

to taste
Instructions
Cut celery into (roughly) same-sized pieces, about an inch - 1.5 inches, Don't worry about precision as the soup is going to be puréed anyway. You just want it to cook evenly.

In a large soup pot, heat the oil over medium heat.

Add the onion and cook until soft.

Add the garlic and cook another minute before adding the celery, stock potato and parsley.

Increase the heat to medium-high and bring to a boil.

Cover and lower the heat and simmer for about 20 minutes or until the celery and potatoes are soft enough that they can easily pureed (But don't let them get mushy).

Remove the soup from heat and remove enough stock so that the celery just covered by the remaining stock. Set the reserved stock aside.

Remove some of the chopped celery with a slotted spoon 91-2 spoonfuls) and set aside.

Purée the soup with a stick blender in the pot (or in a blender if) adding the reserved stock little by little until the soup reaches the desired consistency.

Add the reserved celery, mix to combine and serve hot.
Nutrition Facts
No Cream Creamy Celery Soup
Amount Per Serving
Calories 189
Calories from Fat 54
% Daily Value*
Total Fat 6g 9%
Cholesterol 7mg 2%
Sodium 433mg 18%
Potassium 805mg 23%
Total Carbohydrates 24g 8%
Protein 8g 16%
* Percent Daily Values are based on a 2000 calorie diet.
Never Miss A Single Recipe!
Join the free Erren's Kitchen mailing list and get all the latest tasty goodness straight to your inbox!