This recipe for Low Fat Creamy Cauliflower Saffron Soup makes a delicate, soup with subtle flavors and velvety texture. Comfort in a bowl.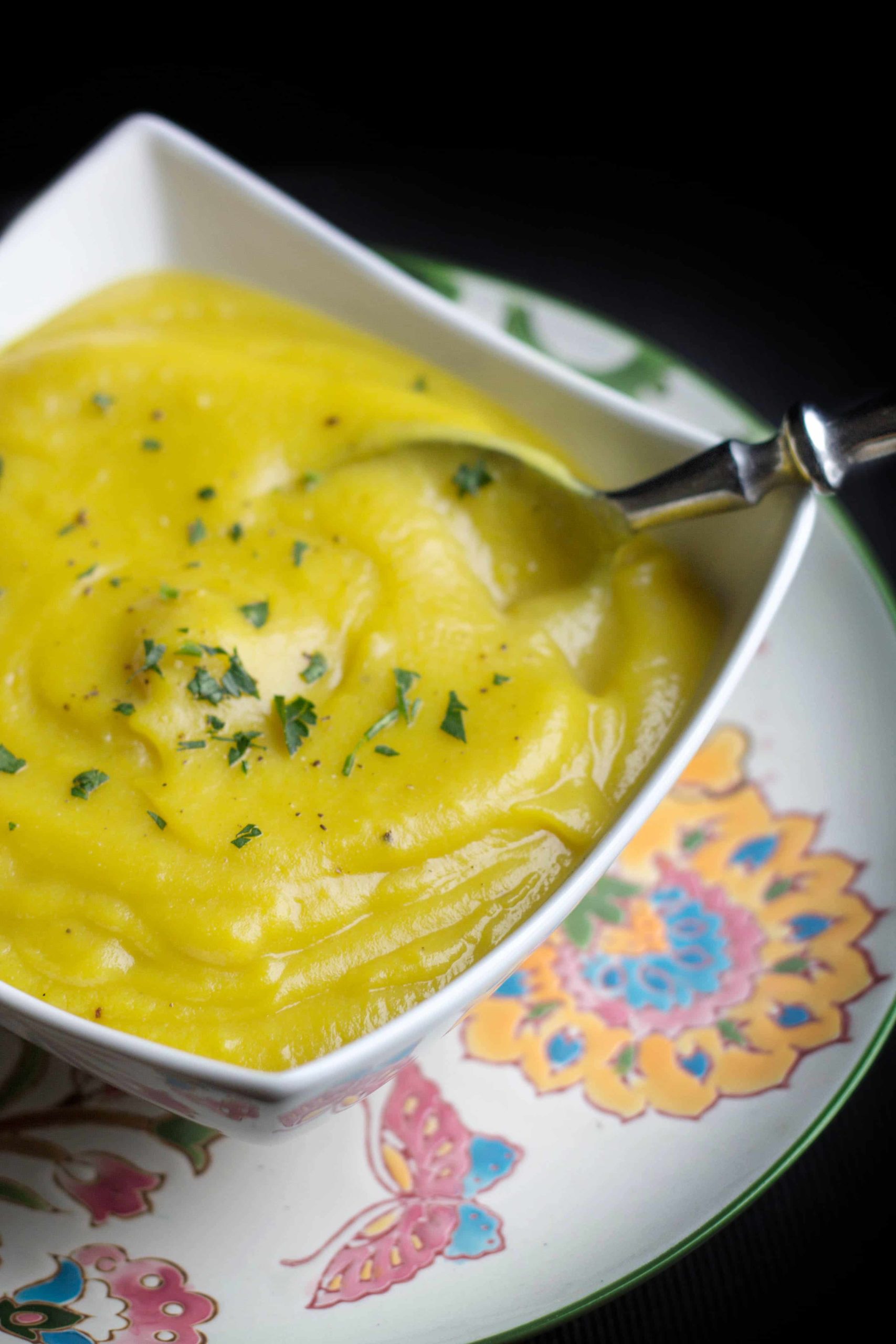 I've made this wonderful cauliflower soup for lunch and served it with warm bread, (or if you're feeling indulgent Perfect Garlic Bread) but it also makes a fantastic starter for dinner parties as well. A friend describes it as 'A soup that will make you a cauliflower fan even if you're not.' Even kids love it!
Because it's so bright in color, they don't know it's a vegetable soup and it's a winner every time!
Why This Recipe Works
The addition of saffron to this basic cauliflower soup gives it a subtle flavor that can't be beat!
Adding a potato to the soup instead of cream gives it a creamy texture without the added calories.
A little garlic helps flavor this soup without making it overpowering.
How to make low fat creamy cauliflower saffron soup
Simmer the stock. Add saffron and steep.
Heat olive oil in a pan, fry onions, and celery. Brown the garlic.
Add the cauliflower and potato and stir.
Pour in the stock and bring to a boil.
Simmer until vegetables are tender.
Blend until smooth.
Serve and enjoy!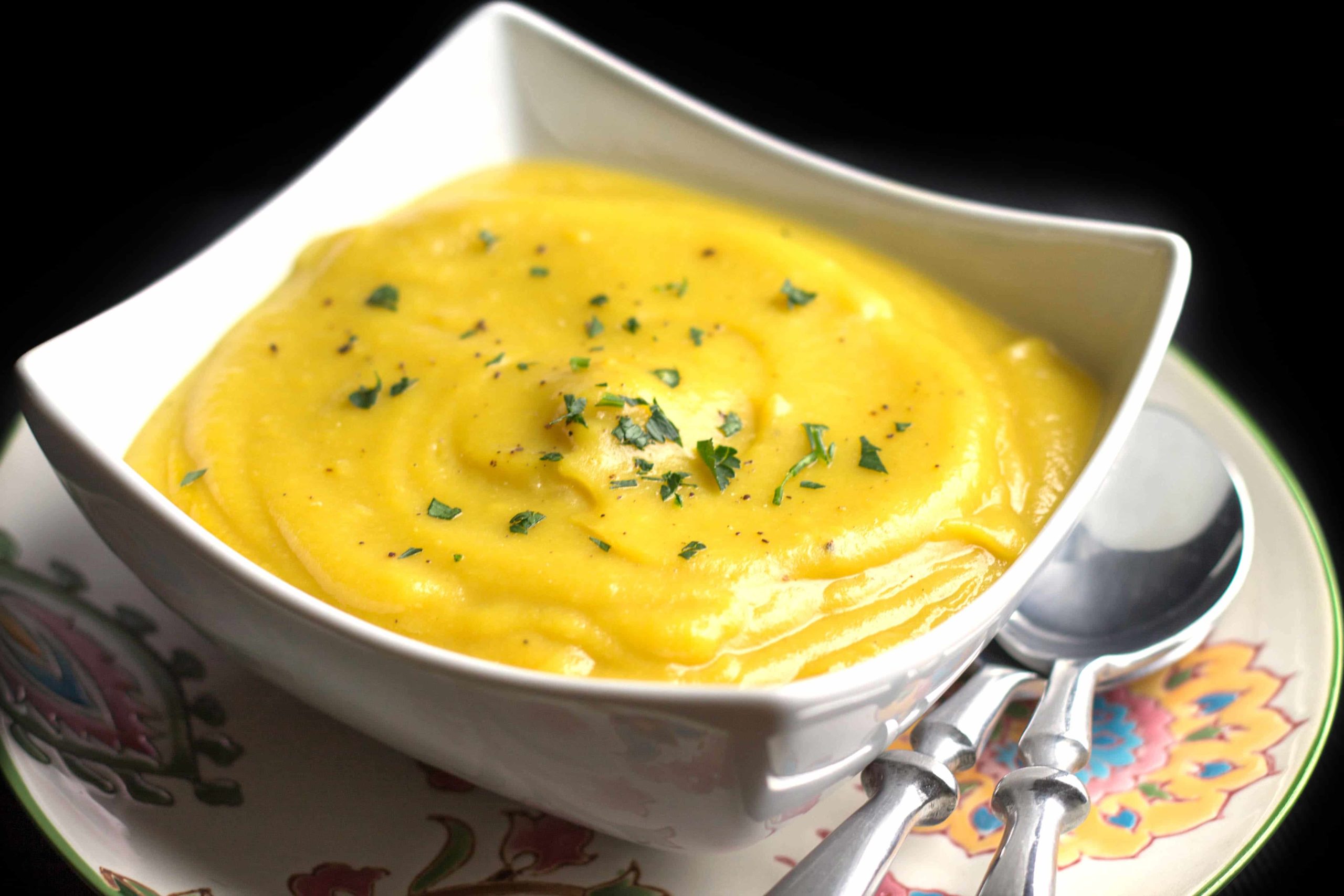 Albeit flavorful, this is a subtle soup. If you are looking for an intense soup with big flavors, this is not the soup you're looking for, but I happen to find it elegant and delicious.
What is Saffron?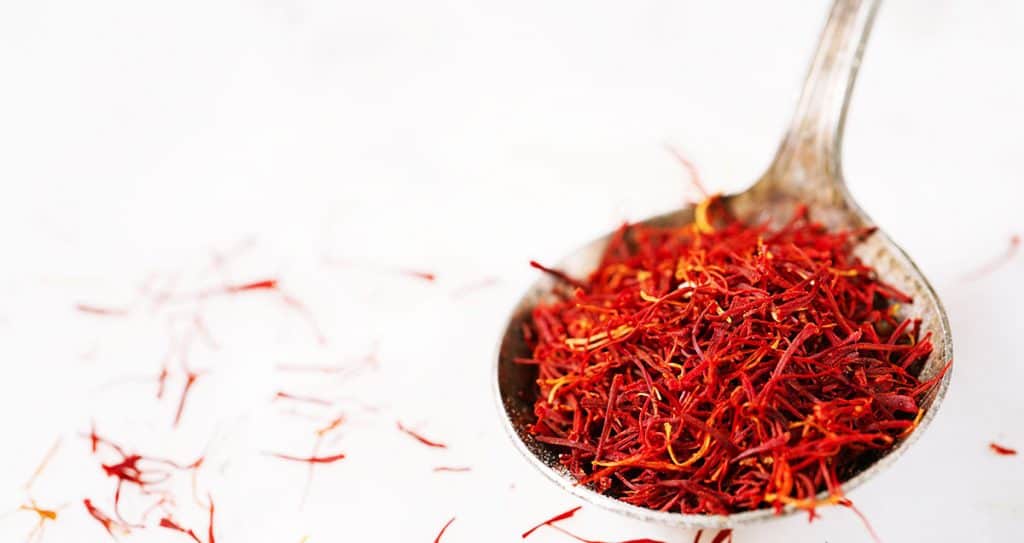 Saffron is a spice derived from the Crocus flower, also known as the "saffron crocus". It has vivid red stigma and styles, called threads. These are collected and dried to use to flavor cooking. Saffron is the most expensive spice by weight.
It's well worth buying a good quality brand to use in your cooking, such as Mazaeus which is my favorite, as it's rich in color and flavor.
To make this soup suitable for vegetarians simply swap the chicken stock for vegetable stock.
Make ahead and Freezing Instructions ❄
To Make Ahead: This is one of those recipes that tastes even better a day after making it. I often make it a day ahead, store it in the fridge overnight, and reheat it to serve.
To Refrigerate: Keep in the fridge for up to three days in a suitable airtight container.
To Freeze: Pour the soup into a freezer-safe, airtight container and freeze for up to three months.
Stay Updated
Receive new recipes & dinner ideas straight to your inbox!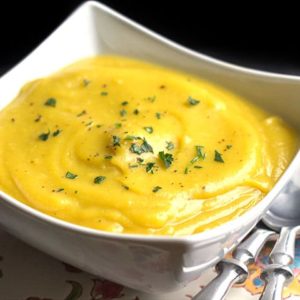 Let's Make Low Fat Creamy Cauliflower Saffron Soup
A warming, thick and tasty cauliflower soup perfect for a cold winter night.
Prep15 minutes
Cook30 minutes
Total45 minutes
Ingredients
4 cups chicken stock or vegetable stock
1 pinch saffron threads
2 tablespoons olive oil or low-fat cooking spray
1 large onion chopped
2 stalks of celery finely chopped
2 cloves garlic chopped
1​½ pounds cauliflower cut into 1-inch pieces
1 medium potato peeled and quartered
a good handful of fresh parsley
Instructions
Add the chicken stock in a medium saucepan and bring to simmer. Remove from heat and add the saffron threads. Set aside to steep.

Heat the olive oil in a medium pot over medium-low heat. Add chopped onions & celery; sauté until quite tender but not brown (about 5 minutes). Add the garlic and cook another minute.

Add the cauliflower & potato; stir to coat.

Add saffron stock. Bring to a boil over high heat.

Reduce heat, cover, and simmer until the cauliflower & potato are tender (about 20 minutes).

Using a hand blender or food processor, puree the soup until smooth.

Season to taste with salt and pepper. Garnish with chopped parsley and serve.
Tips + Notes
To make this soup suitable for vegetarians, simply swap the chicken stock for vegetable stock.
Nutrition Information:
Calories: 158kcal (8%)| Carbohydrates: 18g (6%)| Protein: 7g (14%)| Fat: 6g (9%)| Saturated Fat: 1g (6%)| Cholesterol: 4mg (1%)| Sodium: 278mg (12%)| Potassium: 715mg (20%)| Fiber: 3g (13%)| Sugar: 5g (6%)| Vitamin A: 60IU (1%)| Vitamin C: 61.1mg (74%)| Calcium: 52mg (5%)| Iron: 2mg (11%)