This recipe for Chocolate Swirl Buns makes a soft, rich, buttery dough that's filled with a decadent filling of chocolate and a hint of cinnamon. These really are to die for!
Baked fresh, these Chocolate Swirl Buns melt in your mouth! They are light and delicate, just like a bun should be! This recipe unites cinnamon bun lovers with chocolate lovers.
As a word of warning – before you make these, you should have in mind some friends you'd like to them share with or you just may them all by yourself! I have a multitude of bun recipes, why not try my Quick Rise Chocolate & Salted Caramel Sticky Buns, or the more traditional Classic Sticky Buns.
Yesterday was my son's sixth birthday and because he's crazy about cinnamon buns I thought I'd try making something similar, but with a bit of a twist.
When developing new recipes, I often think I'm reinventing the wheel and creating something that's never been done before only to Google it to find many similar recipes!
When I Googled chocolate buns I found that many made them in muffin pans. I thought that it might be a good way to contain any melted chocolate that may slip out during baking so, I did the same as everyone else that probably thought they too invented a new incredible recipe!
My son loved these little beauties and although cinnamon buns will always remain his very favorite, I'm pretty sure these are a close second! These buns come out golden on the outside and soft & fluffy on the inside.
Tip: If you want to serve your buns in the morning, you can prepare them the day before.
Just prepare the buns to the point of cutting the dough and putting them in the pan. Then cover them and place them in the fridge overnight.
The next morning you can take the buns from the fridge and place in a cold oven. Set the oven temperature and bake for 40 – 45 minutes. By the time the oven gets to baking temperature, the buns will have raised the right amount.
More Great Buns & Rolls
Stay Updated
Receive new recipes & dinner ideas straight to your inbox!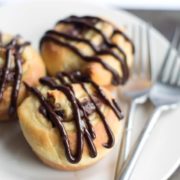 Let's Make Chocolate Swirl Buns
Chocolate, cinnamon, bun, what more could you want in a recipe? Not much more!
Prep30 minutes
Cook30 minutes
Total4 hours
Rising Time: 3 hours
Serves: 12
Ingredients
FOR THE DOUGH:
1¼ cups hot milk about 110F/ 43C
¼ cup warm water
1 packet instant dry yeast
¼ cup sugar
1 large egg at room temperature
¼ cup butter melted
3-4 cups all-purpose flour
1 teaspoon salt
FOR THE FILLING:
2 tablespoons melted butter plus more for pan
¼ cup light brown sugar packed
¼ cup granulated sugar
1 tablespoons ground cinnamon
6 ounces semisweet/dark chocolate chips
FOR THE ICING:
6 ounces semisweet/dark chocolate chopped
¾ cups whipping cream
Instructions
In a small bowl, dissolve yeast in warm water and set aside.

In a large bowl mix milk, sugar, melted butter, salt and egg.

Add 2 cups of flour and mix until smooth. Add yeast mixture. Mix in remaining flour until dough is easy to handle.

Knead dough on a lightly floured surface for 5 to 10 minutes. Place in an oiled bowl, cover and let rise until doubled in size, usually 2 - 3 hours.

Prepare a muffin pan by brushing melted butter all around twelve muffin cups.

Roll out the dough on a floured surface into a 15 by 9-inch rectangle.

Spread melted butter all over the dough. Mix sugar and cinnamon and sprinkle over buttered dough, followed by the chocolate chips.

Beginning at the 15-inch side, roll up the dough and pinch edge together to seal. Cut into 10 - 12 slices.

Place the buns into the muffin cups and let rise until dough is doubled (about 45 minutes to an hour).
For the topping:
Place the chopped chocolate into a medium-sized, heatproof bowl.

In a small saucepan, heat the cream until it just begins to simmer and then pour it over the chopped chocolate. Let it sit a minute, then gently stir with a wooden spoon until the chocolate has fully melted and the ganache is smooth. Then cover and chill until it is set enough to pipe over the muffins.

Bake on 350f/175c for 20 - 30 minutes or until golden brown.

Allow to cool for 5 minutes in the pan before transferring them to a wire cooling rack. Allow to cool 15 more minutes before piping the icing over the buns.

Serve and enjoy!
Nutrition Information:
Calories: 703kcal (35%)| Carbohydrates: 80g (27%)| Protein: 7g (14%)| Fat: 39g (60%)| Saturated Fat: 24g (150%)| Cholesterol: 114mg (38%)| Sodium: 290mg (13%)| Potassium: 295mg (8%)| Fiber: 3g (13%)| Sugar: 50g (56%)| Vitamin A: 1120IU (22%)| Vitamin C: 0.3mg| Calcium: 109mg (11%)| Iron: 3.5mg (19%)