Our pectin-free Cherry Jam Preserves recipe can be made as a smooth jam or chunky cherry preserves so that you can make it to your taste.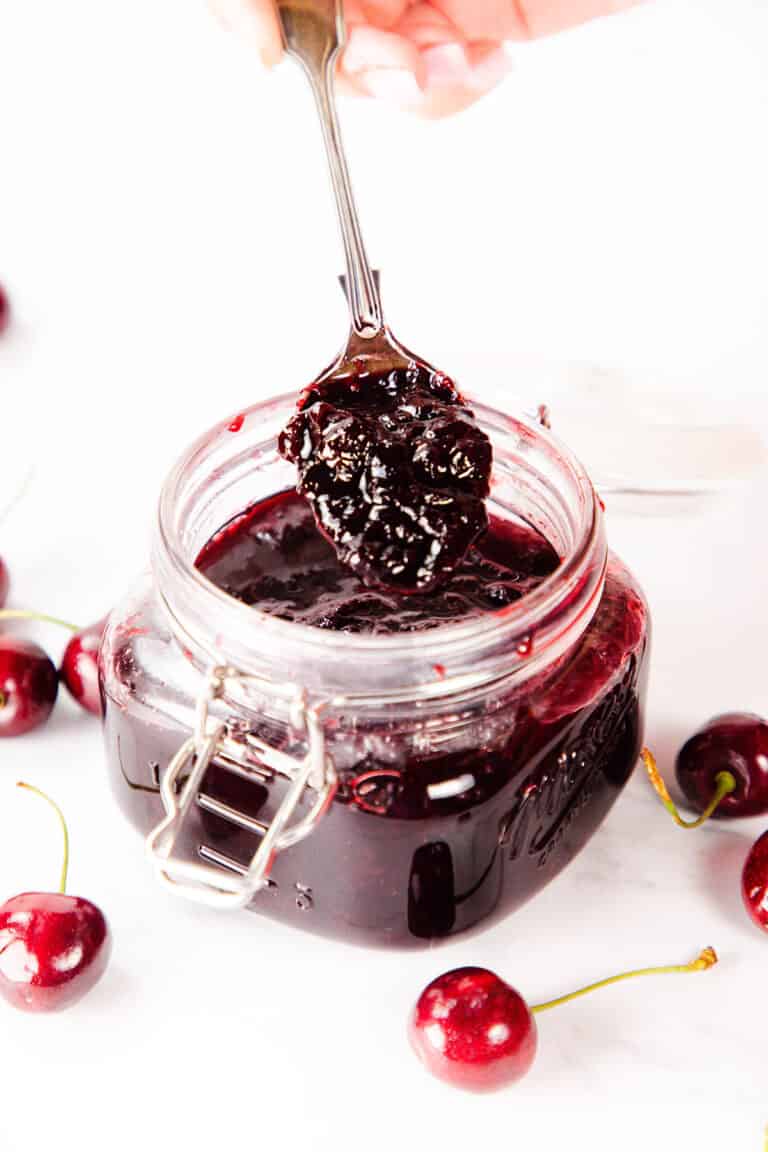 JUMP TO RECIPE
This Cherry Jam is the perfect addition to any breakfast or dessert. Serve it with pancakes, yogurt, and ice cream (we love it on vanilla ice cream, cherry ice cream, and Cherry SemiFreddo)! You won't be able to resist its sweet and delicious flavor.
Why This Recipe Works
Cooking the cherries longer releases their natural juices, which act as natural pectin.
Adding a splash of lemon juice brightens up the flavor of the jam.
The butter helps break up any foam that accumulates on cooked fruit and gives it a nice shine.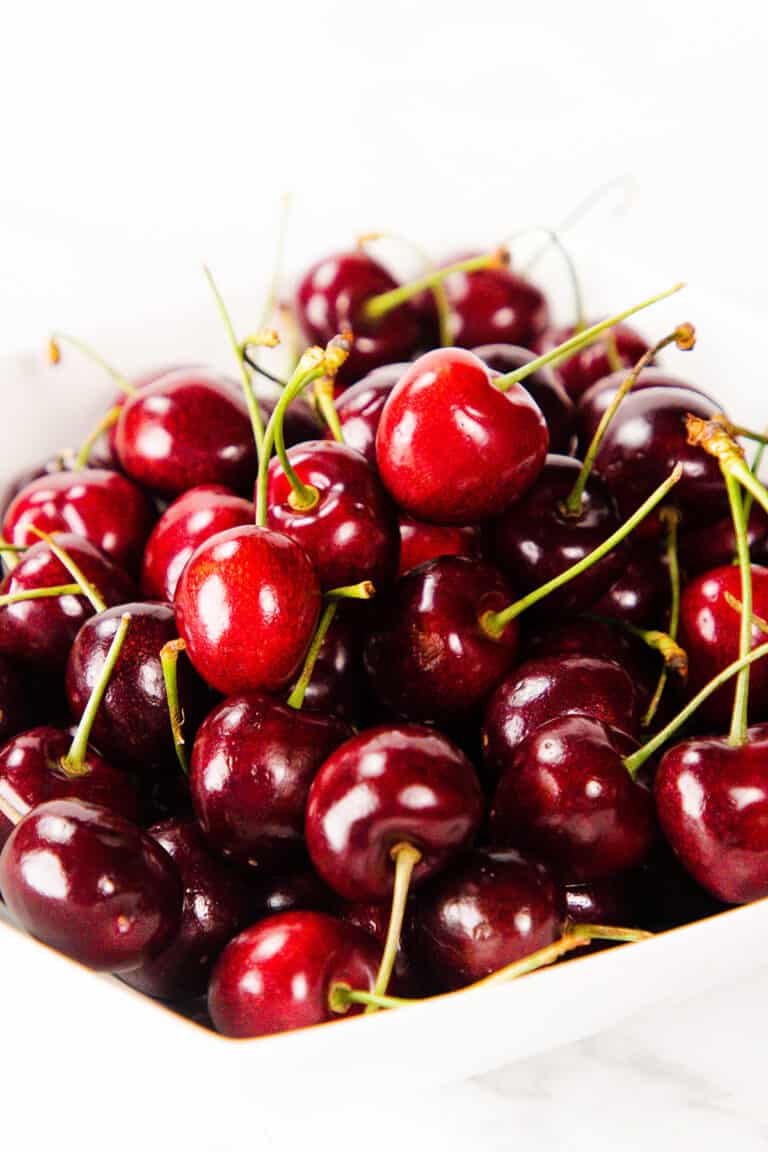 With this recipe, you can have that fresh-from-the-orchard taste all year round. It's easy to make and requires no special equipment – just a pot and some jars.
Ingredient Notes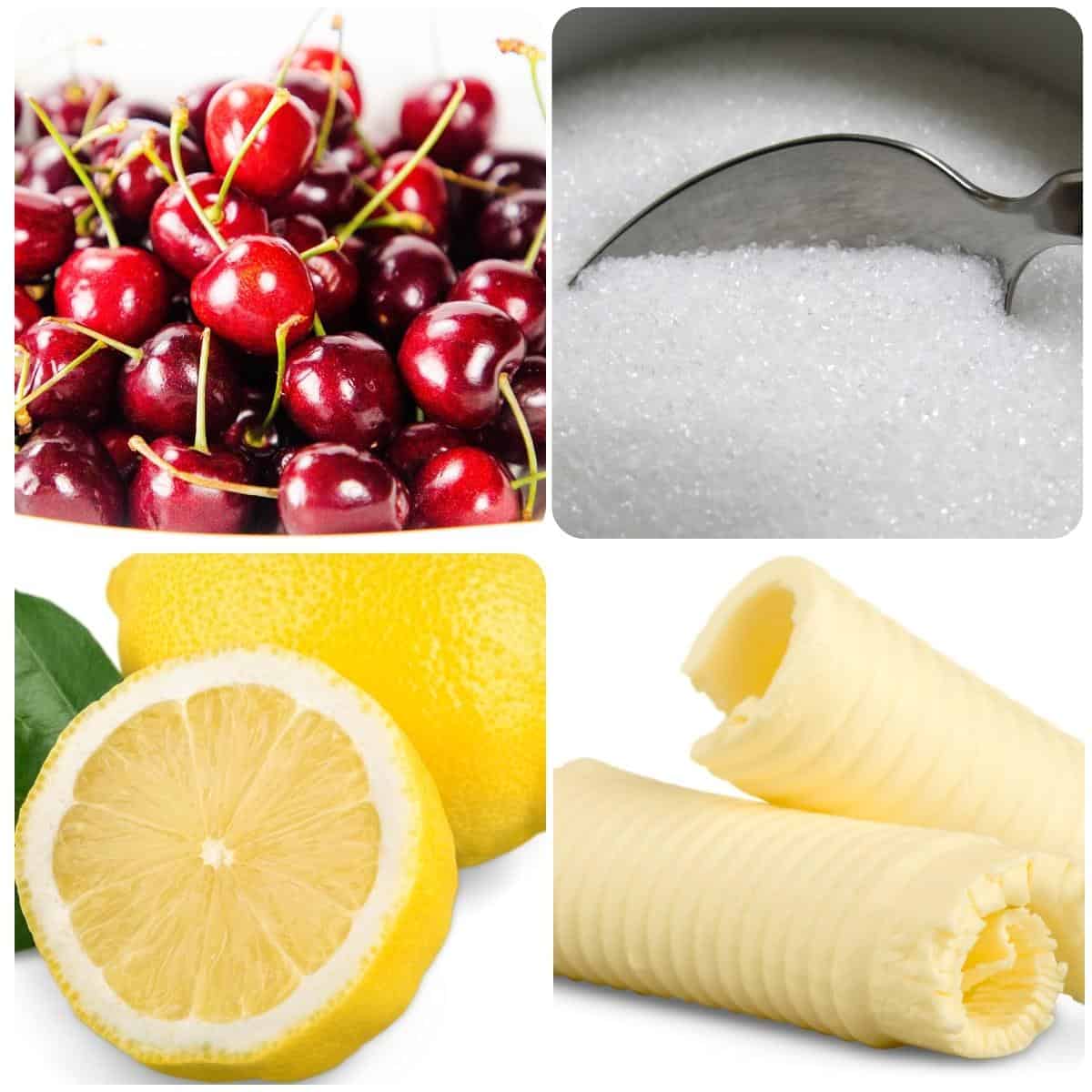 Cherries – You can use fresh or frozen cherries for this recipe. If using frozen, there's no need to thaw them first.
Sugar – I use superfine sugar as it dissolves easier, but you can use superfine sugar, granulated sugar, or honey for a whole new flavor profile.
Lemon juice – You can use fresh or bottled lemon juice, although, if you want to use bottled, I suggest using orange juice as it has a much more natural flavor. If using fresh, you'll need about 1 small lemon.
Butter – I use salted butter because it adds some seasoning to the jam and enhances the flavor, but unsalted works just fine.
Sterilizing Jars
Although it's not a necessity for this recipe, to give your cherry jam preserves an extended shelf life (up to a month), sterilize your jar and its lid first! Improperly cleaned jars can infect food, resulting in rapid spoilage.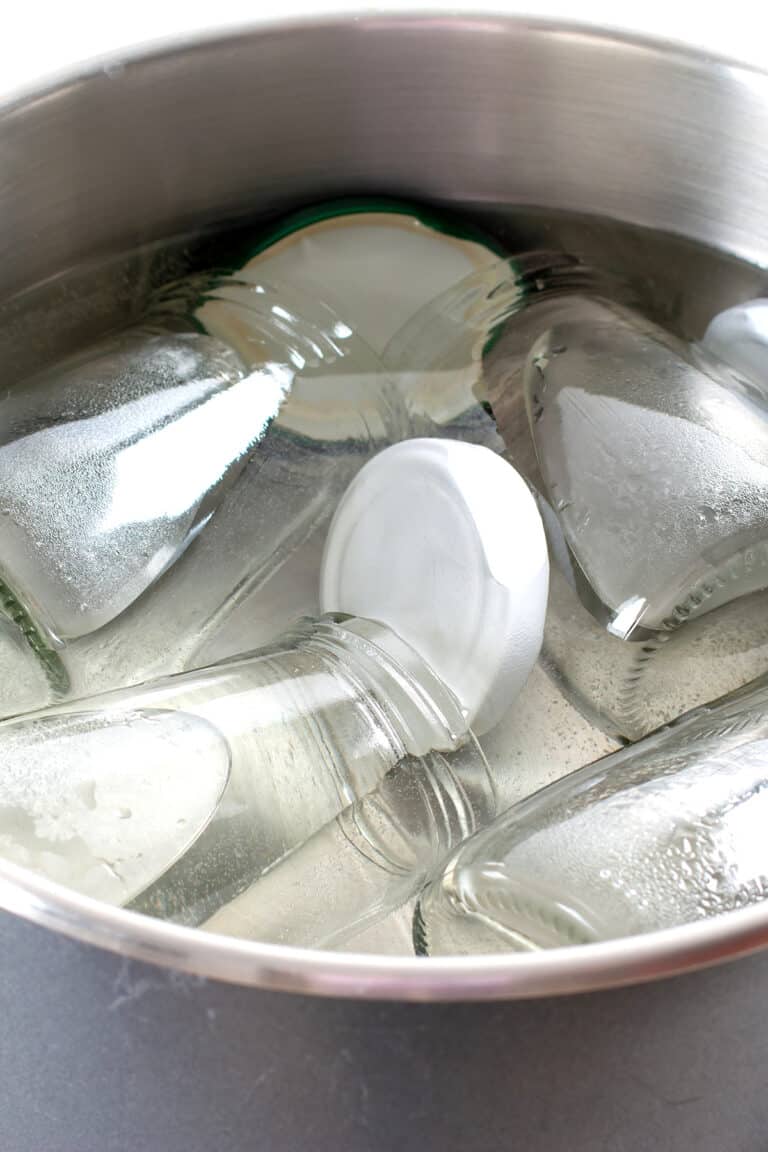 Sterilizing Jars can easily be done in the dishwasher if you have a high-temperature setting or by soaking them in a sterilizing solution (paid link).
Step By Step Instructions
Combine the cherries, sugar, and lemon juice in a medium saucepan over medium heat.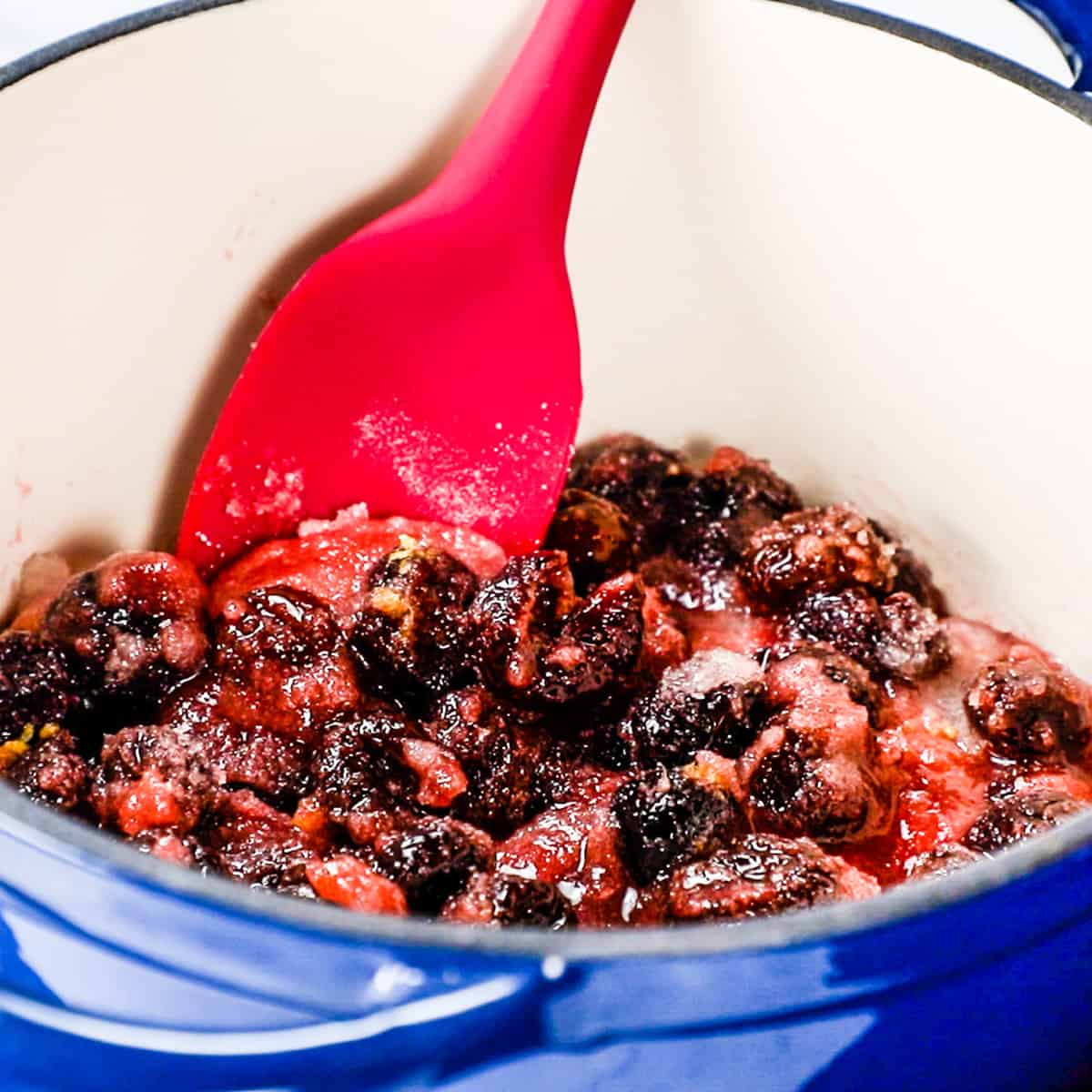 Cook the mixture, stirring occasionally until the cherries have released their juices and the sugar has dissolved. Increase the heat to high and bring the mixture to a boil.
Boil the mixture for 3 minutes, then remove from the heat and stir in the butter.
Return to the heat, and bring to a boil. Then lower the heat to medium. Stir and mash the cherries frequently while cooking for 10 to 15 minutes until your desired consistency is reached or it comes to a temperature of 220°F/104 °C.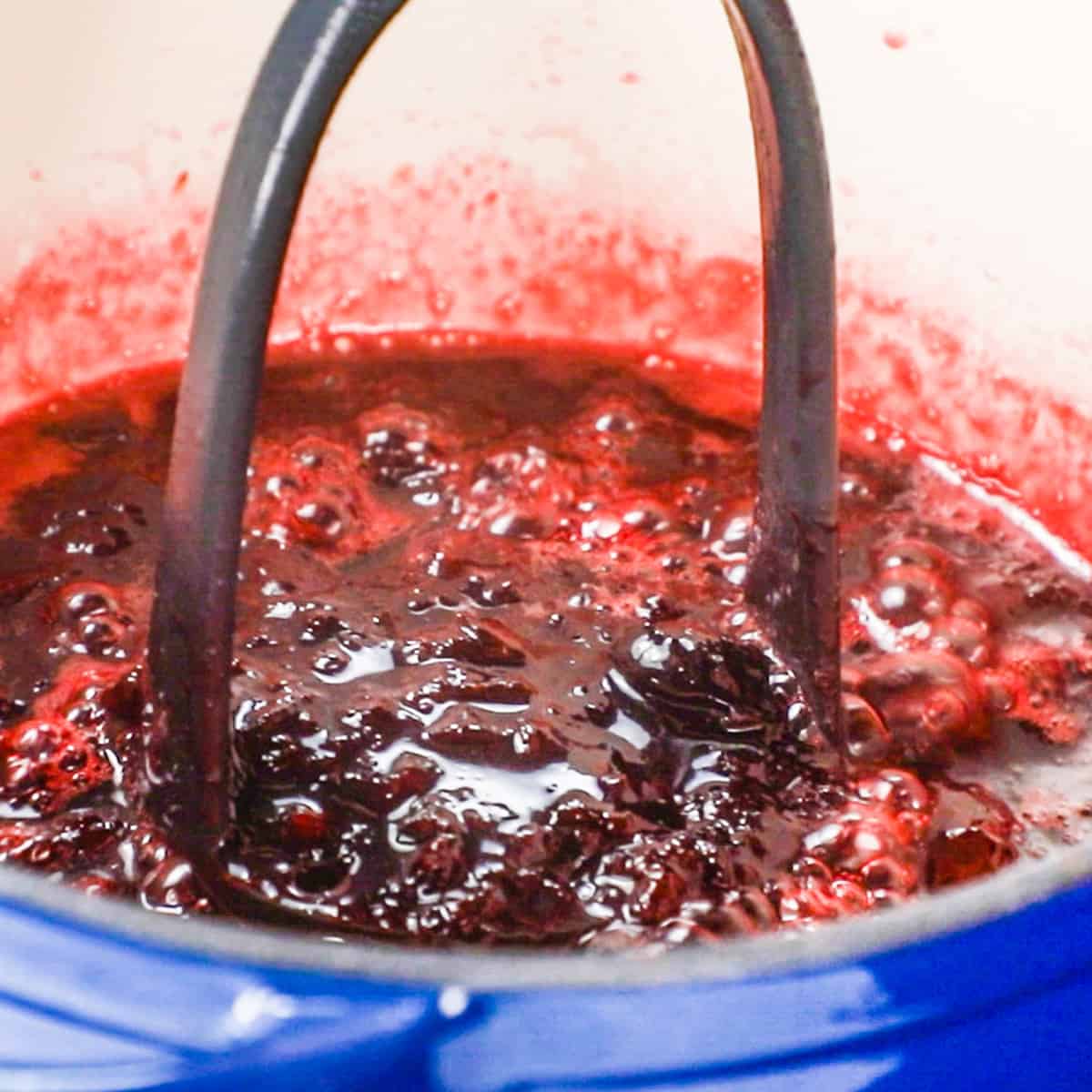 For Cherry Preserves – Leave the cherries whole instead of mashing them into the jam.
Carefully ladle the jam into clean tempered jars.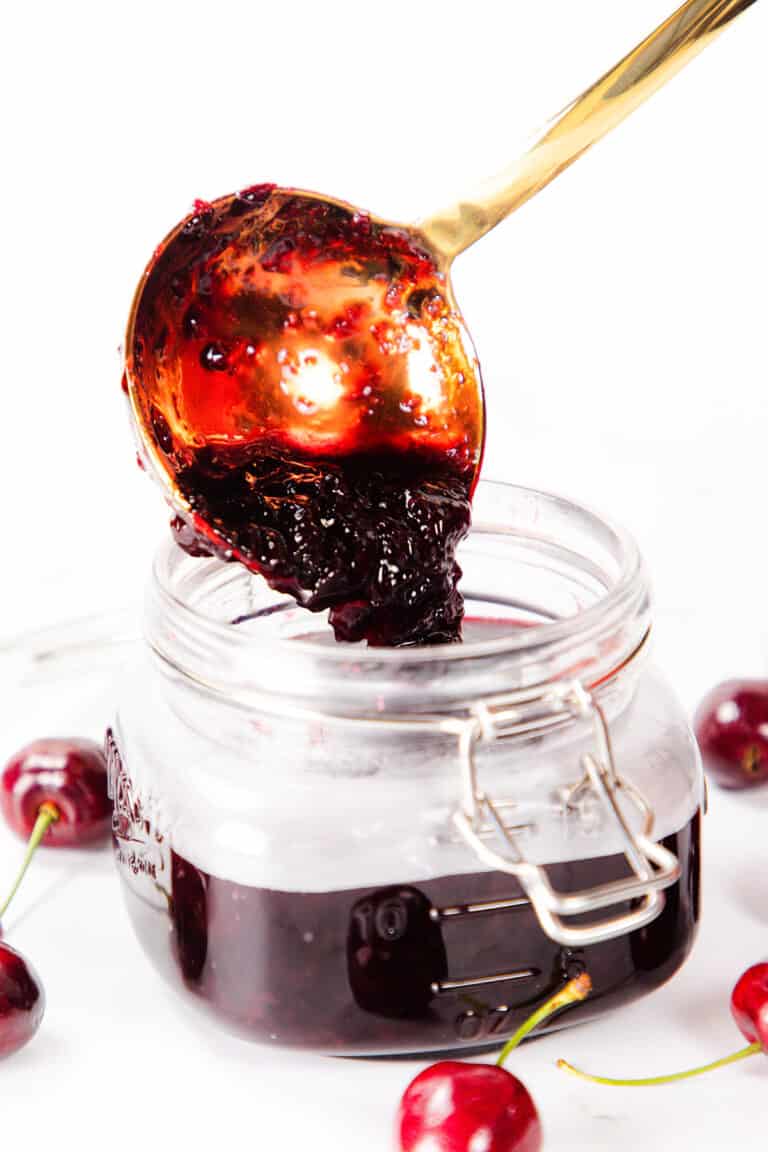 Never add hot food to cold jars or vice versa as it can break the glass even when tempered.
Allow to cool slightly, seal and refrigerate to cool before serving.
How to Tell if Jam Is Done without Thermometer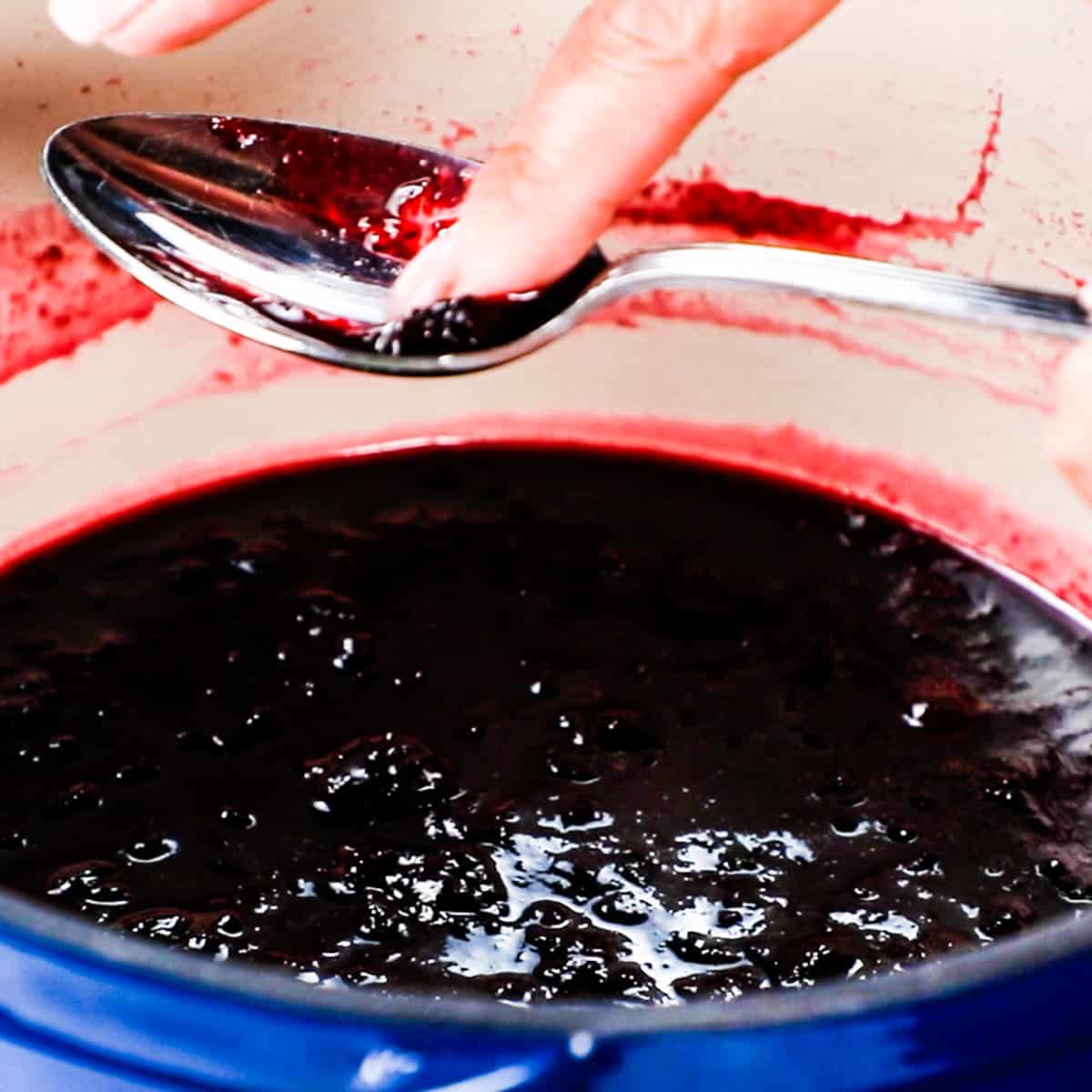 Put a spoon in the freezer for 10 to 15 minutes.
Add some of the hot jam mixture onto the chilled spoon and run your finger through the jam to see if it wrinkles or flows back into the gap made.
If the jam is still fairly fluid, put it back onto the heat and cook for five-minute intervals until it's done.
Erren's Top Tips
The butter in this recipe is optional – It will help dissolve any foam that builds up on top of your jam but it's not necessary for making this recipe work!
If you want a smooth jam, a food processor to finely chop the cherries before cooking. You can also use a stick blender to puree the cooked jam to your desired consistency.
For making preserves, don't mash the cherries, as they cook.
Stay Updated
Receive new recipes & dinner ideas straight to your inbox!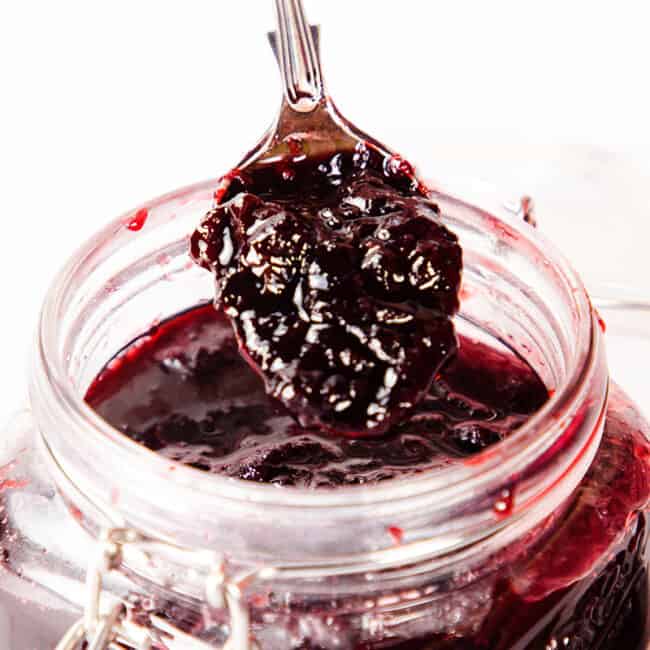 Let's Make Cherry Jam Preserves
The perfect way to capture the sweet, juicy flavor of cherries – Whether you prefer chunky preserves or a smooth jam, we've got you covered
Prep5 minutes
Cook15 minutes
Total20 minutes
Ingredients
1 lb cherries pitted (fresh or frozen)
1½ cups granulated sugar
1 tablespoon lemon juice freshly squeezed
½ teaspoon lemon zest
1 tablespoon butter
Instructions
Wash and prepare the cherries. If you're using frozen, there is no need to thaw them first.

In a medium saucepan, add the cherries, granulated sugar, fresh lemon juice & zest.

Mix over medium-low heat until sugar dissolves (about 5 min).

Increase the heat and bring mixture to a boil and allow to boil for 3 minutes, then remove from the heat and stir in the butter.

Return to the heat, and bring to a boil. Then lower the heat to medium. Stir and mash the cherries frequently and continue to boil until the jam has thickened (or until it reaches a temperature of 220°F/104°C) This will take approximately 10 to 15 minutes.

Leave to cool slightly and carfully transfer the jam into a clean, tempered jar.

Once cooled, cover and refrigerate.
Nutrition Information:
Calories: 129 (6%)| Carbohydrates: 31g (10%)| Protein: 0.4g (1%)| Fat: 1g (2%)| Saturated Fat: 1g (6%)| Polyunsaturated Fat: 0.1g| Monounsaturated Fat: 0.3g| Trans Fat: 0.04g| Cholesterol: 3mg (1%)| Sodium: 8mg| Potassium: 86mg (2%)| Fiber: 1g (4%)| Sugar: 30g (33%)| Vitamin A: 53IU (1%)| Vitamin C: 3mg (4%)| Calcium: 6mg (1%)| Iron: 0.1mg (1%)
Erren's Kitchen is written and produced for informational intentions only. We are not certified nutritionists, and the nutritional information found on this site has not been assessed or authorized by a nutritionist or the FDA. The nutritional information found in our recipes is offered as an estimate and should not be considered a guarantee or fact. The estimated data is provided as a courtesy and calculated through a third-party online nutritional calculator, spoonacular API. Although we do our best to provide accurate nutritional information, these figures should be considered rough estimates. Many factors, such as brands or products purchased and the nutritional fluctuations that naturally occur in fresh produce, can alter the effectiveness of the nutritional information in any recipe. Furthermore, various online calculators provide different results depending on their particular algorithms and nutrition fact sources. To obtain the most precise nutritional information in a provided recipe, you should calculate the nutritional information with the exact ingredients you are using when preparing the recipe using your preferred nutrition calculator.