These Burger onions are sweet and soft with just enough saltiness to make them irresistible! A delicious, easy way to add flavor to burgers.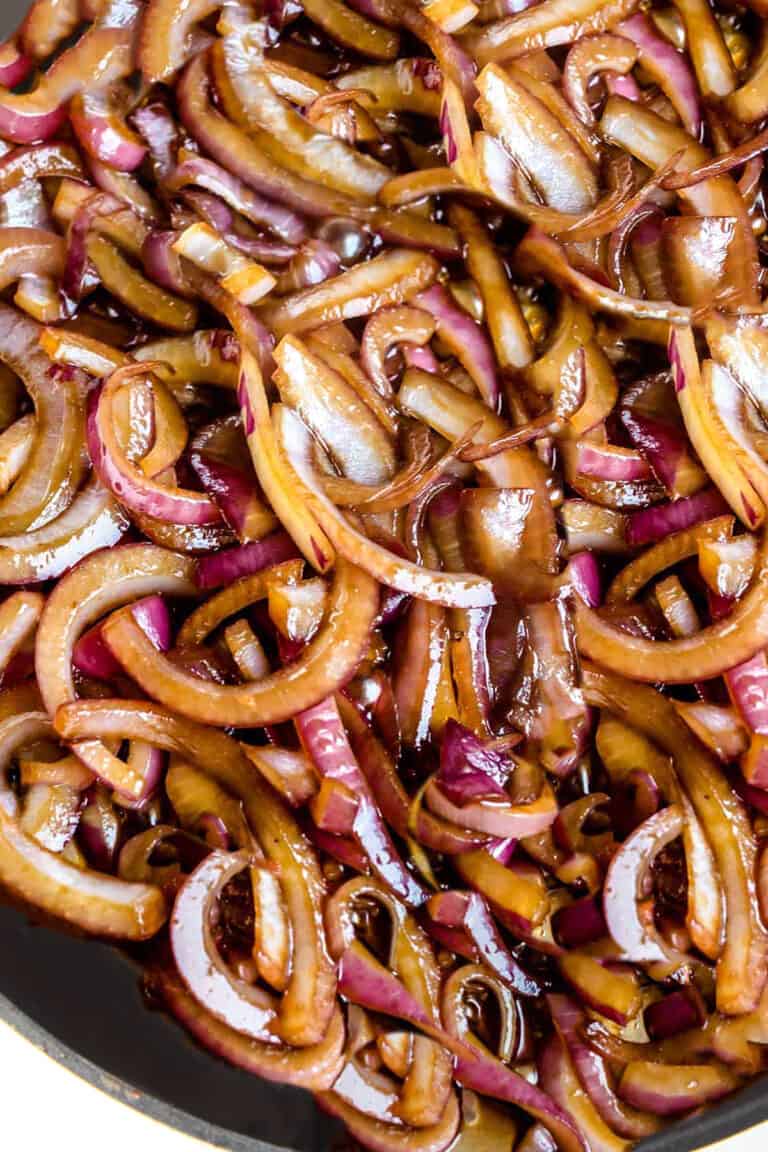 Craving a delicious burger? Burger onions are the perfect way to top off your homemade burgers. They're soft, sweet, and add the perfect flavor and texture. With our easy-to-use recipe, you can make the best burger of your life in just minutes.
Why This Recipe Works
The combination of brown sugar and honey makes for an amazing caramelization, which you can taste in every bite.
Balsamic vinegar adds an extra layer of flavor and brightness to the dish.
Varying heat levels – Starting the onions over a higher heat helped them release their excess moisture. Then once slightly broken down, we lowered the heat until it softened. Then finished by turning up the heat to help with deep browning (hello, flavor). This took about 10 minutes instead of the typical 15 to 20.
Onion Buying Guide
When choosing onions, pay attention to the firmness, skin quality, and color. Here are a few tips: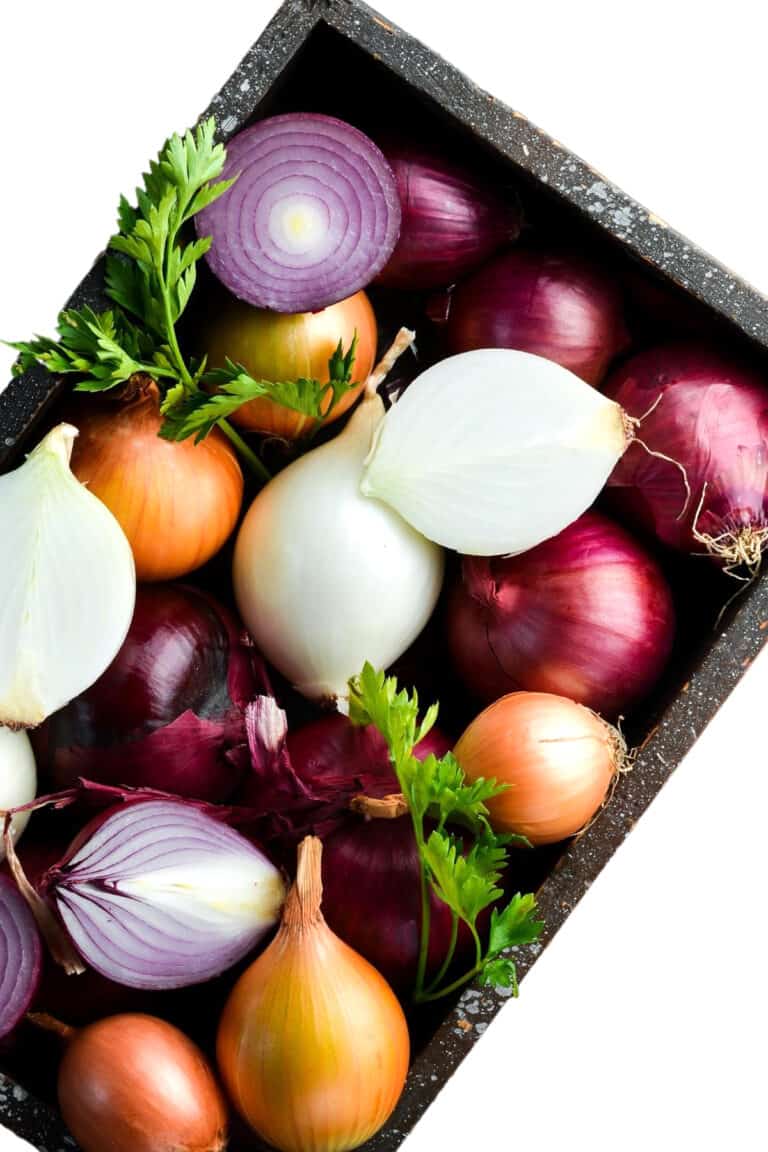 Onions should be firm to the touch, without any bruising or blemishes. The skin should be dry, with no brown spots or mold. Choose onions that are a deep, rich color, or for white onions, choose the most vibrant and avoid onions that are pale or have green spots. Store onions in a dry, cool place, away from direct sunlight.
Ingredient Notes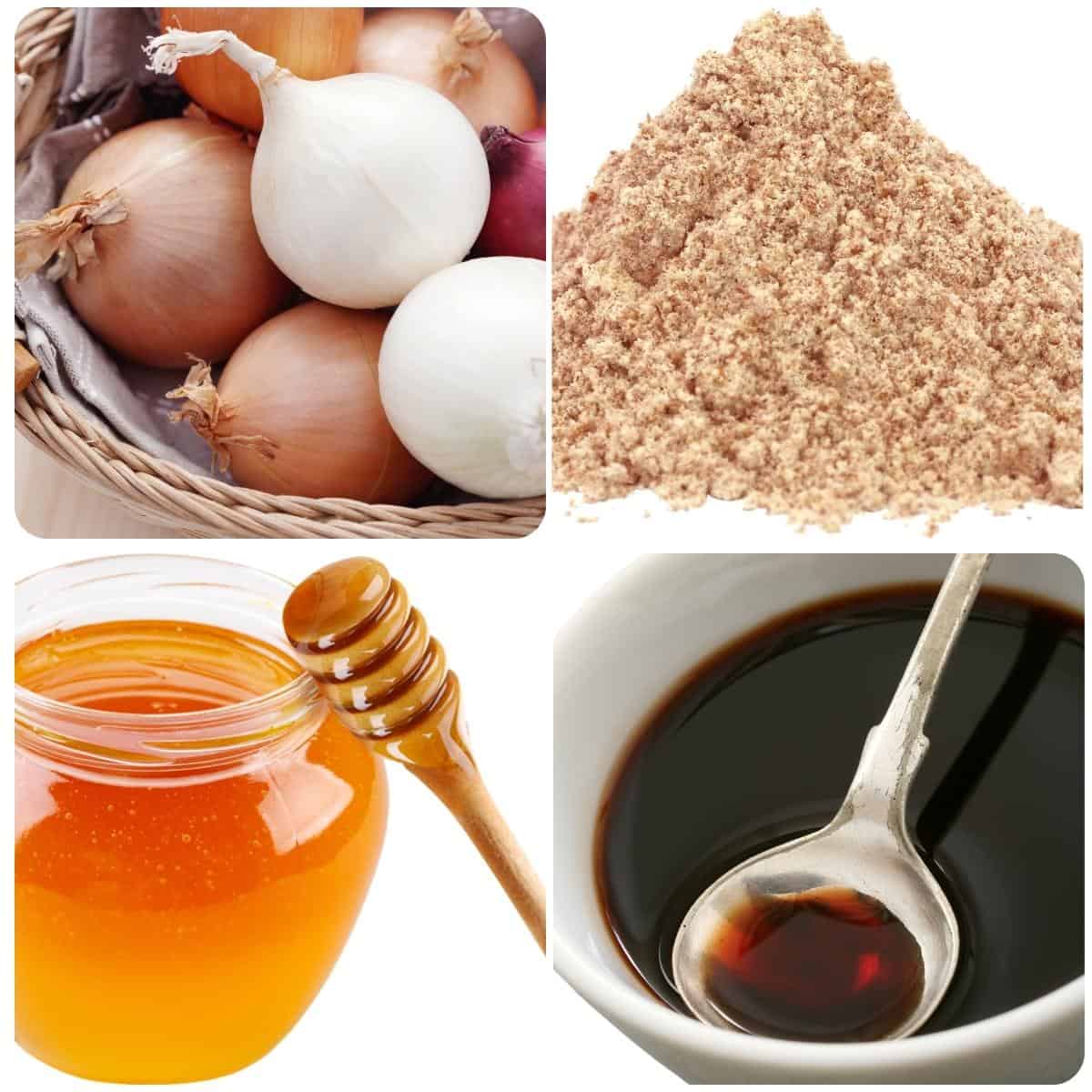 Onions: I used red onions, but you can also use yellow or white onions.
Brown Sugar: Light or dark brown sugar both work great in this recipe.
Honey: Use mild-flavored honey for this recipe such as Clover Honey (AKA runny honey).
Balsamic vinegar: You can use regular balsamic vinegar or white or apple cider vinegar makes a great alternative.
Step By Step Instructions
Cut 2 pounds of onions in half and then slice them into thin pieces that are about ¼ inch thick.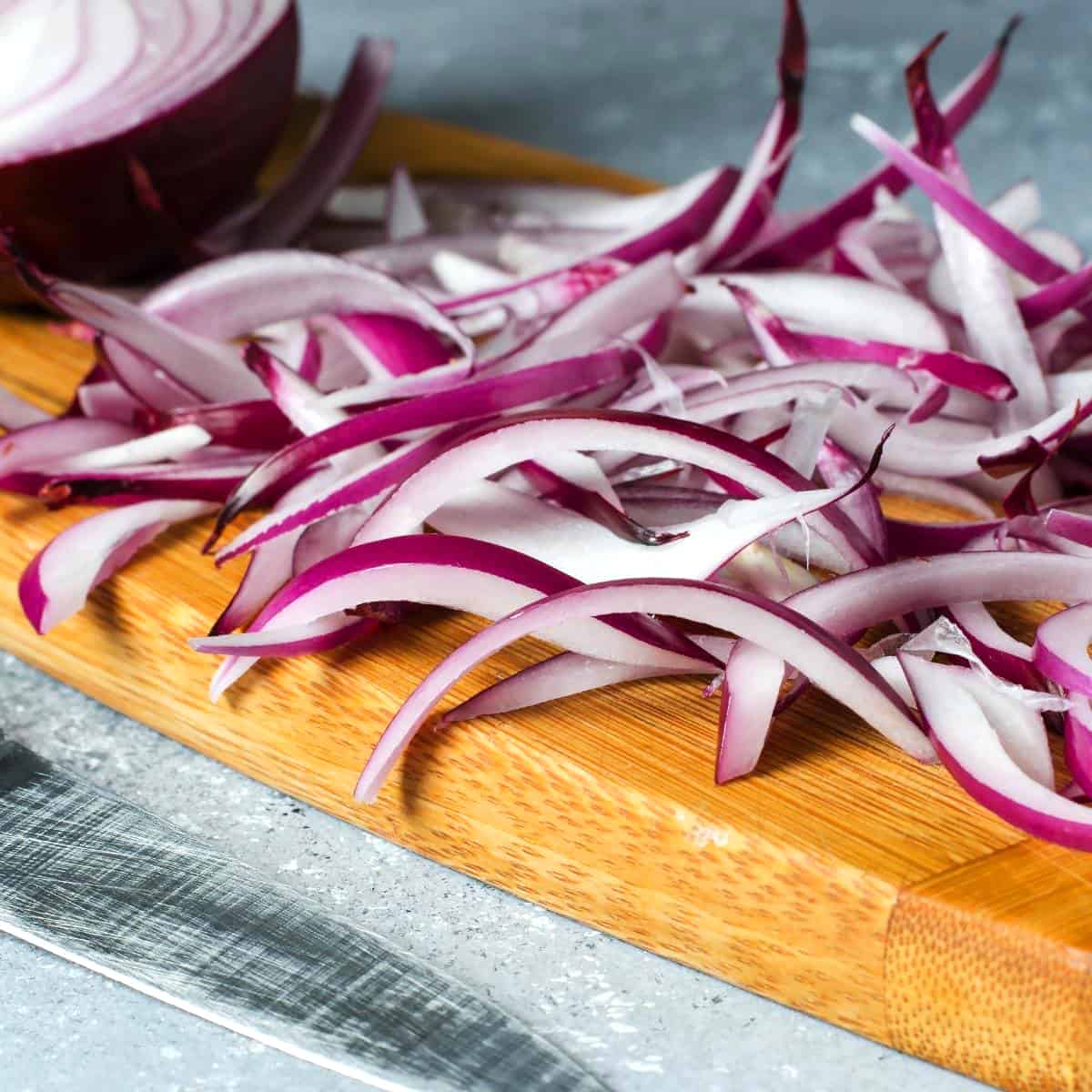 Heat the oil in a frying pan over medium heat. Then put red onions in the frying pan. Cook them for 2 to 3 minutes on high heat, stirring often so they don't stick to the pan. Lower the heat and cover them. Cook for 8 to 10 minutes until they are soft.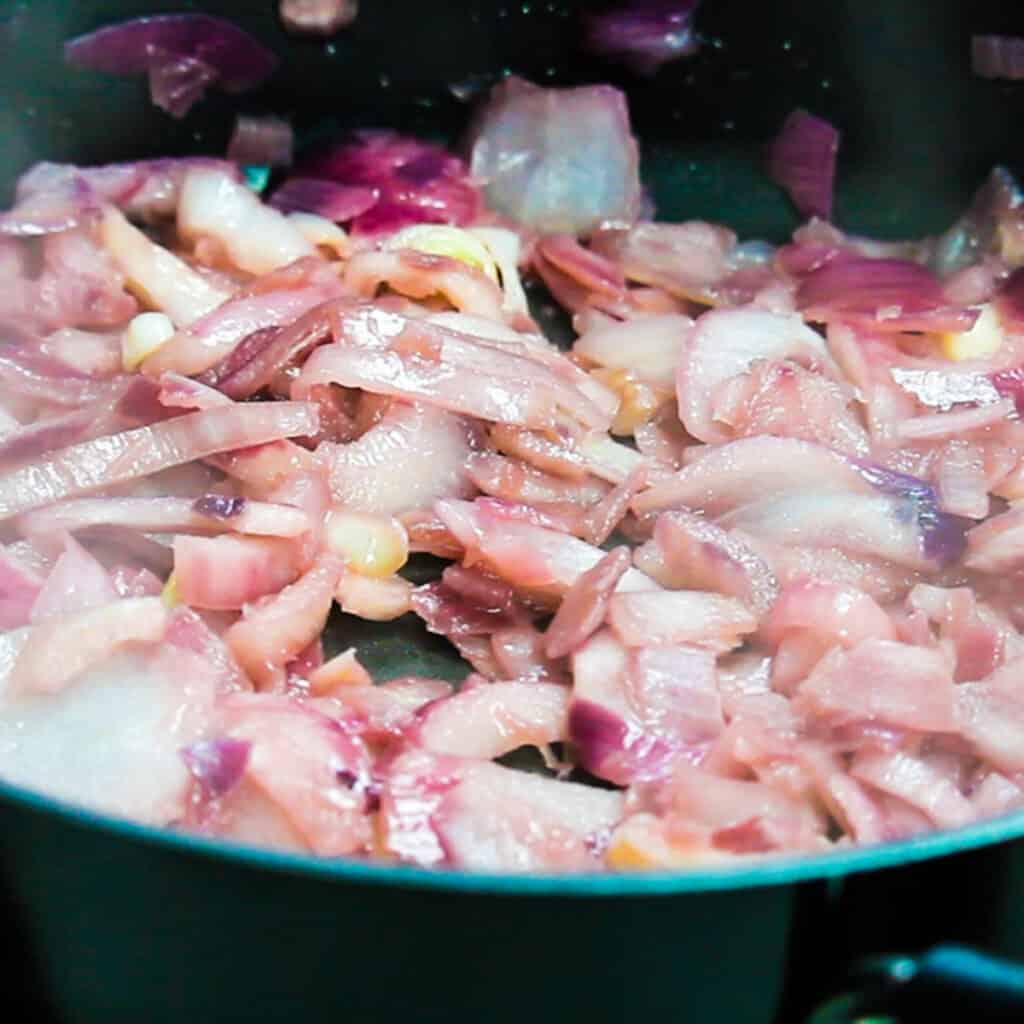 Remove the lid, and add the honey and balsamic vinegar.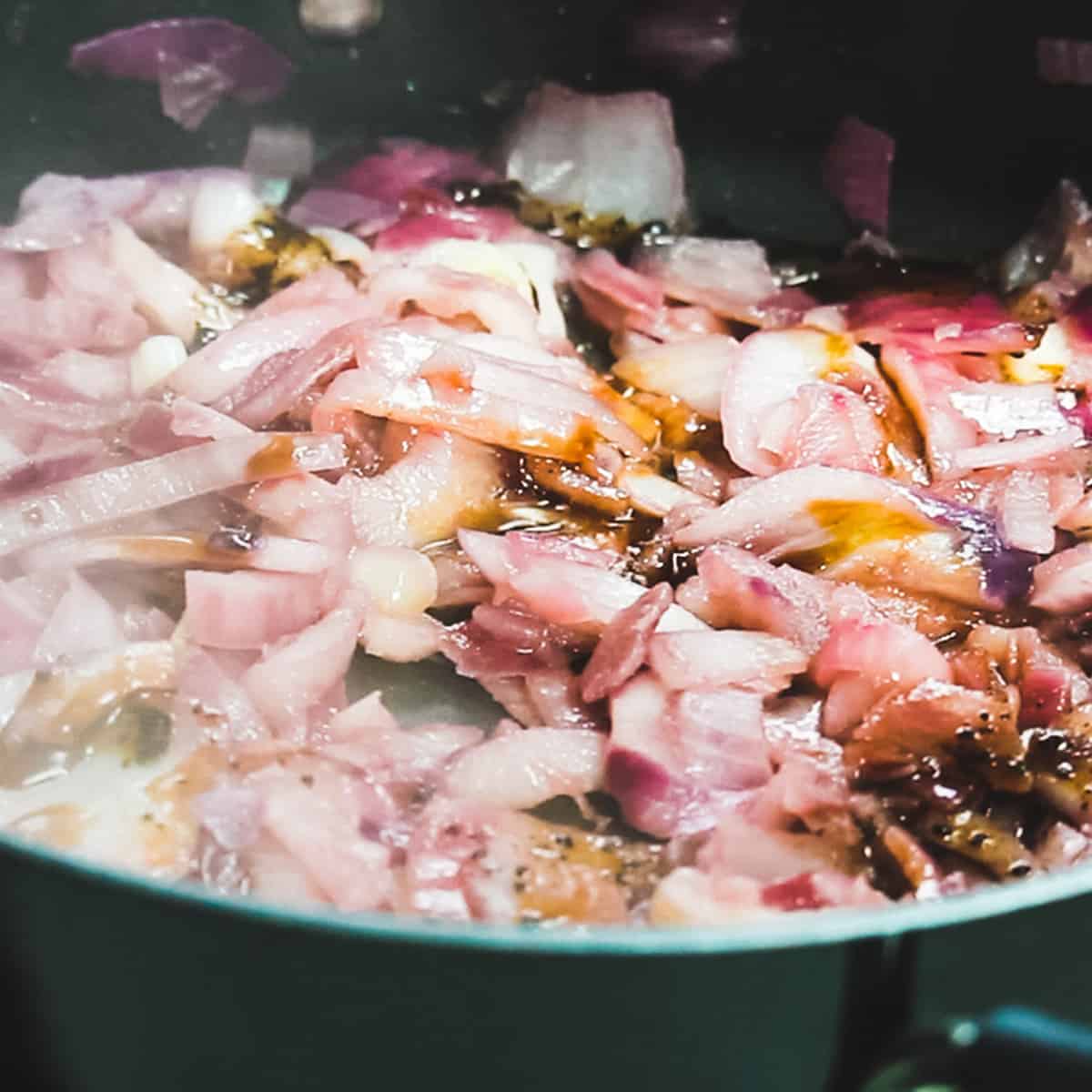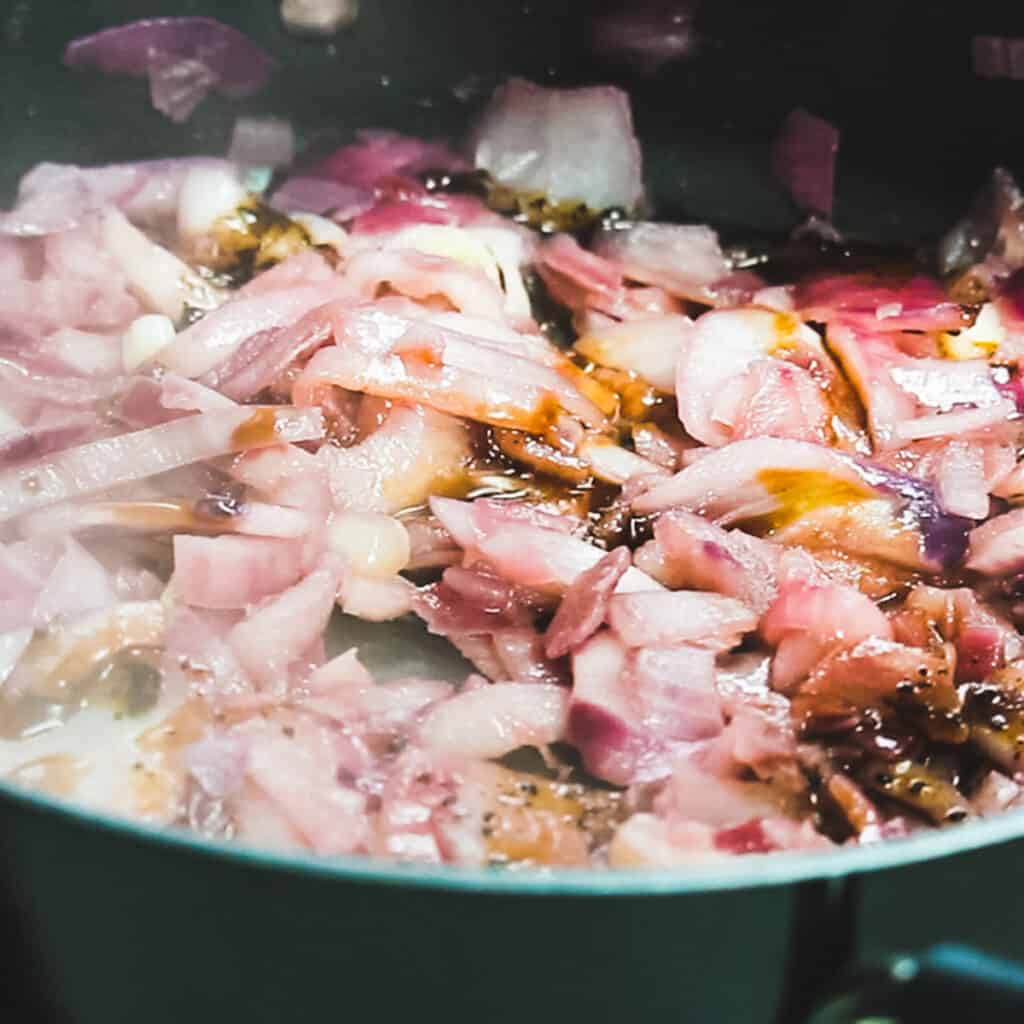 Then add the brown sugar.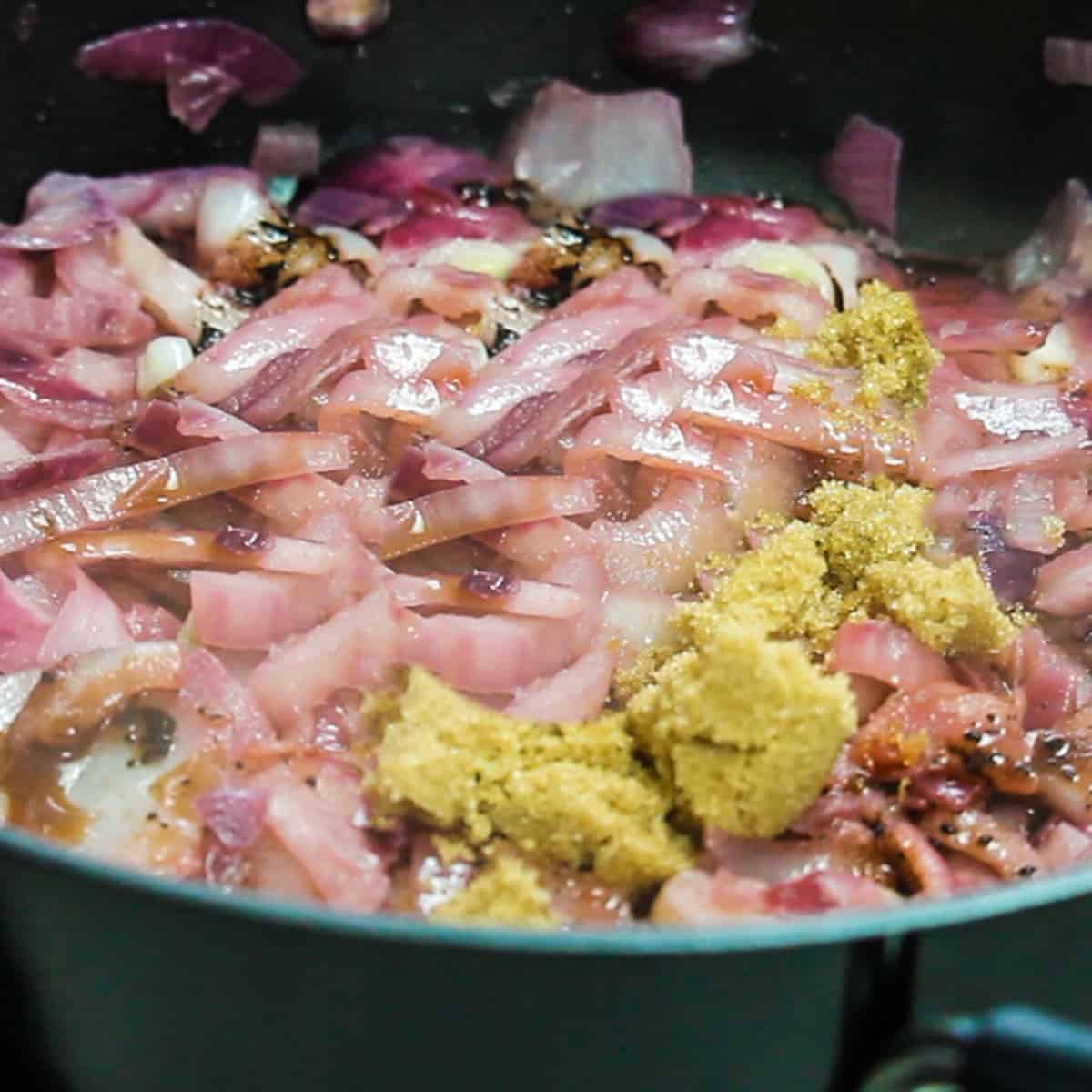 Mix to combine and raise the heat to medium-high, stirring occasionally until they are caramelized. Add salt and pepper to taste.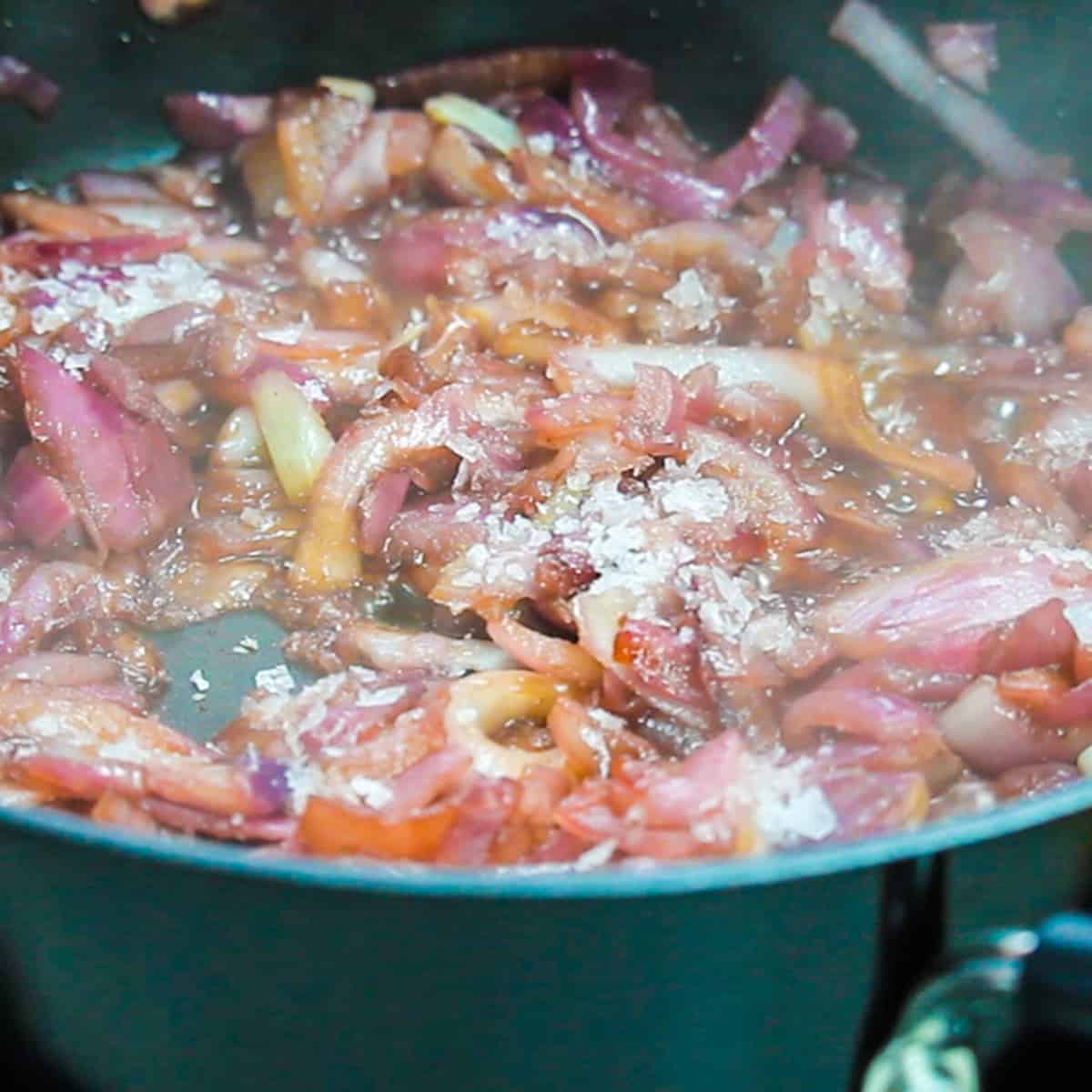 Stir to combine. Taste for seasoning before adding them to your burger.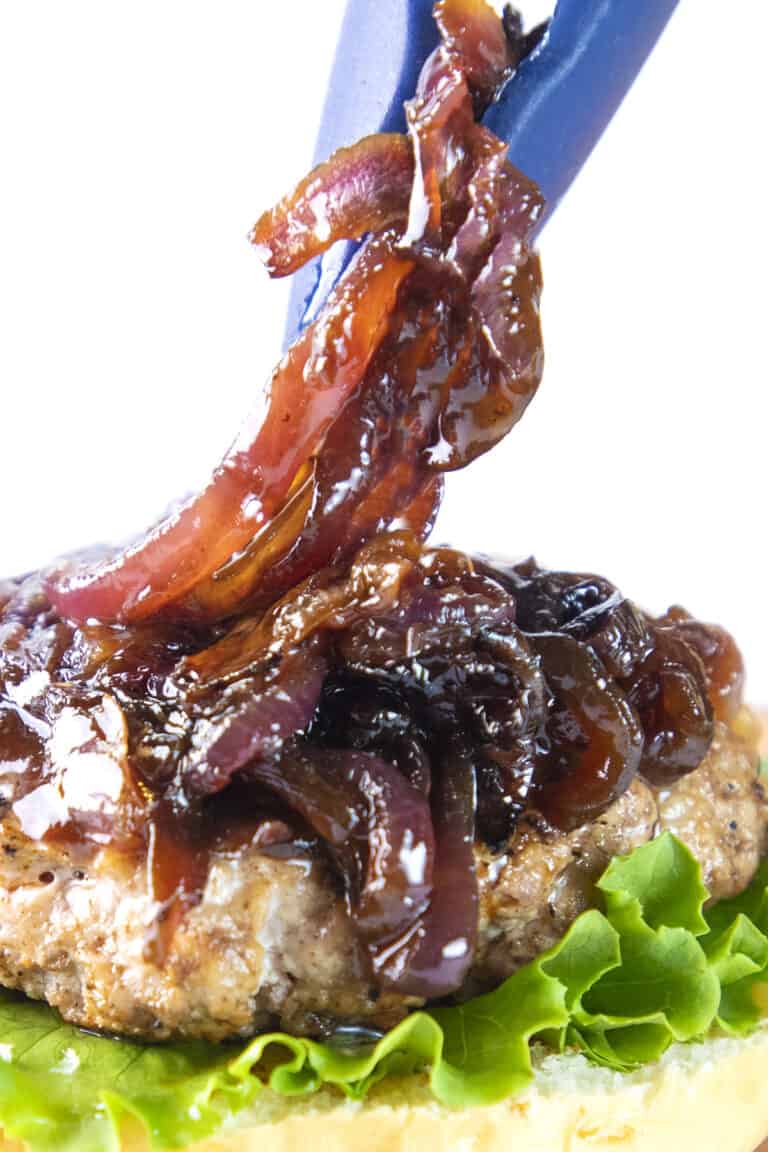 Erren's Top Tips
You can use any type of onion you like for this recipe, such as yellow, white, or even pearl onions.
If you want to make sure the onions are cooked evenly, cut them into evenly sized slices.
If you find that the onions are sticking to the pan, add a little water to the pan.
Make ahead and Freezing Instructions ❄
Caramelized onions can be refrigerated in an airtight container for up to 3 days or frozen in a freezer-safe container for up to one month.
Stay Updated
Receive new recipes & dinner ideas straight to your inbox!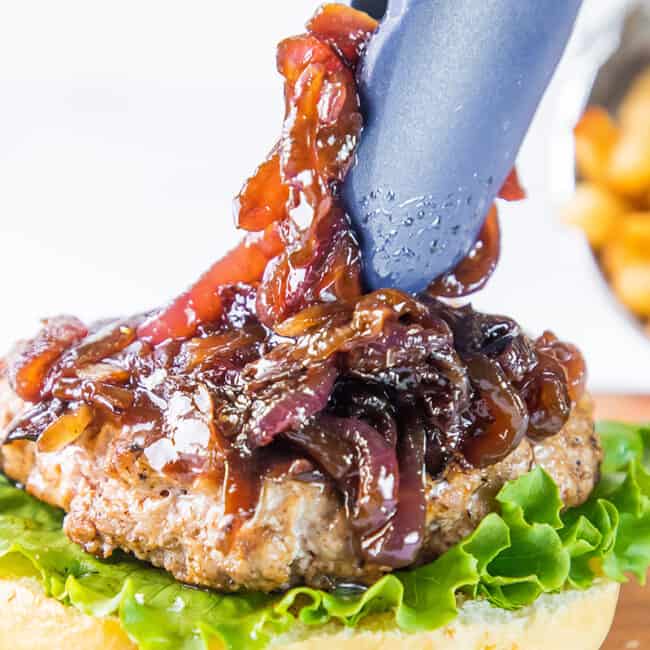 Let's Make Burger Onions
Add some excitement to your next burger night with caramelized onions flavored with brown sugar, honey, and balsamic vinegar. You'll Never eat a plain burger again!
Prep5 minutes
Cook10 minutes
Total15 minutes
Ingredients
2 lbs onions
2 tablespoons olive oil
1 tablespoon brown sugar packed
1 tablespoon honey
1 tablespoon balsamic vinegar
salt and pepper to taste
Instructions
Halve 2 pounds of onions and slice ¼ inch thick through the root end.

Heat 2 tablespoons of oil in a 12-inch nonstick skillet over medium-low heat until shimmering.

Stir in onions, cover, and cook (stirring occasionally), until onions are softened and release their juices, about 10 minutes.

Remove the lid; Add the brown sugar, honey, vinegar, salt, and pepper. Increase heat to medium-high, and continue to cook, stirring often, until onions are deeply browned about 10 to 15 minutes.

Taste for seasoning before serving.
Nutrition Information:
Calories: 119 (6%)| Carbohydrates: 18g (6%)| Protein: 2g (4%)| Fat: 5g (8%)| Saturated Fat: 1g (6%)| Polyunsaturated Fat: 1g| Monounsaturated Fat: 3g| Sodium: 7mg| Potassium: 228mg (7%)| Fiber: 3g (13%)| Sugar: 11g (12%)| Vitamin A: 3IU| Vitamin C: 11mg (13%)| Calcium: 37mg (4%)| Iron: 0.4mg (2%)
Erren's Kitchen is written and produced for informational intentions only. We are not certified nutritionists, and the nutritional information found on this site has not been assessed or authorized by a nutritionist or the FDA. The nutritional information found in our recipes is offered as an estimate and should not be considered a guarantee or fact. The estimated data is provided as a courtesy and calculated through a third-party online nutritional calculator, spoonacular API. Although we do our best to provide accurate nutritional information, these figures should be considered rough estimates. Many factors, such as brands or products purchased and the nutritional fluctuations that naturally occur in fresh produce, can alter the effectiveness of the nutritional information in any recipe. Furthermore, various online calculators provide different results depending on their particular algorithms and nutrition fact sources. To obtain the most precise nutritional information in a provided recipe, you should calculate the nutritional information with the exact ingredients you are using when preparing the recipe using your preferred nutrition calculator.