This recipe for Apple Cinnamon Upside Down Cake makes a great holiday centerpiece. It's a moist, fruity cake that's perfect for dessert or an indulgent treat.
Apples and cinnamon are a heavenly duo. This amazing upside-down cake is not only scrumptious, but it's really simple to make as well!
I made this cake as a special request from my mom for my brother-in-law's birthday. As soon as she mentioned it, I had no problem jumping on the idea because, a) I LOVE apple desserts and b) I also love my brother-in-law!
The only request my mother had was to keep it simple because she doesn't usually bake cakes from scratch and only has a hand blender. That was no problem because believe it or not, an upside-down cake is really easy to make and there isn't any fancy equipment needed.
To make it you start with the syrupy topping which is made by just melting butter, brown sugar and cinnamon together. You add it to the pan followed by the apples.
Then you top it with the cake batter and bake! It's that simple!
Leave it to cool for 5 minutes before turning it out on to a cake plate. Apple Cinnamon Upside Down Cake is definitely best served warm, but it's pretty yummy cooled as well!
The gooey, soft apple topping reminds me of warm caramel apples on top of a light and beautiful cinnamon vanilla cake – just heaven!
Other Apple Recipes You'll Love
Stay Updated
Receive new recipes & dinner ideas straight to your inbox!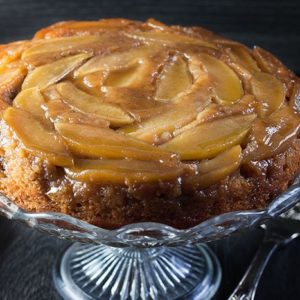 Let's Make Apple Cinnamon Upside Down Cake
This upside-down cake is a wonderfully indulgent cake that makes an amazing centerpiece for any party or entertaining.
Prep20 minutes
Cook30 minutes
Total50 minutes
Ingredients
For the topping:
2 medium-sized apples I used 2 golden delicious
2 teaspoons lemon juice
¼ cup butter
⅓ cup brown sugar packed
¼ teaspoon ground cinnamon
For the cake:
¼ cup butter softened
⅓ cup brown sugar packed
⅓ cup granulated sugar
⅓ cup apple juice
⅓ cup milk
2 teaspoons vanilla extract
½ teaspoon ground cinnamon
1 large egg
1​⅓ cups flour
2 teaspoons baking powder
½ teaspoon salt
Instructions
For the topping:
Peel and core the apples and slice each apple into 16 wedges. Place in a bowl, coat with lemon juice and set aside. In a small saucepan melt the brown sugar and butter together. Mix in the cinnamon and pour into a 9 inch round cake pan. Arrange the apples into the pan. Set aside.

In a medium mixing bowl beat the sugars and butter until light and fluffy. Add the apple juice, milk, vanilla, cinnamon, and egg. mix well to combine. Add the flour, baking powder, and salt. Mix to combine.

Pour the batter over the apples and gently spread over the apples (being careful not to shift the apples out of place). Bake 30-40 minutes or until a cake tester comes out clean.

Let cool for 5 minutes before turning onto a cake plate to serve.
Nutrition Information:
Calories: 261kcal (13%)| Carbohydrates: 40g (13%)| Protein: 2g (4%)| Fat: 10g (15%)| Saturated Fat: 6g (38%)| Cholesterol: 41mg (14%)| Sodium: 213mg (9%)| Potassium: 182mg (5%)| Fiber: 1g (4%)| Sugar: 26g (29%)| Vitamin A: 340IU (7%)| Vitamin C: 2.1mg (3%)| Calcium: 66mg (7%)| Iron: 1.1mg (6%)