This recipe for Shrimp and Chorizo Rice is a great one pot meal that is easy and full of flavor.
This is a dish that I have been making for years and it never gets old.  We live in a waterfront community that over looks a harbor. I love to make this on warm summer nights to eat on the deck with a nice glass of wine; it makes me feel like I'm on vacation.
I'm a big fan of paella and love to make things that are similar (as I don't always have a load of shellfish around to make the real thing).  This is definitely similar without all the fuss of making the real deal.
As you may or may not know, I live in England so my ingredients may be different than what's available for you.  90% of my visitors are from the US.  I was talking to my sister back home in NJ yesterday and she didn't know what  Chorizo was.  If you can't get your hands on it, I'm sure andouille sausage will fit the bill just fine.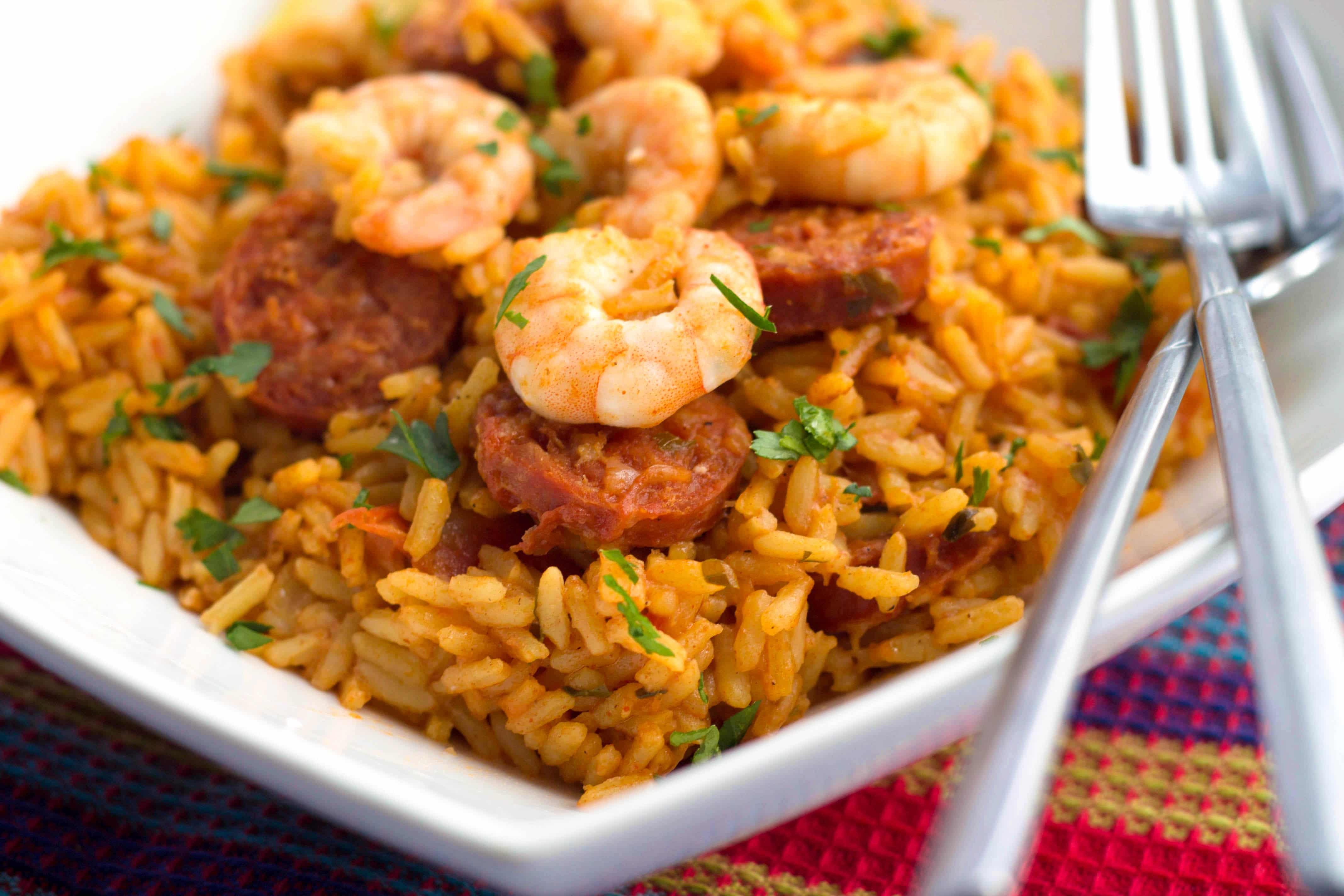 Shrimp and Chorizo Rice
Author:
Erren @ Erren's Kitchen
Ingredients
4 cups/900ml Chicken Stock
A pinch of saffron threads
2 tablespoons olive oil
14 oz/400g chorizo sausage, cut into slices
1 Large onion, chopped
3 cloves garlic, chopped
14 oz/400g raw shrimp/prawns, cleaned
1 cup/200 ml dry white wine
2 cups long grain rice
1 teaspoon paprika
1 14 oz/400g can diced/chopped tomatoes
A good handful of fresh parsley, chopped
Instructions
Bring stock to a simmer in a saucepan; add the saffron and leave to infuse.
Heat the oil in a shallow pan on medium high heat and fry the chorizo until it starts to brown and release it's orange colored oils. Add the onion and continue to fry until the onion has softened. Add the garlic and fry another minute.
Add the shrimp and sauté until pink (about 2-3 minutes). Remove the shrimp from the pan and set aside.
Add the white wine and allow to almost fully evaporate before adding the rice. Coat the rice with the other ingredients and then add the stock, paprika, tomatoes and parsley. Bring to a boil before reducing the heat. Cover and leave to simmer 15-20 or until the rice is tender.
Remove from the heat, add the shrimp mix to warm with the cooked rice and serve.