Spaghetti and Sausage Ragu Sauce is an Italian classic.  I've been making this recipe my whole life and and it's a staple in my house.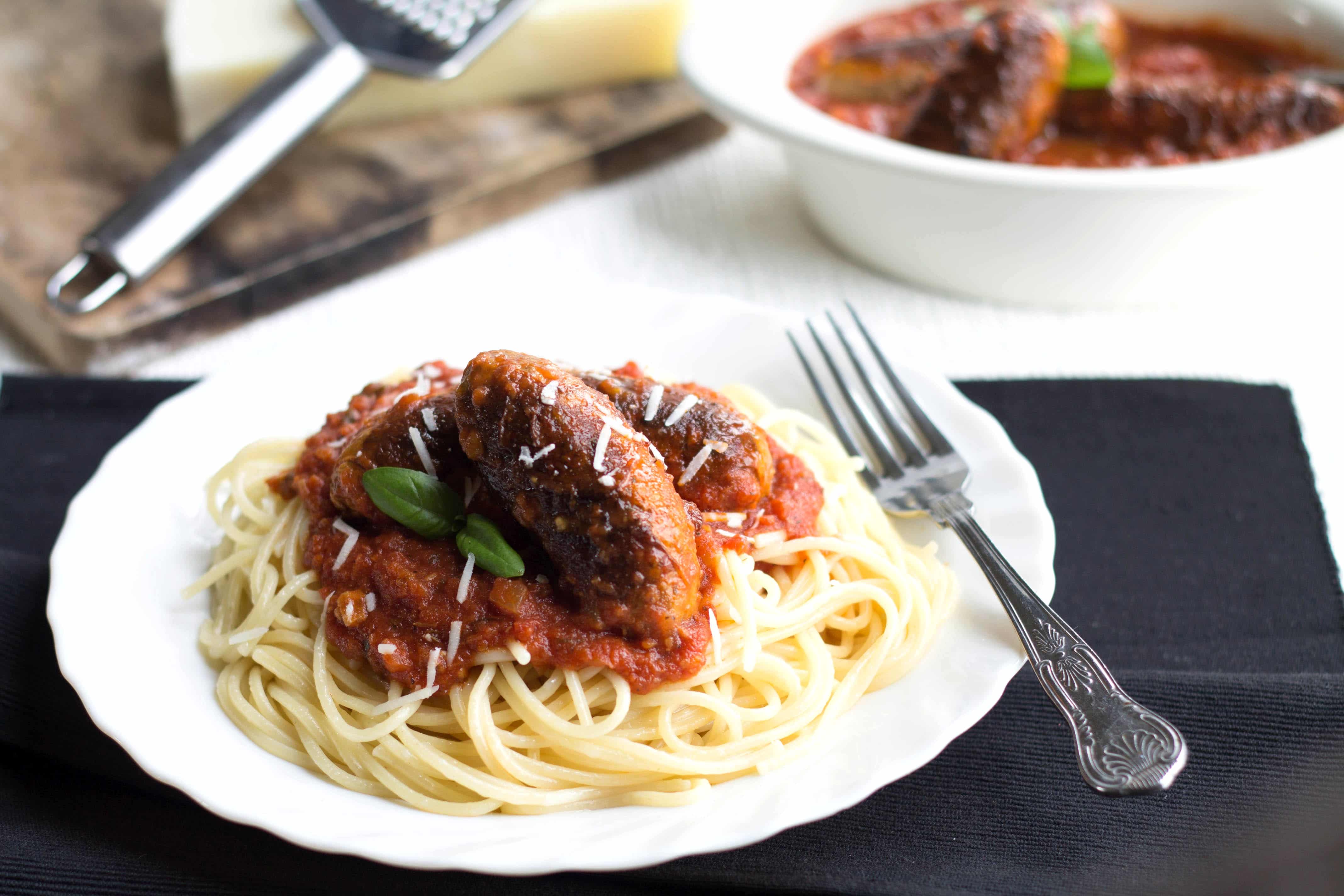 When I say this is a staple in my house I really mean it.
Once every few weeks, I make a huge pot of it (at least double the recipe).  We eat it that day and then I break it up into indivisible portions (some with sausage and some without), add it to freezer safe containers and freeze the rest.
We always have a homemade dinner in the freezer at all times.  When I re-heat it after thawing, the only thing I almost always have to do is add a little water to loosen it up, but it comes out great.  The plain sauce is used for anything from chicken Parmesan to lasagna.
I've been making this sauce since I was a little girl.  My mother taught me and her Italian mother taught her the same way – by waking us up early on a Sunday morning to help peel and chop garlic & onions, and sometimes mix and roll the meatballs we also added to it.
I'll save the meatball recipe for another day.  Technology has come a long way.  What I would have done for a food processor back then!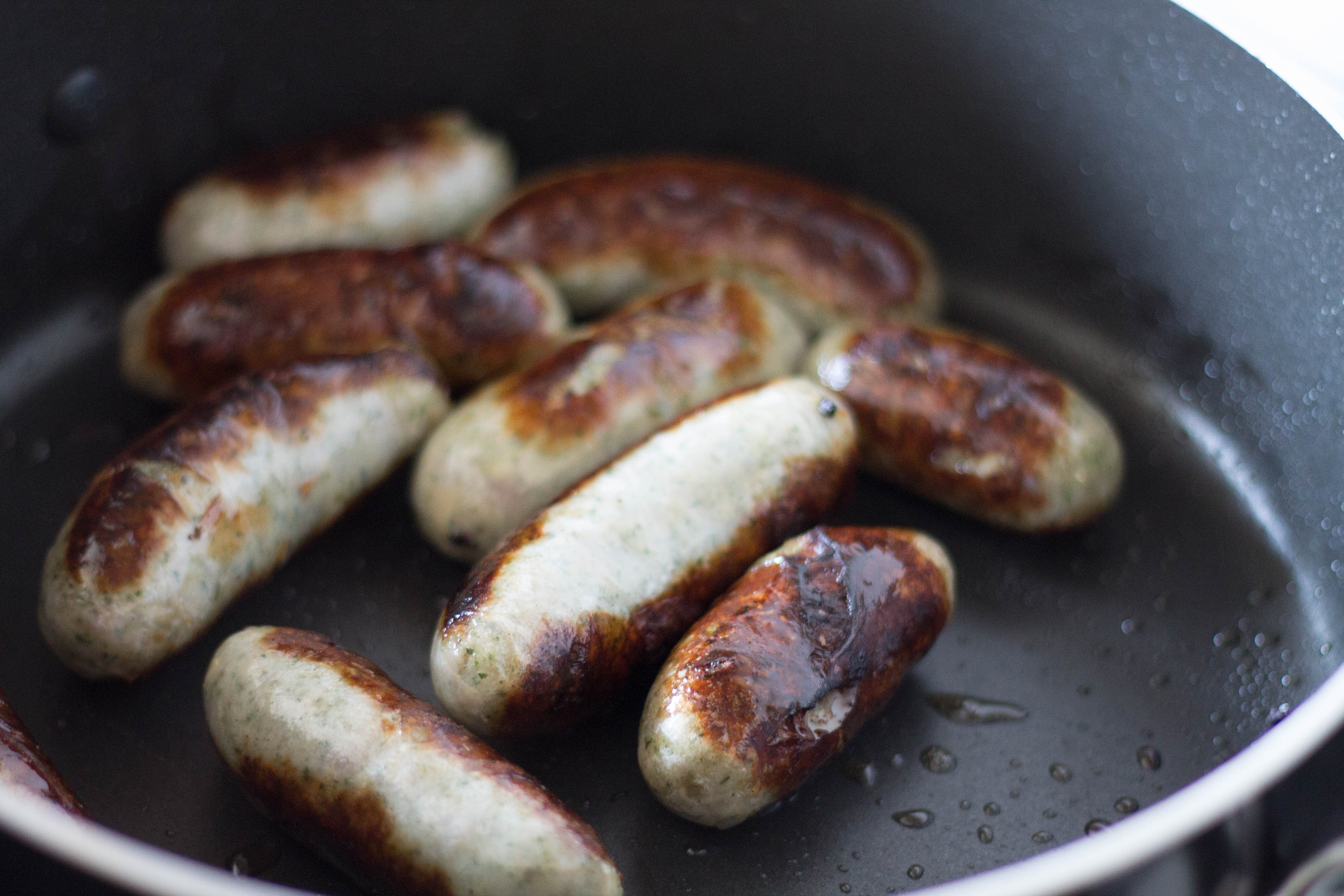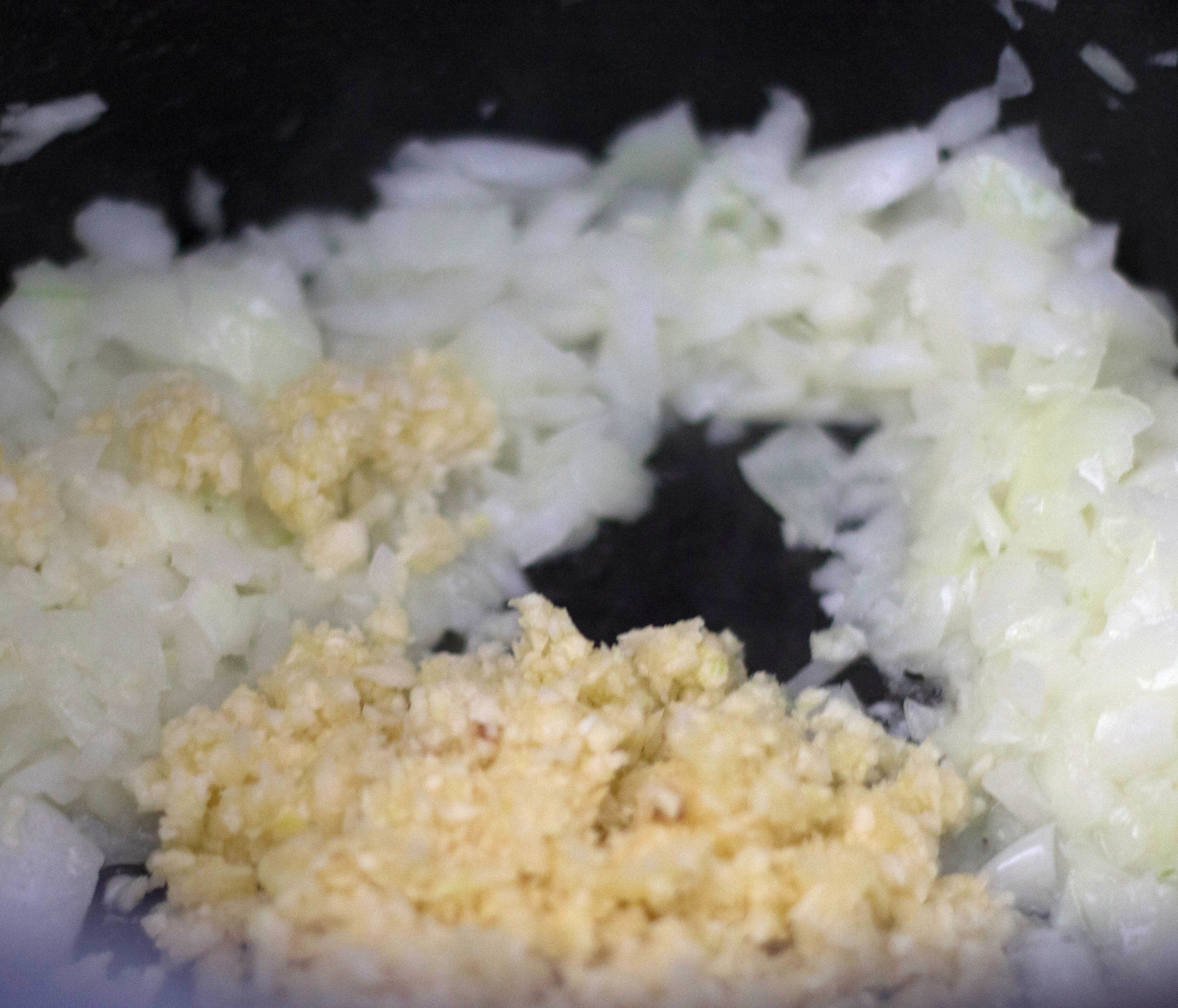 I have changed the recipe a bit over the years though.  My mother and Italian grandmother always used dried herbs (except in the meatballs which always has fresh parsley), so if that's how you do things – go right ahead.  It works, but I love fresh herbs and always use them in my cooking.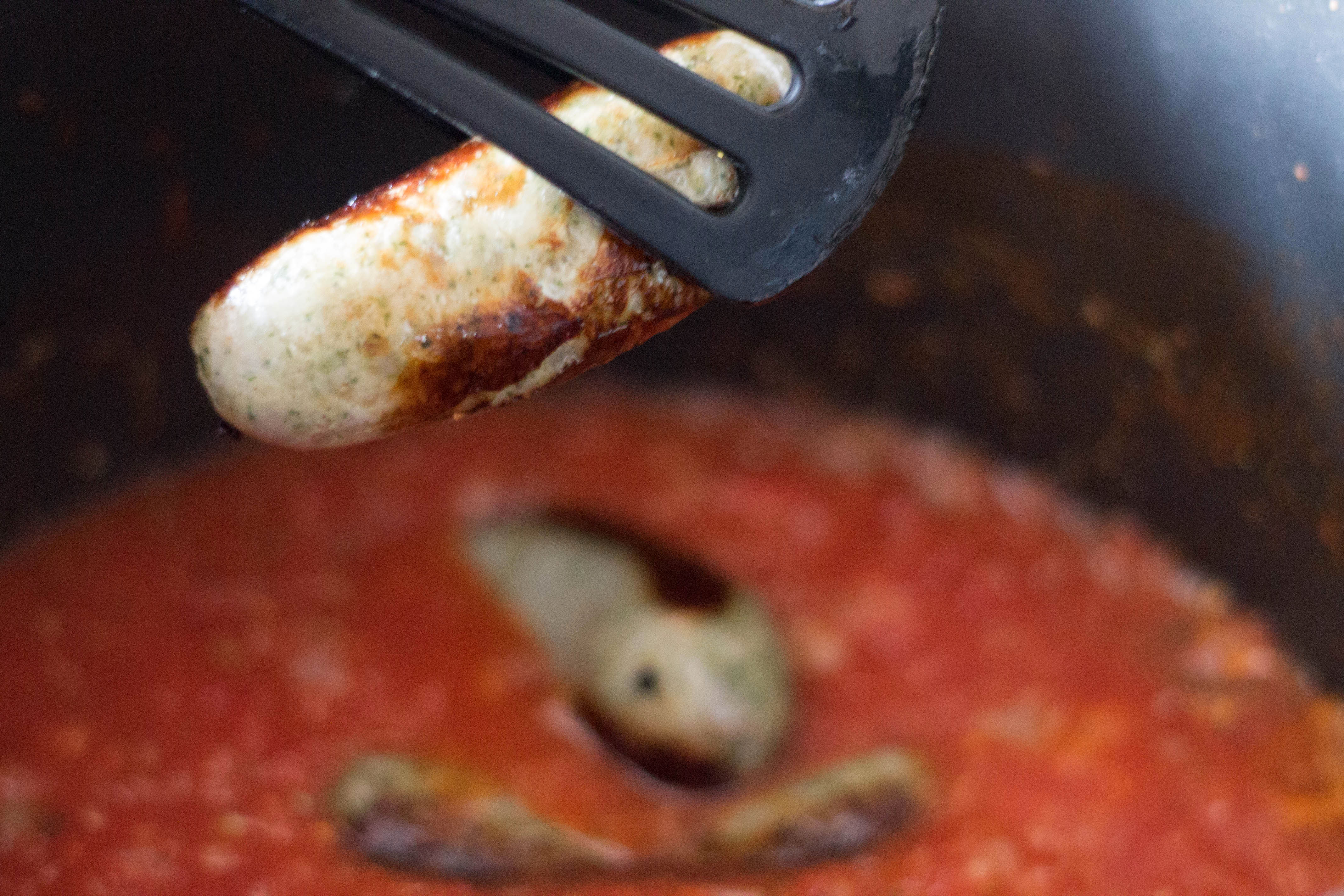 They also used tomato paste to the sauce as well, but I cut it because I like a lighter, slightly thinner sauce, but if you prefer a richer, thicker sauce, I added some tips below to achieve that result.  I also added a few extra tips to help you create your version of the perfect sauce.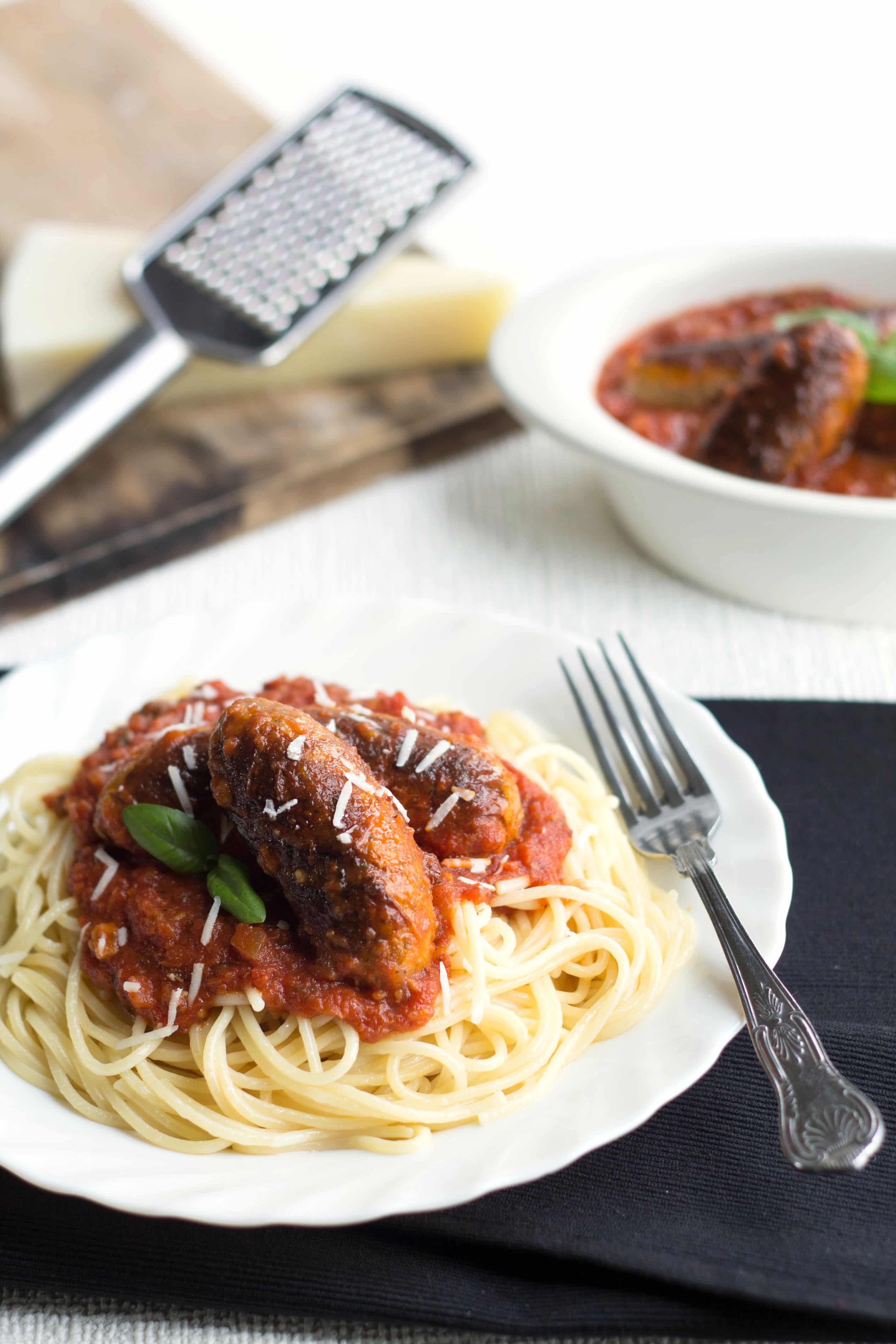 Tips on creating your perfect sauce:
During the cooking process, if the sauce looks like it's becoming too thick, add a 1/2 of water at a time until it's your desired constancy.
If you like your sauce extra thick, you can add a couple of tablespoons of tomato paste to the sauce to thicken it.
Some canned tomatoes can either be too acidity or too sweet.  If you run into either of these issues, follow the steps below to adjust the taste:
If the sauce is too acidity, you can add a teaspoon of sugar at a time balance it out.
If the sauce tastes too sweet, you can add a teaspoon of red wine vinegar at a time (tasting in between) to cut the sweetness.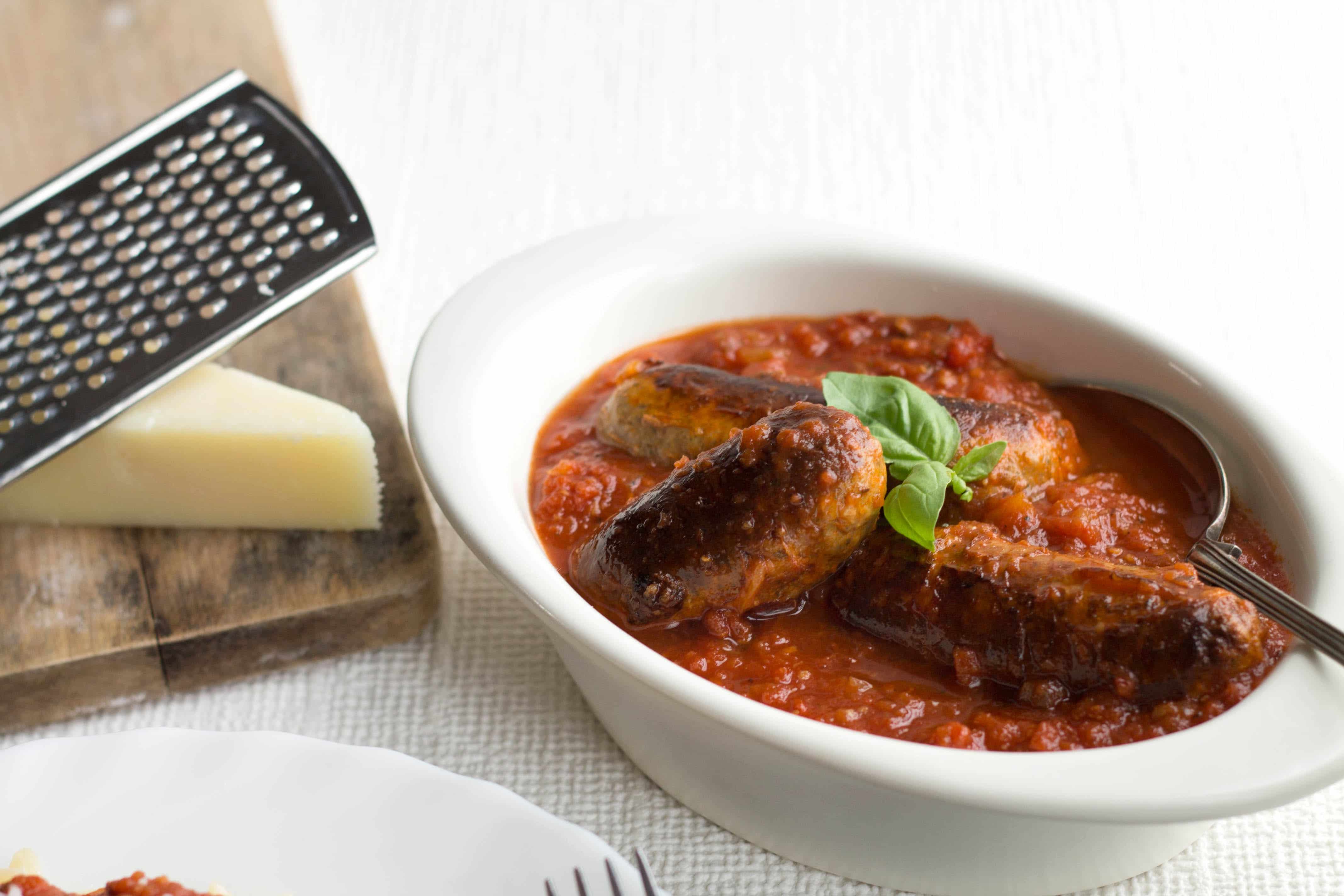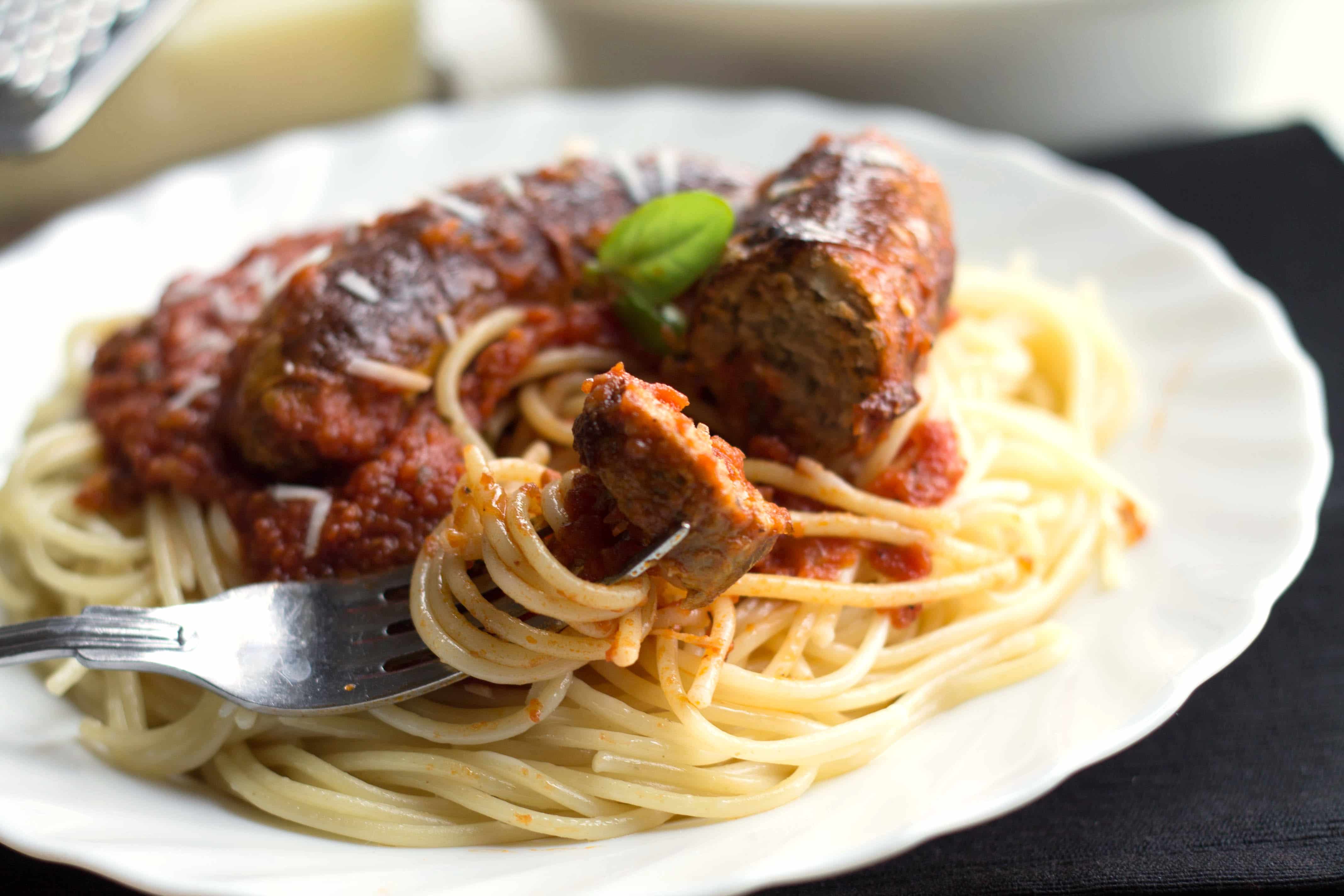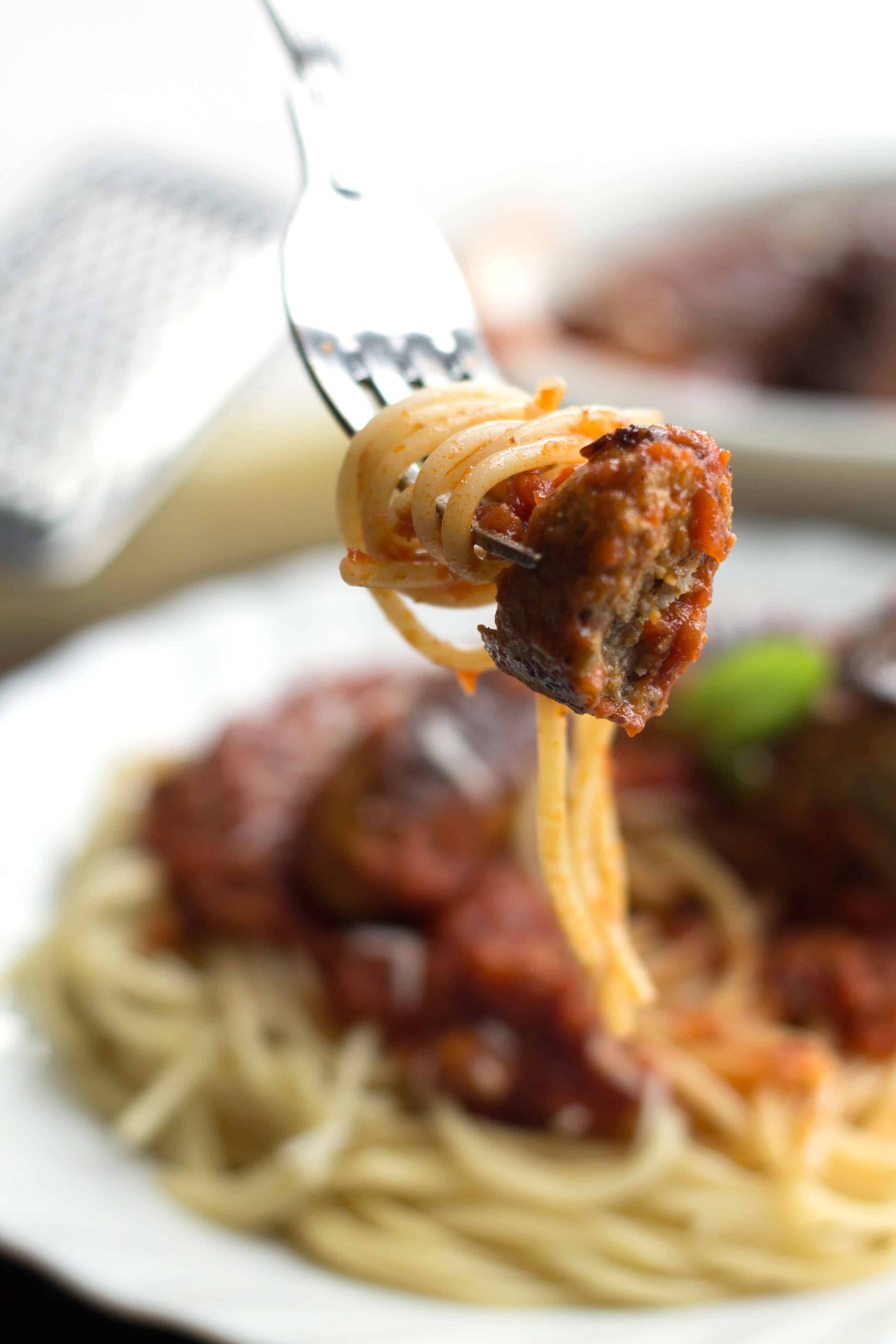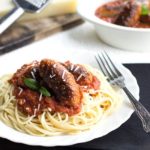 Spaghetti and Sausage Ragu Sauce
Total Time
3
hours
20
minutes
Ingredients
4

tablespoons

olive oil

2

lbs

good quality Italian sausages

1

large onion

finely chopped

8

large garlic cloves

minced

4

28-ounce

cans crushed tomatoes with added puree

pureed

12

large basil leaves

torn

a good handful of fresh parsley

chopped with the stalks

2

tablespoons

teaspoons fresh oregano leaves

chopped or 2dried

Salt

Pepper
Instructions
Heat 2 tablespoons of olive oil a large saucepan over medium-high heat.

Pierce the sausages in several places with a fork and add them to the saucepan.

Brown the sausages until they are a deep brown (being careful not to let them stick to the pan)

Remove the sausages from the pan and set aside.

Pour the fat from the pan.

Heat the 2 remaining tablespoons of the olive oil in the same pan.

Add the onion to the oil and sauté over medium heat, stirring frequently until they start to look transparent (about 5 minutes).

Add the garlic and sauté for another minute.

Pour the crushed tomatoes and puree into the pan and stir well to combine.

Add the herbs along with some salt and pepper and stir to combine all the ingredients.

Bring the mixture to a boil and reduce the heat to low. Simmer for 2-3 hours, stirring frequently to make sure the sauce doesn't stick to the pan.

Taste the sauce before serving to make sure it doesn't need more seasoning.

Bring a large pan of water to a boil and cook the spaghetti according to the package instructions being careful not to overcook.

Tips:

During the cooking process, if the sauce looks like it's becoming too thick, add a 1/2 of water at a time until it's your desired constancy.

If you like your sauce extra thick, you can add a couple of tablespoons of tomato paste to the sauce to thicken it.

If the sauce is too acidity, you can add a teaspoon of sugar at a time balance it out.

If the sauce tastes too sweet, you can add a teaspoon of red wine vinegar at a time (tasting in between) to cut the sweetness.

serves 4-6