This Easy Oven Fried Chicken recipe has a crispy coating that's not only delicious but it's super simple to make.
Serve with a side of Baked Potato Wedges and Roasted Broccoli for a meal everyone will love!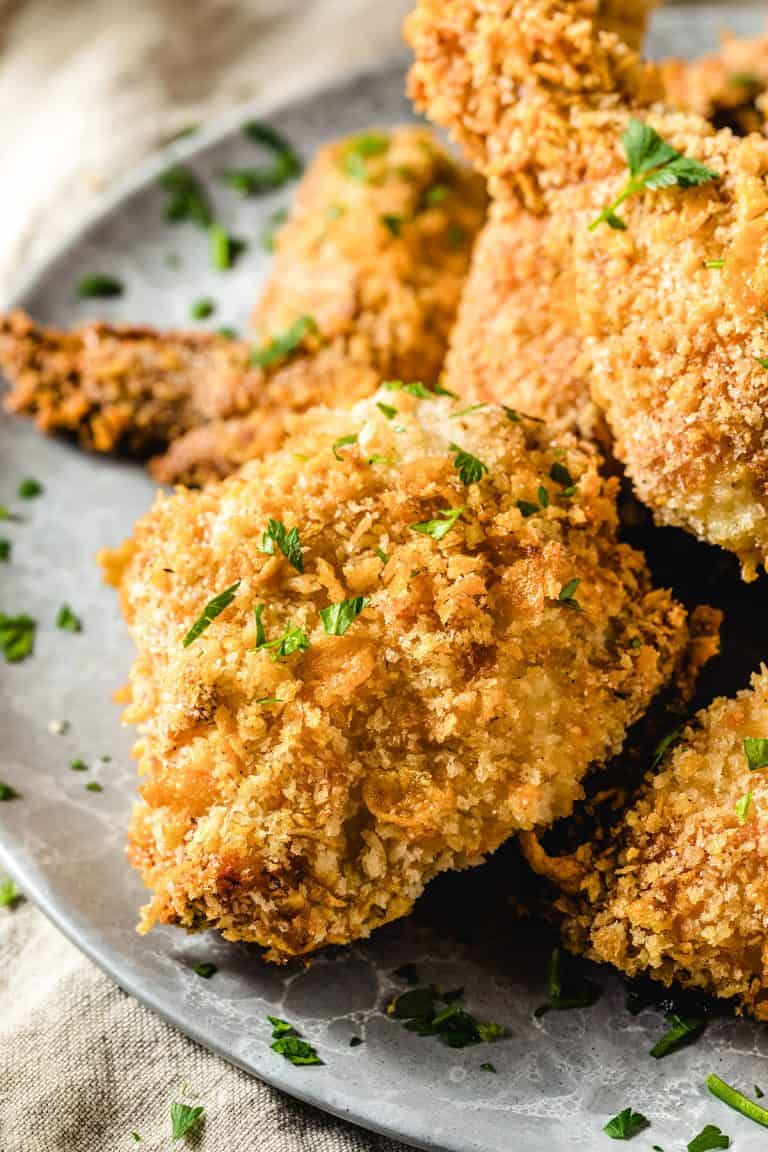 This recipe is just delicious. It comes out crispy every time and it's so much lower in fat than deep-fried. I make it often in my house and it's always a winner!
Why This Recipe Works
Coating in flour, as well as bread crumbs, gives it a thicker coating and helps the breading stick to the chicken.
Using cooking spray allows for a crispy coating without deep frying.
Using legs and thighs assures the chicken is moist and juicy.
This recipe is probably one of the recipes I make the most for my family out of all my recipes. I make it with most with Rice Pilaf, Roasted Broccoli, or Roasted Brussels Sprouts. It's so quick, easy, and unbelievably good, that my family asks for it on a regular basis.
I probably make this chicken 3 or 4 times a month and for a food blogger that has to constantly cook new dishes – that's a lot!
Chicken Buying Guide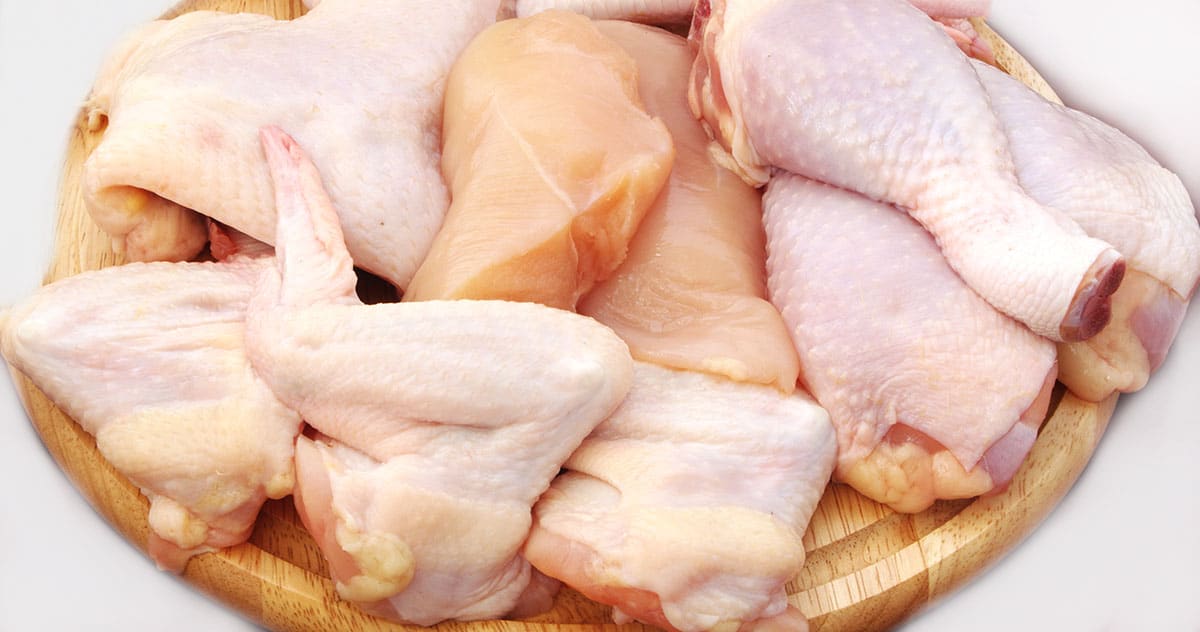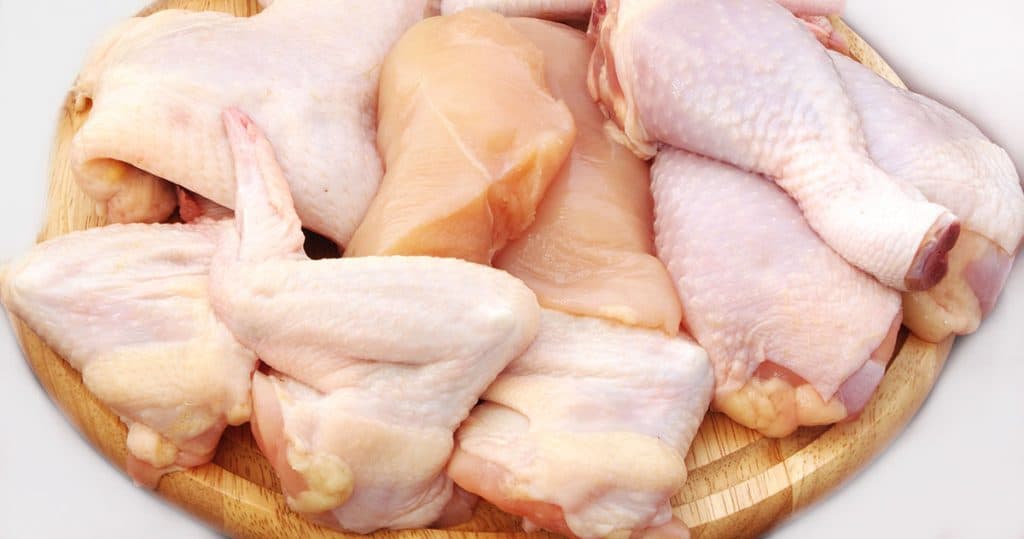 When buying chicken, choose chicken with pink colored meat. Chicken freshness is easily visible as it fades with time. It's always best to avoid buying chicken with any signs of discoloration or odor.
For The Breading
For the breading, I use a layer of flour and a layer of breadcrumbs that I season with oregano, garlic powder, paprika Parmasean Cheese, salt, and pepper. When I made the video, I used plain breadcrumbs, but I shot it using panko for the photos to show that they both work really well.
You can alter the recipe in any way that suits you and your family. Make it your own – use pre-seasoned breadcrumbs or any herbs and spices you want. If you like a little kick, add some cayenne pepper. Don't like Parmesan cheese? Take it out – the choice is yours!
How to make Oven-Fried Chicken
Put the bread crumbs in a bowl with the oregano, garlic powder, paprika, Parmesan cheese, salt & pepper.
Mix it together and add it to a large food storage bag.
Beat the eggs with the milk and salt and pepper in a bowl and add the flour to a dish and season with salt and pepper. Line them up next to each other to easily coat the chicken in each.
Dredge the chicken piece by piece in the flour.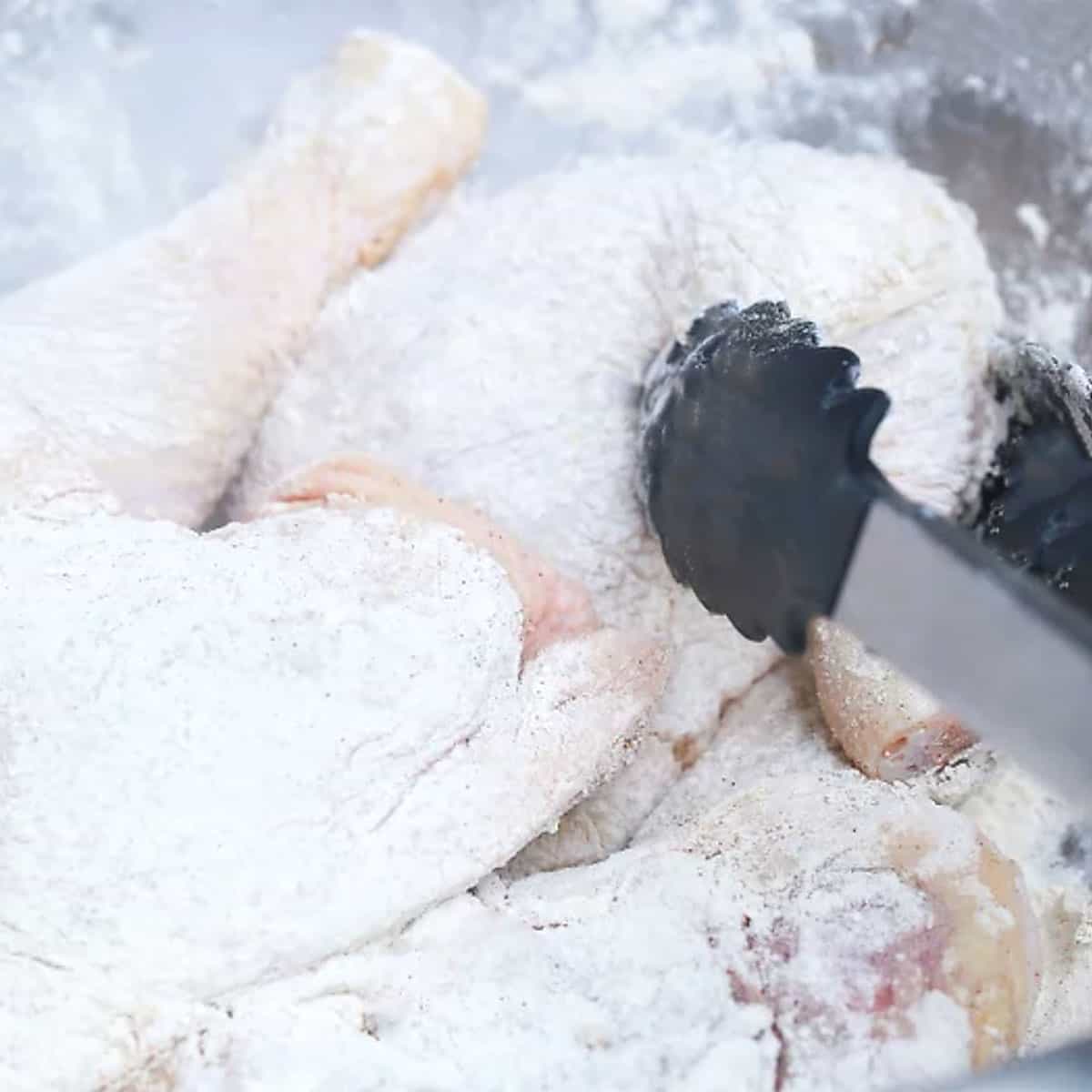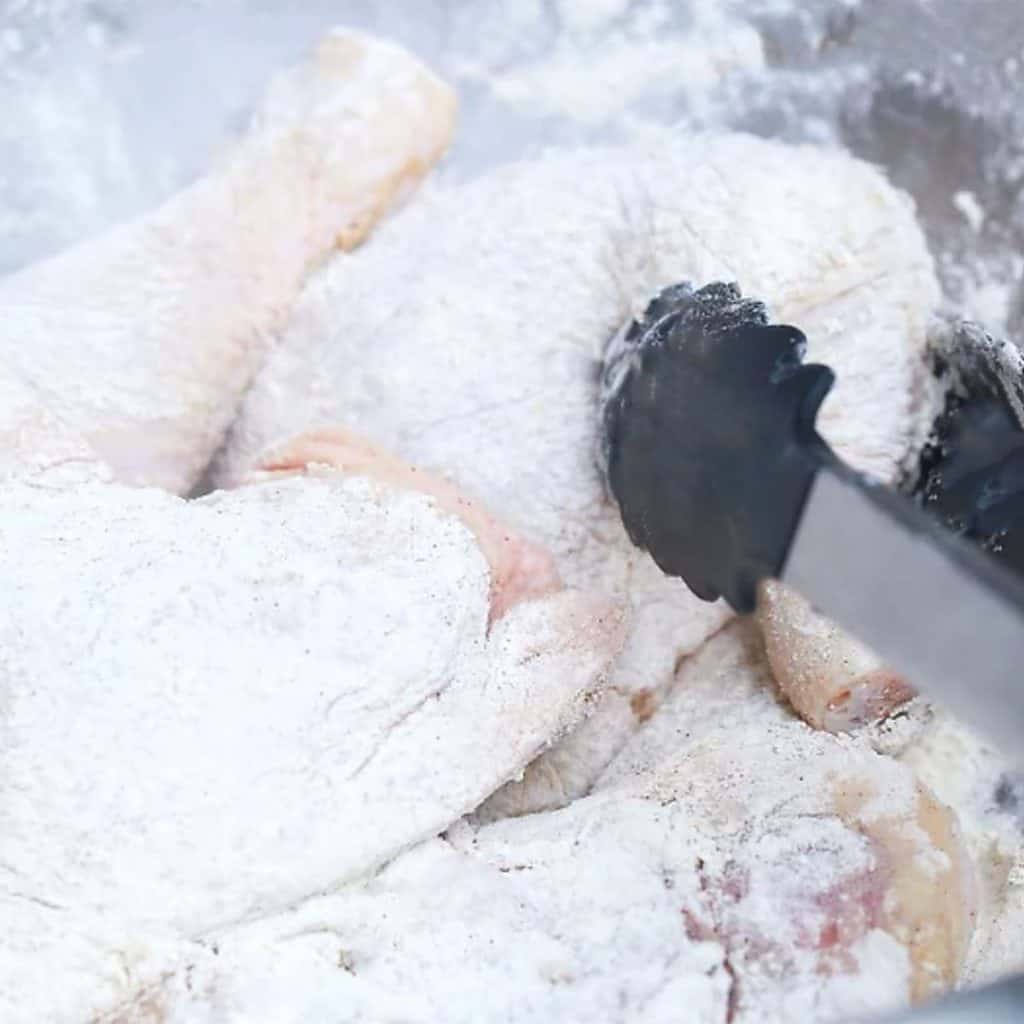 Followed by the egg.
Then add it to the bag with the bread crumbs (I usually add three pieces to the bag at a time). Seal the bag well, and shake the bag to coat.
Place on a baking sheet (I line mine with nonstick foil). and spray with low-fat cooking spray.
Bake in the preheated oven for 30 minutes. Check to see if the chicken has browned. If needed, spray with more cooking spray and bake for another 15 minutes. Remove from oven and rest on paper towels. Enjoy!
Erren's Top Tips
Use Chicken parts that are similar in size. When baking chicken, uniform-sized cuts so they cook at the same rate.
Always use bone-in chicken pieces with the skin on. Boneless chicken with no skin will come out much dryer.
Season Generously. When making oven-fried chicken, season your chicken well with salt. Add salt and pepper to the flour and egg mixture. It's hard to get any seasoning into the meat, but seasoning throughout the preparation process will help ensure it's extra flavorful.
Don't Crowd the Pan. Overcrowding the pan causes steam and will make your breading soggy. If necessary, cook on two sheets.
Don't Cover with Foil. Many people think that covering a pan with foil during cooking will keep it from browning too much, but this will create a seal and cause condensation which will make the chicken soggy.
Stay Updated
Receive new recipes & dinner ideas straight to your inbox!
Let's Make Easy Oven Fried Chicken
Crispy chicken coated in breadcrumbs and baked until golden. The perfect weeknight treat.
Prep10 minutes
Cook30 minutes
Total40 minutes
Ingredients
12 chicken peices dark meat
3 eggs
¼ cup milk
½ cup all-purpose flour
1 cup breadcrumbs
2 teaspoons dried oregano
2 teaspoons garlic powder
2 teaspoons dried paprika
2 tablespoons grated Parmesan cheese
salt and pepper to taste
Instructions
Preheat oven to 400F/200C.

Place flour in a plate or bowl and season with salt and pepper to taste. Set aside.

Put the bread crumbs in a shallow bowl and mix in the oregano, garlic powder, paprika, Parmesan cheese, salt & pepper. Add the breadcrumb mixture to a sealable food storage bag.

Beat the eggs with the milk and season with salt in another bowl.

Dredge the chicken piece by piece in the flour, followed by the egg, and then add to the bag with the bread crumbs (three pieces should be added to the bag at a time). Seal the bag and shake to coat with the breadcrumbs.

Place the chicken in a sheet pan lined with nonstick foil. Spray with cooking spray.

Bake in the preheated oven for 30 minutes. Check to see if the chicken has browned. Remove from the oven and drain on paper towels as needed.
Nutrition Information:
Calories: 987 (49%)| Carbohydrates: 35g (12%)| Protein: 76g (152%)| Fat: 58g (89%)| Saturated Fat: 17g (106%)| Trans Fat: 1g| Cholesterol: 387mg (129%)| Sodium: 534mg (23%)| Potassium: 847mg (24%)| Fiber: 3g (13%)| Sugar: 3g (3%)| Vitamin A: 1220IU (24%)| Vitamin C: 6mg (7%)| Calcium: 173mg (17%)| Iron: 6mg (33%)
Erren's Kitchen is written and produced for informational intentions only. We are not certified nutritionists, and the nutritional information found on this site has not been assessed or authorized by a nutritionist or the FDA. The nutritional information found in our recipes is offered as an estimate and should not be considered a guarantee or fact. The estimated data is provided as a courtesy and calculated through a third-party online nutritional calculator, spoonacular API. Although we do our best to provide accurate nutritional information, these figures should be considered rough estimates. Many factors, such as brands or products purchased and the nutritional fluctuations that naturally occur in fresh produce, can alter the effectiveness of the nutritional information in any recipe. Furthermore, various online calculators provide different results depending on their particular algorithms and nutrition fact sources. To obtain the most precise nutritional information in a provided recipe, you should calculate the nutritional information with the exact ingredients you are using when preparing the recipe using your preferred nutrition calculator.