Condensed milk is magic in this no churn Homemade Chocolate Ice Cream. It's creamy, smooth, not icy. And, no ice cream maker needed.
Condensed milk is a magic ingredient in this ice cream recipe – the end result is creamy, smooth, and decadent.
Ever since I made my Cherry Vanilla Ice Cream I've become obsessed with no-churn ice cream. It was so good, I just had to try other flavors. I am loving this No Churn Chocolate Ice Cream.
Why This Recipe Works
No-churn ice cream is just magical because no special equipment is needed.
All it needs is two things: sweetened condensed milk and cream – after that, anything is possible.
Made with melted, dark chocolate, this recipe is rich in deep chocolate flavor.
You would never know this ice cream is made without an ice cream maker. It is super creamy! I'll tell you one thing for sure – This no-churn business is the real deal!
What Can You Add To Chocolate Ice Cream?
The Short Answer – Anything you want! For this recipe, I added chocolate chips and mini marshmallows (my son's favorite), but you can add anything you like with Chocolate Ice Cream.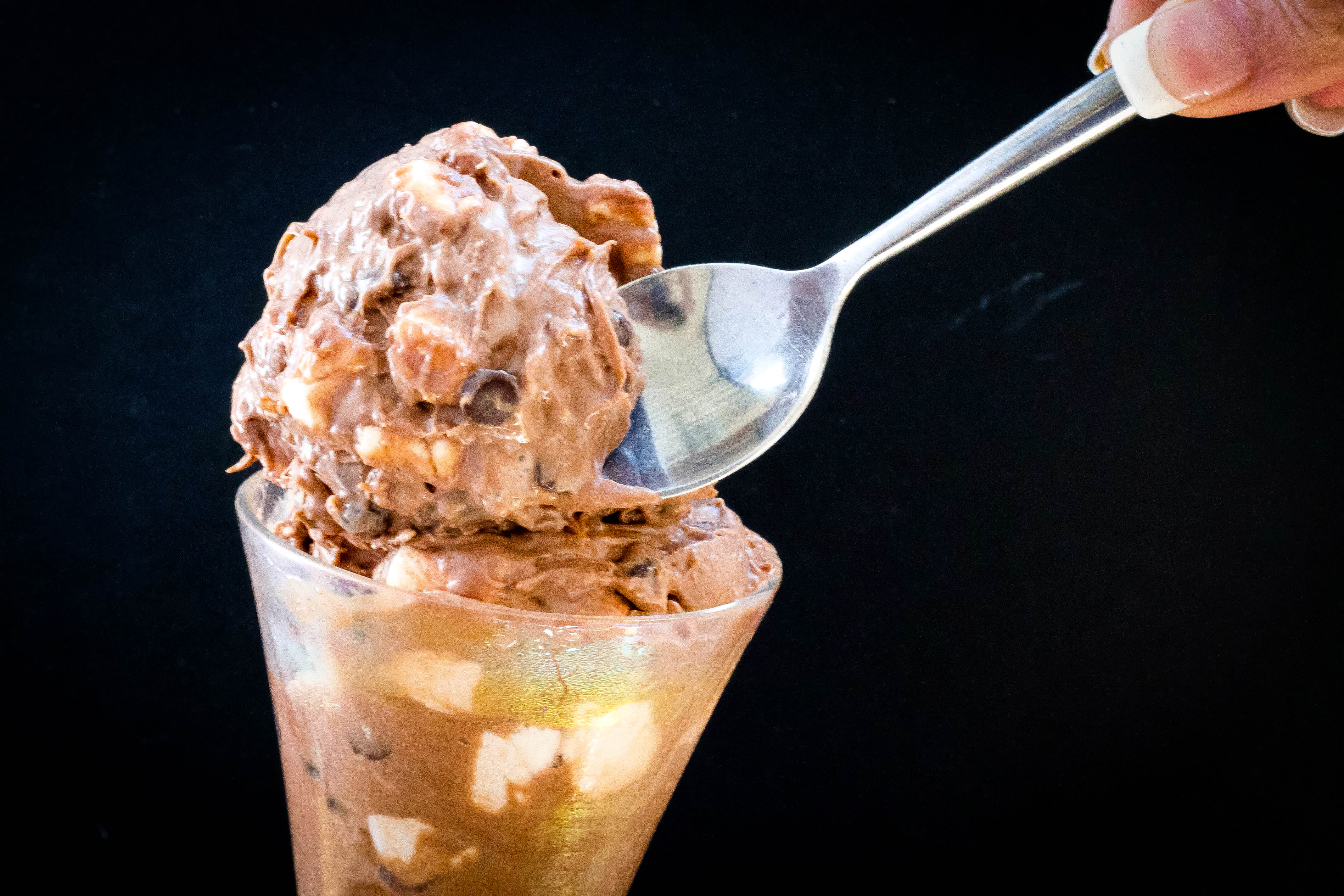 I have to say that even I was surprised at how creamy this ice cream was. I had to hide a couple of scoops because I knew it wouldn't last long enough to get it in front of my camera. I am glad I did because five days later, it was still silky smooth, and delicious!
How to make homemade chocolate ice cream
Melt the chocolate
Add the condensed milk and combine.
Whip the cream and add to the chocolate mixture.
Add marshmallows and chocolate chips.
Pour into a freezer-safe container. Freeze.
Serve and enjoy!
Step by Step Instructions
Melt the chocolate. For further instructions see my post on How To Melt Chocolate.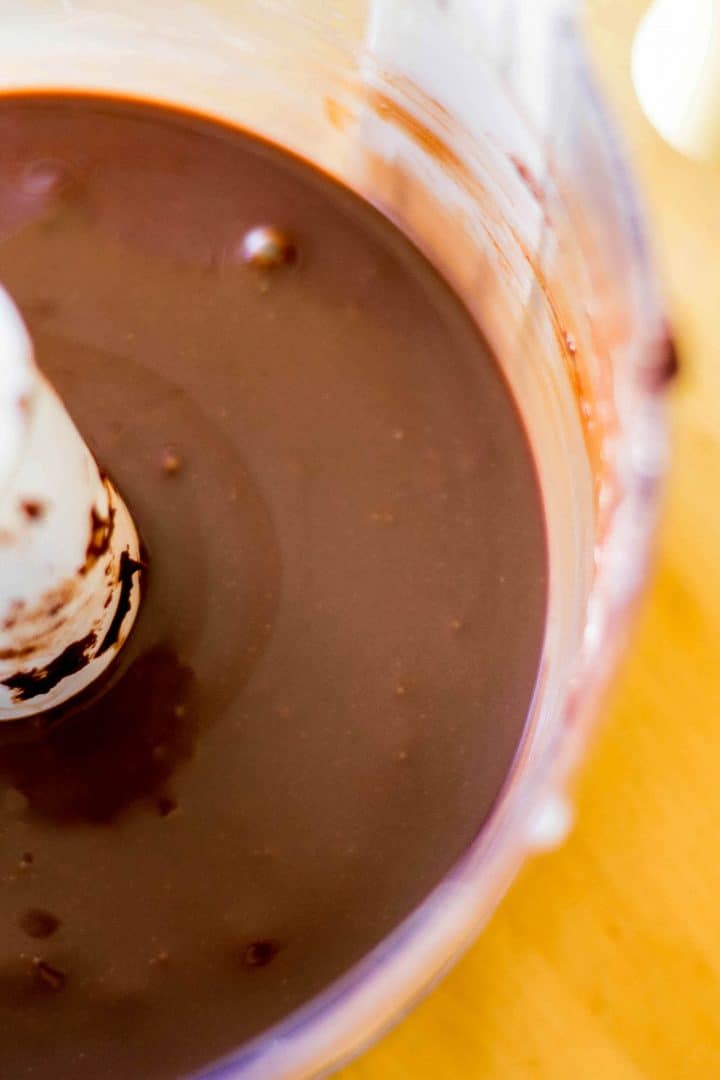 Mix the melted dark chocolate with the condensed milk and blend until smooth.
Fold in the whipped cream.
Add the marshmallow and chocolate chips.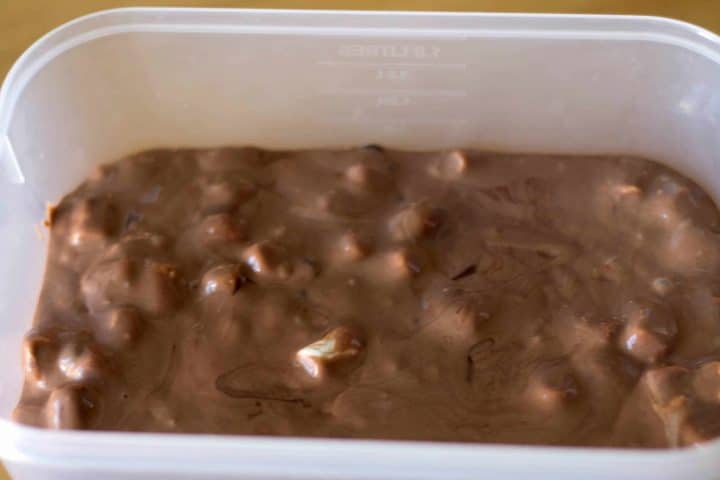 Put the mixture into a freezer-safe container.
Place in the freezer for at least 3 hours. About 15 -20 minutes before serving remove from the freezer so it's easy to scoop.
Serve, and enjoy every last bite!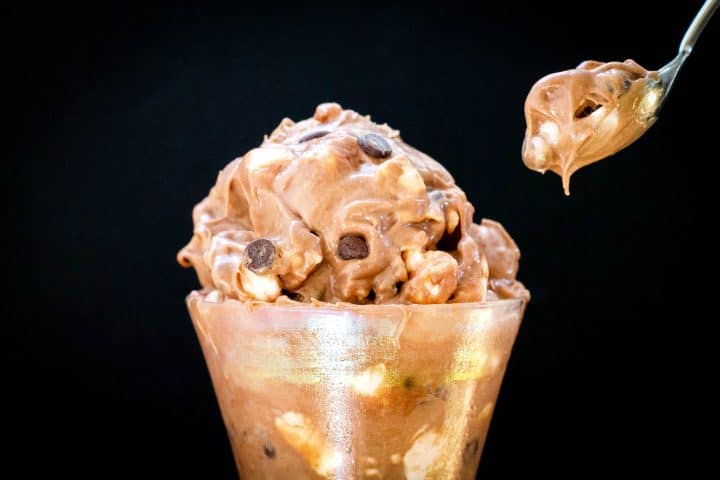 Easy is always best, and this is easy. If you love this, I have recipes for Quick and Easy Homemade Cherry Ice Cream and Easy No Churn Vanilla Bean Ice Cream, give it a go, you'll never buy store-bought again!
Tips & Variations
Start with cold ingredients – Ice cream made in an ice cream maker is made by quickly getting the mixture as cold as possible churning. So to mimic the same effect, start off with chilled ingredients.
Don't substitute the condensed milk – To avoid no-churn ice cream from becoming icy, ingredients that don't freeze (like condensed milk) must be used. This ensures a creamy consistency.
Use high-quality ingredients – Using good quality chocolate in the ice cream mixture and the chocolate chips will ensure the best flavors. So don't skimp on the quality.
Add peanuts for extra crunch.
Swap chocolate chips for white chocolate chips for a nice contrast in flavors.
Crush graham cracker pieces and add to the ice cream for s'mores-like ice cream.
Other Great Chocolate Recipes
FAQs
How long does it take to freeze no-churn ice cream?
No churn ice cream is ready to eat after 4–5 hours in the freezer or if you like softer ice cream, you should be good to go in just 3 hours.
Stay Updated
Receive new recipes & dinner ideas straight to your inbox!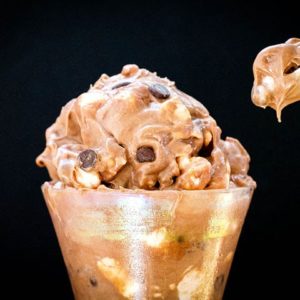 Let's Make Homemade Chocolate Ice Cream
This smooth creamy ice cream recipe is so good you'll want to make it all the time.
Prep10 minutes
Cook5 minutes
Total15 minutes
Freezing Time: 3 hours
Serves: 8 servings
Ingredients
6 oz good-quality dark chocolate chopped
1 14-oz can sweetened condensed milk
1¼ cups whipping cream
1 cup semi-sweet or dark chocolate chips
1 cup mini marshmallows
Instructions
Put the chocolate in a medium-sized heatproof bowl melt it over a double boiler until smooth and fluid.

Add the condensed milk and blend until smooth and fully combined.

Whip the cream until it holds its shape.

Fold the whipped cream into the chocolate mixture.

Add in the chocolate chips and marshmallows

Pour the mixture into a freezer safe container and freeze for one hour, mix to distribute the ingredients evenly, return to the freezer for another 2 hours.

Remove from the freezer 15 -20 minutes before serving.
Nutrition Information:
Calories: 397kcal (20%)| Carbohydrates: 28g (9%)| Protein: 4g (8%)| Fat: 29g (45%)| Saturated Fat: 20g (125%)| Cholesterol: 51mg (17%)| Sodium: 47mg (2%)| Potassium: 322mg (9%)| Fiber: 3g (13%)| Sugar: 16g (18%)| Vitamin A: 555IU (11%)| Vitamin C: 0.3mg| Calcium: 108mg (11%)| Iron: 2.8mg (16%)
Update Notes: This post was originally published in July of 2015, but was republished with step by step instructions and tips in June of 2018.