This recipe for homemade snicker cups is truly delightful. Making your own homemade chocolates is a lot simpler than you think!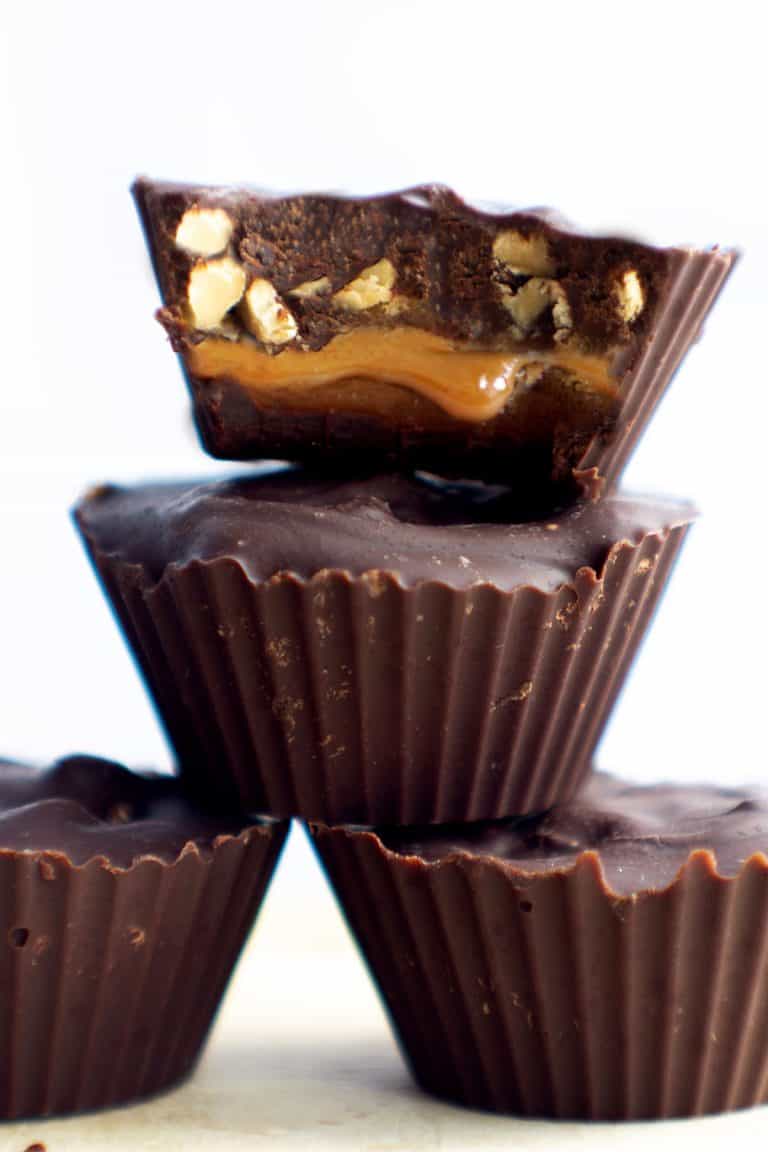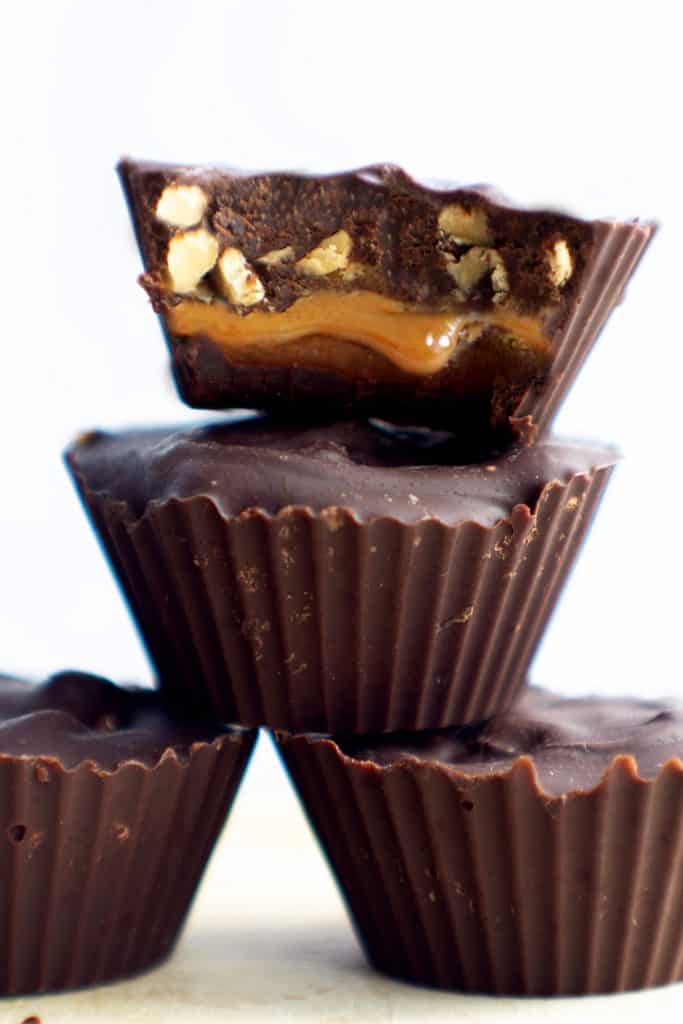 My husband is a chocoholic. He'll tell you he can go without it, but I have my doubts. He's been enjoying all of the baked goods I've been making, but he prefers proper chocolates rather than cookies or cakes. I made these especially for him.
It was my first attempt at candy making and I thought I'd have to have a few more attempts before perfecting the recipe enough to post, but they came out amazing!
Needless to say, my husband was a very happy man! I know snickers are milk chocolate, but I don't make anything with milk chocolate I only use dark chocolate. If you prefer milk chocolate, feel free to use it instead.
If you love these, give my Homemade Coconut Mounds Cups and Chocolate Hazelnut Truffle cups a try.
To make these, I used 2-inch silicone liners. If you're in the US, you can them like mine by clicking here. If you're in the UK, click here.
Please note that this recipe includes Golden Syrup which is common in English baking and I've fallen in love with it since moving here. I think it adds an extra depth of flavor. I know it can be hard to find in the US, so you can buy it on amazon by clicking here. (As an Amazon Associate, a small commission is made from qualifying purchases). If you require a substitution, in this recipe corn syrup can be used in its place.
Stay Updated
Receive new recipes & dinner ideas straight to your inbox!
Let's Make Homemade Snicker Cups
This wonderful recipe for homemade snicker cups will have children and adults begging you to make more!
Prep20 minutes
Cook7 minutes
Total27 minutes
Ingredients
½ cup white sugar
2 tablespoons golden syrup or corn syrup
½ cup butter
1 tablespoon whipping cream
2 teaspoons vanilla extract
12 ounces Dark Chocolate chopped
½ cup salted peanuts chopped
Instructions
Combine the sugar and syrup in a medium saucepan. Cook on medium-high heat, stirring constantly until it becomes caramel-colored.

Add the butter & the cream stir until smooth. Remove from heat and mix in the vanilla.

Melt the chocolate melt chocolate in a microwaveable bowl for 30 seconds at a time (stirring in between) until the chocolate is smooth and fluid,

Using a 1⁄2 teaspoon measuring spoon, drop it into mini paper cupcake liners spread evenly using a paintbrush.

Allow to harden in the refrigerator for about 15 minutes.

After the chocolate has hardened, fill all the cups with caramel and top with the chopped peanuts. Brush the rest of the chocolate over the tops of the cups and place in the refrigerator to set. Don't chill any longer or the caramel will become too hard and chewy.
Nutrition Information:
Calories: 251kcal (13%)| Carbohydrates: 25g (8%)| Protein: 3g (6%)| Fat: 15g (23%)| Saturated Fat: 7g (44%)| Cholesterol: 2mg (1%)| Sodium: 34mg (1%)| Potassium: 249mg (7%)| Fiber: 3g (13%)| Sugar: 17g (19%)| Vitamin A: 30IU (1%)| Calcium: 27mg (3%)| Iron: 3.5mg (19%)