Fall in love with this easy-to-make and delicious applesauce bread recipe. Moist and flavorful, it's perfect for breakfast or dessert.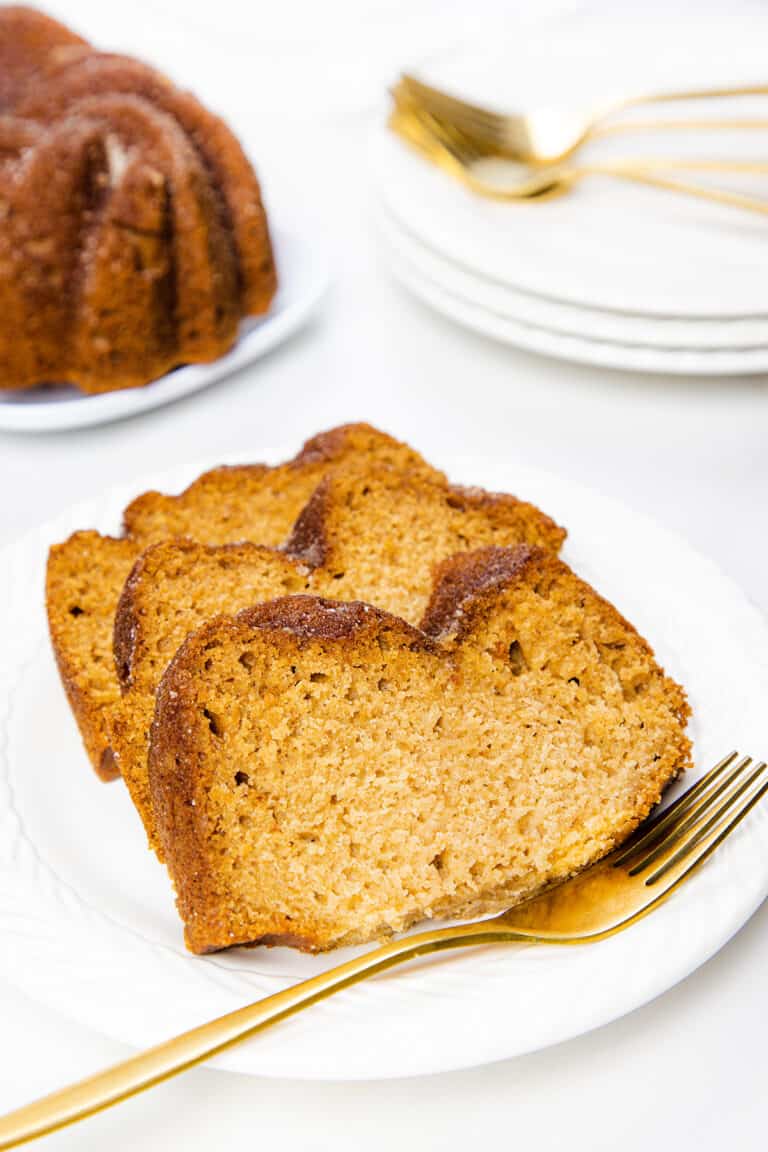 If you're looking for a simple and tasty bread recipe perfect for any time of year, look no further than this Applesauce Bread. Made with simple ingredients you probably already have in your pantry, this bread is easy to make and satisfying to eat. The combination of tender crumb and warm spices makes it perfect for breakfast, brunch, or as an afternoon snack. Follow the steps below to create a delicious homemade loaf that your family will love!
Why This Recipe Works
The use of applesauce in this recipe creates a moist and tender crumb while adding natural sweetness to the bread.
The addition of buttermilk in the recipe creates a rich and tangy flavor that complements the sweetness of the applesauce.
The combination of granulated and brown sugar adds richness and depth of flavor.
Cinnamon adds a spiced warmth and a cozy aroma to the bread.
Adding a cinnamon-sugar topping provides a sweet and crunchy texture to the bread, making it even more irresistible.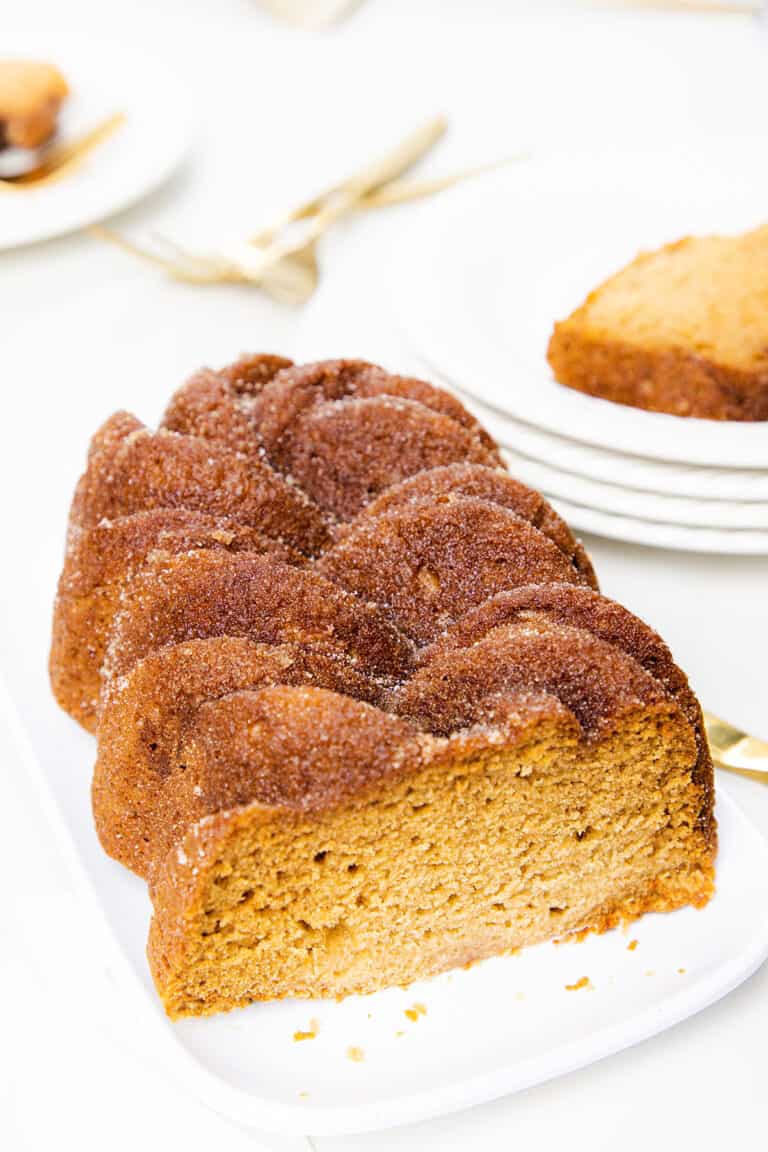 Ingredient Notes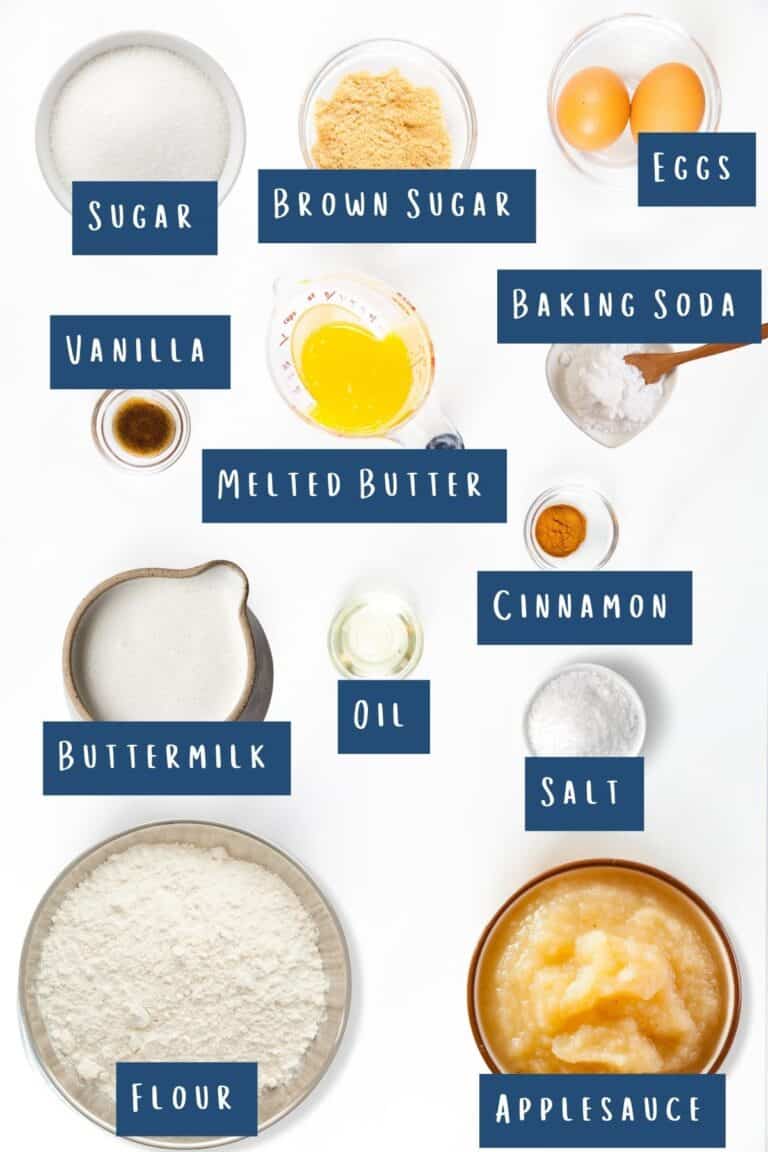 Applesauce: You can use sweetened or unsweetened applesauce in this recipe.
Butter: Unsalted butter is used in this recipe, but salted butter can be used in a pinch as well, but if your butter is salty, adjust the salt in the recipe accordingly.
Oil: Neutral oils such as canola or vegetable oil work best, but coconut oil can also be used for a subtle coconut flavor.
Buttermilk: whole or low-fat buttermilk are both excellent options. If you don't have buttermilk, substitute it with regular milk mixed with 1 tablespoon of lemon juice or vinegar.
Flour: All-purpose or plain flour is used in this recipe, but you can also use whole wheat flour for a healthier version.
Cinnamon: Freshly ground cinnamon is always preferred for optimal flavor.
Salt: Kosher, sea salt, or table salt will work for this recipe.
Baking soda: Be sure to use baking soda that hasn't expired. It is not recommended to substitute it with other ingredients, as using baking powder instead may alter the texture and taste of the bread.
Choosing the Right Pan
This recipe calls for a standard 9×5 inch (1 lb/6 cup) loaf pan. Choose a pan made of a sturdy material that will distribute heat evenly, such as heavy-duty aluminum, cast iron, or ceramic. Avoid thin or flimsy pans, which may warp or burn the applesauce bread.
Using Decorative Pans
Loaf pans come in various shapes; some are decorative, like ours. We used a braided loaf pan (paid link). To use a decorative loaf pan with extra detail and crevices, make sure it's made of heavy material to ensure even baking. Grease the pan well to create a non-stick surface to help the bread release easily.
Even Bake Strips help prevent baked goods from rising too high. They're convenient for avoiding waste, too, as you have to trim.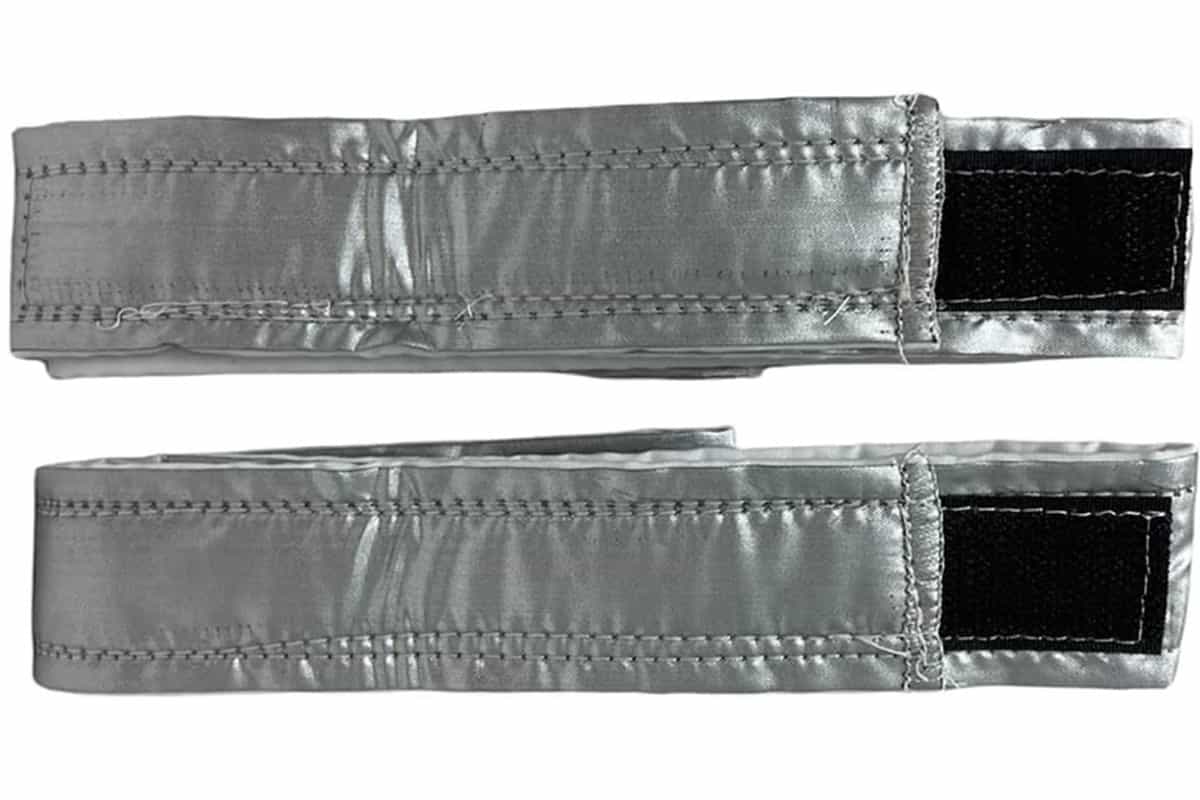 To use them, soak them in water, wrap them around the outside of the pan, and secure them with velcro, a pin, or a paperclip. The strips insulate the edges of the pan for even baking, resulting in a level top and tender texture.
Step By Step Instructions
Preheat your oven to 350°F and grease a loaf pan with non-stick cooking spray or grease with shortening. Set aside until the batter is ready.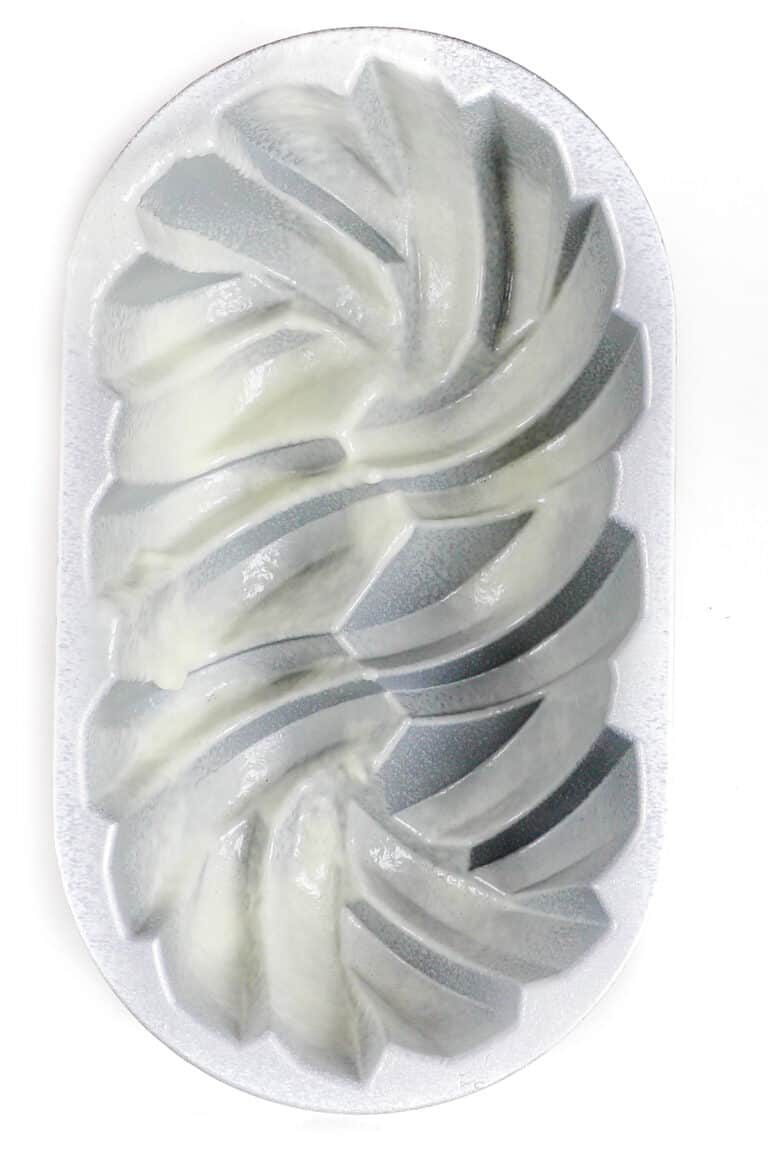 Add 1½ cups of applesauce, 5 tablespoons of melted butter, 1 tablespoon of neutral oil, ¼ cup of room temperature buttermilk, 2 beaten eggs, and 1 teaspoon of vanilla to a bowl or jug.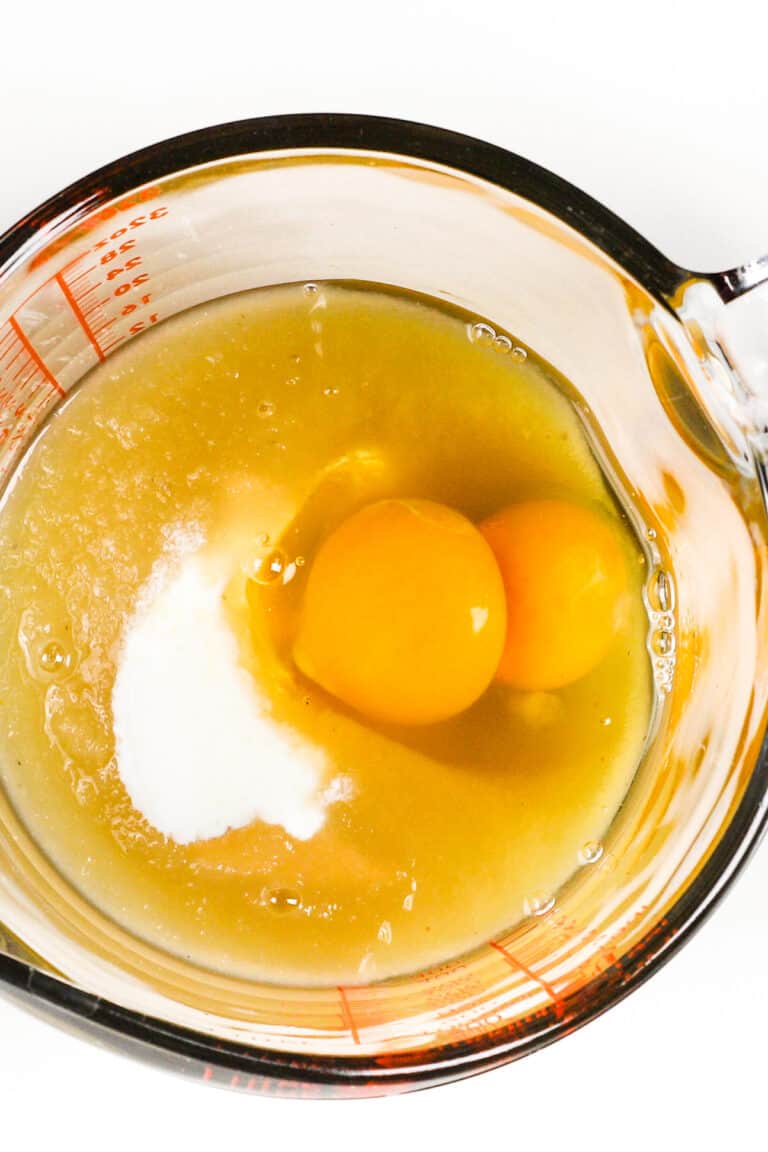 Then beat them together with a whisk until combined. This mixture will be the wet ingredients for the batter.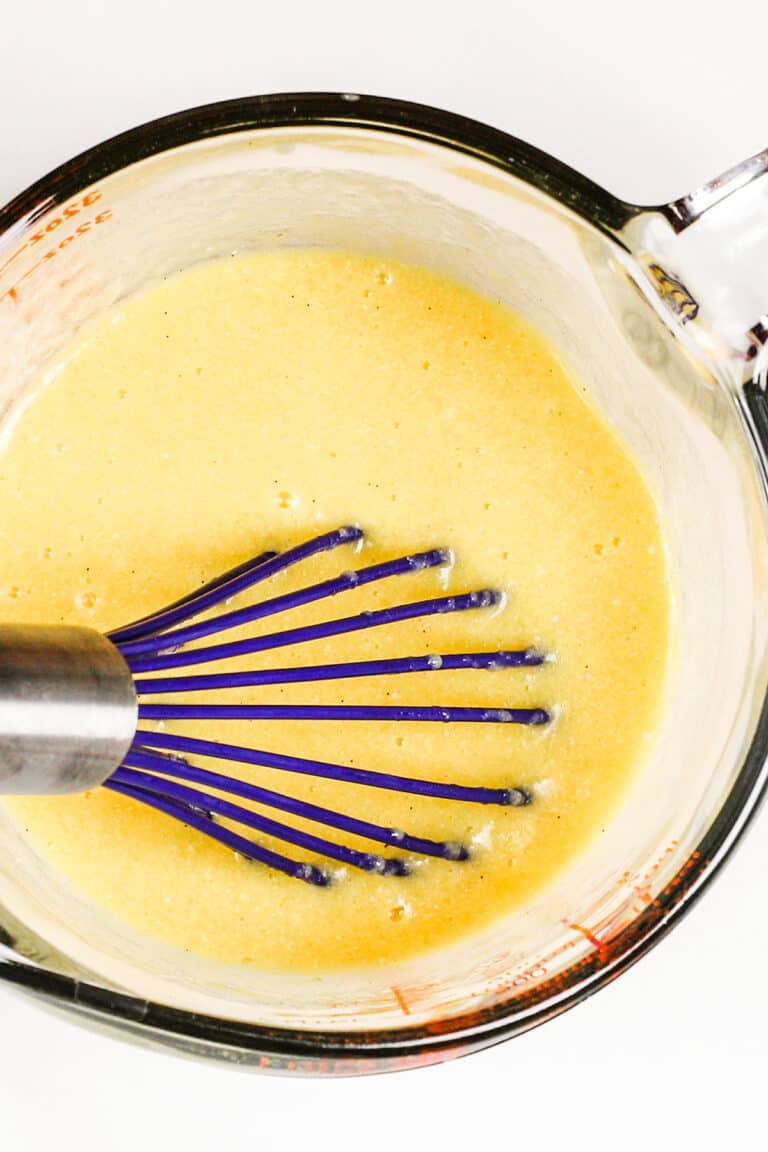 In a separate bowl, add 2 cups of flour, ½ teaspoon of cinnamon, ½ cup of granulated sugar, ¼ cup of brown sugar, ¾ teaspoon of baking soda, and ½ teaspoon of salt.
Then mix them with a whisk until well combined. This mixture will be the dry ingredients for the batter.
Pour the wet ingredients into the dry ingredients.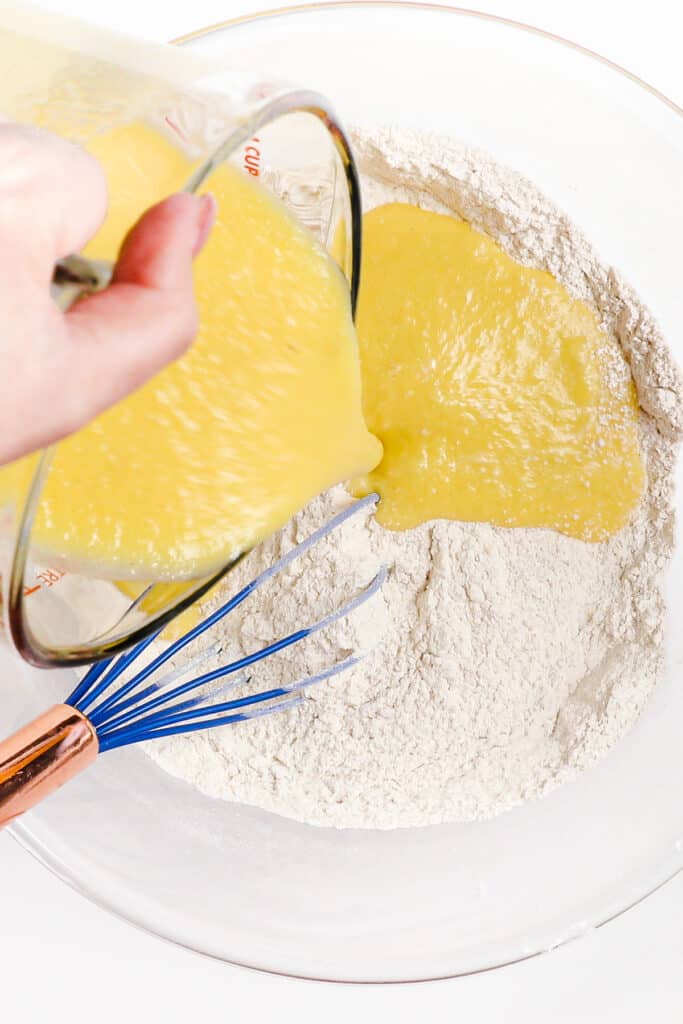 Stir them with a whisk or wooden spoon until combined. Depending on the applesauce you use, the batter will be thick. As long as it doesn't look dry, that's perfectly fine. If it seems dry, add a little extra buttermilk to loosen the batter.
Spoon the batter into the prepared loaf pan, and spread it evenly.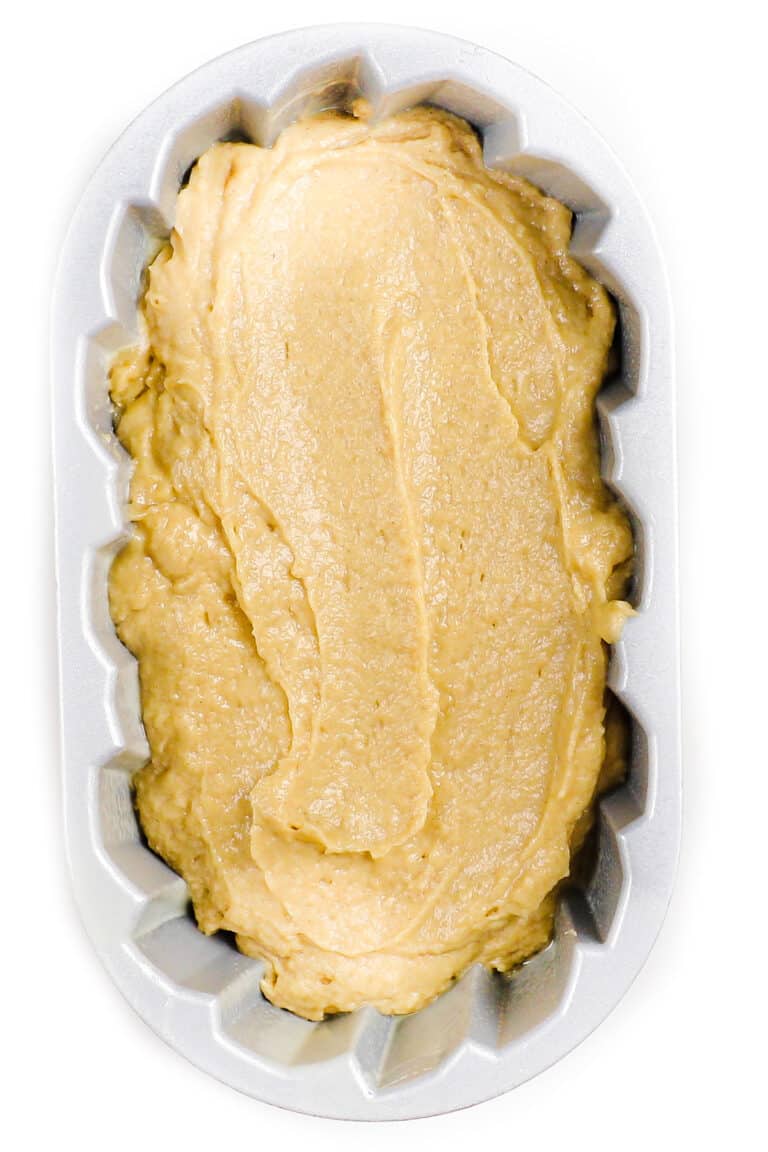 Bake for 45 to 55 minutes until the bread is golden and a cake tester inserted in the center comes out clean.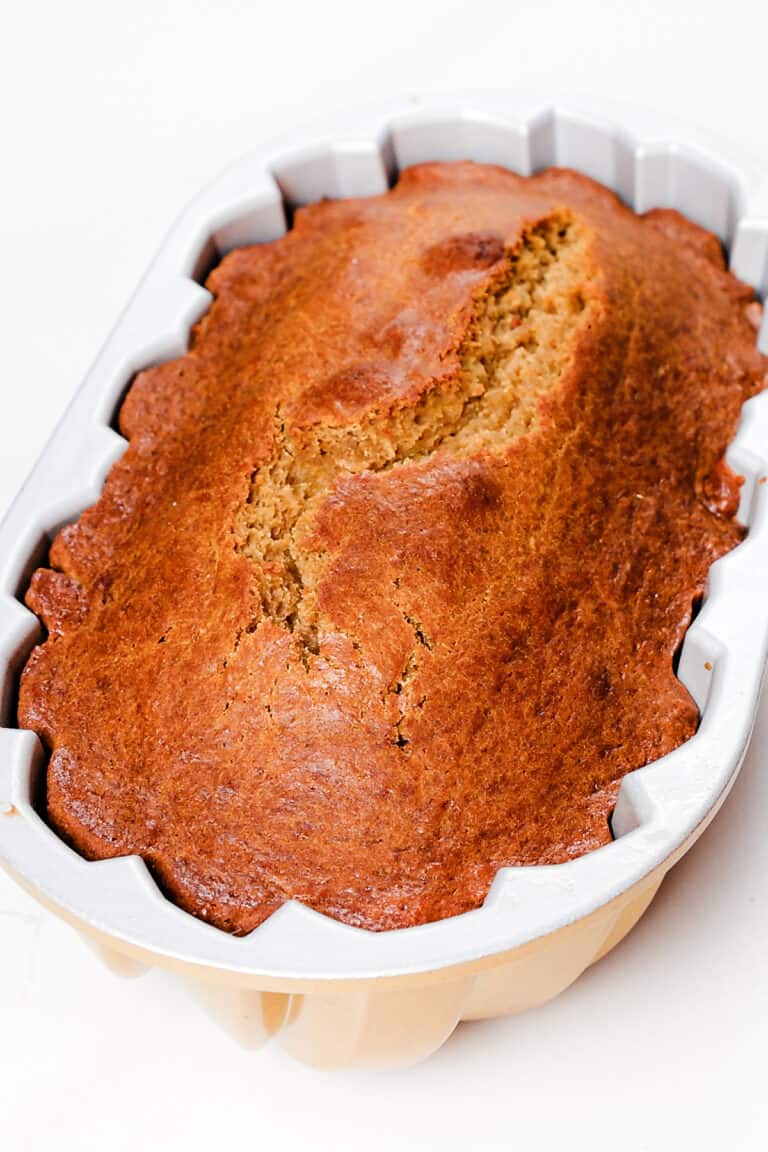 Allow the bread to cool in the pan for 5 minutes. If you use a decorative pan, you may have to trim some of the dome off the top to allow it to sit evenly when inverted. A bread knife is perfect for the job.
Turn the Applesauce Bread onto a cooling rack to finish cooling.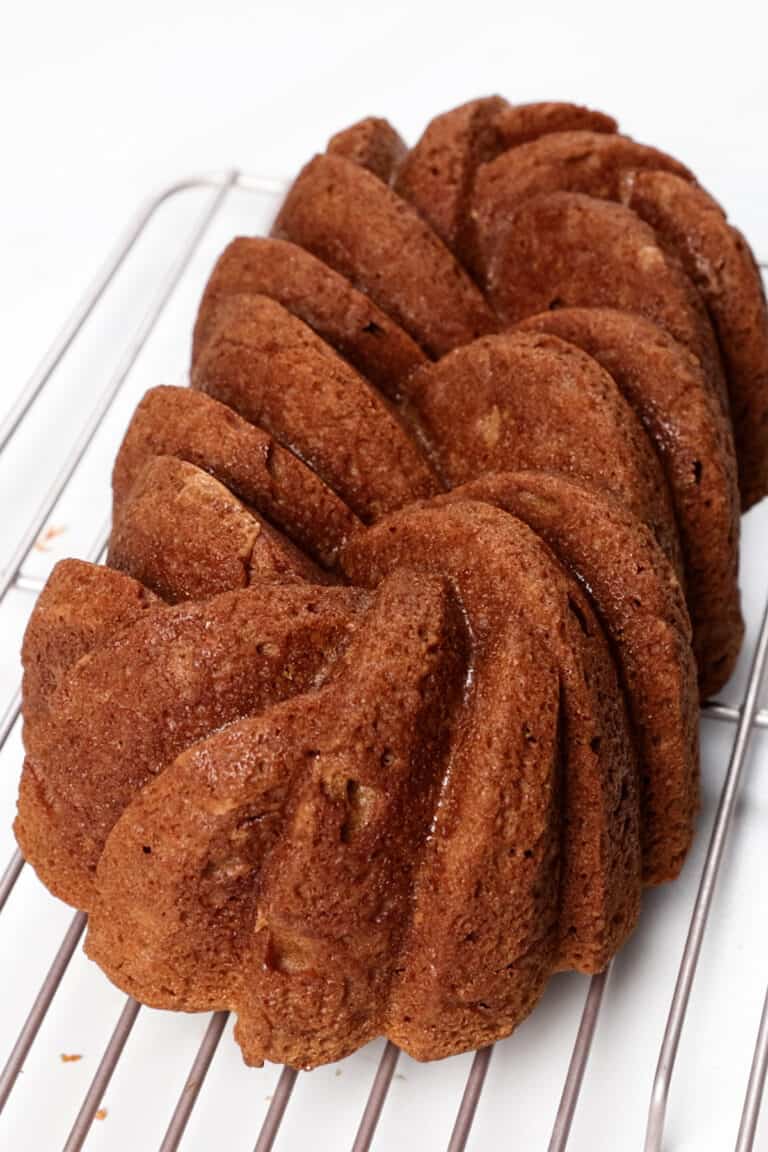 If desired, brush the top of the loaf with 3 tablespoons of melted butter, and sprinkle with a mixture of ¼ cup of granulated sugar and 2 teaspoons of ground cinnamon.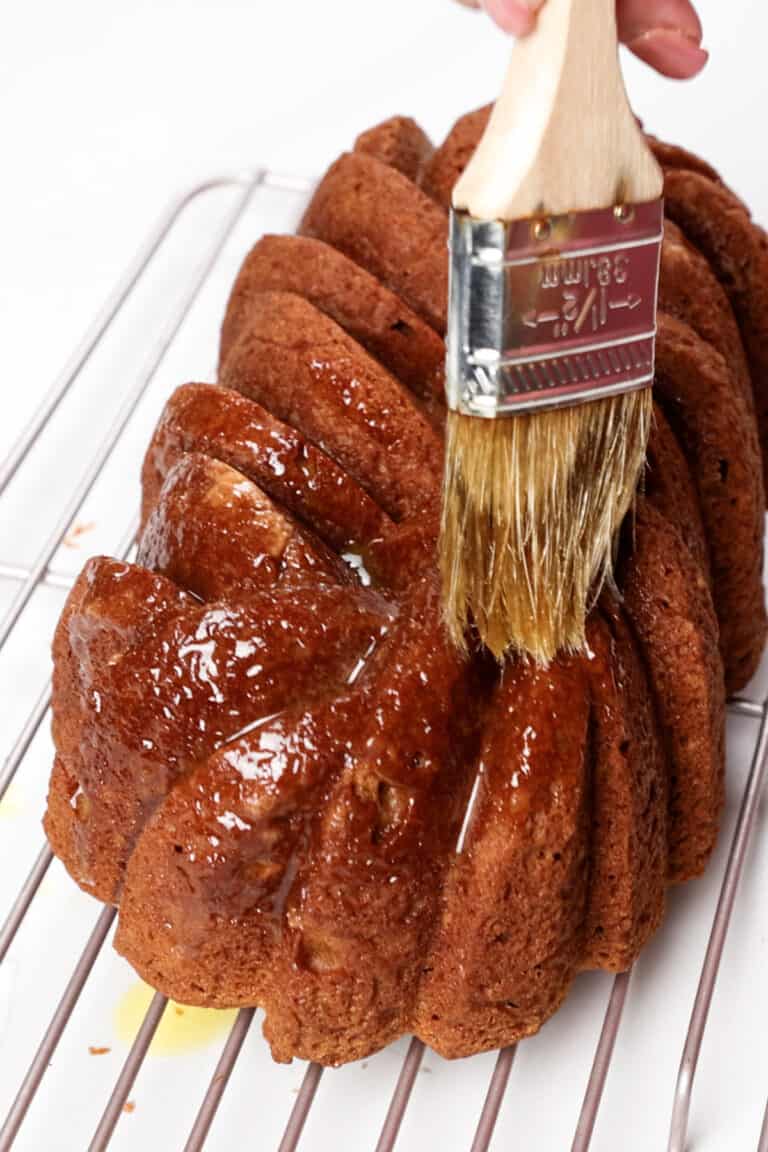 Applesauce Bread can be served warm or at room temperature.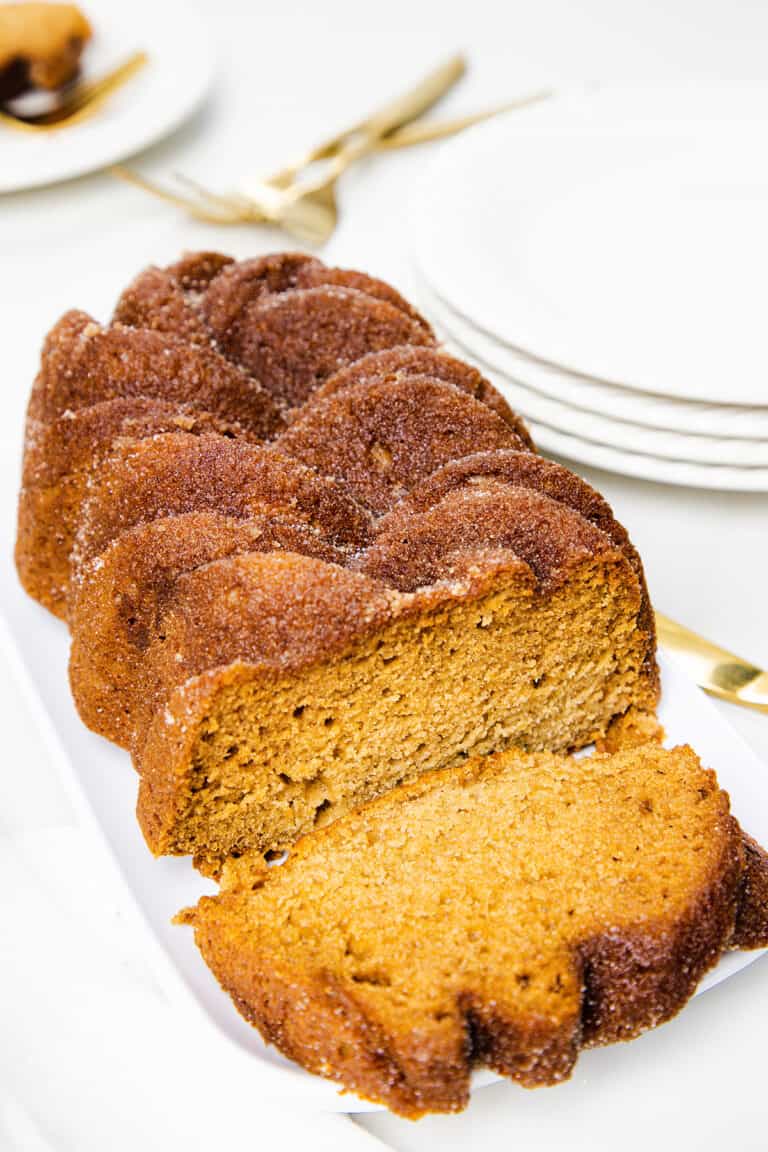 Storage & Freezing Instructions ❄
Room Temperature Storage: The Applesauce Bread can be stored at room temperature in an airtight container for up to 3 days. Make sure to wrap the bread in plastic wrap or aluminum foil to keep it fresh and prevent it from drying out.
Freezing Instructions: Wrap it tightly in plastic wrap and place it in a resealable freezer bag. The bread will keep for up to 3 months in the freezer. When you're ready to enjoy it, remove it from the freezer and let it thaw at room temperature for a few hours or overnight before slicing and serving.
Reheating Instructions: If you prefer to enjoy the bread warm, you can reheat it in a toaster or oven. Preheat the oven to 350°F and place the bread on a baking sheet to reheat in the oven. Cover the bread with aluminum foil and bake for 10 to 15 minutes or until heated through.
Erren's Top Tips
Use room temperature ingredients – Take your butter, buttermilk, and eggs out of the refrigerator 30 minutes before you start baking. This will help everything blend smoothly and result in a better texture.
Don't overmix the batter – When combining the wet and dry ingredients, mix the batter until just combined. Overmixing the batter can result in tough and dense bread.
Use the correct loaf pan size – The recipe calls for a standard 1lb (9×5 inch) loaf pan, and it's essential to use the right size to ensure all goes smoothly.
Check the bread before the minimum bake time – Every oven is different, so check the bread for doneness after 40 minutes of baking. If a cake tester inserted in the center of the bread comes out clean, the bread is done.
Let the bread cool before slicing – It's important to let the bread cool completely before slicing, as this will help the bread retain its moisture and prevent it from crumbling.
Store the bread properly – Store it in an airtight container at room temperature to keep it fresh.
Variations – Add 1/2 cup of chopped nuts or raisins to the batter for added texture and flavor.
The Perfect Pairings
Applesauce Bread is a delicious treat that can be enjoyed in many ways! You can keep it simple and enjoy it plain, or add your own twist with your favorite toppings.
For a savory option, spread a slice with butter or cream cheese. If you have a sweet tooth, try topping it with some blueberry jam for a fruity kick, or drizzle it with honey and top it with a dollop of whipped cream or a scoop of vanilla ice cream! There's no wrong way to enjoy this delicious and versatile bread!
FAQs
Can I make this recipe gluten-free?
Yes, you can make this recipe gluten-free using a gluten-free flour blend instead of all-purpose flour. Be sure to use a combination that includes xanthan gum or another binding agent to help the bread hold together.
Can I use homemade applesauce in this recipe?
Yes, you can use homemade applesauce in this recipe. Just be sure to use smooth, unsweetened applesauce for the best results.
How can I make the bread less sweet?
If you prefer less sweet bread, reduce granulated and brown sugar in the recipe, use unsweetened applesauce, or omit the cinnamon-sugar topping.
Stay Updated
Receive new recipes & dinner ideas straight to your inbox!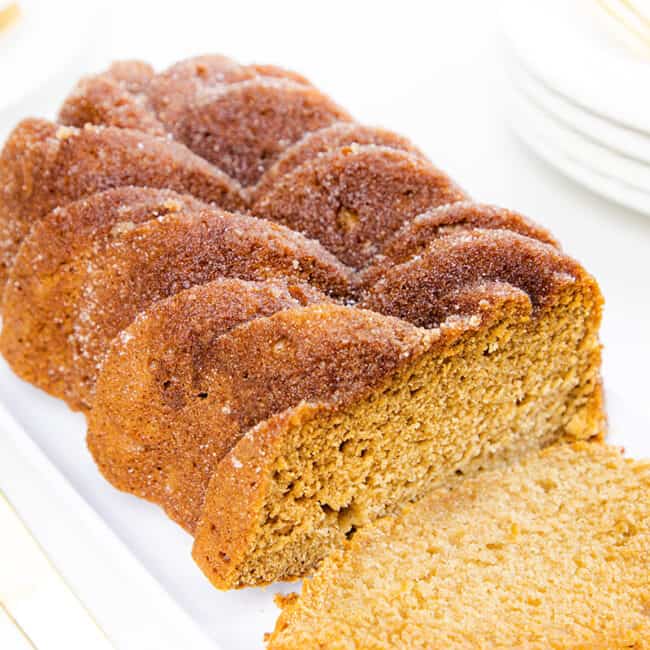 Let's Make Applesauce Bread
This recipe is a sweet and comforting treat with a moist, tender crumb, warm cinnamon flavor, and sweet applesauce taste. The optional cinnamon sugar topping provides a sweet and crunchy texture.
Prep10 minutes
Cook45 minutes
Total55 minutes
Ingredients
1¼ cups applesauce
5 tablespoons butter melted and cooled
1 tablespoon neutral oil
¼ cup room temperature buttermilk
2 beaten eggs
1 teaspoon vanilla
2 cups flour
½ teaspoon cinnamon
½ cup granulated sugar
¼ cup brown sugar
¾ teaspoon baking soda
½ teaspoon salt
For The Topping (optional):
3 tablespoons butter melted and cooled
¼ cup granulated sugar
2 teaspoons ground cinnamon
Instructions
Preheat oven to 350°F/180°C and grease a 1 lb loaf pan.

Combine the applesauce, melted butter, oil, buttermilk, beaten eggs, and vanilla in a bowl. Mix well.

Whisk together the flour, cinnamon, granulated sugar, brown sugar, baking soda, and salt in a larger bowl.

Pour the wet ingredients into the dry ingredients and mix them until combined.

Spoon the mixture into the prepared loaf pan and bake for 45 to 55 minutes.

Allow to cool in the pan for 5 minutes before turning onto a cooling rack.

Mix the cinnamon and sugar in a small bowl to make the topping.

Brush the top of the loaf with melted butter, and sprinkle the cinnamon and sugar mixture on top.
Nutrition Information:
Calories: 221 (11%)| Carbohydrates: 36g (12%)| Protein: 2g (4%)| Fat: 8g (12%)| Saturated Fat: 5g (31%)| Polyunsaturated Fat: 0.4g| Monounsaturated Fat: 2g| Trans Fat: 0.3g| Cholesterol: 20mg (7%)| Sodium: 228mg (10%)| Potassium: 52mg (1%)| Fiber: 1g (4%)| Sugar: 19g (21%)| Vitamin A: 242IU (5%)| Vitamin C: 0.3mg| Calcium: 15mg (2%)| Iron: 1mg (6%)
Erren's Kitchen is written and produced for informational intentions only. We are not certified nutritionists, and the nutritional information found on this site has not been assessed or authorized by a nutritionist or the FDA. The nutritional information found in our recipes is offered as an estimate and should not be considered a guarantee or fact. The estimated data is provided as a courtesy and calculated through a third-party online nutritional calculator, spoonacular API. Although we do our best to provide accurate nutritional information, these figures should be considered rough estimates. Many factors, such as brands or products purchased and the nutritional fluctuations that naturally occur in fresh produce, can alter the effectiveness of the nutritional information in any recipe. Furthermore, various online calculators provide different results depending on their particular algorithms and nutrition fact sources. To obtain the most precise nutritional information in a provided recipe, you should calculate the nutritional information with the exact ingredients you are using when preparing the recipe using your preferred nutrition calculator.