This Apple Cheesecake Muffins recipe is divine! These little beauties are filled with apples as well as a layer of cheesecake.
I really look forward to the fall weather every year. Not because I don't like summer, but because I love comfort food and I love to bake with fall flavors. Apples are on the top of that list.
While browsing my favorite food blog, Cooking Classy I came across her recipe for Caramel Apple Mini Cheesecakes. This inspired me and knew I had to do something with similar flavors!
Why This Recipe Works
Cream cheese in the batter brings out the cheesecake flavor.
Cinnamon streusel topping adds flavor and texture to these delightful muffins.
The brown sugar added to the apples gives a caramel flavor that can't be beat.
These muffins look complicated, but they really didn't take me very long at all and really are worth the extra effort. I also have other amazing apple recipes you might like to try like my Caramel Apple Cake. Embrace the fall flavors!
What apples For Apple Cheesecake Muffins?
I like to use Granny Smith and Golden Delicious apples as they tend to hold up best when cooked. Use granny smith if you like a tart flavor and Golden delicious if you prefer a sweeter choice.
How to Make Apple Cheesecake Muffins
Cook the apples.
Make the cheesecake filling.
Prepare the streusel crumb topping.
Layer the ingredients in the. muffin cases.
Bake for 20 to 25 minutes.
Cool, serve, and enjoy!
Step by Step Instructions
Chop the apples and add to the pan along with the sugar, cinnamon and cornflour.
I started with the apple mixture so it wasn't too hot when I added it to the batter.
Melt the butter and cook the apple mixture for around 5 minutes.
Allow to cool.
Make sure you let the apple mixture cool completely before adding to the cheesecake layer. You don't want them to combine and turn into a custard.
Make cheesecake filling and the crumb topping.
Add a small amount of batter to the muffin cases.
Add the cheesecake mixture and apples.
Add more batter, then the crumb topping.
Bake and cool completely.
This step is important. I tried these warm (who can blame me) and the filling tasted like custard. I thought they didn't work and was ready to scrap them, but that night, my husband tried them cold and said they were fantastic. He was right! You have to give the fillings time to set. So chill them or let them cool at room temperature for a couple of hours. It really did make all the difference!
Serve and enjoy!
Other Recipes you'll love
Stay Updated
Receive new recipes & dinner ideas straight to your inbox!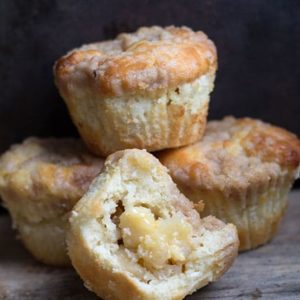 Let's Make Apple Cheesecake Muffins
These wonderful little muffins with a surprise filling of apple cheesecake and crumbly streusel topping are simply irresistible!
Prep20 minutes
Cook20 minutes
Total45 minutes
Cooling Time: 5 minutes
Serves: 12
Ingredients
1¾ cups all-purpose/plain flour
¾ cup granulated sugar
2 teaspoons baking powder
¼ teaspoon salt
1 egg
½ cup milk
2 ounces cream cheese
4 tablespoons butter softened
For the cheesecake mixture:
4 ounces cream cheese
¼ cup granulated sugar
1 egg yolk
1 teaspoon vanilla extract
For the apple mixture:
2 tablespoons orange juice
1 tablespoon butter
2 medium sized cooking apples
2 tablespoons sugar
2 teaspoons cornstarch
¼ teaspoon ground cinnamon
pinch of salt
For the topping:
¼ cup butter melted
¼ cup granulated sugar
¼ cup all-purpose/plain flour
¼ teaspoon ground cinnamon
Instructions
Preheat oven to 375f/190C

Line 12 muffin cups in a muffin pan with paper liners.

Beat together the sugars, butter, cream cheese and egg until well blended and pale.

Stir in the milk and then add the flour, baking powder, and salt until combined.

Fill prepared muffin cups about a 1/4 of the way full. Set Aside.
For filling:
Peel, core and chop the apples, add them to a small bowl and coat with 1 tablespoon of the juice to keep them from going brown.

Add the cornstarch and coat the apples evenly.

In a small saucepan on med heat, melt the butter.

Add the remaining juice, sugar, salt and cinnamon

Add the apples to the melted butter and stir well and cook for 3-5 minutes to soften. If the mixture becomes too thick, add a bit more juice.

Remove from heat and set aside.

In a small bowl, beat cream cheese, vanilla, sugar and egg yolk until smooth.

Drop a rounded tablespoonful into the center of each muffin. Followed by a tablespoon of the apples and then top each one with the remaining batter.

Mix together the streusel crumb ingredients and top each muffin evenly.

Bake 20 – 25 minutes or until golden brown.

Cool on a wire rack for 5 minutes before moving to a cooling rack to cool completely before serving.
Tips + Notes
You can start by cooking the apple mixture so it isn't too hot when added to the batter.
Make sure you let the apple mixture cool completely before adding it to the cheesecake layer. You don't it to combine and turn into a custard.
Allow the muffins to cool before eating, they taste so much better when set (when hot the center tastes more custard-like than cheesecake)
Nutrition Information:
Calories: 324kcal (16%)| Carbohydrates: 44g (15%)| Protein: 4g (8%)| Fat: 14g (22%)| Saturated Fat: 8g (50%)| Cholesterol: 69mg (23%)| Sodium: 181mg (8%)| Potassium: 157mg (4%)| Fiber: 1g (4%)| Sugar: 27g (30%)| Vitamin A: 530IU (11%)| Vitamin C: 2.1mg (3%)| Calcium: 65mg (7%)| Iron: 1.2mg (7%)