Savor this delectable Crab Pasta – a quick 20 minute recipe delivering a simple, tasty meal that's ready in a flash!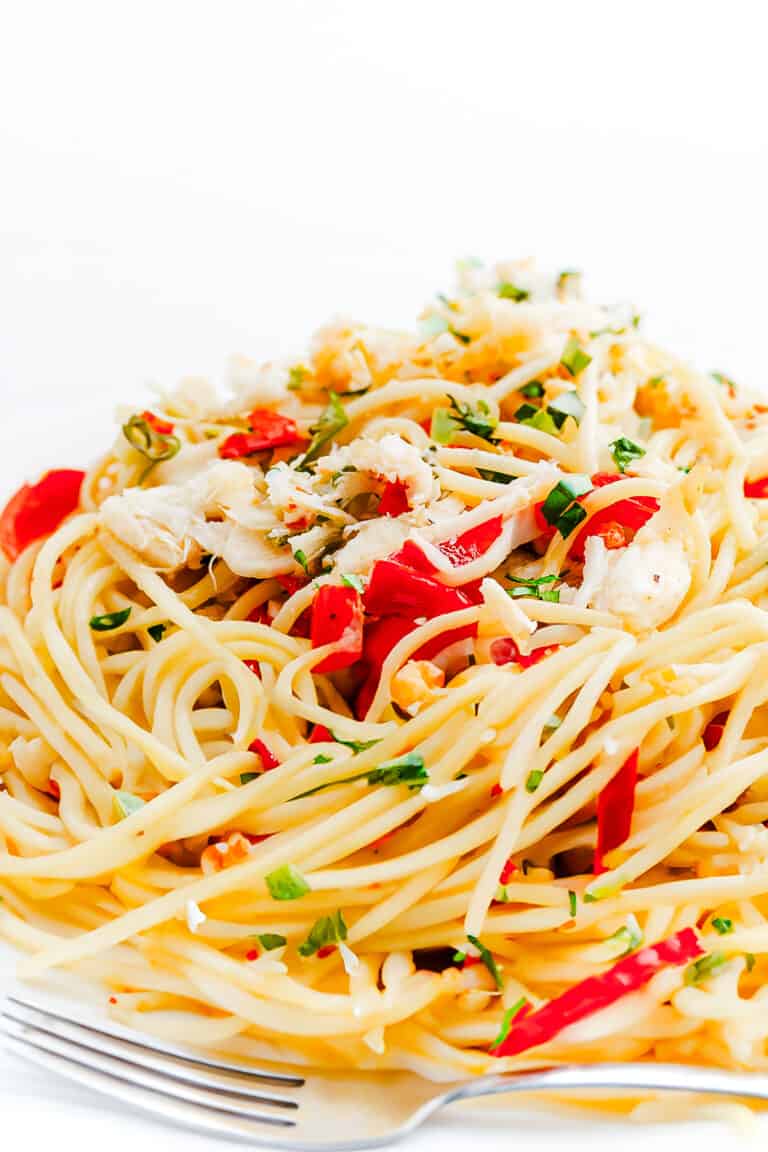 Looking for a way to make ordinary weeknight dinners extra special? Served with a simple salad and warm garlic bread, our Crab Pasta recipe will do just that!
This isn't just any pasta dish. It's packed with sweet crab, spicy peppers, fresh lemon, and yummy garlic. These great flavors work together to make something really tasty. The best part? You can whip it up in less than 30 minutes! This recipe is just like something you'd get at a fancy restaurant, but you can easily make it at home. Say goodbye to boring dinners and hello to a simple and delicious meal!
Why This Recipe Works
An exquisite combination of sweet, fresh crab meat and the distinctive heat of Piquante Peppers delivers a bold and delicately balanced flavor profile.
Dry white wine and fresh lemon juice provide a layer of acidity that brightens the dish, complementing the crab's richness and highlighting the peppers' spicy notes.
Finishing the pasta's cooking process in the sauce allows the pasta to absorb the sauce's flavors resulting in a delicious taste in every bite.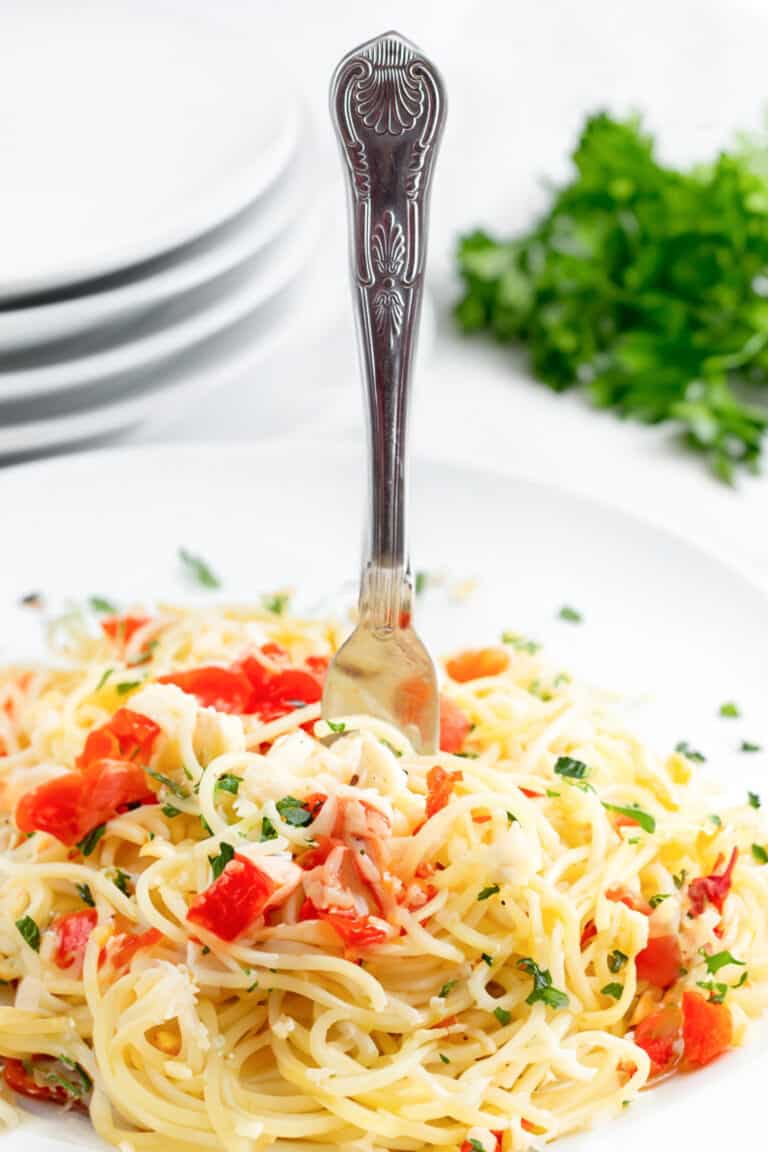 Ingredient Notes
Extra-Virgin Olive Oil: Use high-quality extra-virgin olive oil for the best flavor. If unavailable, other neutral cooking oils like canola or avocado oil could be used.
Dry White Wine: Choose a good quality dry white wine such as Sauvignon Blanc or Pinot Grigio. If you prefer not to use alcohol, chicken broth or a mix of white grape juice and a little vinegar can be used.
Piquante Peppers: Jarred Piquante peppers provide a unique tangy heat. If they're hard to find or you're not a fan of heat, roasted red peppers can be used. Alternativly, you can use crushed red pepper flakes.
Garlic Cloves: Fresh garlic cloves give the most flavorful result. If fresh is not an option, substitute with 1/8 teaspoon of garlic powder per clove.
Pepper: Freshly ground black pepper has the most robust flavor. Pre-ground pepper can be used if necessary.
Cooked Crab Meat: Fresh, lump crab meat is the best choice. If it's not available, canned or frozen crab meat can serve as a decent substitute. Other shellfish, like cooked shrimp or lobster can be used as an alternative.
Unsalted Butter: Opt for high-quality unsalted butter. If only salted butter is on hand, use it, but adjust the added salt in your recipe. Margarine or oil could be used but the flavor may change slightly.
Lemon Juice: Fresh lemon juice provides the most vibrant flavor. Bottled lemon juice is a second option. In a pinch, white wine vinegar could work, but the flavor will differ.
Fresh Parsley: Fresh parsley adds a nice brightness. If it's not available, substitute with a third of the amount of dried parsley. You could also experiment with other fresh herbs like basil or cilantro for a different twist.
Crab Buying Guide
When buying crab for cooking, there are a few different options are available – fresh, canned, and frozen.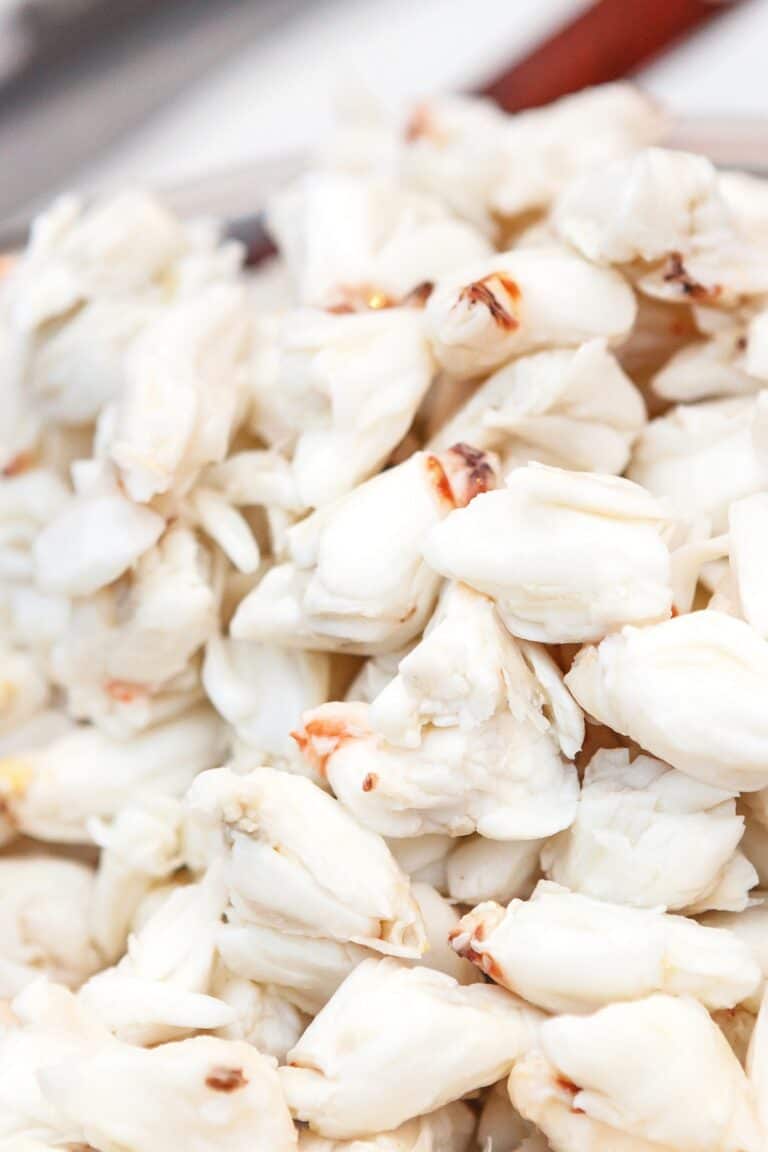 Here's a quick guide to help you navigate your choices:
Fresh Crab: Fresh crab is the best in flavor and texture. It's most commonly sold whole or as lump crab meat. When buying fresh crab, look for a sweet, clean smell. Any off-odors could mean the crab isn't fresh. Remember, crab is highly perishable, so it should be used within a day of purchase.
Canned Crab: A convenient option, canned crab meat is cooked and ready to use. It's an excellent choice for recipes where the crab flavor differs from the star, such as in dips or salads. When purchasing, opt for brands that offer lump crab meat, as it will provide a better texture and flavor. Be sure to thoroughly drain the liquid before using.
Frozen Crab: Often available as crab legs or lump meat, the frozen crab can be a good middle-ground between fresh and canned. When buying frozen crab, ensure it is properly sealed and has no signs of freezer burn. It should be thawed in the refrigerator before use, not at room temperature. While not quite as good as fresh, it's a strong alternative, especially if you don't live near the coast.
Whichever type you choose, buy from reputable sources to ensure you get good-quality crab. Enjoy cooking and savoring your crab dishes!
Step By Step Instructions
Cook the Pasta: Begin by boiling a pot of salted water. Add 1 cup of your chosen pasta and let it cook until it's slightly underdone. Before draining, reserve a half cup of the pasta water, and then set your pasta aside.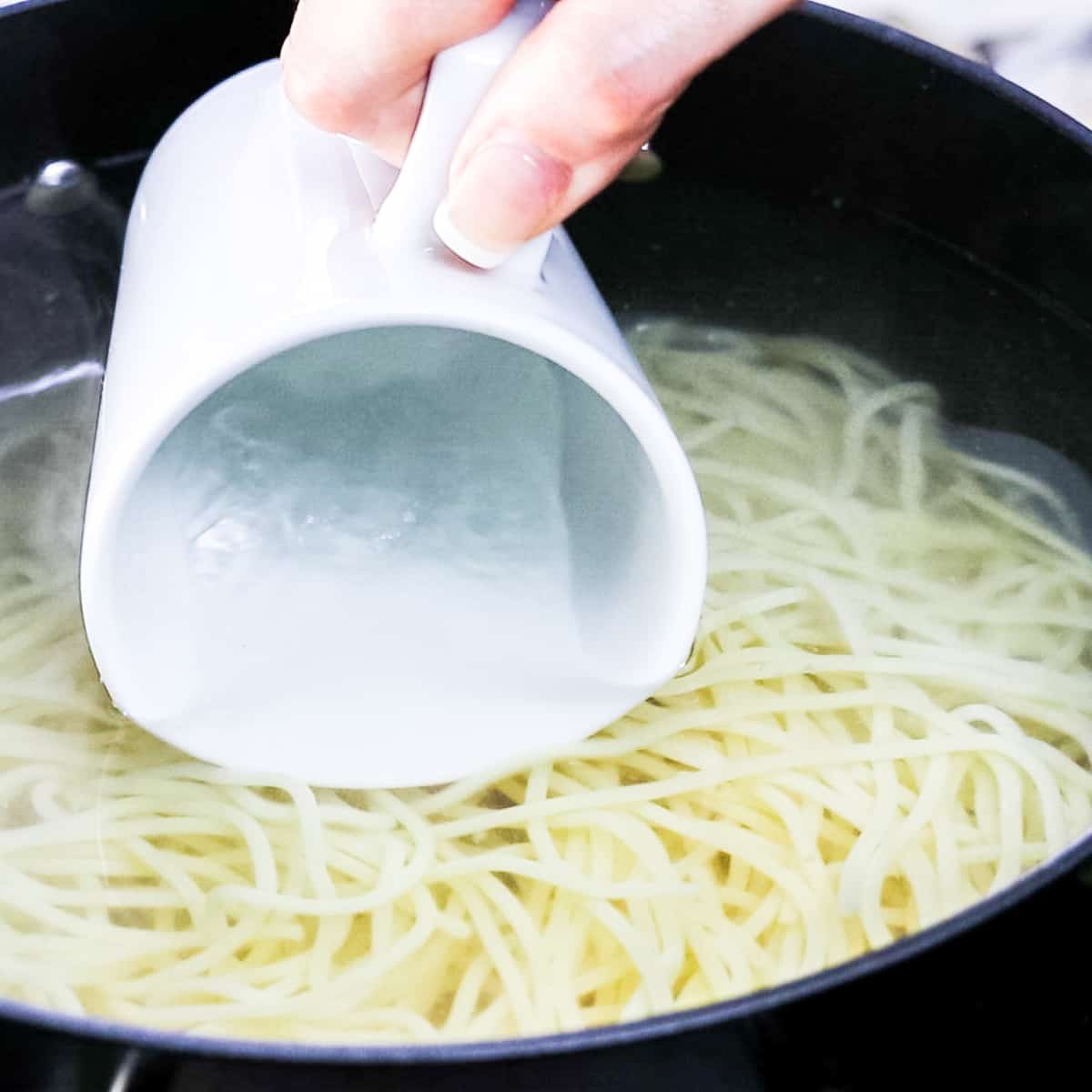 Sauté the Garlic: Heat up 1 tablespoon of extra-virgin olive oil in a 12-inch skillet over medium heat. Add 8 thinly sliced garlic cloves to the skillet and sauté them until they're fragrant and just starting to brown at the edges, which should take about 30 seconds to a minute.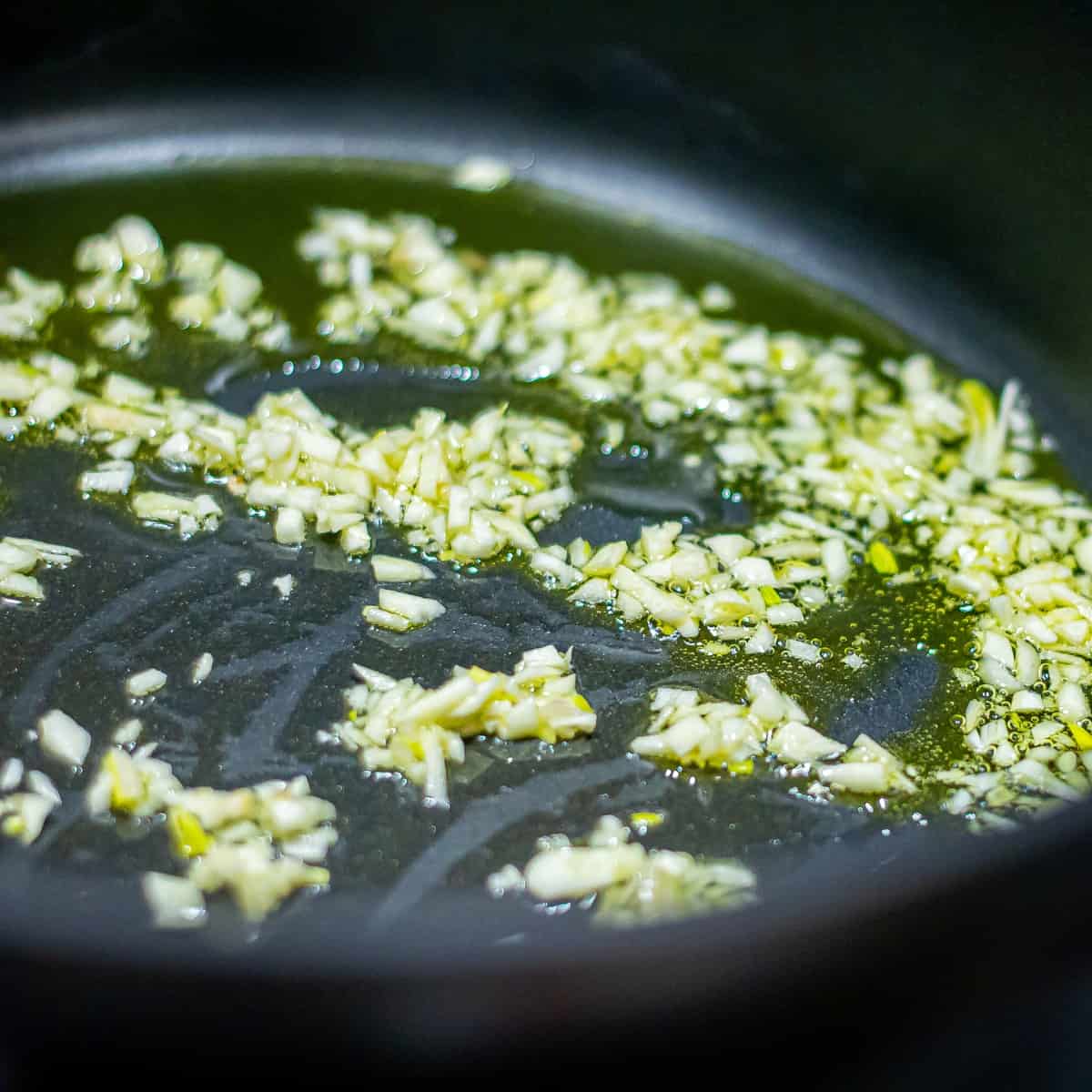 Simmer the Wine and Peppers: Next, pour in 1 cup of dry white wine and add 4 to 6 chopped and de-seeded Piquante peppers. Increase the heat to high and bring the mixture to a simmer.
Add the Crab: Lower the heat back to medium and stir in 1 ½ pounds of cooked crab meat. Let it cook, stirring occasionally, until it's warmed through.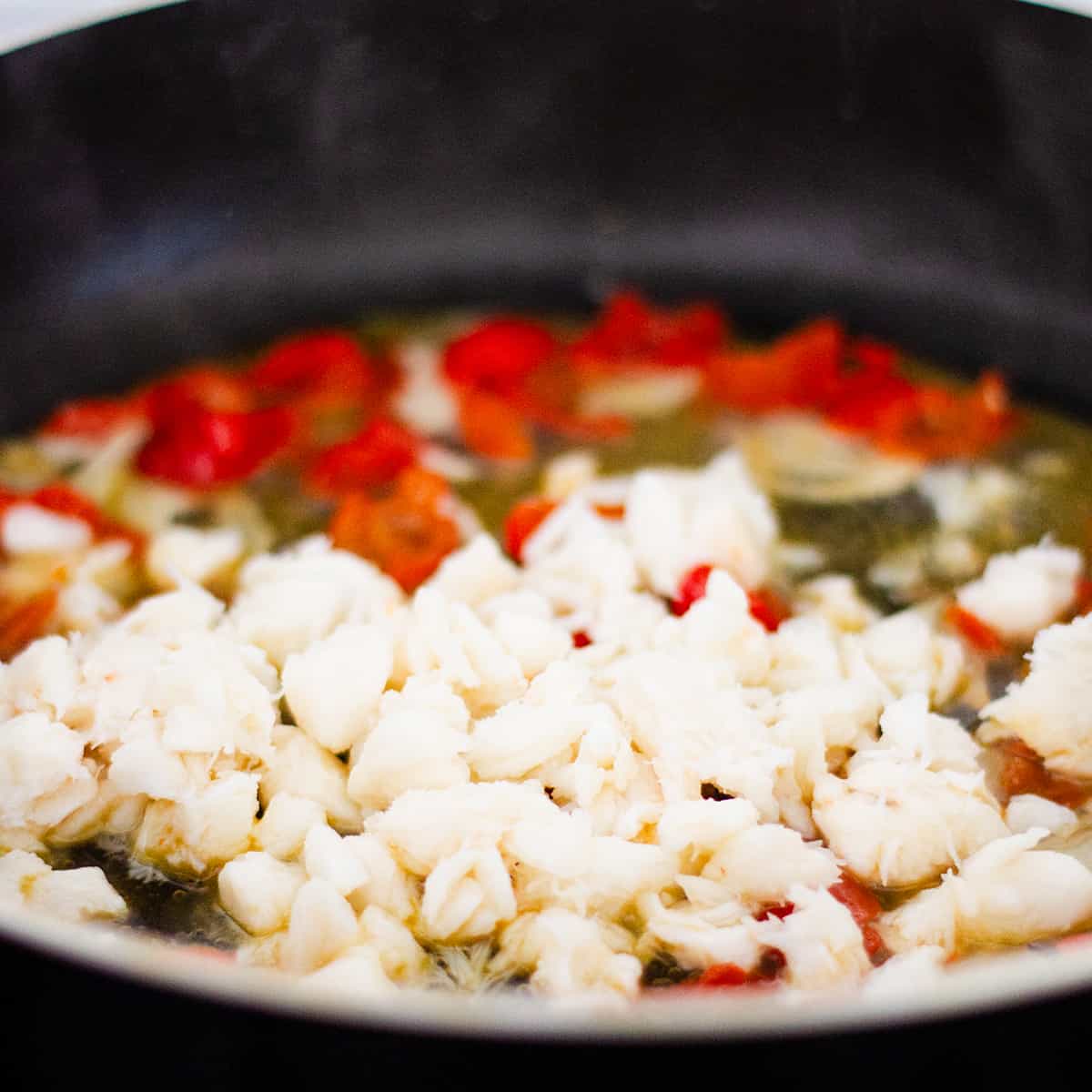 Combine Butter and Parsley: Now, add 4 tablespoons of unsalted butter, cut into 1/2-inch pieces, and 1 tablespoon of chopped fresh parsley. Stir the mixture until it's well combined.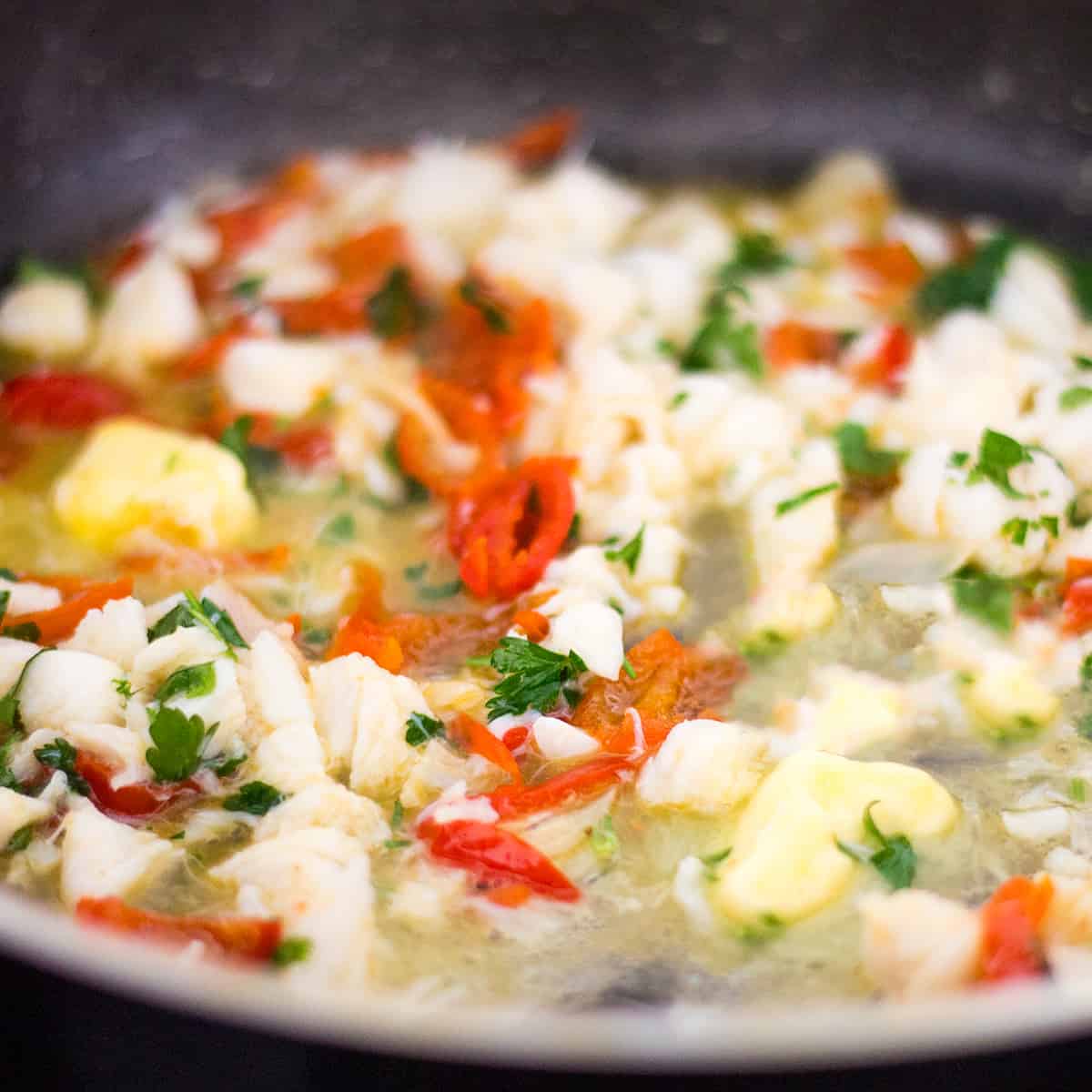 Simmer the Pasta in Sauce: Transfer the slightly underdone pasta into the skillet with the sauce. Let it simmer gently, allowing the pasta to finish cooking and absorb the flavorful sauce. If the pasta starts to dry out, add small amounts of the reserved pasta water.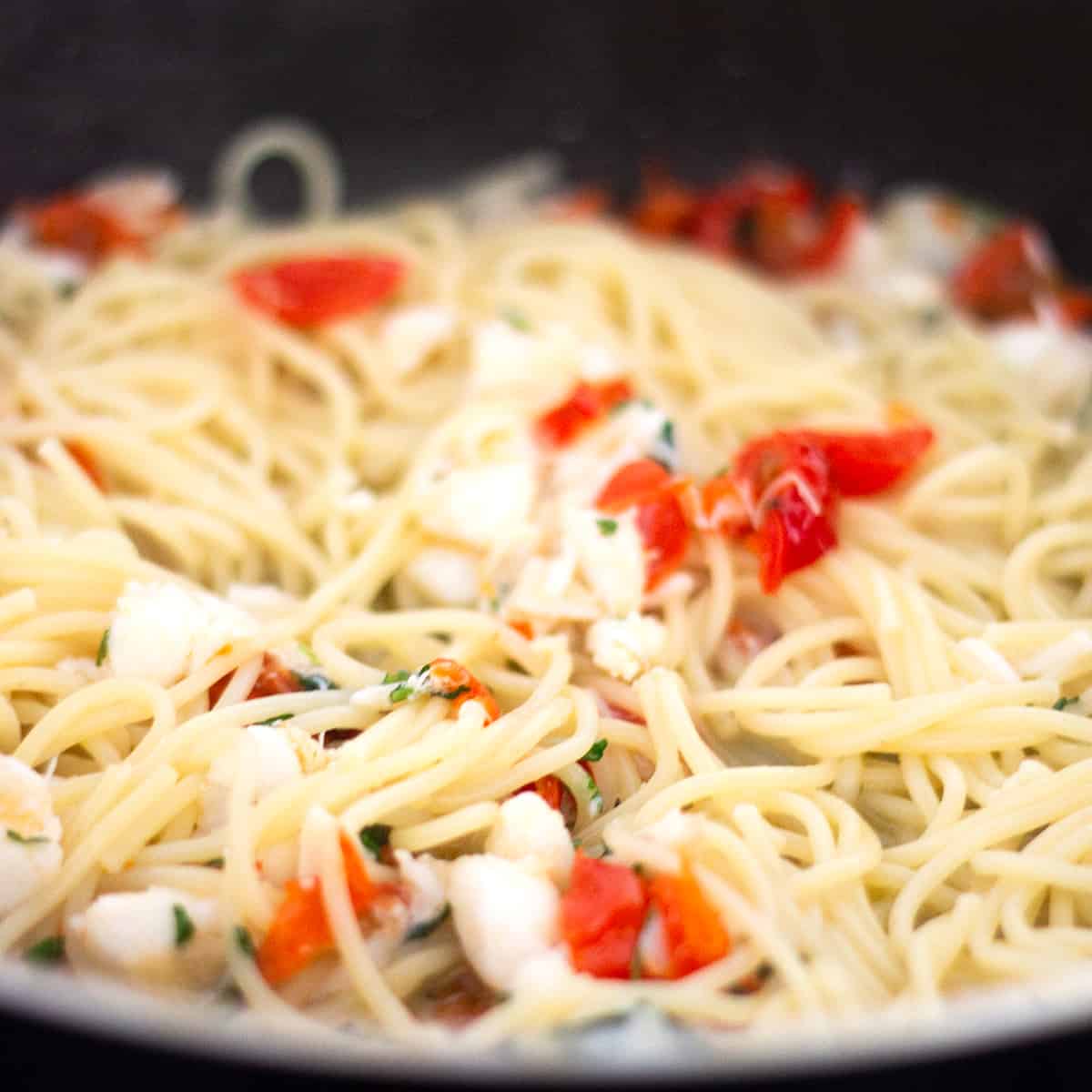 Final Touches: Lastly, add 3 tablespoons of lemon juice to the skillet. Give it a taste and add more salt if necessary. Your delicious Crab Pasta is now ready to serve!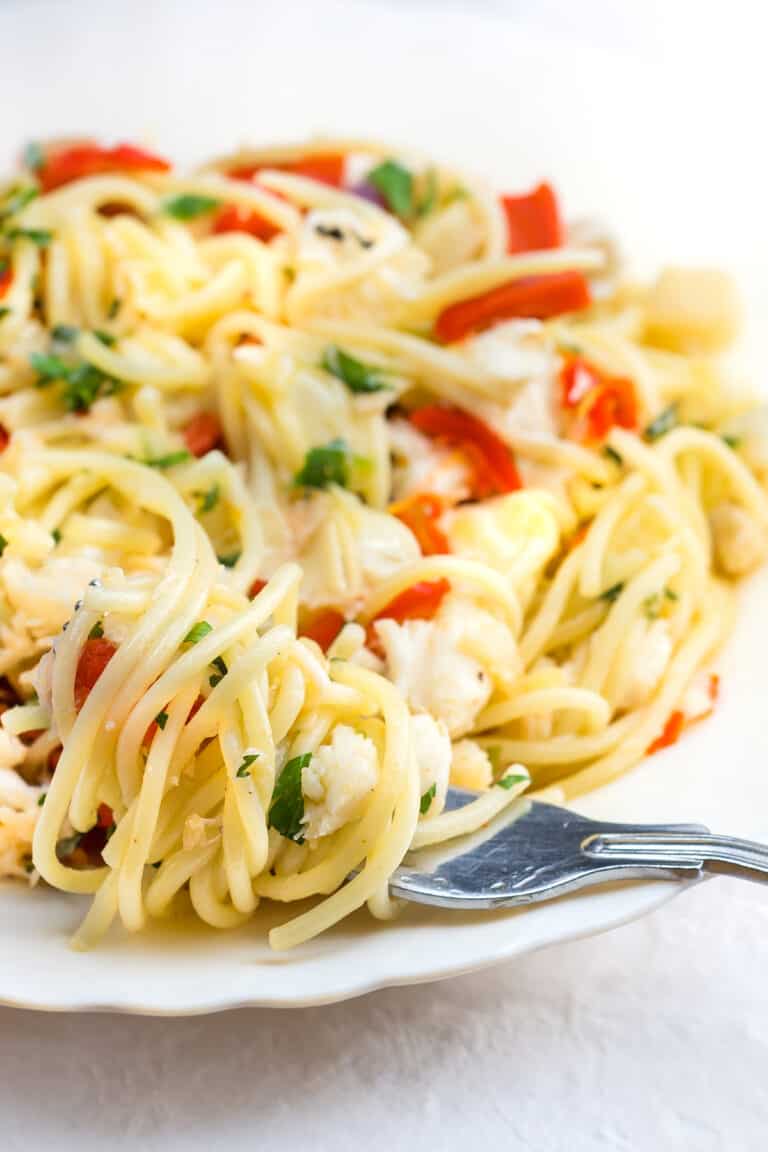 Erren's Top Tips
Preparation: Gather all your ingredients and prep them before you start cooking. This process, known as mise en place, can help make cooking more enjoyable and less stressful.
Pasta Cooking: Don't overcook your pasta in the first stage, as it will continue to cook when added to the sauce. It should be slightly underdone or 'al dente' when drained.
Garlic Slicing: Practice slicing garlic as thin as possible without it breaking apart. Thin slices will distribute the flavor evenly and prevent larger pieces from burning.
Crab Handling: If using fresh crab, make sure to check for any shell or cartilage in the meat. If using frozen crab, ensure it's fully thawed before cooking.
Sauce Timing: When cooking the sauce, be patient and let the flavors meld together. Rushing this step can result in a less flavorful sauce.
Pasta Water: Don't forget to reserve some pasta water before draining. The starchy water can be used to adjust the consistency of your sauce.
Final Cooking Stage: When simmering the pasta in the sauce, stir gently to avoid breaking up the crab meat too much. The goal is to keep some nice chunks for texture.
Tasting: Don't forget to taste your dish before serving. Adjust the seasoning with salt, pepper, or lemon juice as needed. Every palate is different, so adjust according to your preference.
Pepper Substitutions: Jarred Piquante peppers provide a unique tangy heat. If they're hard to find or you're not a fan of heat, roasted red peppers can be used. Alternativly, you can use crushed red pepper flakes or chopped red chili pepper.
Storage & Freezing Instructions ❄
Storage: Leftover Crab Pasta can be stored in an airtight container in the refrigerator for up to 3 days. When reheating, add a splash of water or broth to keep the pasta from drying out.
Unfortunately, this dish does not freeze well due to the texture of the pasta and crab meat, which can b
Please Note: Refreezing thawed crab meat is not recommended from a food safety perspective. Refreezing can increase the risk of foodborne illnesses if the crab has been thawed for too long or in unsuitable conditions (such as at room temperature).
Stay Updated
Receive new recipes & dinner ideas straight to your inbox!
Let's Make Crab Pasta
Enjoy a burst of flavors with this quick and easy Crab Pasta. Infused with sweet crab, spicy Piquante Peppers, fragrant garlic, and zesty lemon, it's a delightful meal perfect for any occasion.
Prep10 minutes
Cook10 minutes
Total20 minutes
Ingredients
8 oz pasta specify type
1 tablespoon extra-virgin olive oil
1 cup dry white wine
4 large garlic cloves minced
6 Piquante peppers or roasted red peppers
1 ½ pounds cooked crab meat
salt to taste
fresh ground pepper to taste
4 tablespoons unsalted butter cut into 1/2-inch pieces
3 tablespoons lemon juice plus lemon wedges for serving
2 tablespoon chopped fresh parsley
Instructions
Start by boiling a pot of salted water. Add the pasta and cook until slightly underdone. Before draining, reserve a half cup of pasta water. Set the pasta aside.

Next, heat 1 tablespoon of oil in a 12-inch skillet over medium heat. Add the garlic and sauté until fragrant and just beginning to brown at the edges, which should take around 30 seconds to a minute. Add the wine and peppers, increase heat to high, and bring to a simmer.

Reduce the heat to medium, add the crab, and cook, stirring occasionally, to warm it through. Season with salt and pepper, add the butter and parsley, stirring until combined.

Transfer the pasta into the sauce, allowing it to simmer gently and finish cooking in the flavorful mix. If needed, add small amounts of the reserved pasta water if the pasta starts to dry out. Stir in the lemon juice, taste for seasoning, and add more salt if needed.

Serve your delicious crab pasta with lemon wedges on the side for extra zing. Enjoy your meal!
Tips + Notes
Preparation: Gather and prep all ingredients before starting.
Pasta Cooking: Cook pasta until slightly 'al dente' – it will finish cooking in sauce.
Garlic Slicing: Slice garlic thinly for even flavor and to prevent burning.
Crab Handling: Check fresh crab for shells, ensure frozen crab is fully thawed.
Sauce Timing: Let sauce cook patiently to meld flavors together.
Pasta Water: Reserve some starchy pasta water to adjust sauce consistency.
Final Cooking Stage: Stir gently when pasta is in sauce to maintain crab meat texture.
Tasting: Taste and adjust seasoning as per individual preference.
Pepper Substitutions: Use jarred Piquante, roasted red peppers, red pepper flakes or chopped red chili as per availability and heat preference.
Nutrition Information:
Calories: 551 (28%)| Carbohydrates: 48g (16%)| Protein: 38g (76%)| Fat: 17g (26%)| Saturated Fat: 8g (50%)| Polyunsaturated Fat: 2g| Monounsaturated Fat: 6g| Trans Fat: 0.5g| Cholesterol: 195mg (65%)| Sodium: 1050mg (46%)| Potassium: 648mg (19%)| Fiber: 2g (8%)| Sugar: 3g (3%)| Vitamin A: 823IU (16%)| Vitamin C: 32mg (39%)| Calcium: 184mg (18%)| Iron: 2mg (11%)
Erren's Kitchen is written and produced for informational intentions only. We are not certified nutritionists, and the nutritional information found on this site has not been assessed or authorized by a nutritionist or the FDA. The nutritional information found in our recipes is offered as an estimate and should not be considered a guarantee or fact. The estimated data is provided as a courtesy and calculated through a third-party online nutritional calculator, spoonacular API. Although we do our best to provide accurate nutritional information, these figures should be considered rough estimates. Many factors, such as brands or products purchased and the nutritional fluctuations that naturally occur in fresh produce, can alter the effectiveness of the nutritional information in any recipe. Furthermore, various online calculators provide different results depending on their particular algorithms and nutrition fact sources. To obtain the most precise nutritional information in a provided recipe, you should calculate the nutritional information with the exact ingredients you are using when preparing the recipe using your preferred nutrition calculator.
Update Notes: This recipe was originally posted in 2015. It was updated with a refreshed recipe, new content and photos in 2023.