Ready to explore the flavors of Japanese cuisine? Start with delicious Miso Ramen, a flavorful and versatile soup ready in just 15 minutes.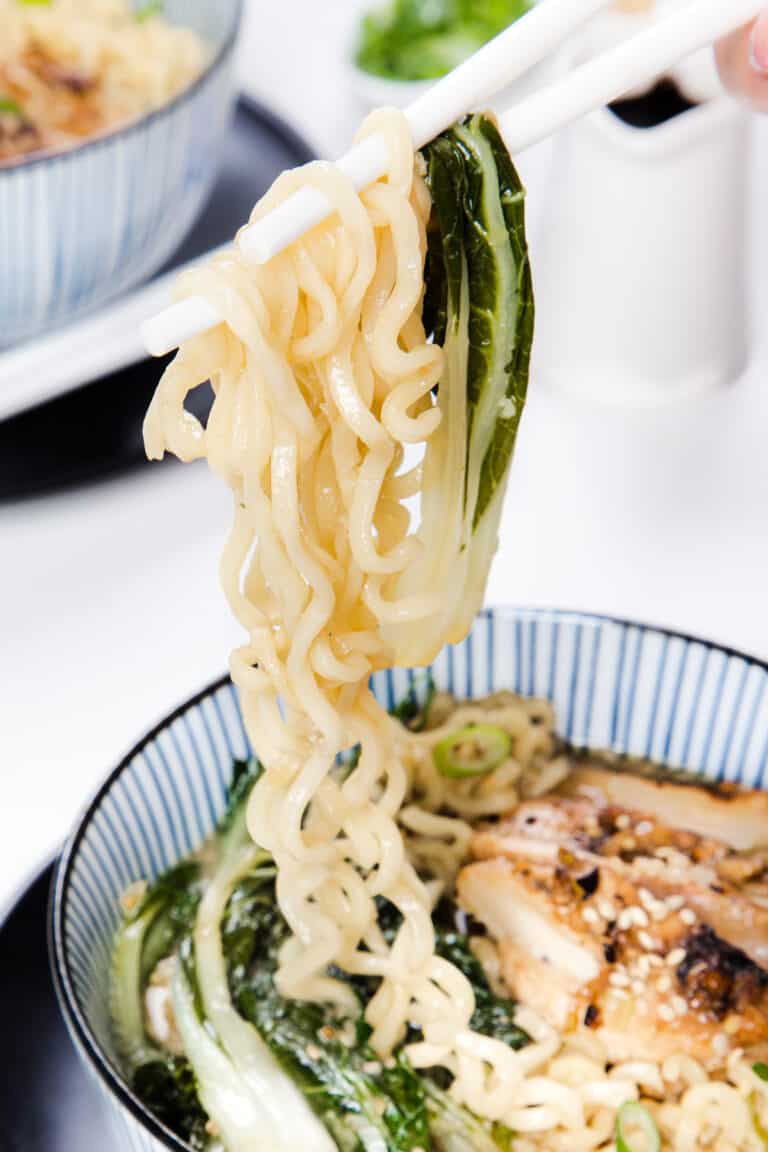 Miso Ramen is a classic Japanese dish that has gained immense popularity worldwide. It is a comforting and flavorful noodle soup that is packed with umami-rich ingredients like miso paste, soy sauce, and mirin. In this post, we'll share a recipe that has been tried and tested to yield a bowl of ramen that's bursting with flavor and easy to make. So, let's dive in!
Why This Recipe Works
Sautéing the garlic and green onions in sesame oil adds a depth of flavor to the soup, making it more aromatic and flavorful.
Combining broth with miso paste, soy sauce, and mirin creates a well-balanced, umami-rich broth that is savory, slightly sweet, and satisfying.
Adding bok choy to the soup not only provides a pop of color but also adds a slight bitterness to the soup, balancing out the sweetness from the mirin.
Cooking the noodles in the soup saves time and energy and allows the noodles to absorb the flavors of the broth, making each bite of the soup more flavorful and satisfying.
Miso Paste Buying Guide
Miso paste is a unique and flavorful ingredient that is widely used in Japanese cuisine. It is made by fermenting soybeans, and the flavor and texture can vary depending on the fermentation process and the duration of fermentation.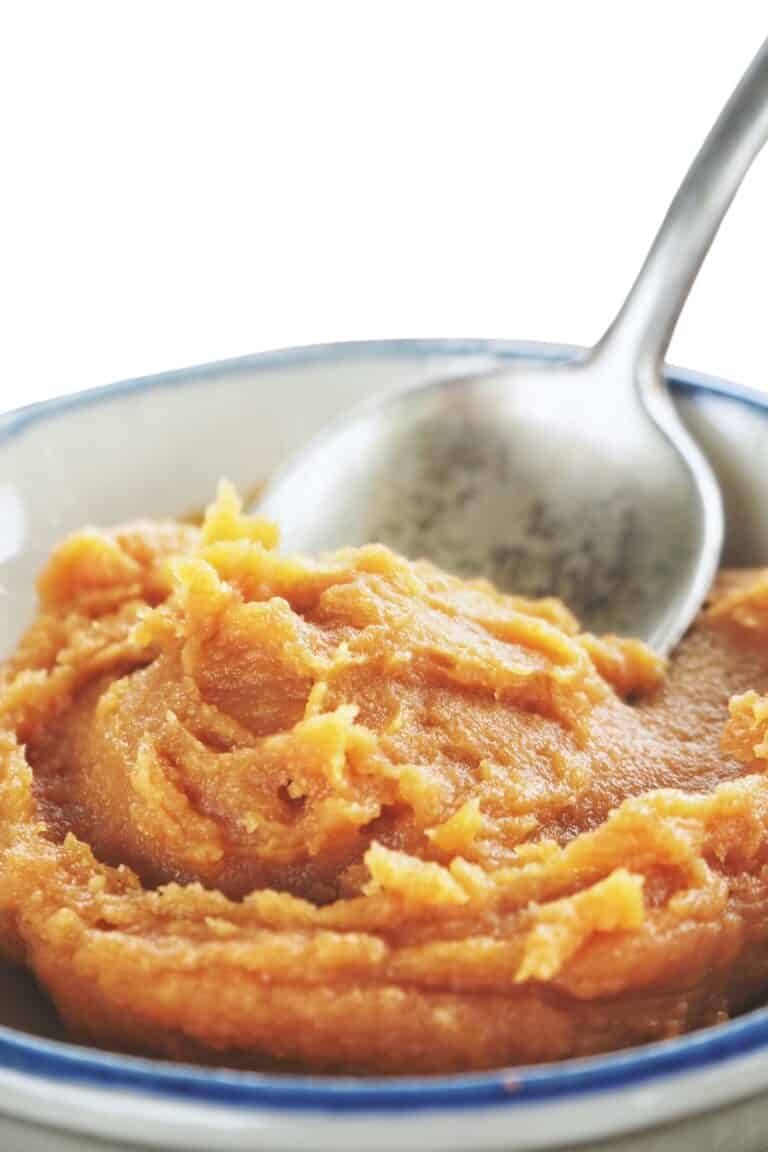 The two most common types of miso paste are red and white, both of which can be found in grocery stores and used in various recipes, including Miso Ramen. White miso paste is milder and sweeter than red, making it a perfect choice for those who prefer a less intense flavor.
You can typically find miso paste in the refrigerated section of most grocery stores, often near soy products like tofu. It is also available in Asian markets and online retailers. You can buy the miso paste I used on Amazon (paid link).
Using Dashi Broth
This recipe calls for either dashi broth or chicken stock. Dashi broth is a traditional Japanese broth made by simmering kombu (dried kelp) and katsuobushi (dried bonito flakes) in water.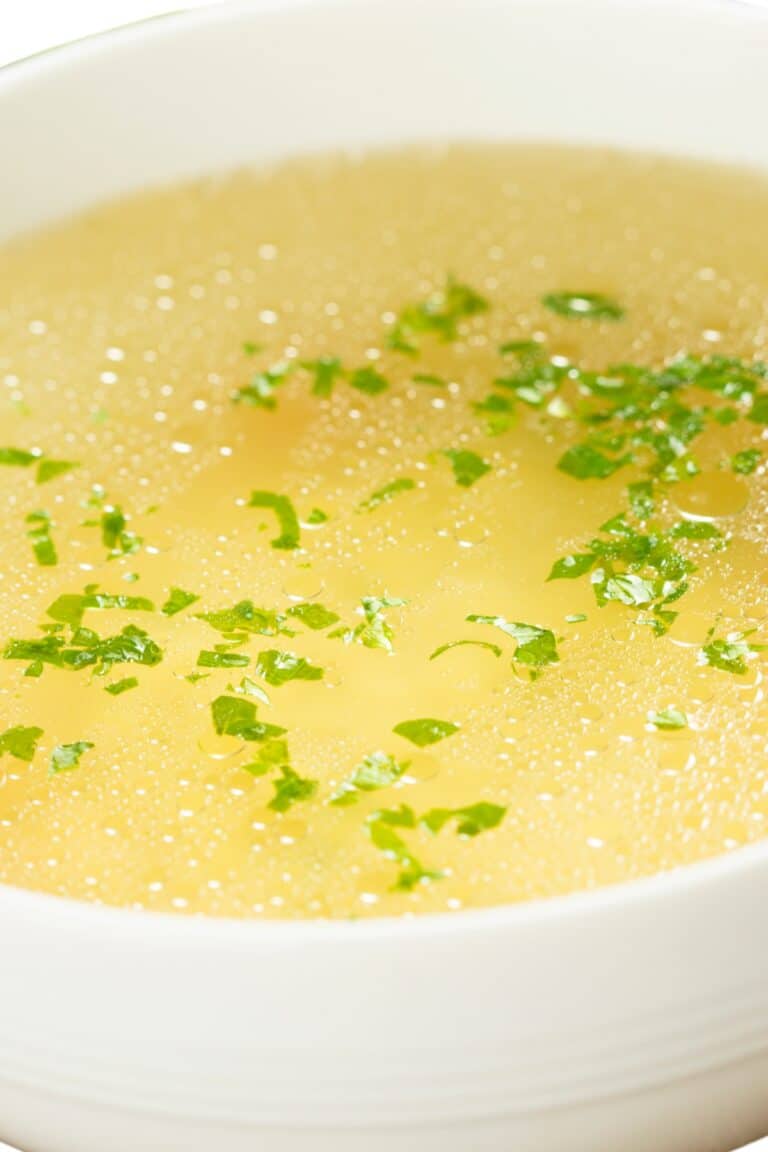 The resulting broth is light and clear with a subtle umami flavor, a cornerstone of Japanese cuisine. Dashi broth is used as a base for many Japanese dishes, including Miso Ramen, miso soup, and udon soup.
If you don't have access to Dashi Broth and want to use it for soup, you can buy Dashi Powder (paid link) to make a quick and easy version.
Ingredient Notes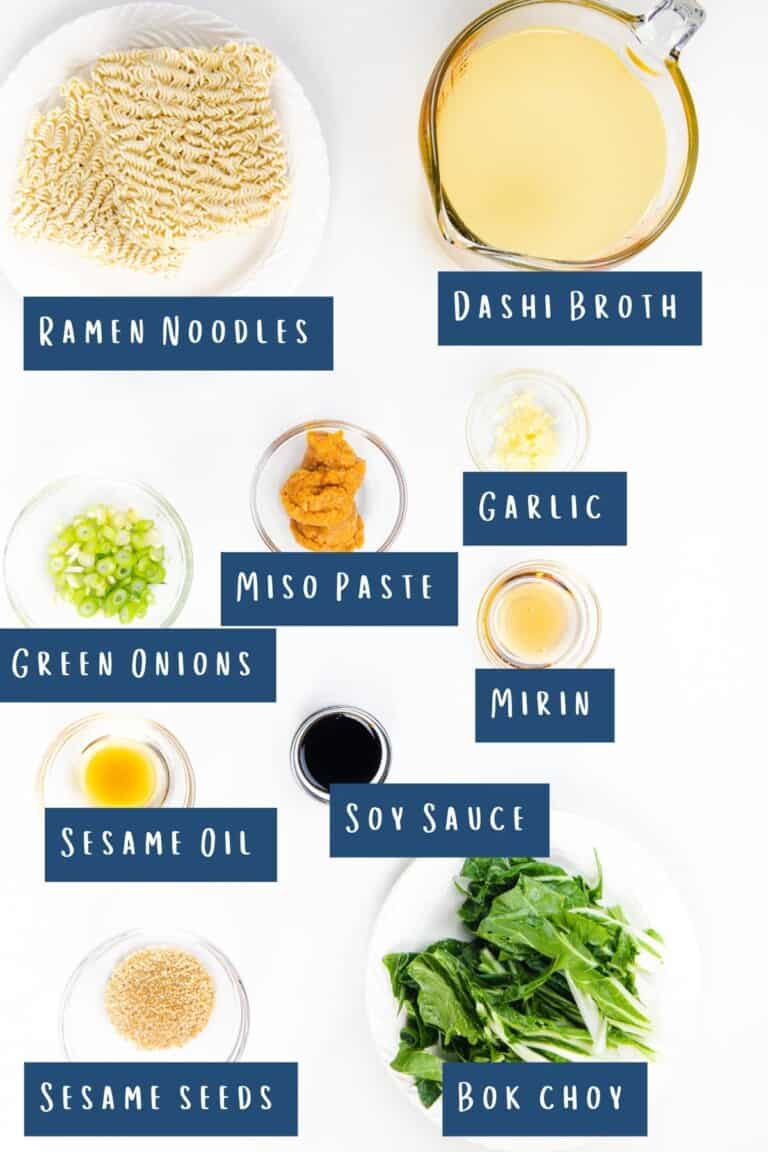 Sesame Oil: Light sesame oil is the best choice for this recipe as it has a mild flavor that won't overpower the other ingredients. You can substitute it with any other neutral oil, like vegetable or canola.
Garlic and green onions: Fresh garlic and green onions (AKA scallions or spring onions) are preferred, but you can also use garlic and onion powder if you don't have fresh ones on hand.
Dashi broth or chicken stock: Dashi broth is the traditional choice for Ramen Miso as it adds a distinct umami flavor. You can substitute it with chicken or vegetable stock if you can't find dashi broth.
Miso paste: You can use either white or red miso paste, depending on your preference. See the above buying guide for more information.
Soy sauce: We recommend low-sodium soy sauce as miso paste can be salty. Start with a tablespoon as called for in the recipe and adjust as needed. Use a good-quality soy sauce for the best flavor.
Mirin: A sweet Japanese rice wine that subtly sweetness the soup. If you don't have mirin, you can use rice vinegar or sake instead.
Bok choy: Also known as pak choi, you can use large leaf or baby varieties. You can substitute it with other leafy greens like spinach or kale.
Ramen noodles: Use whatever ramen you like best. If you can't find them, you can substitute them with other types of Asian noodles, such as udon or soba.
Step By Step Instructions
Heat the sesame oil over medium heat in a large pot or Dutch oven. This will help bring out the sesame oil's nutty flavor and create a flavorful base for the soup.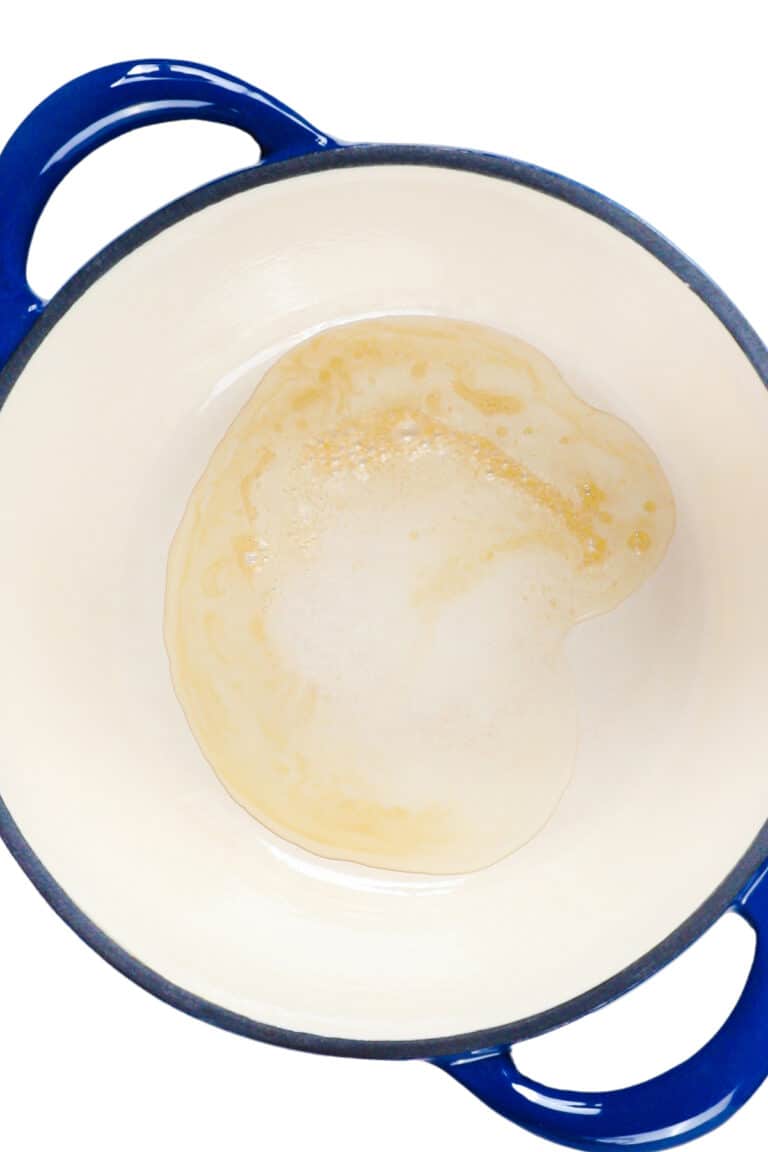 Add the minced garlic and sliced green onions to the pot and sauté for 1 to 2 minutes until they are fragrant. The garlic and green onions will add depth of flavor and aroma to the soup.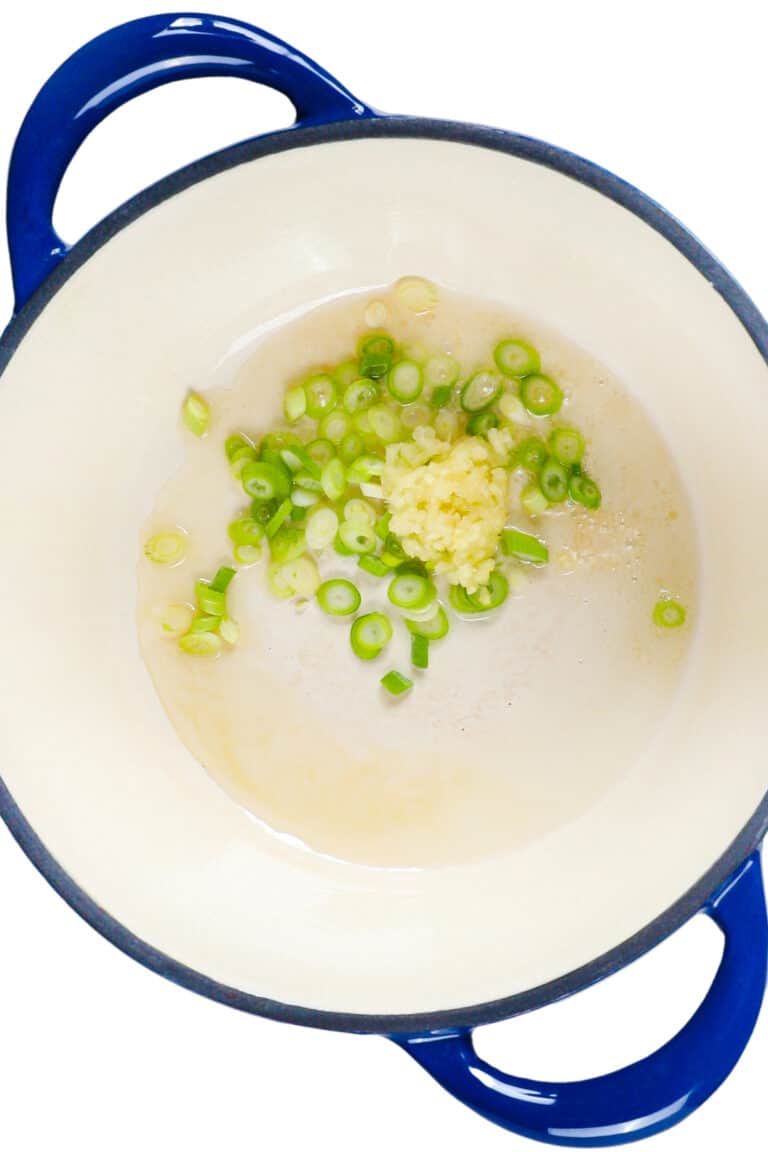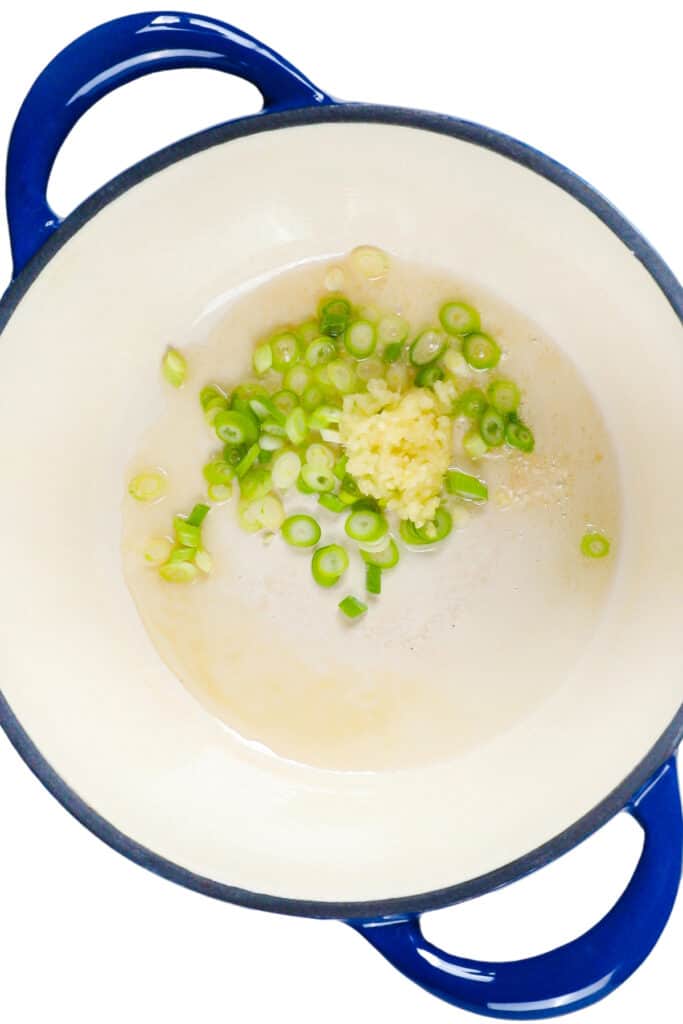 Pour in 4 cups of dashi broth or chicken stock and bring the mixture to a boil. The broth will help to create a savory and umami-rich base for the soup.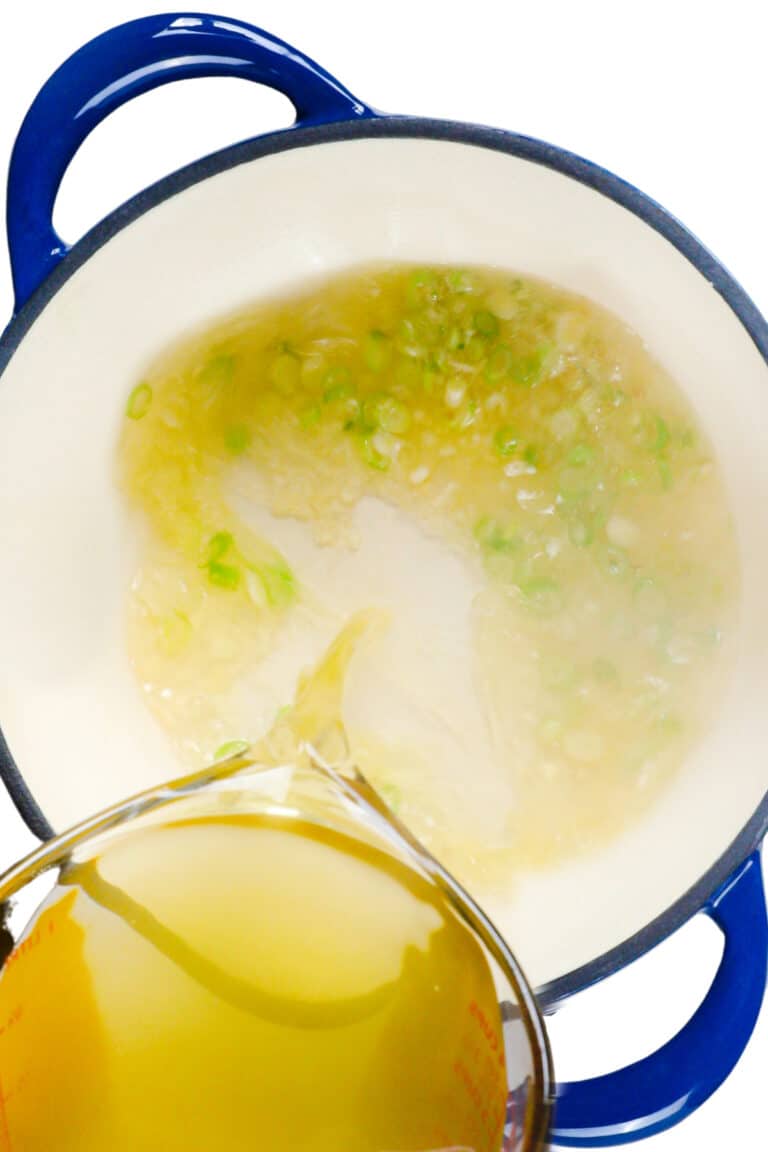 Reduce the heat to a simmer and add 3 tablespoons of miso paste, 1 tablespoon of soy sauce, and 2 tablespoons of mirin to the pot.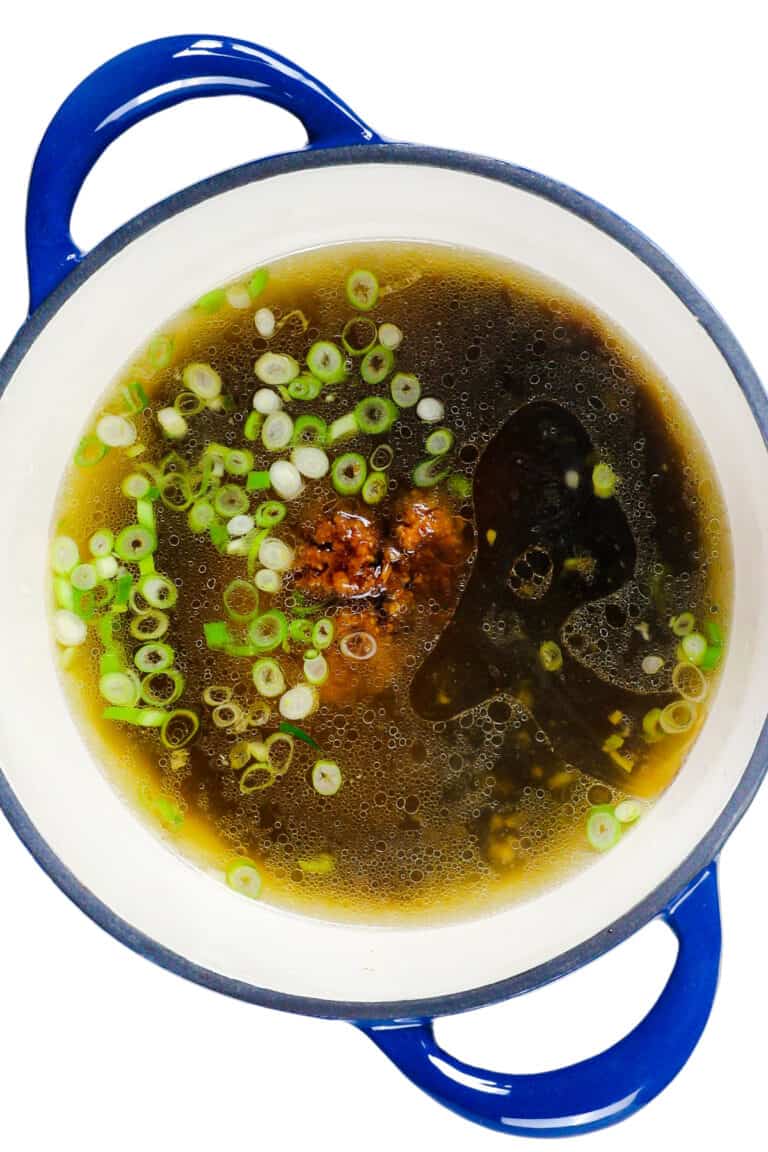 Use a whisk or a fork to stir the ingredients together until the miso paste is completely dissolved. This will help to evenly distribute the flavors and create a smooth and velvety texture. Then add the chopped bok choy and 6 oz of ramen noodles to the pot.
Simmer for 3 to 4 minutes until they are tender and cooked through. The bok choy will add a fresh and crunchy texture, while the ramen noodles will help to make the soup more filling and satisfying.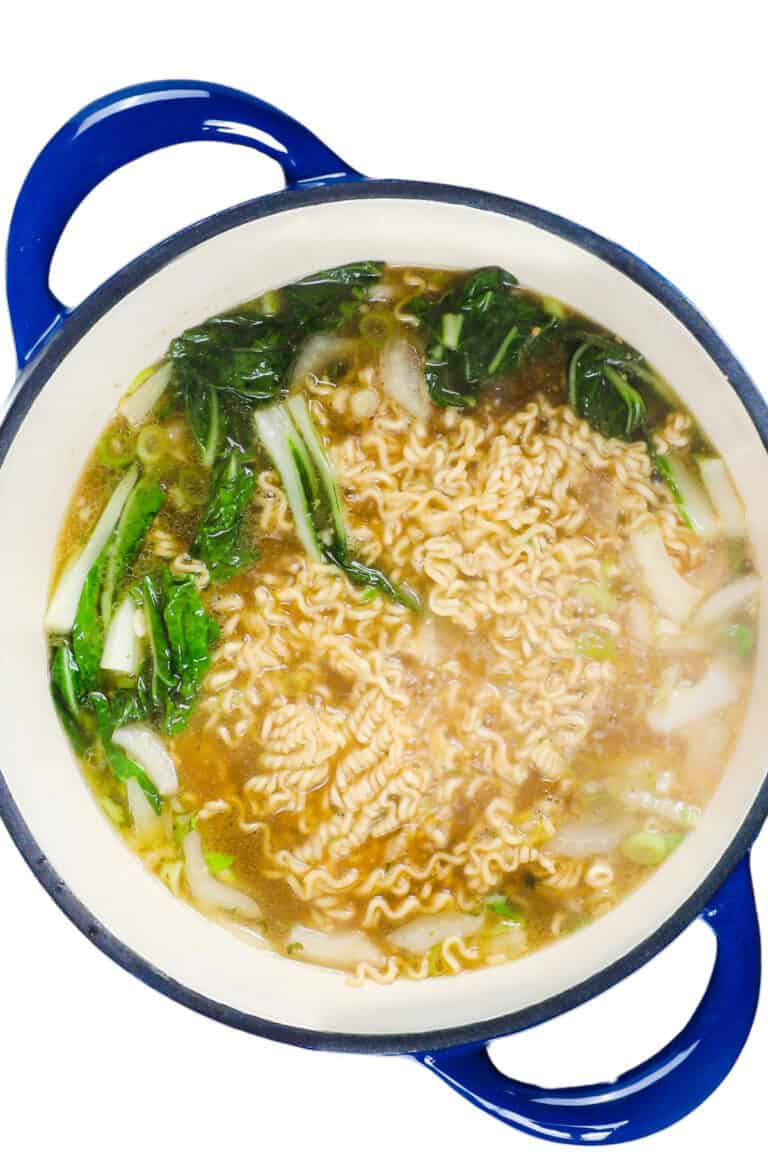 Divide the noodles among serving bowls.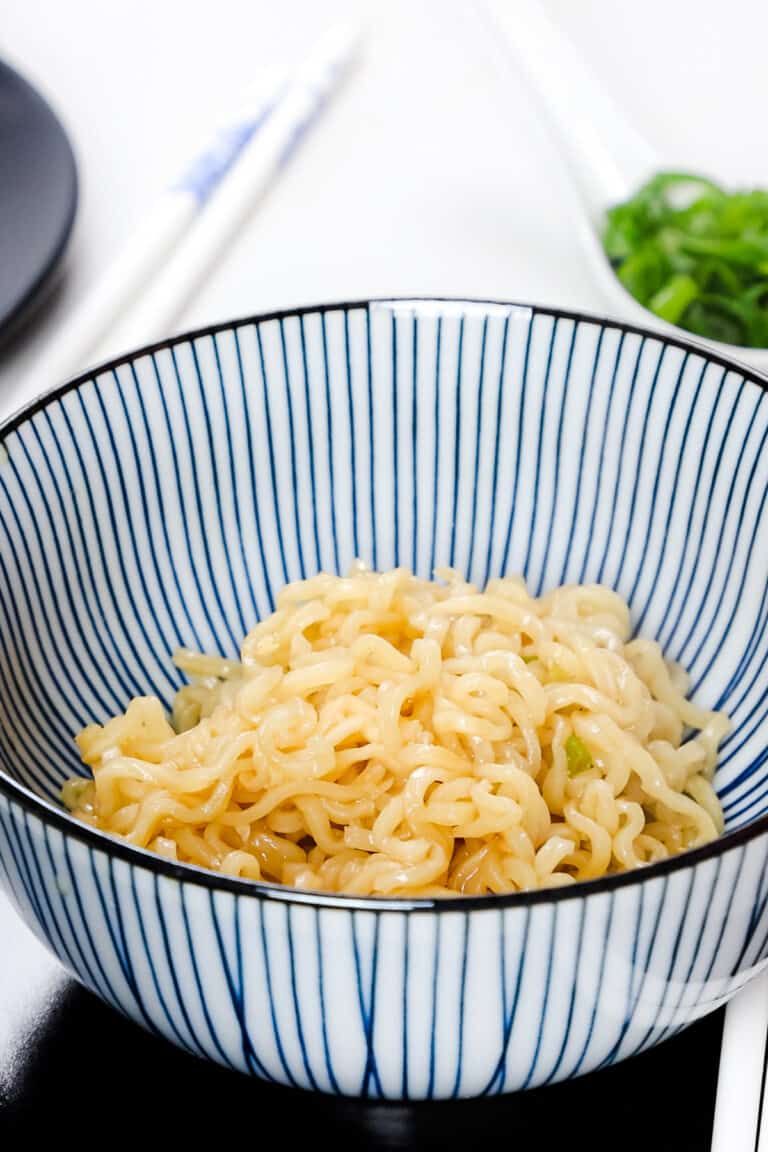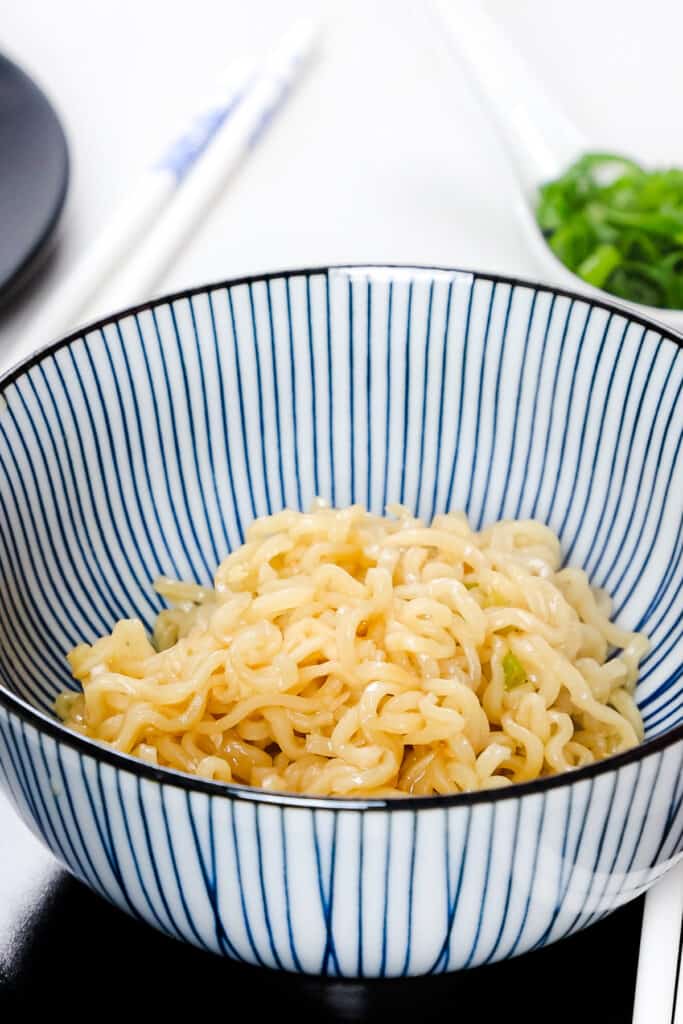 Then ladle the miso broth over the noodles.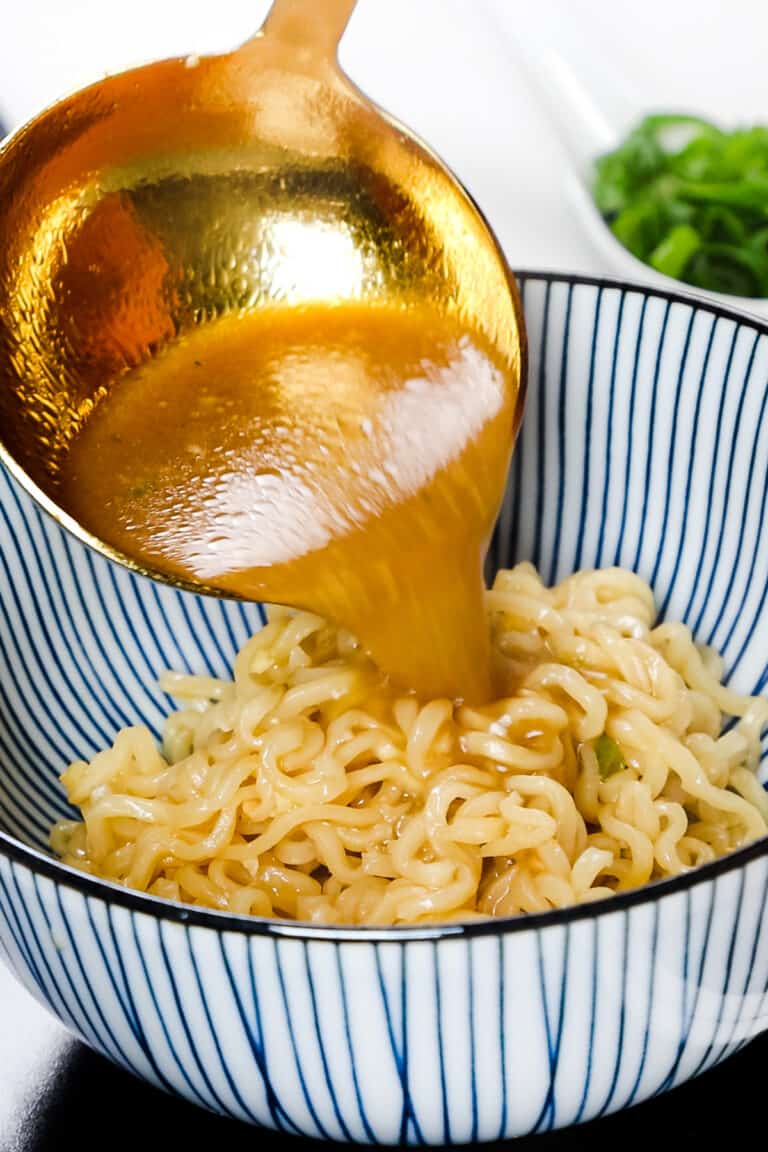 Divide the bok choy into the bowls and serve hot topped with your favorite toppings. The combination of savory broth, tender bok choy, and hearty ramen noodles will make for a satisfying and flavorful meal.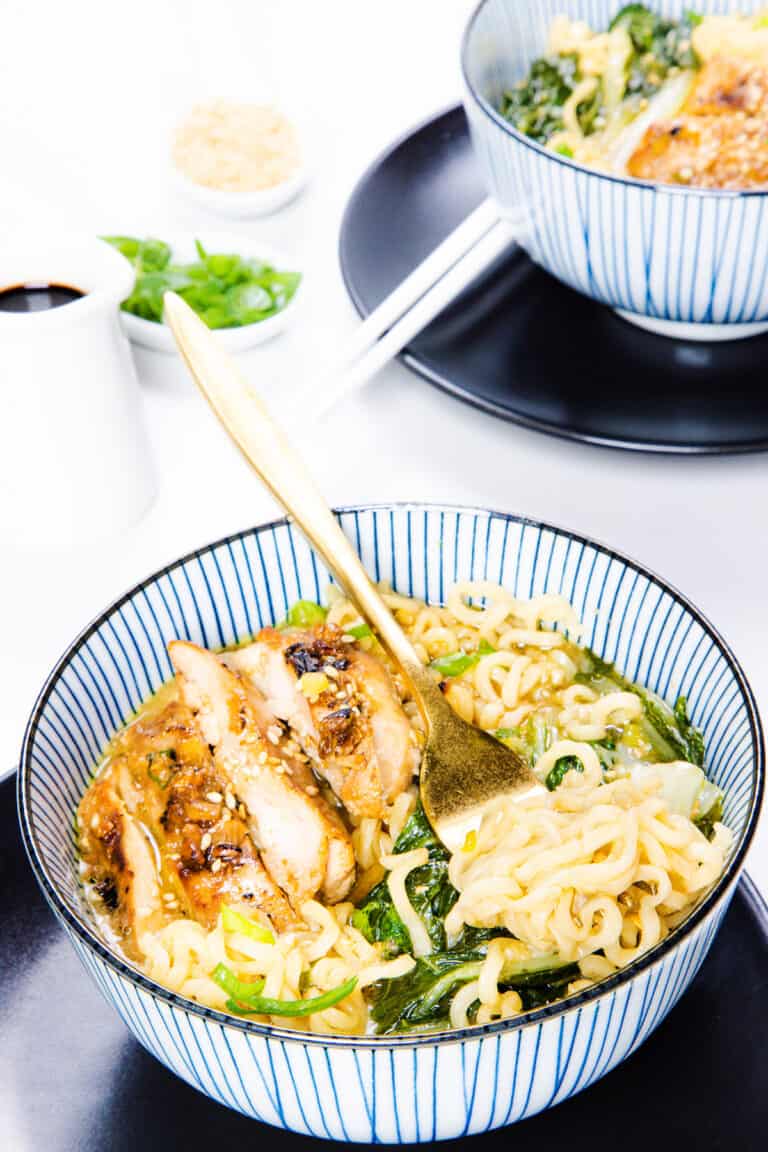 Topping Suggestions
Protein: Sliced Miso Chicken, braised pork belly, shredded chicken, tofu, or a soft-boiled egg.
Vegetables: Steamed bok choy, sautéed spinach, bean sprouts, corn, sliced green onions, or sautéed mushrooms.
Seaweed: Nori sheets, wakame, or kelp.
Spice: Chili oil, spicy bean paste, or thinly sliced fresh chili peppers.
Pickles: Bamboo shoots, pickled red ginger, or pickled mustard greens.
Herbs: Chopped cilantro or shiso leaves.
Extra flavor: Crushed garlic, sesame seeds, or a small dollop of butter for a richer taste.
Feel free to mix and match these toppings to create your perfect bowl of Miso Ramen soup. Enjoy!
Erren's Top Tips
Don't overcook the noodles: Overcooked noodles can become mushy and lose their texture, affecting the dish's overall taste and appearance. Be sure to follow the package instructions and cook the noodles until they are tender.
Dissolve the miso paste: To ensure it is evenly distributed and dissolved in the broth, add it to the pot after reducing the heat to a simmer. Use a whisk or a fork to stir the paste into the broth until it's completely dissolved.
Adjust the seasoning: Miso paste can vary in saltiness, so it's important to taste the soup after adding the miso paste, soy sauce, and mirin to ensure the seasoning is to your liking. Adjust the seasoning as necessary by adding more miso paste, soy sauce, or mirin.
Use high-quality ingredients: The quality of the ingredients can greatly affect the taste and overall quality of the soup. Use fresh bok choy, high-quality miso paste, and flavorful broth to ensure the soup is flavorful.
Storage & Freezing Instructions ❄
To Store Leftover Miso Ramen: I suggest storing the noodles separately to be sure they don't absorb the broth. Allow the soup to cool to room temperature and transfer it to an airtight container. Refrigerate the soup for up to 4 days. When reheating, gently warm the soup over low heat to prevent overcooking the noodles and vegetables.
Freezing Instructions: Allow the soup to cool completely and then transfer it to an airtight, freezer-safe container or plastic bag. Freeze the soup for up to 3 months.
To Reheat: Thaw the soup overnight in the refrigerator and gently warm it over low heat. Please note that the texture of the noodles may change slightly after being frozen and thawed, but the flavor should remain delicious.
Stay Updated
Receive new recipes & dinner ideas straight to your inbox!
Let's Make Miso Ramen
A delicious and easy-to-make Japanese inspired soup that combines savory miso broth, ramen noodles, and bok choy for a hearty meal.
Prep10 minutes
Cook5 minutes
Total15 minutes
Ingredients
1 tablespoon light sesame oil
2 garlic cloves minced
2 green onions sliced
4 cups dashi broth or chicken stock
3 tablespoons miso paste
1 tablespoon soy sauce
2 tablespoons mirin
Bok choy chopped
6 oz ramen noodles fresh or dried
Instructions
In a large pot or Dutch oven, heat the sesame oil over medium heat. Add the minced garlic and sliced green onions, and sauté until fragrant, about a minute.

Add the dashi broth or chicken stock to the pot and bring to a boil.

Reduce heat to a simmer and add the miso paste, soy sauce, and mirin to the pot. Stir well to combine and dissolve the miso paste.

Add the chopped bok choy and fresh or dried ramen noodles to the pot. If using dried noodles, break them in half before adding to the pot. Stir well to ensure that the noodles are submerged in the broth.

Cover the pot and simmer for 3 to 4 minutes until the noodles are tender and cooked through. If using fresh noodles, they may only take 1 to 2 minutes to cook.

Once the noodles are cooked, ladle the miso broth and bok choy over the noodles and serve hot.
Nutrition Information:
Calories: 275 (14%)| Carbohydrates: 36g (12%)| Protein: 8g (16%)| Fat: 11g (17%)| Saturated Fat: 4g (25%)| Polyunsaturated Fat: 2g| Monounsaturated Fat: 4g| Cholesterol: 5mg (2%)| Sodium: 2423mg (105%)| Potassium: 182mg (5%)| Fiber: 2g (8%)| Sugar: 5g (6%)| Vitamin A: 81IU (2%)| Vitamin C: 2mg (2%)| Calcium: 37mg (4%)| Iron: 2mg (11%)
Erren's Kitchen is written and produced for informational intentions only. We are not certified nutritionists, and the nutritional information found on this site has not been assessed or authorized by a nutritionist or the FDA. The nutritional information found in our recipes is offered as an estimate and should not be considered a guarantee or fact. The estimated data is provided as a courtesy and calculated through a third-party online nutritional calculator, spoonacular API. Although we do our best to provide accurate nutritional information, these figures should be considered rough estimates. Many factors, such as brands or products purchased and the nutritional fluctuations that naturally occur in fresh produce, can alter the effectiveness of the nutritional information in any recipe. Furthermore, various online calculators provide different results depending on their particular algorithms and nutrition fact sources. To obtain the most precise nutritional information in a provided recipe, you should calculate the nutritional information with the exact ingredients you are using when preparing the recipe using your preferred nutrition calculator.