This Easy Homemade Corn Bread recipe uses fine cornmeal cutting out the need to soak. The result is a light, moist and delicious cornbread.
Serve as breakfast or as a side with Chili Con Carne or a holiday meal.
I've seen a lot of complicated cornbread recipes that involve soaking cornmeal before you even get started. Not this recipe – With this recipe, all you need is 30 minutes, the ingredients, one bowl, and a wooden spoon – Simple!
Why This Recipe Works
Melted Butter adds flavor – Many recipes call for only vegetable oil that has no flavor, but using butter as well makes them richer tasting.
Adding butter to the pan promotes a beautifully browned exterior.
No need for special ingredients – With this recipe, you won't need things like buttermilk, or creamed corn – just fine cornmeal, and everyday baking ingredients.
It's super simple – no special equipment or soaking of cornmeal all you need is a bowl and a wooden spoon!
Some many cornbread recipes and mixes come out dry and unpleasant, but this cornbread comes out moist and delicious! Believe me, once you try it, you'll make it again and again.
Step by Step Instructions
Start by mixing the dry ingredients in a large bowl. Then form a well in the middle of the mixture.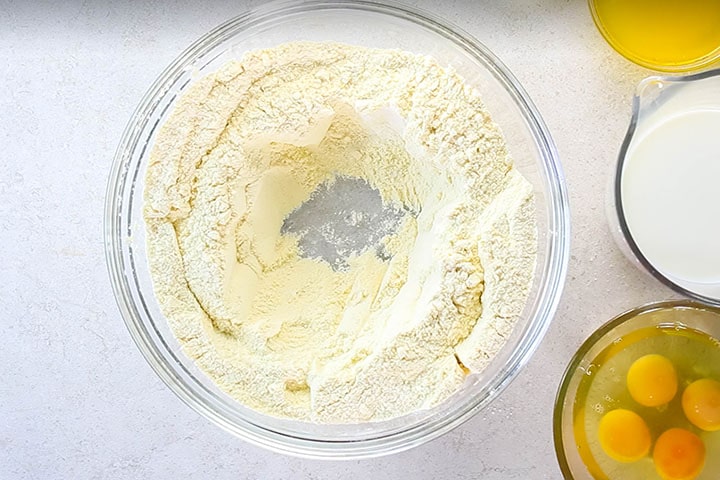 Add the wet ingredients to the well.
Mix well to combine being careful not to over mix.
Add the batter to a 9×13 inch pan greased with butter and bake until golden brown.
Cut into squares, serve and enjoy!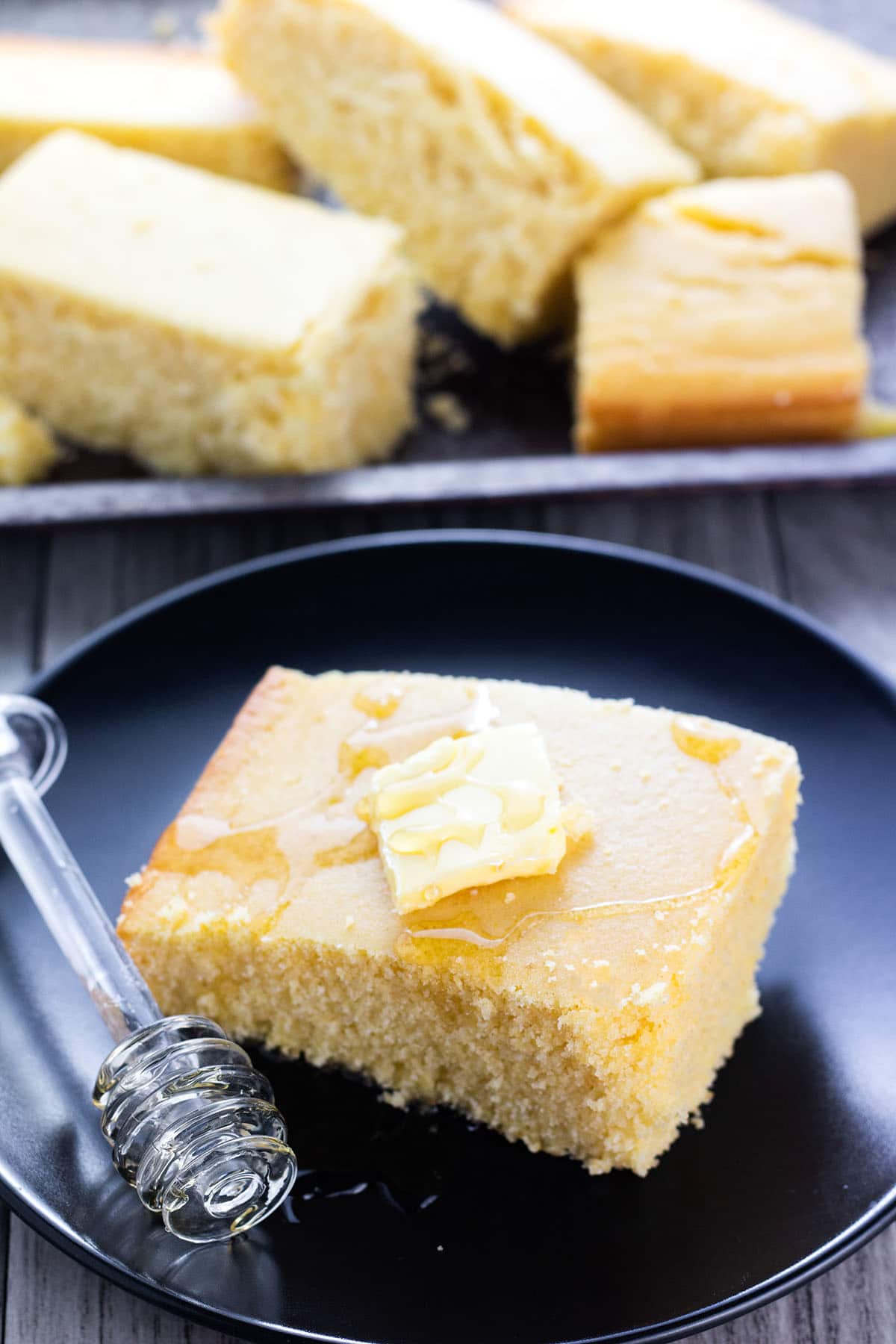 This recipe makes a big pan that's great for when you have a lot of guests. I cut mine into 15 squares and serve it warm with honey, but butter and jam work great too. Enjoy!
For Best Results
This recipe calls for fine cornmeal. Replacing it with coarse cornmeal will result in a much drier cornbread.
Don't overmix the batter. Using a simple wooden spoon works best for this recipe instead of an electric mixer. Overmixed batter will result in a heavy, dense cornbread.
A Few Lumps are fine. When making cornbread, a few lumps in the batter won't hurt anything. They'll moisten during baking giving texture.
Always check your cornmeal for freshness. Did you know cornmeal can go bad? Good cornmeal will have a sweet smell. Cornmeal that's gone bad will smell stale and musty.
FAQs
How Do You Store Cornbread?
To store cornbread, store in an airtight container at room temperature for up to 2 days. If you want your cornbread to stay fresh for longer, store it in the fridge for up to a week.
Can Cornbread Be Frozen?
Yes, cornbread freezes well. To freeze cornbread, once baked and cooled, wrap well with plastic wrap or put it in a freezer-safe airtight container and freeze for up to 3 months. When ready to use, leave to thaw at room temperature for 1 hour.
What Cornmeal For Cornbread?
This recipe uses fine cornmeal (the photo below) also known as Polenta flour in the UK and Europe. This results in a light, fluffy and moist texture. Using coarse cornmeal will result in a much drier muffin.
Stay Updated
Receive new recipes & dinner ideas straight to your inbox!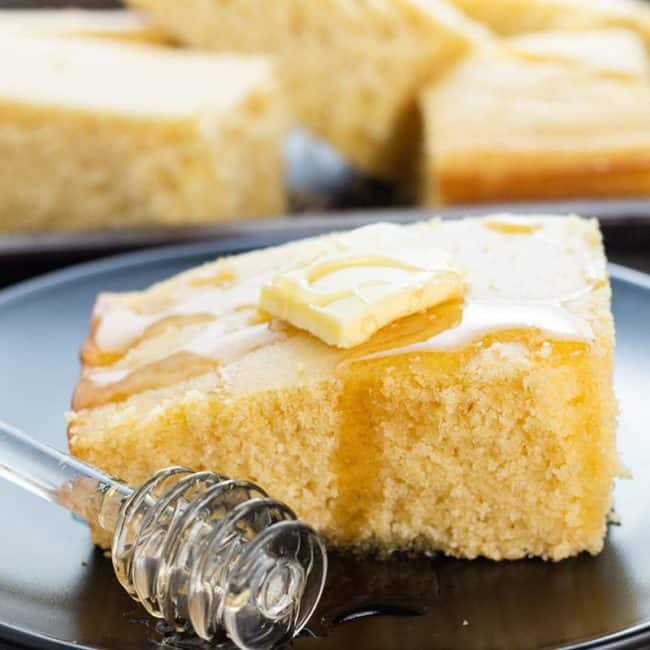 Let's Make Easy Homemade Cornbread
This delicious, fluffy cornbread is an ideal accompaniment for soup or chowder – the best part is – it's ready in just 30 minutes!
Prep5 minutes
Cook25 minutes
Total30 minutes
Ingredients
2 cup all-purpose flour
2 cup fine cornmeal
½ cup granulated sugar
2 tablespoons baking powder
½ teaspoon salt
4 eggs beaten
2 cups milk
½ cup salted butter melted
4 tablespoons vegetable oil
Instructions
Pre-heat oven to 375F

Grease 13×9 inch baking pan with a good layer of butter (this give the cornbread a crispy crust)

Mix the dry ingredients in a large bowl and form a well into the middle of the mixture.

Mix egg, milk, melted butter, and oil in a large mixing bowl. Pour into the well of dry ingredients; mix well.

Pour mixture into prepared pan, spread into an even layer and bake 20 – 25 minutes or golden brown and cake tester inserted in center comes out clean.

Cool 5 – 10 minutes before slicing. Serve with butter, honey or jam.

Store in an airtight container.
Nutrition Information:
Calories: 292kcal (15%)| Carbohydrates: 37g (12%)| Protein: 6g (12%)| Fat: 13g (20%)| Saturated Fat: 8g (50%)| Cholesterol: 63mg (21%)| Sodium: 164mg (7%)| Potassium: 306mg (9%)| Fiber: 2g (8%)| Sugar: 8g (9%)| Vitamin A: 305IU (6%)| Calcium: 118mg (12%)| Iron: 1.7mg (9%)