This recipe for Dark Chocolate Ganache Tarts makes a buttery crust filled with a rich and smooth dark chocolate ganache makes these tarts a decadent, amazing dessert.

This year I'm hosting Christmas for the first time in my life. I'll have eight people sleeping under one roof. I'm still not sure how I'll pull off cooking for eight in my tiny English oven, but that's another story.
I want a really big dessert spread, so this week I've been testing tart recipes. I created this one for my little boy who's not into complicated desserts. He loves ganache so this was a no brainier and the penguin chocolates were a real treat. That said, they can easily be topped with whipped cream, chocolate shavings or even nothing at all.
These tarts are really simple to make. If you buy the ready-made crust, it would take no time at all, but I promise the home-made crust is worth the added effort!
Here are some things you'll need to make them similar to mine. I've provided links below:
A mini pie pan which you can get on Amazon, here(As an Amazon Associate, a small commission is made from qualifying purchases).& Round Double-sided cookie cutters (which you can get here) cutters. I like the double-sided ones because it's like two sets in one & the single-sided ones cost about the same.
My penguins are pre-made, but I've seen similar chocolate molds here if you want to make some yourself.
Stay Updated
Receive new recipes & dinner ideas straight to your inbox!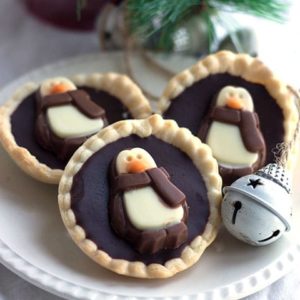 Let's Make
Dark Chocolate Ganache Tarts
This recipe for Dark Chocolate Ganache Tarts makes a buttery crust filled with a with a rich and smooth dark chocolate ganache makes these tarts a decadent, amazing dessert.
Prep30 minutes
Cook30 minutes
Total1 hour
Ingredients
For the crust:
1¾ cups all-purpose flour
½ cup Butter cubed
1 teaspoon salt
1 teaspoon sugar
3 -6 tablespoons ice water
For the filling:
1 cups whipping cream or heavy cream
6 ounces bittersweet/dark chocolate chopped
1 tablespoon butter
Instructions
For the crust:
Sift the flour onto some baking paper and then add it to a food processor.

Add the sugar, and salt and pulse a couple times to mix.

Add about half of the butter and pulse several times.

Then add the rest of the butter and pulse 6 to 8 times until the largest pieces of butter are about the size of large peas.

Sprinkle the mixture with about 2 tablespoons of the ice water (leaving the cubes behind) then pulse again.

Then add more ice water, a tablespoon at a time, pulsing once or twice after each addition until the dough just barely begins to hold together.

You know that the mixture is ready if when you pinch some together with your fingers and it holds together. Be careful with the amount of water you add, too much and the crust will be tough.

Empty the crumbly dough mixture from the food processor onto a clean, dry, floured surface.

Form a mound with the mixture and knead briefly (just a couple of turns). Form into a ball, cover with plastic wrap and chill for at least 1 hour (although it can be up to a few days or even frozen at this point).

Once chilled, let the dough sit at room temperature for 10 minutes before rolling.

Roll out the crust on a lightly floured surface to about ¼ inch thick.

Using 4½ cutter, cut out twelve circles and line 12 sections of a tart pan with the circles. The dough should overlap enough to be able to crimp the edges.

Chill in the pan another 20 minutes.

Preheat the oven to 350F/180C

Remove the tart pan from the refrigerator and prick the bottoms with a fork.

Bake the crust for 10 to 15 minutes, then rotate it and bake for another 10 to 15 minutes, or until it is golden brown. Remove the crust from the oven and let it cool while you make the filling.
For the filling:
In a small saucepan or the microwave, heat the cream & butter just until boiling.

Place the chocolate into a In a medium mixing bowl.

When the cream is just boiling, pour it over the chocolate mixture and whisk until smooth.

Fill the tart shells with the chocolate mixture and chill for 4 hours to set.
Nutrition Information:
Calories: 212kcal (11%)| Carbohydrates: 14g (5%)| Protein: 2g (4%)| Fat: 16g (25%)| Saturated Fat: 10g (63%)| Cholesterol: 50mg (17%)| Sodium: 277mg (12%)| Potassium: 34mg (1%)| Vitamin A: 555IU (11%)| Vitamin C: 0.1mg| Calcium: 18mg (2%)| Iron: 0.8mg (4%)