Serve your guests something so much better than just mashed potatoes with this tasty recipe for Easy Saffron Potato Bake. Comfort food has never tasted so good!
Thin slices of potato slow-cooked in the oven with a delicate saffron sauce- it's the most delicious of side dishes that are perfect to serve with fish or chicken.
Since joining the gym, my husband and I have been eating more fish. My favorite is cod simply cooked in the oven with a bit of butter and parsley.
I've been making it once a week for the last few weeks. So far I have made it with my Garlic Roasted Green Beans and Rice Pilaf and another time with my Shrimp and Asparagus Saffron Risotto (without the shrimp). Which is what led to this recipe,
I was going to make it with the risotto again when I realized I didn't have any risotto rice. I love saffron with fish so I had a look around at what else I could do.
I saw the potatoes and remembered a dish I had years ago and never forgot. It was a saffron potato and cod bake. It was fantastic but I lost the recipe. I wasn't sure how to cook them together as they take vary in cooking times, so I decided to cook them separately instead of attempting to re-create the dish.
I went simple so not to overpower the fish and it really was fantastic. The mild flavors bake into the potatoes making it a beautifully comforting dish.
Other Indulgent Sides
Stay Updated
Receive new recipes & dinner ideas straight to your inbox!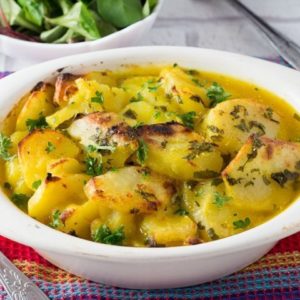 Let's Make
Easy Saffron Potato Bake
Slices of potato slow-cooked in the oven with chicken stock and saffron- the most decadent of side dishes.

Prep10 minutes
Cook30 minutes
Total40 minutes
Ingredients
1½ cups chicken stock
½ teaspoon saffron threads
½ teaspoon garlic powder
2 tablespoons butter plus more for greasing the pan
1 tablespoon flour
4 tablespoons cold water
a good handful of fresh parsley chopped
2 pounds potatoes (russet or any favorite potato of your choice) peeled & sliced
Salt and freshly ground black pepper
Instructions
Preheat the oven to 400 degrees F.

Grease a casserole dish with butter.

In a saucepan, heat the stock, add the saffron, garlic powder and butter simmer for 5 minutes.

mix the flour with the cold water until smooth (you can also run it through a strainer to remove lumps) add the flour mixture to the stock. Mix well to combine.

Salt and pepper to taste.

Slice the potatoes and add them to the casserole dish and pour the stock evenly over the potatoes and bake for 30 - 40 minutes or until the potatoes are tender and the top is golden brown.
Nutrition Information:
Calories: 222kcal (11%)| Carbohydrates: 33g (11%)| Protein: 8g (16%)| Fat: 7g (11%)| Saturated Fat: 3g (19%)| Cholesterol: 17mg (6%)| Sodium: 202mg (9%)| Potassium: 1031mg (29%)| Fiber: 5g (21%)| Sugar: 1g (1%)| Vitamin A: 175IU (4%)| Vitamin C: 25.8mg (31%)| Calcium: 71mg (7%)| Iron: 7.6mg (42%)