These easy Oatmeal Raisin Bars are thick and chewy with the perfect balance of crisp exterior and buttery soft center.
If you're craving a delectable treat that combines the perfect balance of crispness and chewiness, look no further than these mouthwatering Oatmeal Raisin Bars. Bursting with warm spices, plump raisins, and a rich buttery flavor, these cookie bars are a timeless classic that will satisfy any sweet tooth.
Why This Recipe Works
The moisture in the dark and light brown sugar helps create a chewy, soft center.
The salted butter levels out the sweetness and adds a rich buttery flavor.
The warm spiced flavors of the cinnamon and nutmeg perfectly balance the sweetness of the raisins.
Using vanilla adds an extra depth of flavor.
How could anyone resist a freshly baked cookie bar, especially with a glass of ice-cold milk? These oatmeal raisin bars are buttery, soft-baked oat bars that are bursting with plump, juicy raisins!
Ingredient Notes
All-Purpose/Plain Flour: Use regular all-purpose flour for this recipe. It can be found in the baking aisle of any grocery store.
Salt: Regular table salt works perfectly fine for this recipe.
Baking Powder: Ensure your baking powder is fresh to achieve optimal rise and texture.
Baking Soda/Bicarbonate of Soda: Ensure your baking soda is not expired for effective leavening.
Butter: Unsalted butter is recommended to have better control over the saltiness, but salted butter can be used if it's all you have.
Light-Brown Sugar: Opt for light-brown sugar to add a subtle caramel flavor to the bars.
Dark Brown Sugar: Dark brown sugar provides a richer, deeper flavor. If unavailable, you can use an equal amount of light-brown sugar.
Granulated Sugar: Regular granulated sugar is suitable for this recipe.
Eggs: Use large eggs at room temperature for better incorporation into the batter.
Vanilla Extract: Pure vanilla extract adds a delightful aroma and enhances the overall flavor.
Cinnamon: Ground cinnamon provides warm and comforting notes. Look for it in the spice aisle.
Nutmeg: Ground nutmeg adds a hint of warmth and earthiness. It can be found in the spice section.
Rolled Oats: Use old-fashioned rolled oats for the best texture in these bars.
Raisins: Sweet and juicy raisins provide bursts of natural sweetness. Feel free to substitute them with dried cranberries or chopped dates.
Which Oats Are Best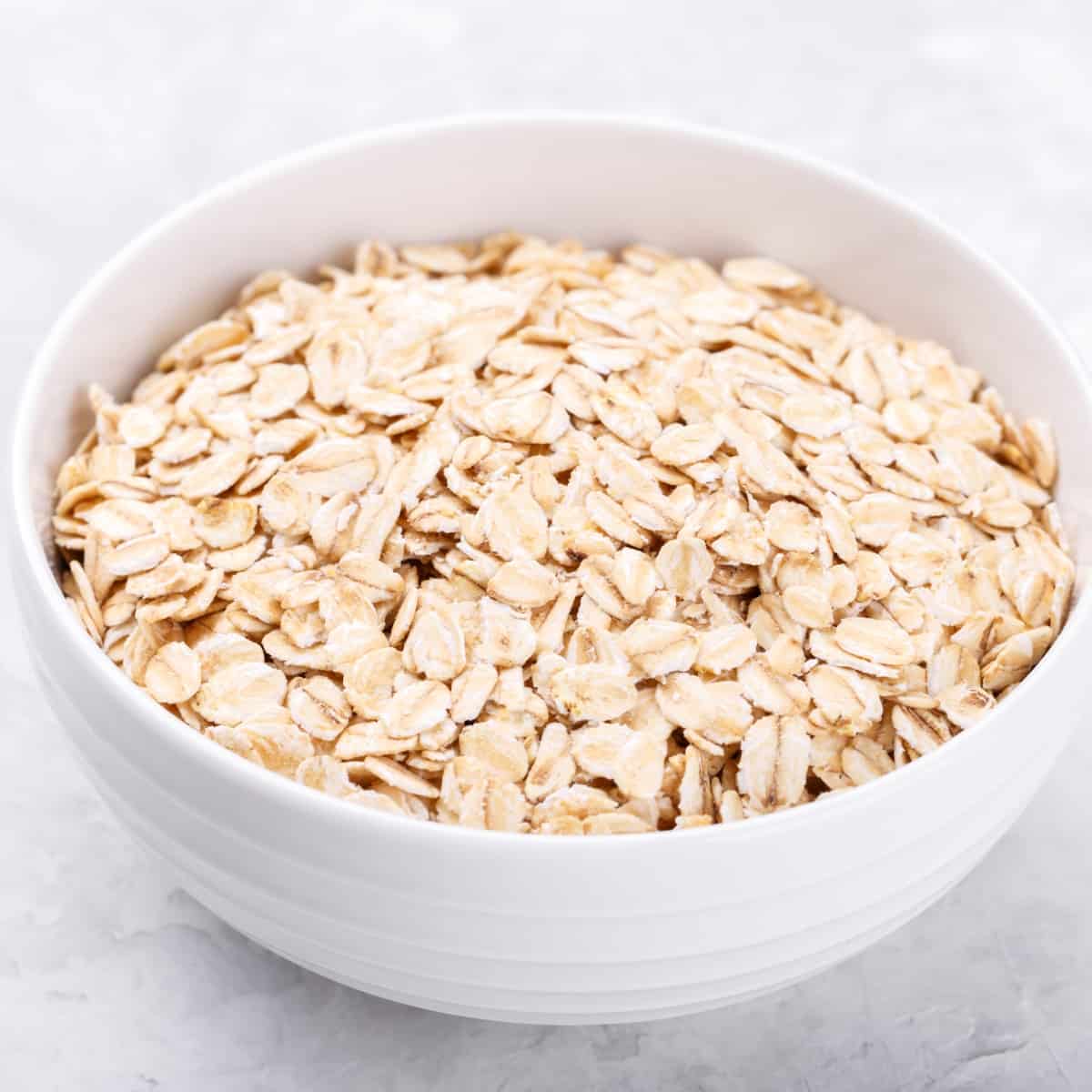 Oatmeal takes center stage in every oatmeal cookie recipe, yet the varieties and names of oats vary across countries. I've incorporated two types of oats commonly found in the United States in this particular recipe. Firstly, American old-fashioned oats, also known as jumbo porridge oats internationally, add a delightful chewiness and a nutty texture reminiscent of a granola bar. Secondly, American quick-cook oats, also referred to as porridge oats or rolled oats worldwide, yield a slightly less textured cookie while still delivering exceptional results. It's important to note that instant oats should be avoided regardless of your location, as they won't provide the desired outcome.
Step By Step Instructions
Preheat the oven to 375°F (190°C). Grease and flour a 9×13-inch baking pan, ensuring all sides are coated to prevent sticking.
Sift together 2½ cups of all-purpose/plain flour, ½ teaspoon of salt, 1 teaspoon of baking powder, and 1 teaspoon of baking soda/bicarbonate of soda into a large mixing bowl.
In another large mixing bowl, beat 1⅓ cups of softened butter, 1 cup of packed light-brown sugar, ½ cup of packed dark brown sugar, and ½ cup of granulated sugar until fluffy and well combined.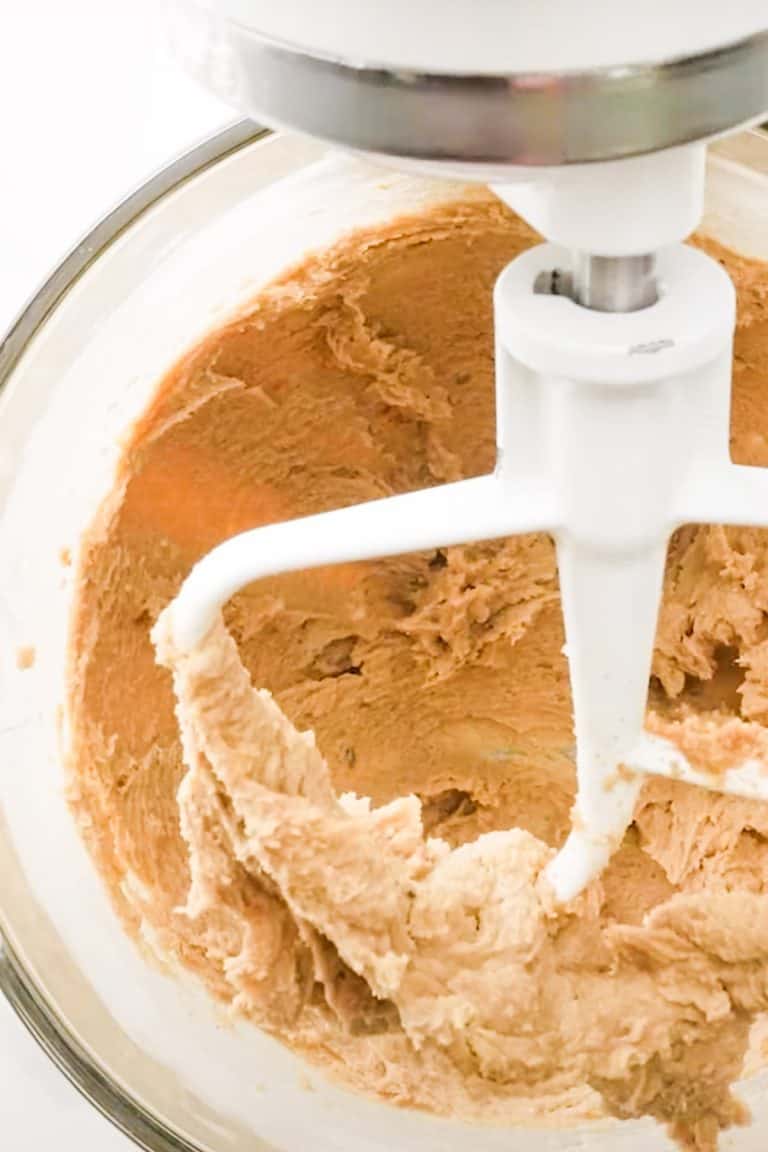 Add 2 large eggs, one at a time, to the butter-sugar mixture, beating well after each addition. Then, stir in 1½ teaspoons of vanilla extract, 1 teaspoon of cinnamon, and ¼ teaspoon of nutmeg until evenly incorporated.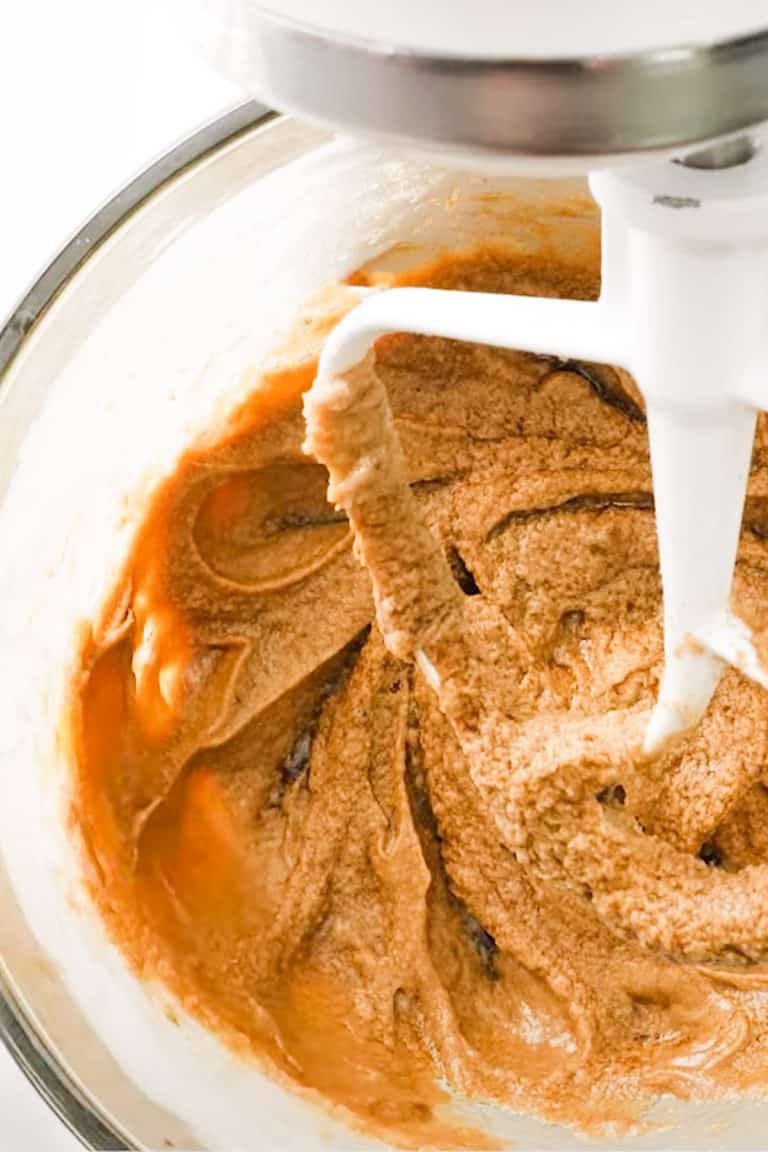 Gradually mix in the flour mixture until just combined, ensuring not to overmix the batter.
Stir in 2 cups of rolled oats by hand, followed by 1 cup of raisins, distributing them evenly throughout the dough.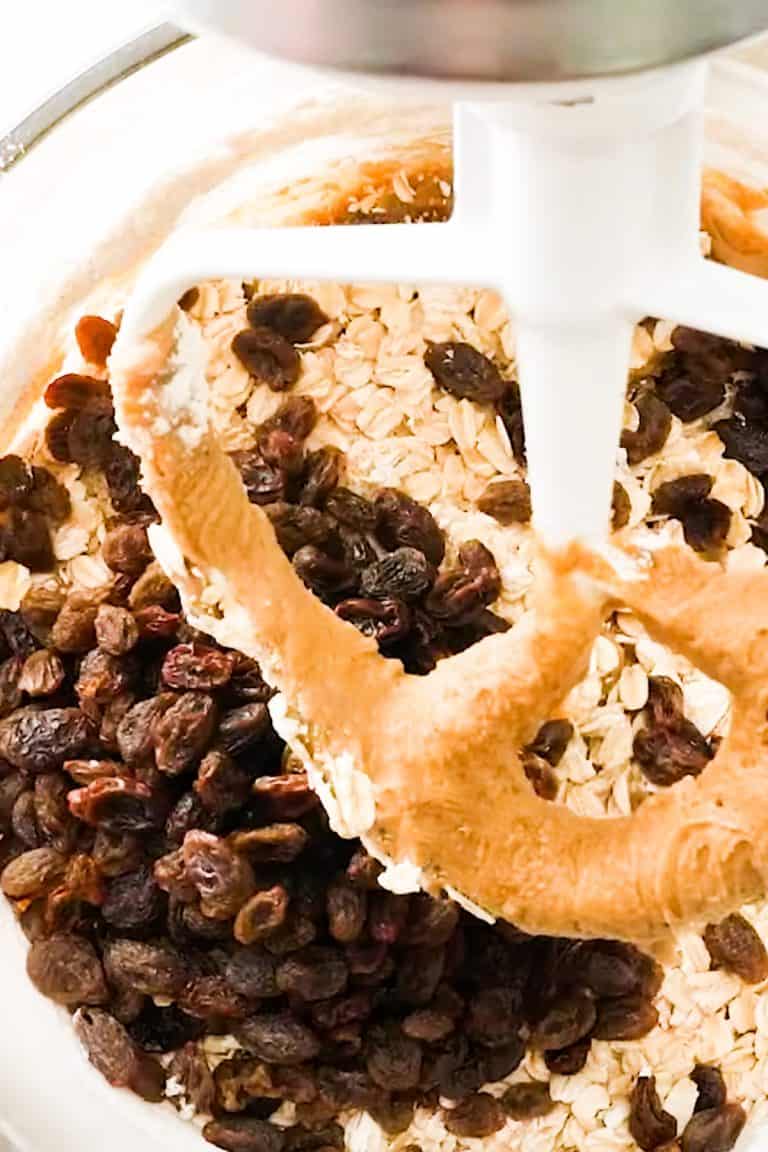 Mix into the dough by hand until combined.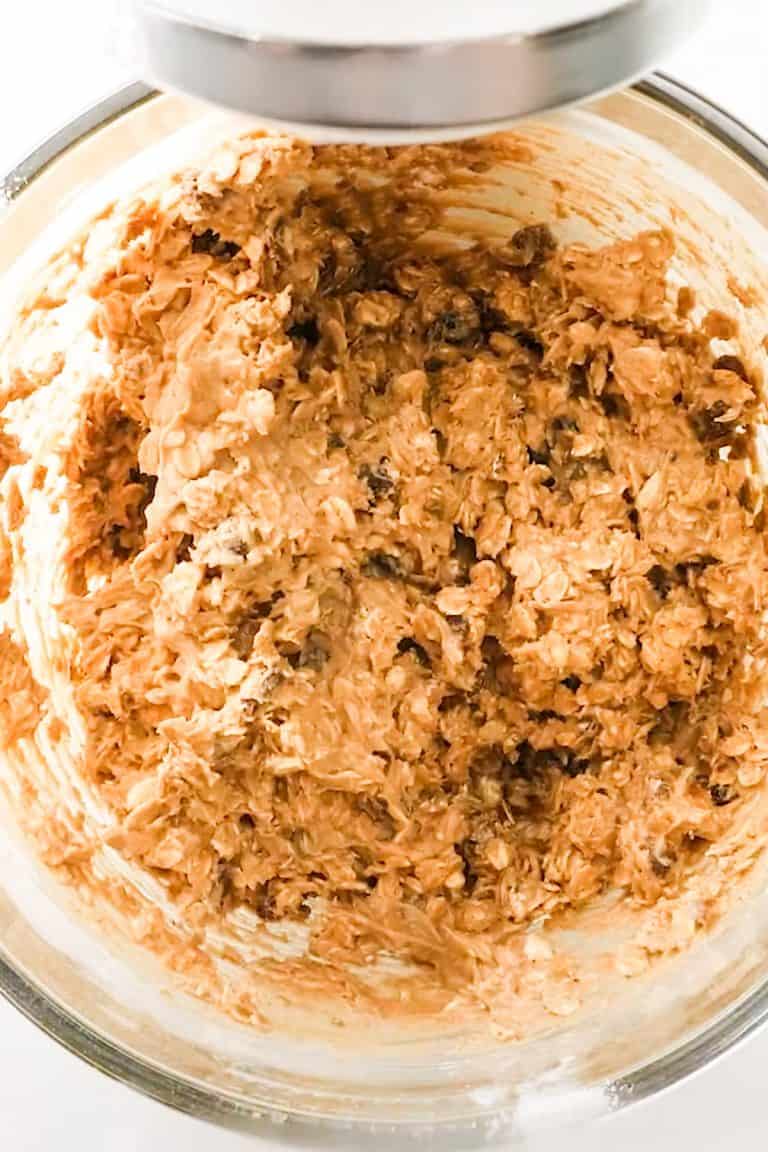 Spread the dough evenly into the prepared pan, using a spatula to smooth the top.
Bake for approximately 30 minutes. After 30 minutes, gently shake the pan. If the center jiggles, continue baking and check every 5 minutes until there is no longer any movement.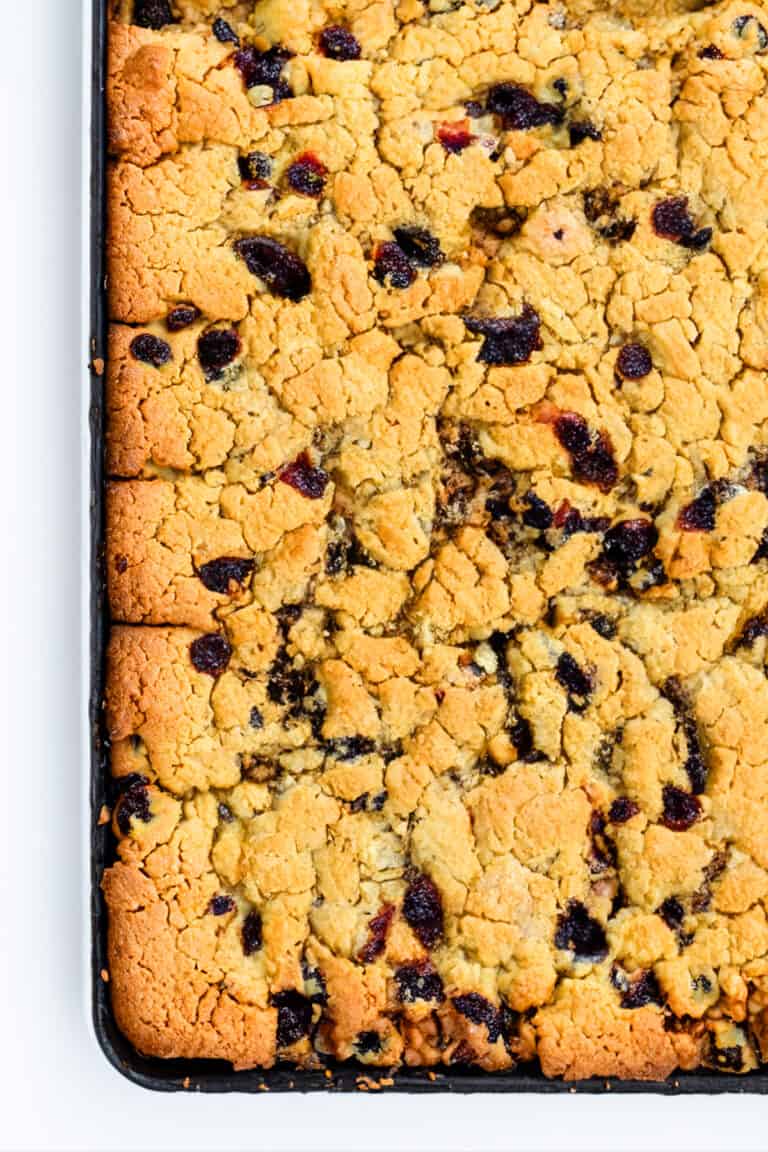 Once baked, remove from the oven and let the bars cool for 10 minutes before cutting into squares or rectangles.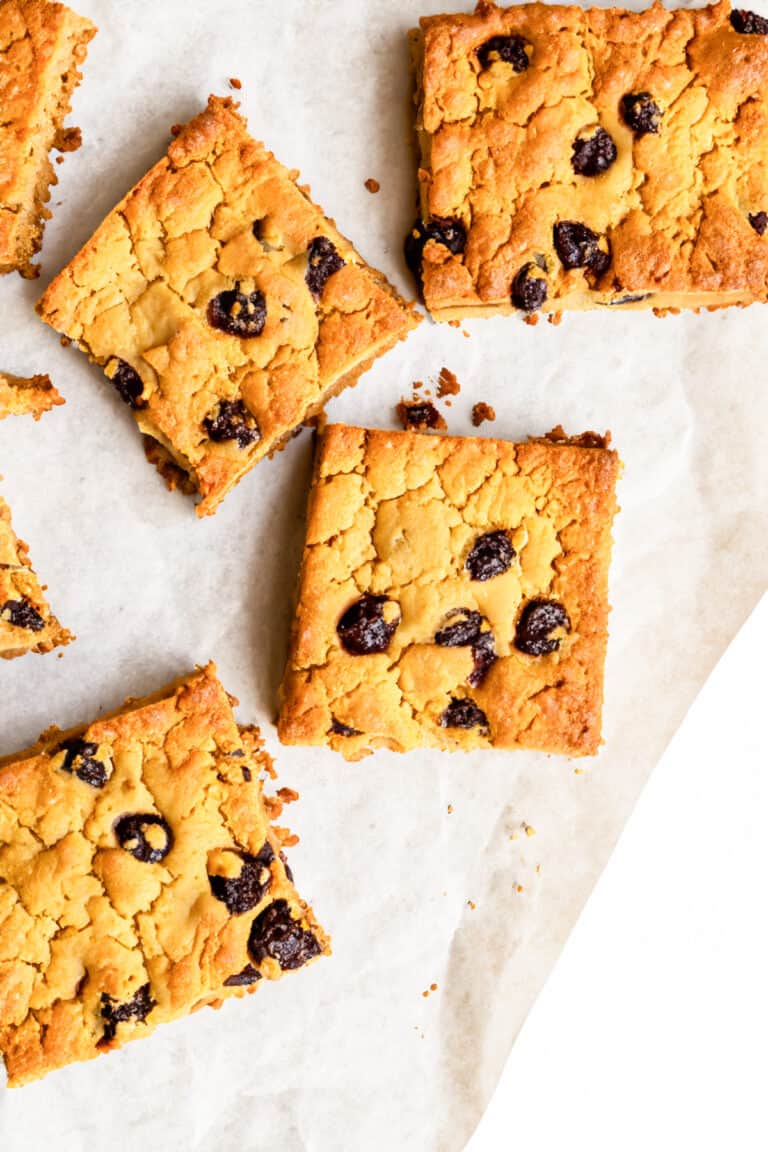 These Oatmeal Raisin Bars are best enjoyed warm, but they are equally delightful when cooled.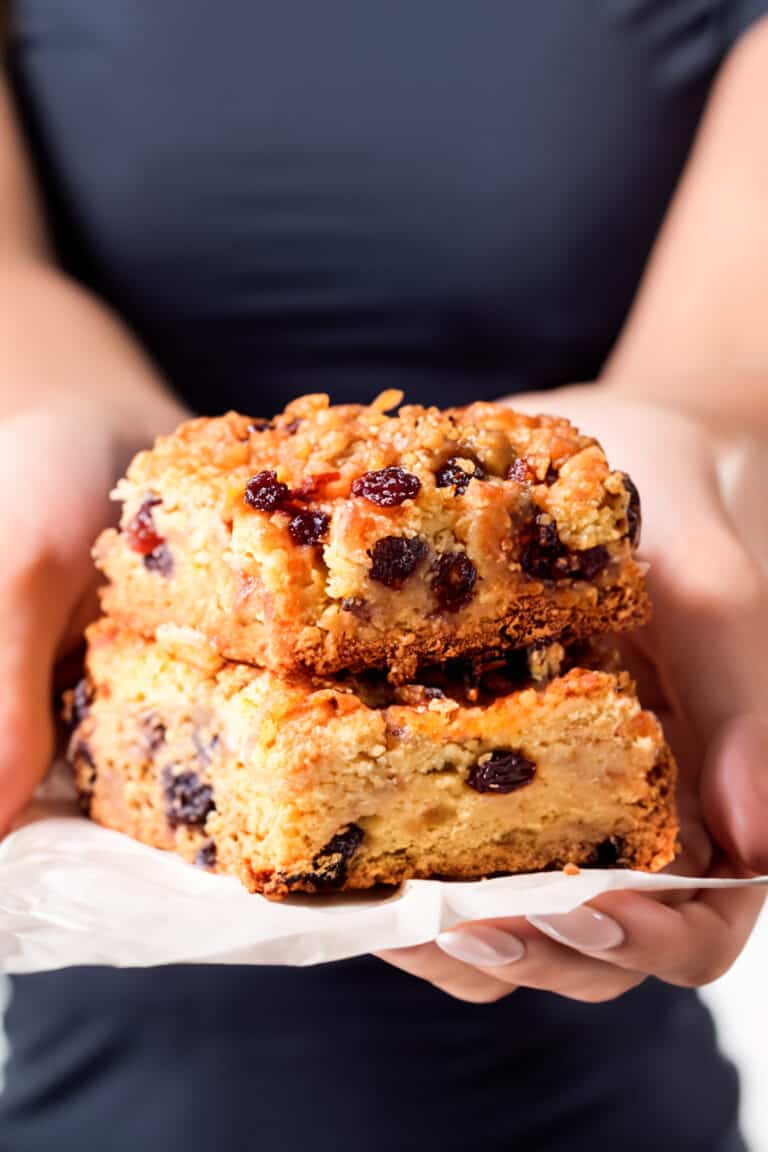 Erren's Top Tips
Read the recipe thoroughly: Familiarize yourself with the recipe and its instructions before you begin. This will help you understand the process and avoid any surprises along the way.
Use accurate measurements: Baking is a science, so measuring the ingredients accurately is crucial. Level off the flour with a straight edge, and use measuring cups and spoons for precise amounts.
Soften the butter properly: Softened butter should be at room temperature for easy creaming with the sugars. Take the butter out of the refrigerator beforehand, but avoid microwaving it, as it may melt unevenly.
Cream the butter and sugars well: Creaming the softened ones until fluffy and well combined helps create a light and tender texture in the bars. Beat them together until the mixture becomes light and pale.
Gradually add the dry ingredients: When incorporating the dry ingredients, such as flour, salt, baking powder, and baking soda, into the butter mixture, do so gradually. This ensures even distribution and prevents overmixing.
Mix the dough gently: Once you've added the dry ingredients, mix the dough just until combined. Overmixing can result in tough bars, so stop mixing as soon as the ingredients are fully incorporated.
Incorporate oats and raisins by hand: When adding the rolled oats and raisins, switch to a spatula or wooden spoon and fold them into the dough by hand. This helps prevent overmixing and ensures the raisins are evenly distributed.
Preheat the oven properly: Make sure to preheat the oven to the specified temperature before baking the bars. This ensures they bake evenly and achieve the desired texture.
Check for doneness: Give the pan a gentle shake after the recommended baking time. If the center of the bars still jiggles, continue baking and check every few minutes until there is no longer any movement. This helps avoid underbaking.
Let the bars cool before cutting: Allow them to cool in the pan for about 10 minutes before cutting them into squares or rectangles. This allows them to set and makes slicing easier.
FAQs
Can I use instant or quick-cooking oats instead of rolled oats?
No, instant or quick-cooking oats have a different texture and will not provide the desired results. Stick to traditional rolled oats for the best outcome.
Can I substitute the raisins with other dried fruits?
Absolutely! Feel free to experiment with dried cranberries, chopped dates, or even currants for different flavor variations.
Can I use margarine instead of butter?
While butter offers the best flavor and texture, you can use margarine as a substitute. Keep in mind that the taste and consistency may be slightly different.
Storing and Freezing Instructions ❄
At Room Temperature: These cookie bars will keep in an airtight container at room temperature for up to 3 days.
In The Fridge: Keep in the refrigerator for up to 5 days in an airtight container.
In The Freezer: These cookie bars are perfect for freezing, wrapped in plastic wrap, and kept in a freezer-safe container in the freezer for up to 3 months.
Stay Updated
Receive new recipes & dinner ideas straight to your inbox!
Let's Make Oatmeal Raisin Bars
Crisp on the outside and soft and chewy in the center, these rich and buttery Oatmeal Cookie Bars are flavored with warm spices and dotted with sweet juicy raisins.
Prep15 minutes
Cook30 minutes
Total45 minutes
Ingredients
2½ cups all-purpose/plain flour
½ teaspoon salt
1 teaspoon baking powder
1 teaspoon baking soda/bicarbonate of soda
1⅓ cups butter softened
1 cup packed light-brown sugar
½ cup packed dark brown sugar
½ cup granulated sugar
2 large eggs at room temperature
1½ teaspoons vanilla extract
1 teaspoon cinnamon
¼ teaspoon nutmeg
2 cups rolled oats
1 cup raisins
Instructions
Preheat the oven to 375 degrees F/190C.

Grease and flour an 9×13 inch baking pan

Sift the flour, salt, baking soda, and baking powder together into a large mixing bowl.

In a large mixing bowl. Beat the butter, brown sugar, dark brown sugar, and granulated sugar in until fluffy.

Mix in the eggs one at a time, then add the vanilla, cinnamon, and nutmeg.

Mix in the flour mixture and mix until combined.

Stir in the oats by hand, followed by the raisins.

Spread dough evenly into the pan.

Spread the dough into the prepared pan and smooth the top. Bake for 30 minutes. After 30 minutes, give the pan a little shake. If it jiggles in the middle, put the pan back in and try again every 5 minutes until there is no longer any jiggle.

Remove from the oven and let cool 10 minutes before cutting.

Best served warm, but great cooled as well.
Tips + Notes
Number of Servings: This recipe yields approximately 24 bars.
Approximate Serving Size: Each bar is approximately 2×2 inches in size.
To ensure accurate measurements, level off the flour in the measuring cup with a straight edge.
Softening the butter at room temperature allows for easier creaming with the sugars.
Do not overmix the batter once the flour is added to avoid tough bars.
For extra flavor, lightly toast the rolled oats in a dry skillet before adding them to the batter.
To prevent the raisins from sinking to the bottom, toss them in a tablespoon of flour before incorporating them into the dough.
Nutrition Information:
Calories: 256 (13%)| Carbohydrates: 37g (12%)| Protein: 3g (6%)| Fat: 11g (17%)| Saturated Fat: 7g (44%)| Polyunsaturated Fat: 1g| Monounsaturated Fat: 3g| Trans Fat: 0.4g| Cholesterol: 41mg (14%)| Sodium: 187mg (8%)| Potassium: 132mg (4%)| Fiber: 1g (4%)| Sugar: 18g (20%)| Vitamin A: 335IU (7%)| Vitamin C: 0.3mg| Calcium: 32mg (3%)| Iron: 1mg (6%)
Erren's Kitchen is written and produced for informational intentions only. We are not certified nutritionists, and the nutritional information found on this site has not been assessed or authorized by a nutritionist or the FDA. The nutritional information found in our recipes is offered as an estimate and should not be considered a guarantee or fact. The estimated data is provided as a courtesy and calculated through a third-party online nutritional calculator, spoonacular API. Although we do our best to provide accurate nutritional information, these figures should be considered rough estimates. Many factors, such as brands or products purchased and the nutritional fluctuations that naturally occur in fresh produce, can alter the effectiveness of the nutritional information in any recipe. Furthermore, various online calculators provide different results depending on their particular algorithms and nutrition fact sources. To obtain the most precise nutritional information in a provided recipe, you should calculate the nutritional information with the exact ingredients you are using when preparing the recipe using your preferred nutrition calculator.
Update Notes: This recipe was originally posted in 2016, but was republished in 2023 with new photos, ingredient notes, and step-by-step instructions.