This delightful recipe for Cinnamon Raisin Oat Bars makes an oatmeal cookie bar that's crisp on the outside with a buttery soft center.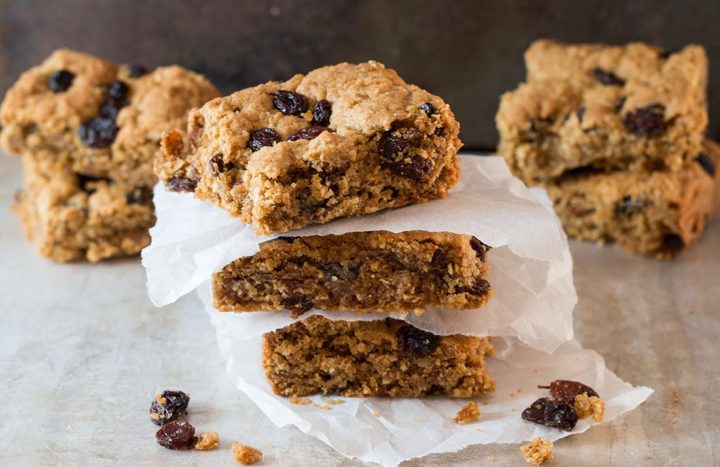 Best served warm, these Cinnamon Raisin Oat Bars are an amazing treat for dessert or even just a snack.
I made these for the first time over Christmas. Busy with the holidays, I never got a chance to take photos before they were gone (and boy, did they go fast). I usually make the more usual Chocolate Chip Oatmeal Cookie Bars, but these proved to be a huge hit with my husbands' family, so I decided to make them again to share with all of you.
My hairdresser, Ryan comes to my house to cut my hair. He arrived yesterday when these just came out of the oven.
The house was full of the scent of the buttery cinnamon. It's rare that leaves an appointment and doesn't get a treat to take with him when he leaves so he noticed them right away and was quite pleased when I told him he could take some home.
It was still warm when I cut it to wrap for him before walking him out. When I went back to the kitchen there was a small piece that had broken off. I popped it in my mouth and actually said (out loud alone in my kitchen), 'Holy — That's good!'
When I made them at Christmas, I never tried them warm, and let me tell you – they were even better than before!
A little while later, Ryan texted me saying: 'OMG —ing delicious! Dangerously delicious! I may text you later (to come back for more) unless my guilt kicks in and says no!' He too had tried them warm and he too swore in his reaction.
I think if a recipe is so fantastic, it makes you swear (in a positive way) when you try it – it's a pretty good indication that it's a winner! My advice – even though they are great cooled – try them warm!
★ Did you make this recipe? Please give it a star rating below!
Stay Updated
Receive new recipes & dinner ideas straight to your inbox!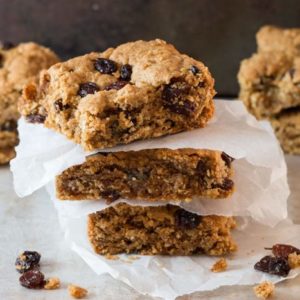 Let's Make Cinnamon Raisin Oat Bars
This Cinnamon Raisin Oat Bars recipe makes a delicious, sweet treat or dessert. Filled with plump raisins, cinnamon, and buttery richness, this simple recipe will become a family favorite!
Prep15 minutes
Cook30 minutes
Total45 minutes
Ingredients
2½ cups of all-purpose/plain flour
½ teaspoon of salt
1 teaspoon of baking powder
1 teaspoon of baking soda/bicarbonate of soda
1⅓ cups of butter softened
1 cup of packed light-brown sugar
½ cup of packed dark brown sugar
½ cup of granulated sugar
2 large eggs at room temperature
1½ teaspoons of vanilla extract
1 teaspoon of cinnamon
¼ teaspoon of nutmeg
2 cups of rolled oats
1 cup of raisins
Instructions
Preheat the oven to 375 degrees F/190C.

Grease and flour an 8 x 12 baking pan

Sift the flour, salt, baking soda, and baking powder together into a large mixing bowl.

In a large mixing bowl. Beat the butter, brown sugar, dark brown sugar, and granulated sugar in until fluffy.

Mix in the eggs one at a time, then add the vanilla, cinnamon, and nutmeg.

Mix in the flour mixture and mix until combined.

Stir in the oats by hand, followed by the raisins.

Spread dough evenly into the pan.

Spread the dough into the prepared pan and smooth the top. Bake for 30 minutes. After 30 minutes, give the pan a little shake. If it jiggles in the middle, put the pan back in and try again every 5 minutes until there is no longer any jiggle.

Remove from the oven and let cool 10 minutes before cutting.

Best served warm, but great cooled as well.
Nutrition Information:
Calories: 341kcal (17%)| Carbohydrates: 49g (16%)| Protein: 3g (6%)| Fat: 14g (22%)| Saturated Fat: 8g (50%)| Cholesterol: 54mg (18%)| Sodium: 260mg (11%)| Potassium: 175mg (5%)| Fiber: 1g (4%)| Sugar: 23g (26%)| Vitamin A: 445IU (9%)| Vitamin C: 0.4mg| Calcium: 42mg (4%)| Iron: 1.6mg (9%)