This Quick and Easy Corn & Tuna Pasta Salad is a simple and delicious dish you can whip up in no time at all. A real winner!
This speedy pasta salad is perfect for lunch boxes, picnics, cookouts, or as a midday snack.
I am crazy about pasta salad, especially when the weather gets warmer, which means I'm always trying to come up with new and different ways to make it.
One of my most popular recipes on this site is my Bacon & Green Onion Pasta Salad. I think what people like most about this recipe is that it's made with common ingredients found in most kitchens, and you can just throw together a delicious summer side dish without having to run out for special ingredients.
Why This Recipe Works
It's ready in just 20 minutes from start to finish!
Pasta makes this a filling and hearty meal.
The addition of the corn adds a crunchy texture.
One hot and sunny day that just screamed barbecue I was scrambling around the house to find something to make a salad. I went through the pantry and fridge.
I found tuna, frozen corn, green onions, and pasta which it turns out was all I really needed. I threw it all together and was quite proud of how delicious it was! The best part is that they aren't ingredients I'd normally put together, but I am so glad I did. It's so good I just had to share it with you!
How to Make Quick & Easy Corn & Tuna Pasta Salad
Add the tuna, pasta, corn, and green onions in a bowl.
Whisk together the mayonnaise, vinegar, salt & pepper.
Pour dressing over the pasta and corn mixture.
Refrigerate
Serve and Enjoy!
Recipe Variations
Swap in canned chicken for the tuna.
Use freshly cooked corn in place of frozen.
For a lower fat option, use low-fat mayonnaise.
Storing Instructions ❄
To prevent rapidly growing bacteria from forming, Food shouldn't be unrefrigerated for more than 2 hours or limit the time to one hour if the outdoor temperature is higher than 90°
Refrigerate the pasta salad for up to three days in an airtight container.
Stay Updated
Receive new recipes & dinner ideas straight to your inbox!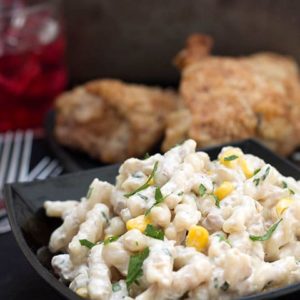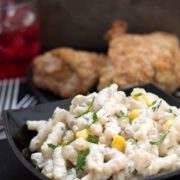 Let's Make Quick and Easy Corn & Tuna Pasta Salad
This wonderful pasta salad is made from store cupboard ingredients, delicious and easy.
Prep10 minutes
Cook10 minutes
Total20 minutes
Ingredients
1 Can Tuna drained & broken up, of your choice
2 cups pasta of your choice cooked, rinsed, and drained
3 green/spring onions finely sliced into rounds
1 cup frozen corn thawed
2 tablespoons red or white wine vinegar
½ cup mayonnaise plus more to taste
½ teaspoon salt plus more to taste
Freshly ground black pepper
Instructions
In a large bowl combine the tuna, pasta, corn and green onions. In a small bowl, whisk together the mayonnaise, vinegar, salt & pepper.

Pour the dressing over the salad and stir to combine. Season with salt and pepper to taste.

Store covered in the refrigerator until ready to serve can be stored for up to 3 days.
Nutrition Information:
Calories: 430kcal (22%)| Carbohydrates: 32g (11%)| Protein: 18g (36%)| Fat: 25g (38%)| Saturated Fat: 4g (25%)| Cholesterol: 19mg (6%)| Sodium: 624mg (27%)| Potassium: 300mg (9%)| Fiber: 2g (8%)| Sugar: 1g (1%)| Vitamin A: 140IU (3%)| Vitamin C: 4.7mg (6%)| Calcium: 18mg (2%)| Iron: 1.5mg (8%)
Update Notes: This post was originally published in June of 2015, but was republished with tips, FAQs, and variations in July of 2018.