Forget banana bread, use up over-ripe bananas with this impressive recipe for Chocolate Chip Banana Cake.
Just one look at this chocolate and banana treat is enough to know it's one dessert that won't be around for long!
I've had a lot of bananas in the house since I've been dieting.
My trainer told me to have a banana before a workout to give me a boost. He also told me to make a smoothie for breakfast. Here's the thing – I'm not a big eater.
Weird coming from a food blogger right?
I mean I eat (obviously), but when I get up in the morning I don't like to eat. I'm never hungry in the morning so I go right for the coffee and when I'm working, I don't like to stop to eat so my downfall is dinner.
In the evening, I eat a full plate of whatever I've cooked and that's it for the day. It's made me nuts wondering how I've gained so much weight when I hardly ever eat.
Everyone tells me the same thing – if you don't eat, you're body holds onto the fat to keep from starving – that's why you gain and not lose.
NOT FAIR! I have the eating habits of a skinny person, so I feel like I should be skinny!
I'll tell you what – this fact can't make me an eater during the day. I'm busy. I have only so much time to get things done when my son is at school before I clock in as a mom. Stopping to eat kinda makes me crazy.
Which brings me back to the bananas. I bet you were wondering if I would ever get back to the cake 🙂
When I buy the bananas, I always have the intention of grabbing one on the way to the gym, but if they get the least bit soft, I have to choke it down (hating the consistency) and who has time to make a smoothie anyway?
So my poor bananas go black which brings me to this amazing cake – diet or not, they shouldn't be wasted. So you (and my husband & son) get to enjoy my epic, banana/smoothie fail.
This cake is super simple to make. I do it all in the food processor (I do all my baking with a food processor), but you can use a mixer too. When I say all, I do it all until the bananas and chocolate ships get folded in at the end. If you like this recipe, you could make my Chocolate Chip Banana Muffins too!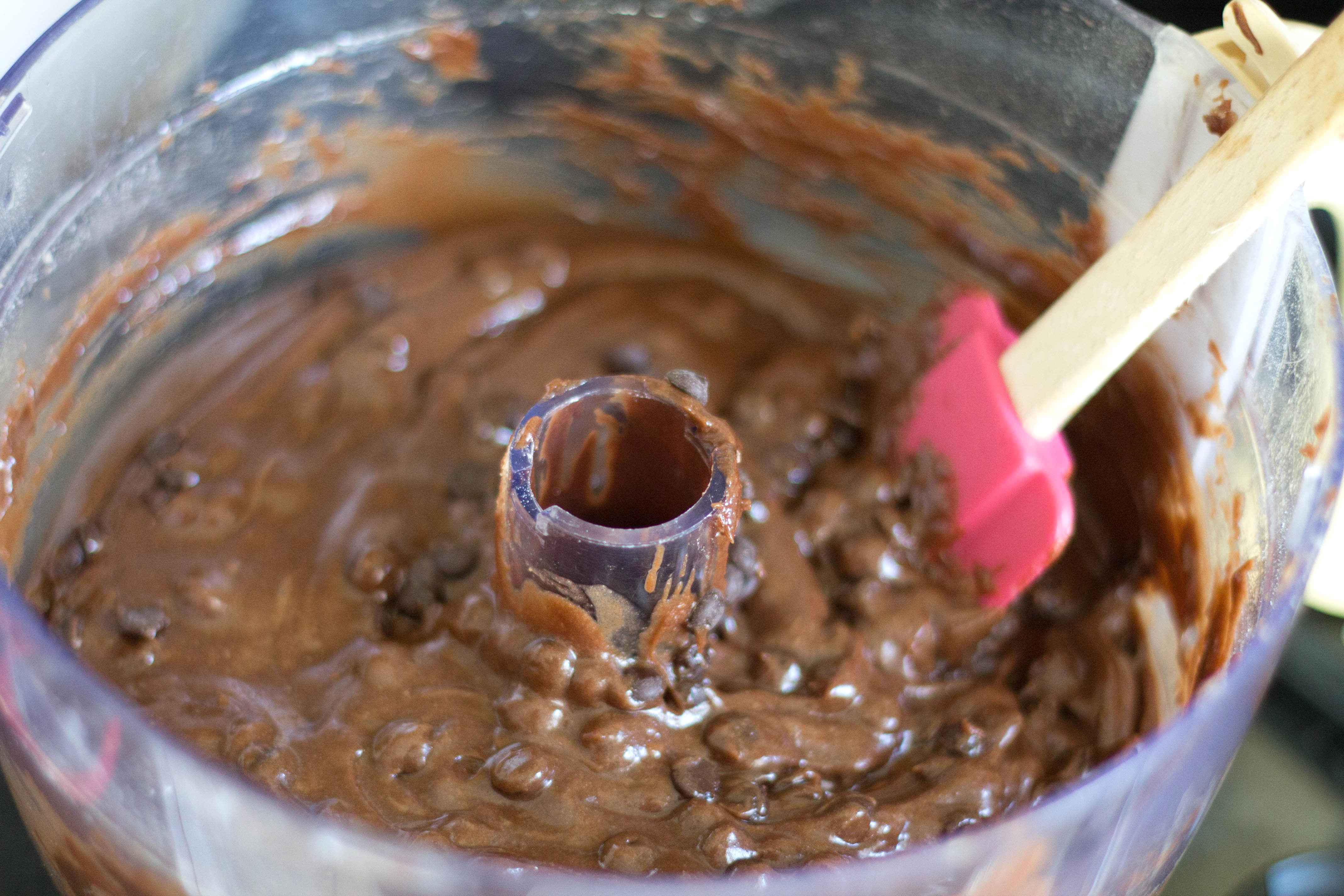 I made mine in a scalloped, springform pan, but since I got it as a gift and can't direct you where to buy it, you can also use a regular springform pan or a bundt pan which I've stated in the directions.
This cake turned out so good! It's super light, moist, packed full of banana and chocolate flavors!
I'll be honest, I planned to ice the cake with a ganache icing (you can get the recipe here), but I ran out of time so I topped it with chocolate chips while it cooled and it worked really well. I just don't recommend using milk chocolate or it might be super sweet. I used semisweet.
More Amazing Banana Recipes
Stay Updated
Receive new recipes & dinner ideas straight to your inbox!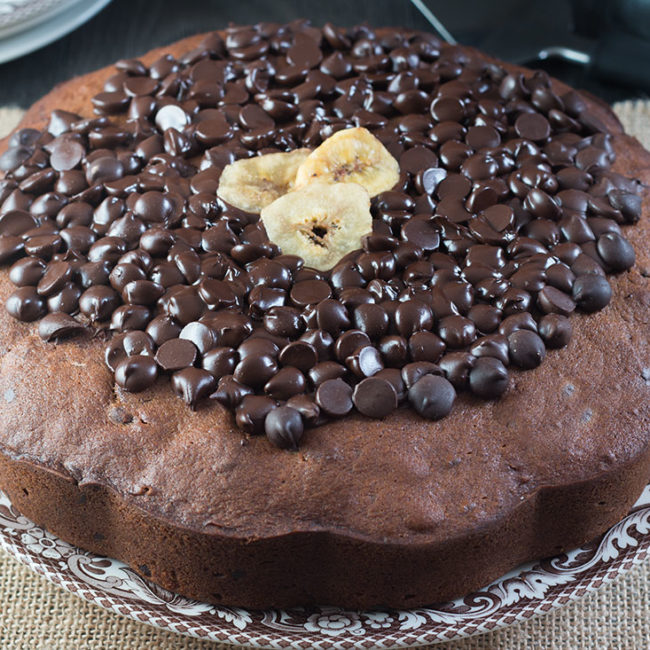 Let's Make Chocolate Banana Cake
Forget banana bread! Use up over-ripe bananas with this impressive recipe for Chocolate Chip Banana Cake. Try and you'll be hooked!
Prep15 minutes
Cook50 minutes
Total1 hour 5 minutes
Ingredients
3 ripe bananas mashed
1 teaspoon lemon juice
2½ cups flour
½ cup cocoa powder
1½ tsp baking soda
½ tsp salt
½ cup vegetable oil
1½ cups brown sugar packed
½ cup superfine sugar
3 eggs
2 teaspoons vanilla bean paste or vanilla extract
1½ cups buttermilk
½ cup semi-sweet chocolate chips
For the topping : (optional)
Instructions
Preheat oven to 375º F. Generously grease and dust a 10" Springform pan or a 10 cup Bundt pan with extra cocoa powder.

In a medium bowl mix the mashed banana with lemon juice. Set aside.

In another medium bowl, mix flour, cocoa, baking soda and salt. Set aside.

In a large bowl beat oil, brown sugar, and caster sugar until light and fluffy. Beat in eggs, one at a time.

Mix in the vanilla.

Mix in the flour mixture and the buttermilk one at a time.

Fold in bananas and chocolate chips.

Bake 50-55 minutes. Cool in pan for 10 minutes, then turn out onto cake a cake plate.

If using, while still warm, top with chocolate chips and banana chips.
Tips + Notes
Top the cake off with a mixture of dark, milk and white chocolate chips to add extra flavor.
Add nuts, or even dates to the cake to give it some more texture.
Try serving this cake with some vanilla ice cream to make it the ultimate dessert.
Nutrition Information:
Calories: 468kcal (23%)| Carbohydrates: 73g (24%)| Protein: 7g (14%)| Fat: 17g (26%)| Saturated Fat: 11g (69%)| Cholesterol: 45mg (15%)| Sodium: 312mg (14%)| Potassium: 365mg (10%)| Fiber: 3g (13%)| Sugar: 46g (51%)| Vitamin A: 130IU (3%)| Vitamin C: 2.7mg (3%)| Calcium: 83mg (8%)| Iron: 3.1mg (17%)