This recipe for creamy Chicken & Asparagus is simple and delicious. The perfect dinner for special occasions or any day of the week!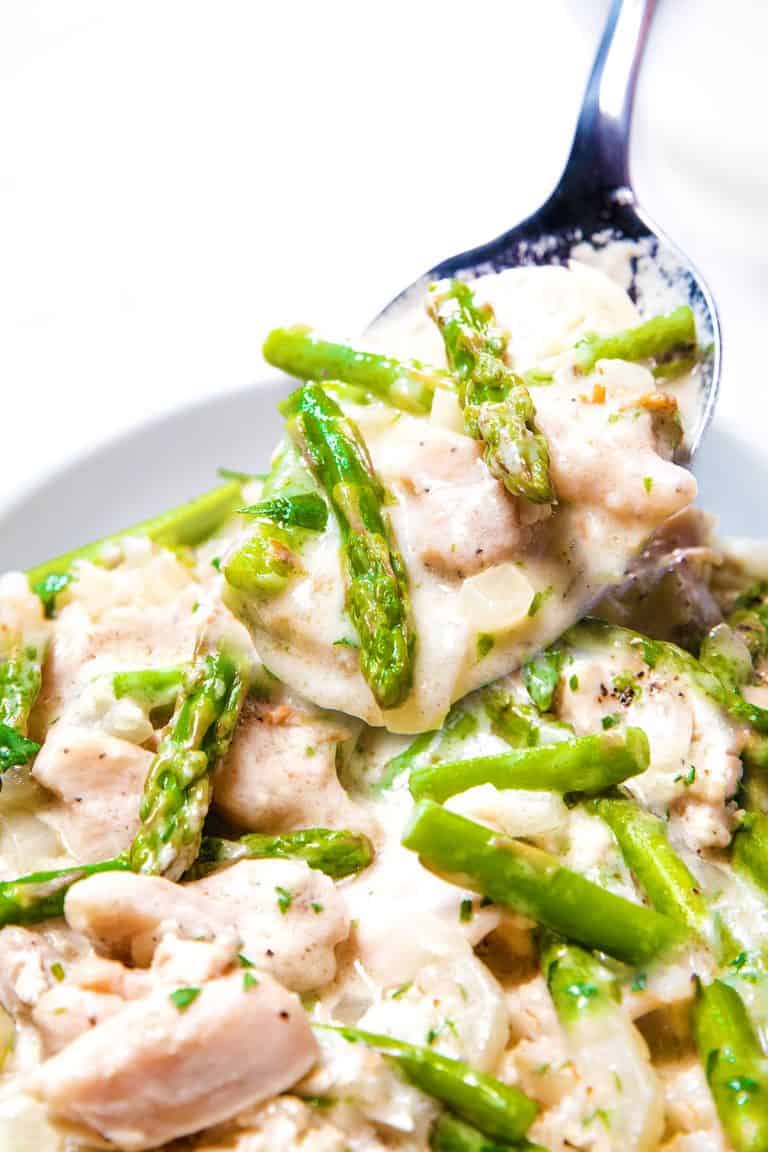 I love chicken dishes because they're always something everyone can agree on. Plus, it tastes great and it's so quick and easy to make.
Being on a Keto diet, I tend to eat a lot of green vegetables and cream sauces. In this recipe, the asparagus gets added at the end to keep it crisp and the silky cream sauce is just fantastic.
If you like the sounds of this dish why not try my Creamy Mushroom Chicken or Creamy Chicken & Bacon With Mushrooms. You will not be disappointed.
Why This Recipe Works
Crushed garlic flavors the dish without overpowering it.
The stock adds a savory element to the sauce and cuts the richness.
The cream in the sauce adds a silky texture to the dish.
Adding the asparagus stems and tips in steps keeps it crisp and stops it from overcooking.
The Benefits Of Asparagus
Asparagus is high in folic acid and a good source of fiber, thiamin, potassium, and vitamins A, B6, and C.
Asparagus Guide
Whether you're buying it in season or not, here's what to look for when you're buying fresh asparagus.

Choose Perfect Buds – The tips are the star of the show and have the best flavor, so be sure they're firm, compact, and deep green.
Look For Plump Firm Stalks that release juice when pricked with a fingernail.
Choose Vibrant Colors – Whether it's green, purple, or white, Make sure the color is strong and not faded.
For Even Cooking choose stalks that are similar in size and thickness.
Making It Keto Friendly
To make this recipe keto-friendly, just use all heavy or whipping cream instead of the stock and cut the flour from the recipe (you can also add a chicken stock cube to cut the richness and add a savory element without using stock which thins out the sauce). Cream with a high-fat content will thicken on its own as it cooks.
What Cream Is Best
As this recipe uses a roux (a flour and butter mixture) to thicken the sauce you can use any cream you like. If you prefer a rich sauce, go with heavy cream.
Making A Low Fat Version
If you're trying to be healthy or watching calories go with low-fat cream or fat-free half and half. You can also replace the butter with a low-fat margarine or butter spread.
How to Make Chicken & Asparagus
Trim the asparagus stalks & tips then set them aside separately.
Combine butter and flour in a small bowl.
Season and brown the chicken until golden.
Add onion and garlic, cook, until softened
Pour in the stock and simmer.
Add cream and flour mixture until it dissolves.
Add the asparagus and cook another minute.
Season and serve!
Ingredients for Asparagus chicken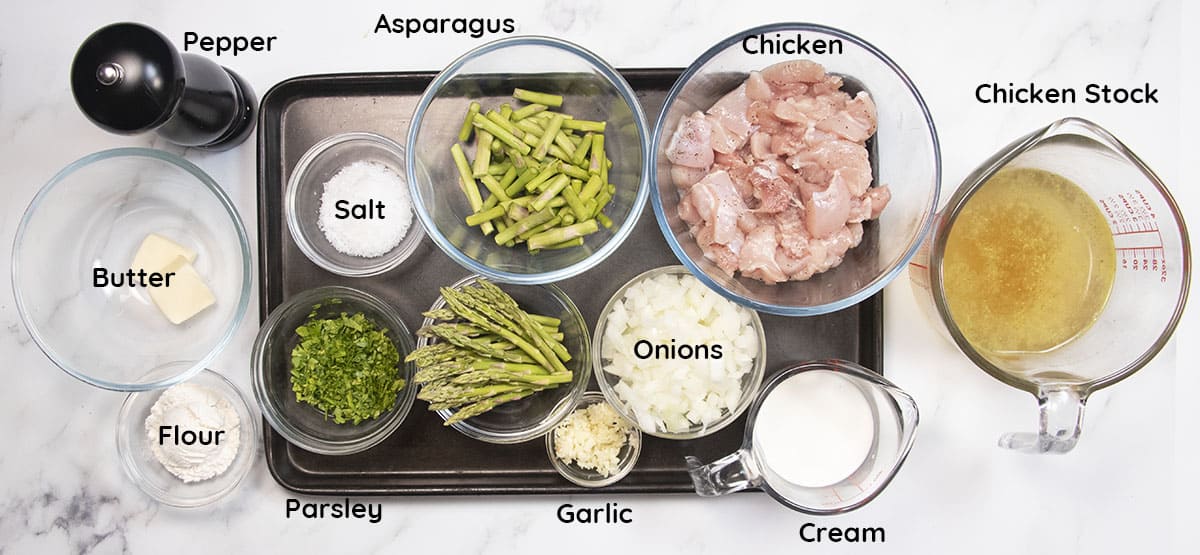 Step by Step Instructions
Combine butter and flour in a small bowl.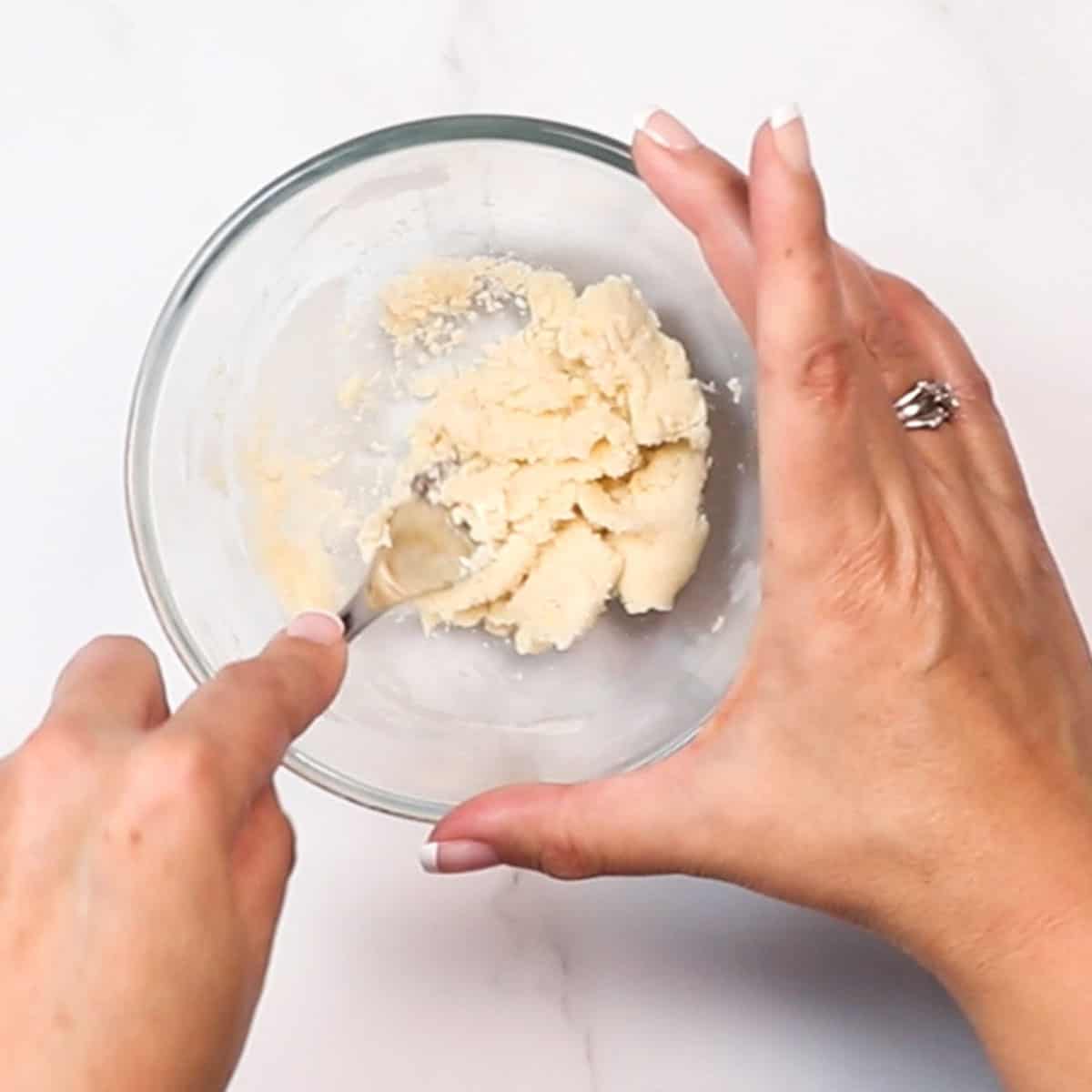 Season and fry the chicken until browned, set aside.
Add onion and garlic to the pan and cook until softened.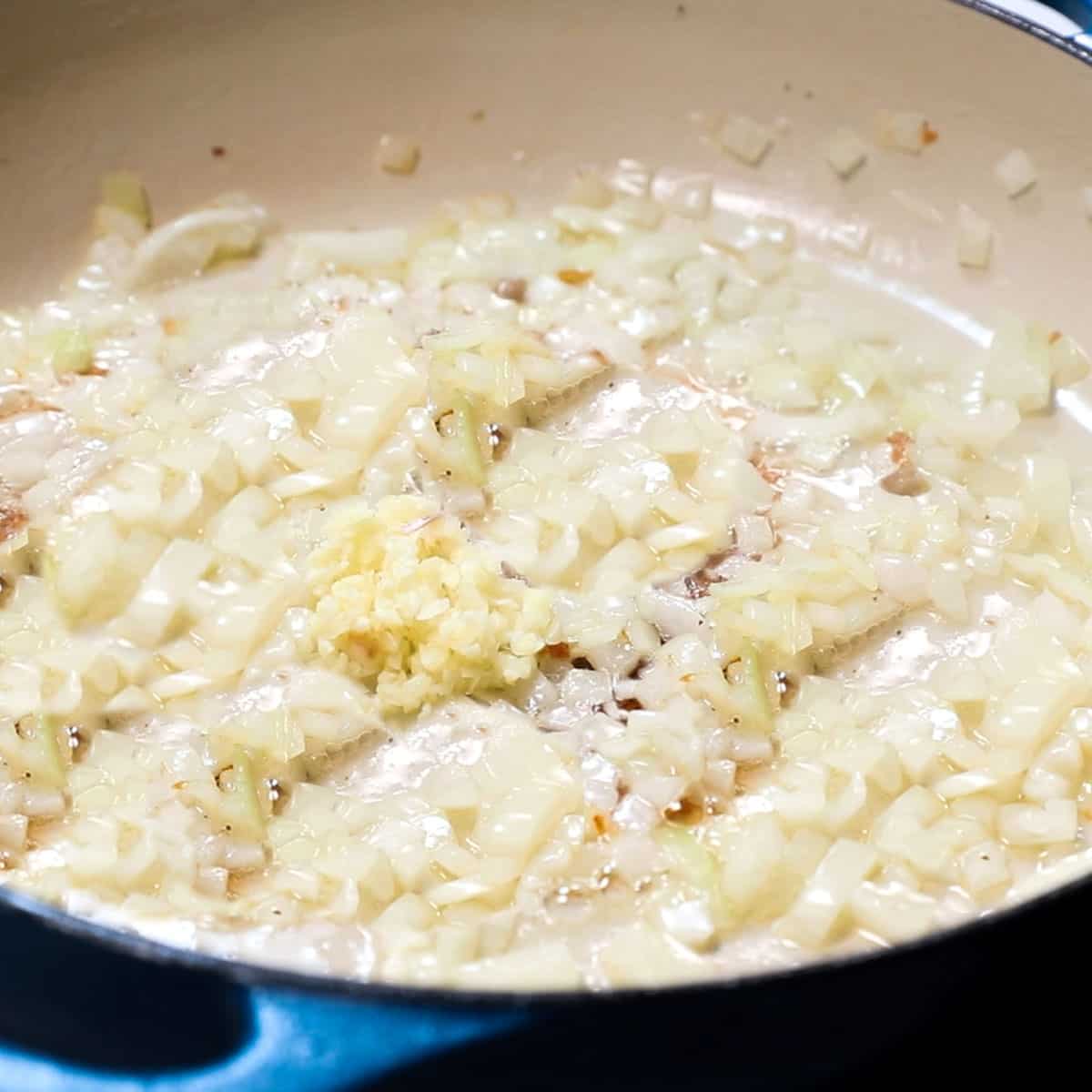 Pour in stock and simmer.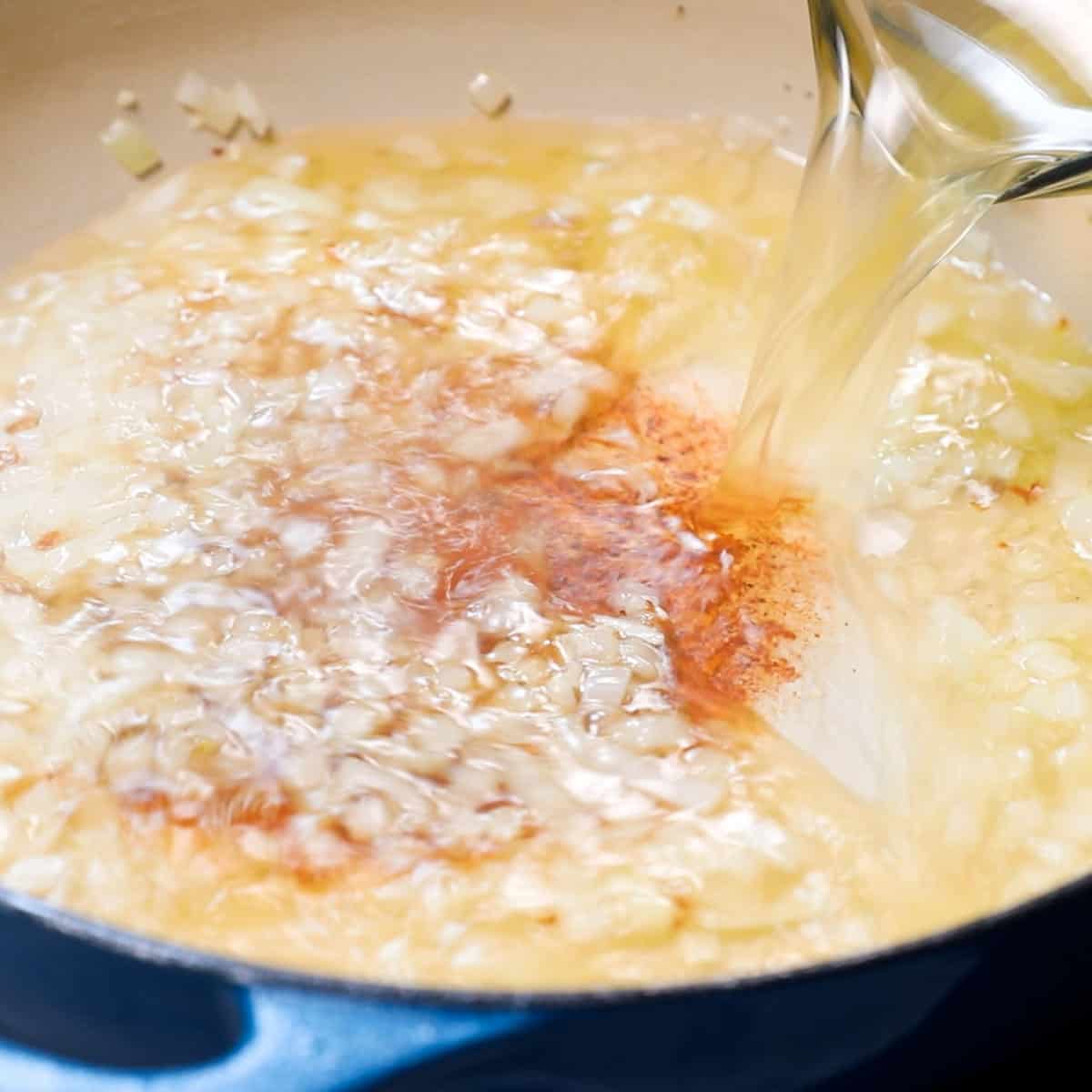 Add the cream and flour and butter mixture, stir until dissolved.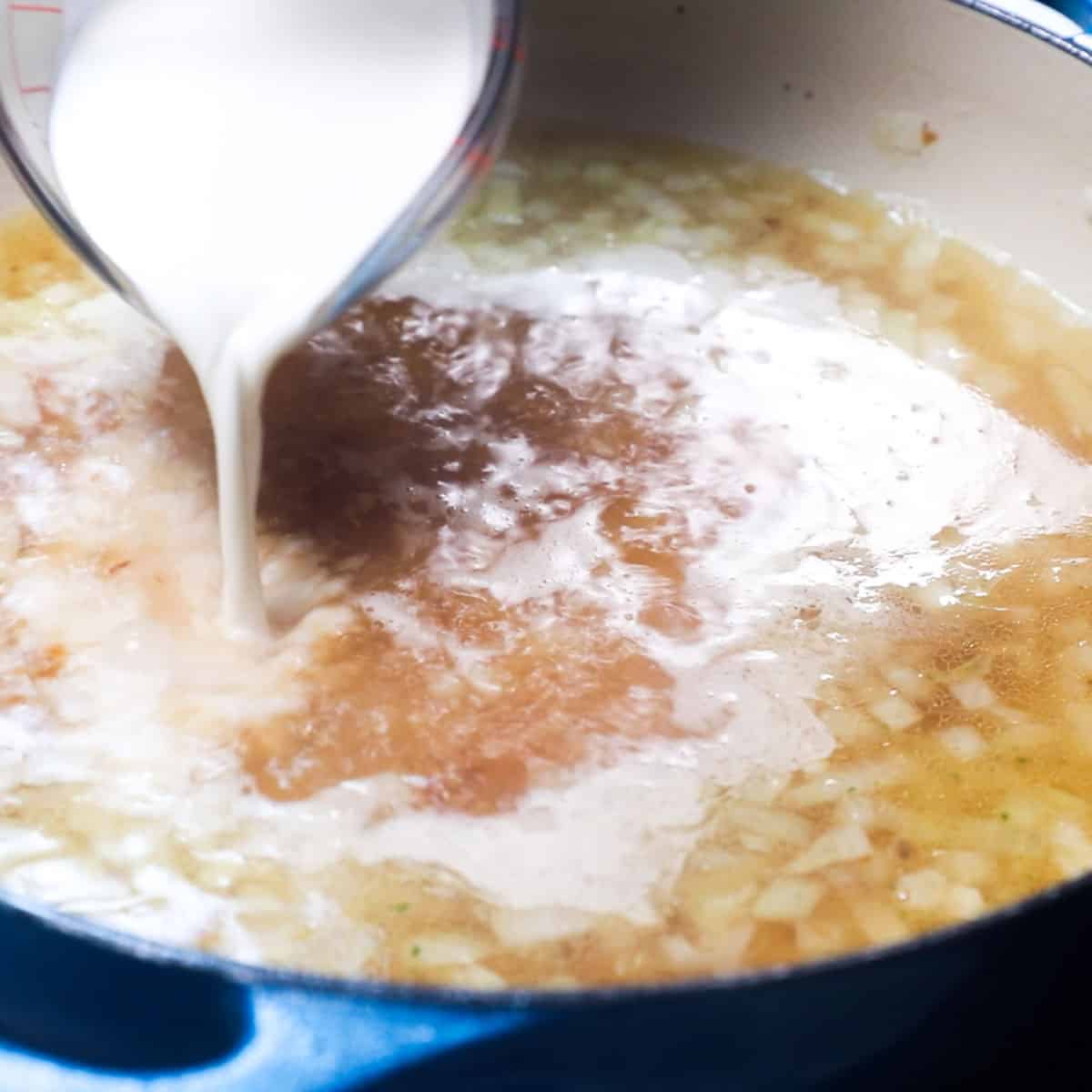 Add the chicken and asparagus stems.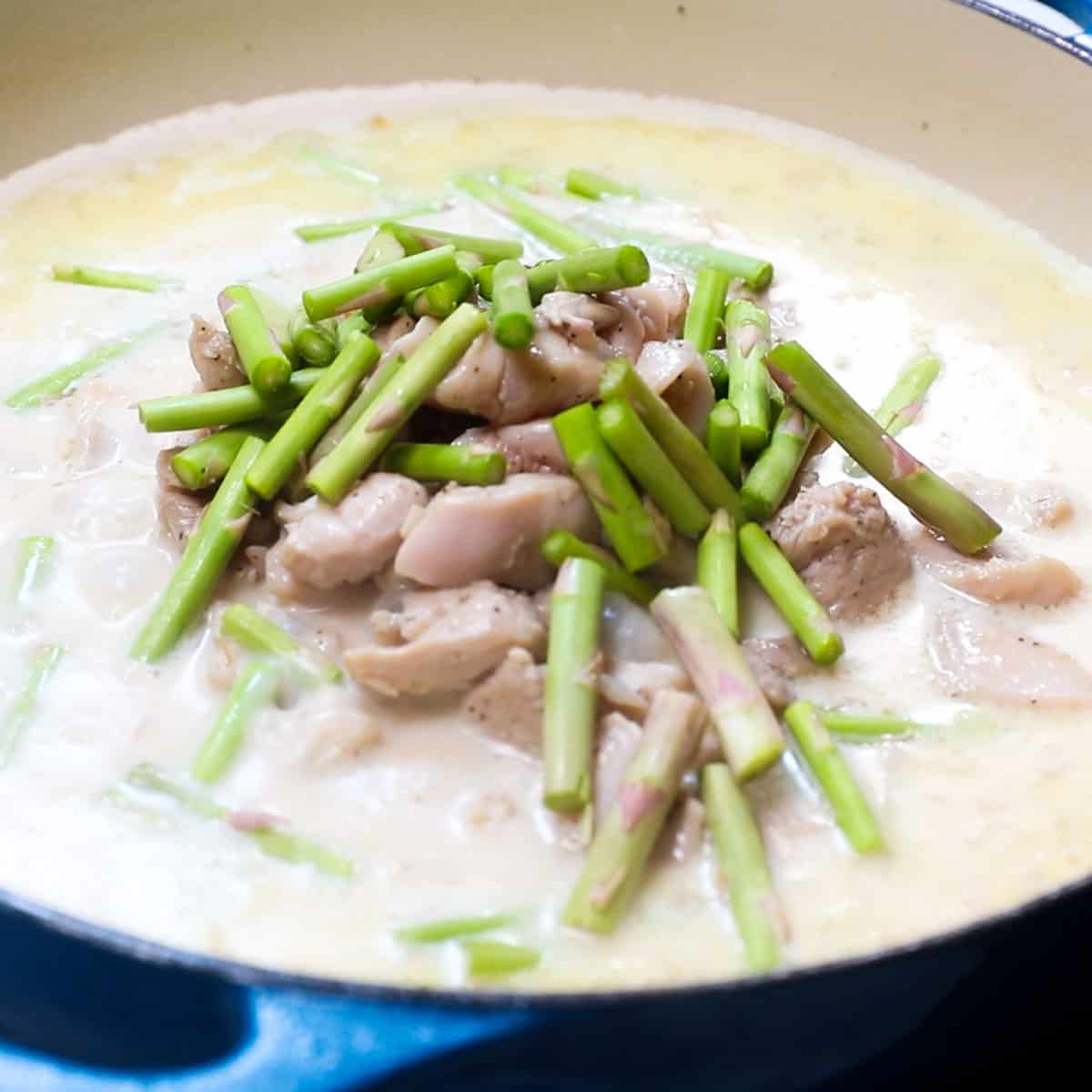 Add parsley and cook for two minutes.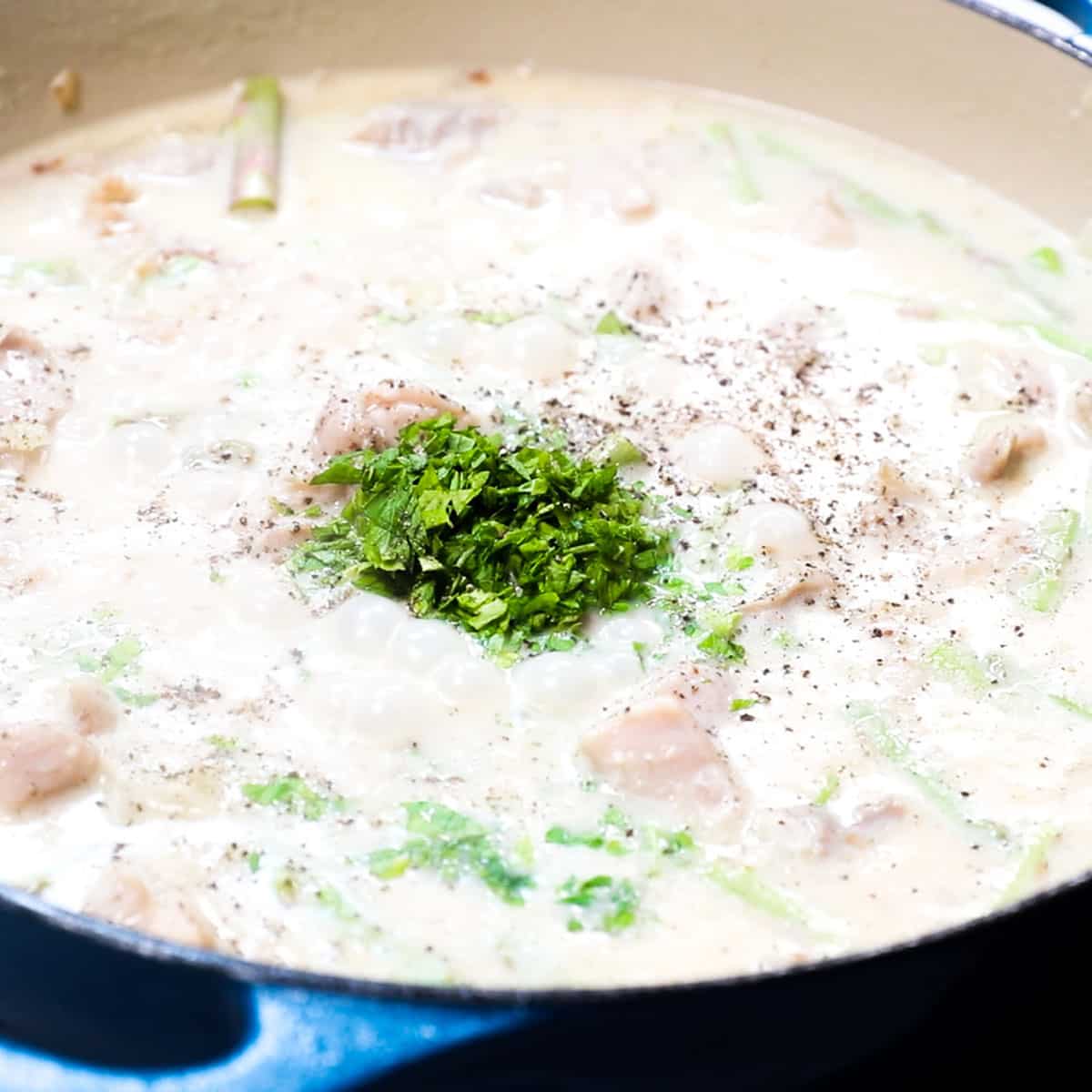 Add the asparagus and cook for another minute.
Thicker asparagus may need to cook longer so cooking times may vary. Test for tenderness before serving.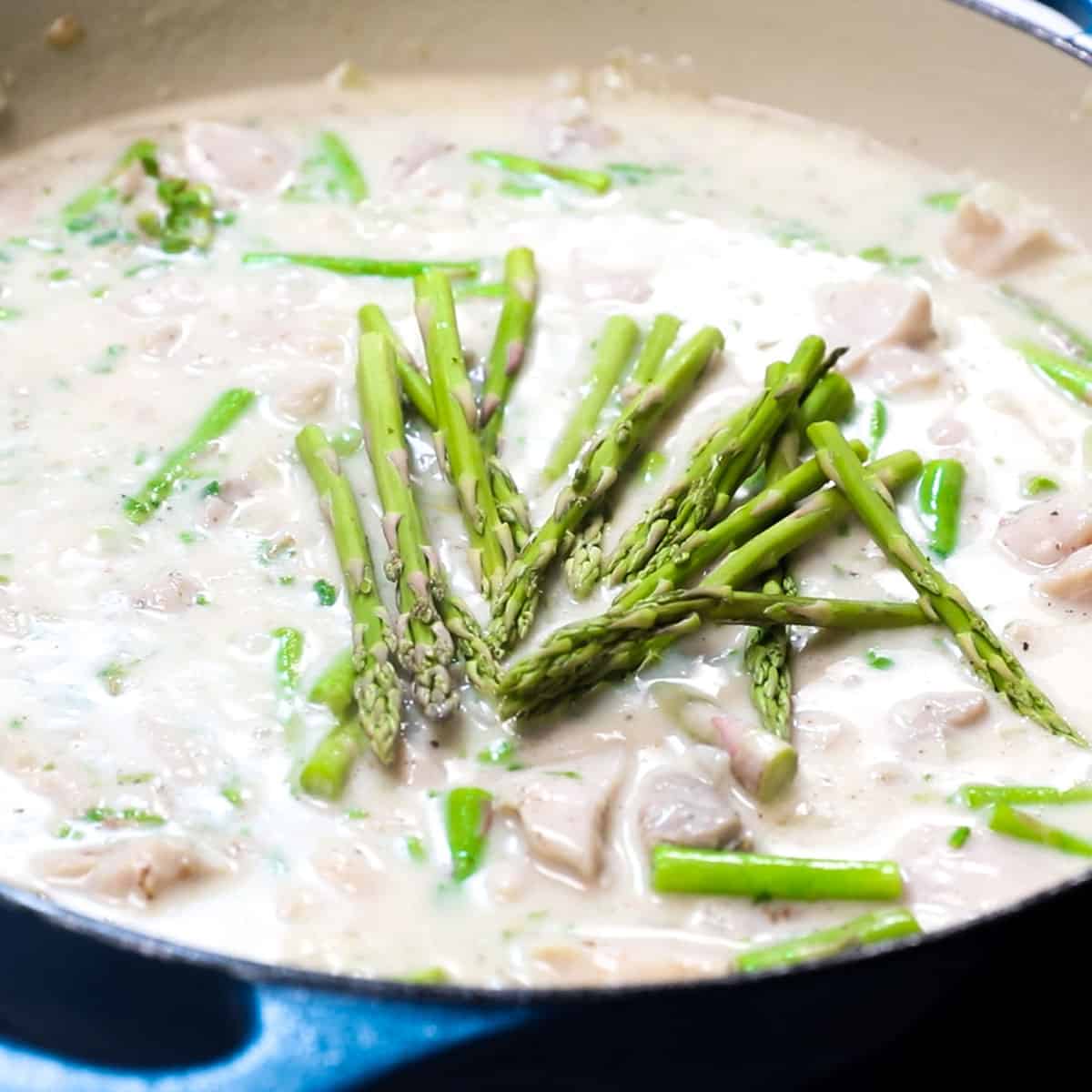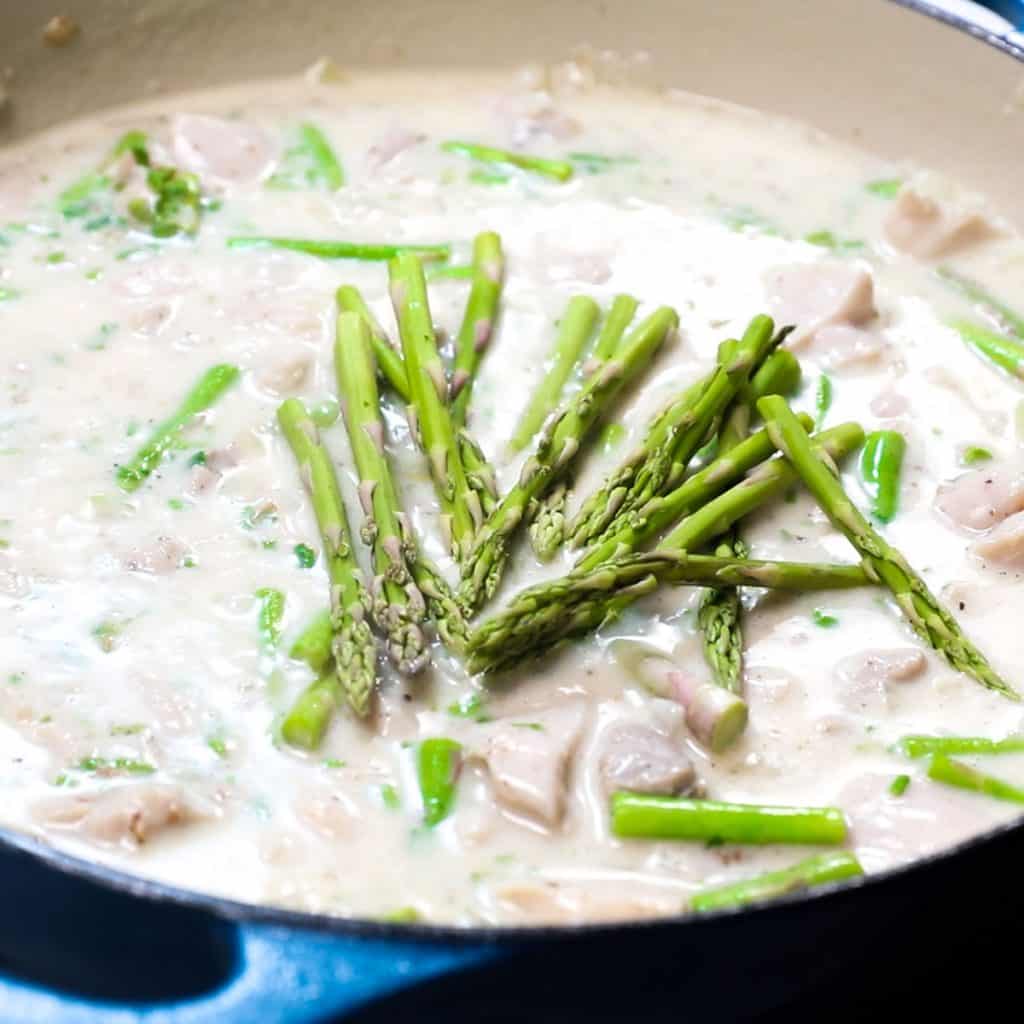 Season to taste, serve and enjoy!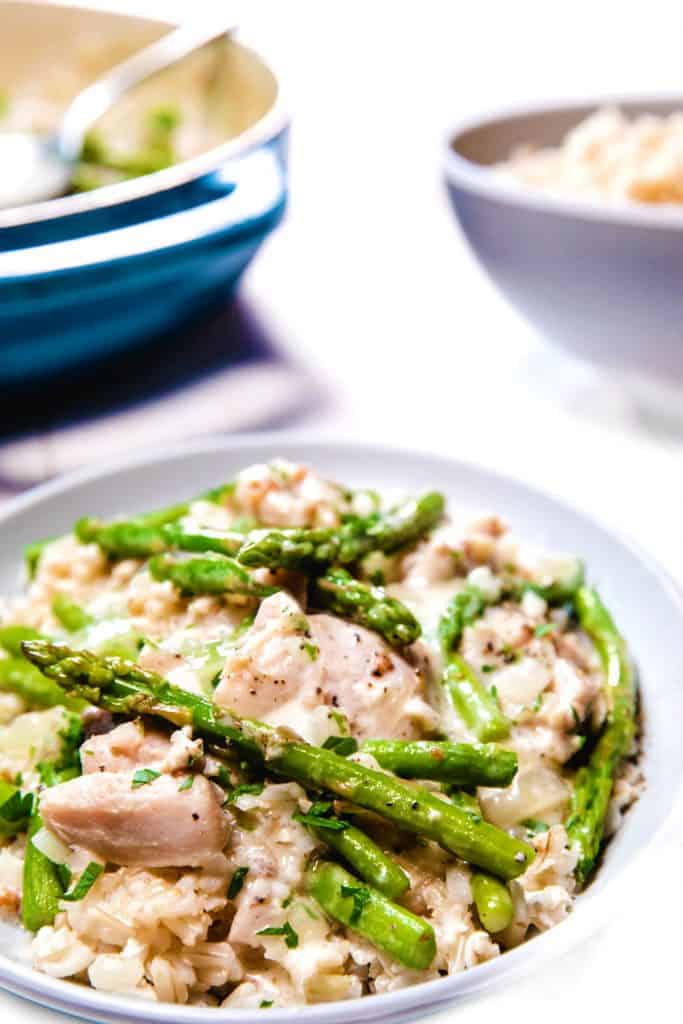 Make ahead and Freezing Instructions ❄
Refrigerate the cooked chicken and asparagus in an airtight container for up to three days. Reheat thoroughly before serving.
Freeze the dish for up to three months. When reheating stir the sauce frequently to avoid curdling.
Erren's top tips
Be sure to taste and season well before serving. There is nothing worse than a bland sauce.
Thicker asparagus may need to cook longer so cooking times may vary.
Hold the asparagus end to end and bend it until it breaks, it will snap at the right point so there will be no woody end. Doing it this way will ensure that you never cut off too much or too little. Your asparagus won't be uniform in size, but it will be tender.
Other Great Chicken Dishes
FAQs
Can you eat the entire asparagus?
You can eat the whole spear apart from the woody stem at the bottom. If you gently bend the asparagus so it bows out away from you it will snap in the right place, giving you the best part.
What is the healthiest way to eat asparagus?
The healthiest way to eat asparagus is steamed, however, you can also eat it raw. Remember any vegetable loses nutrients when boiled.
Why do you trim asparagus?
Whether you like your asparagus thick or thin it's always important to trim the pale ends off of each stalk, they tend to be woody and tough. If you bend each stalk until it snaps in half this is a good test to find the tender parts of the whole stick.
Stay Updated
Receive new recipes & dinner ideas straight to your inbox!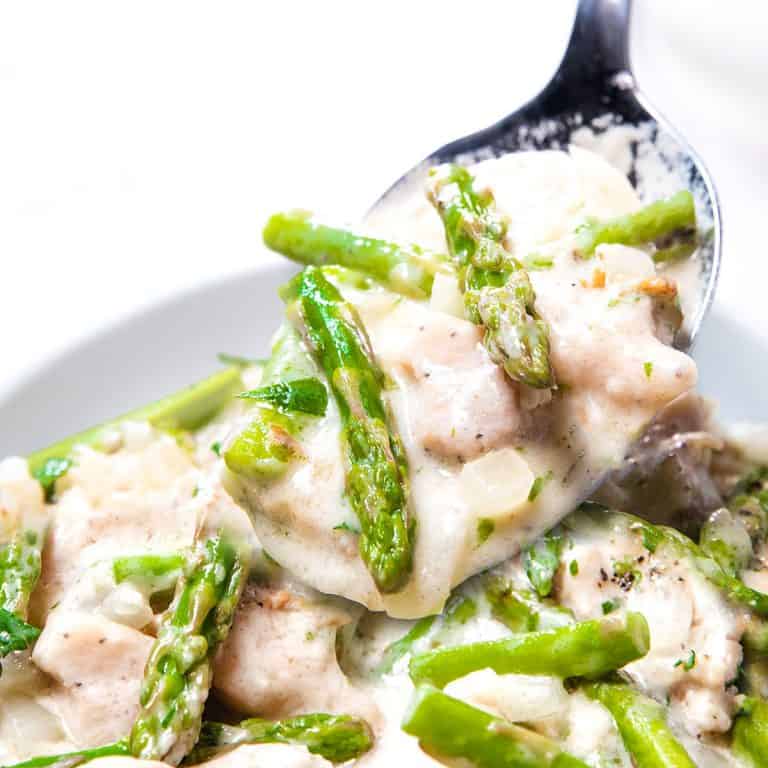 Let's Make Chicken and Asparagus
This delectable Chicken and Asparagus dish is smothered in a gorgeous garlicky silky sauce. So tasty no leftovers guaranteed.
Prep10 minutes
Cook20 minutes
Total30 minutes
Ingredients
2 tablespoons butter softened
2 tablespoons Flour
8 ounces asparagus trimmed
6 skinless chicken thighs cut into bite-size pieces
olive oil
1 large onion chopped
3 garlic cloves crushed
2 cups chicken stock
fresh parsley a good handful, chopped
½ cup heavy cream double cream, half and half, or whipping cream
salt and pepper to taste
Instructions
Remove the tips of the asparagus and set aside. Cut the stems into bite-size pieces and set aside.

Mix the butter and flour together in a small bowl and set aside.

Season the chicken with salt & black pepper. Heat the oil in a large non-stick frying pan. Gently fry the chicken until brown.

Add the onion and garlic and cook until soft (about 5 minutes).

Pour over the stock, and bring to a gentle simmer. Cook for 5 mins, then the cream and flour mixture. Mix until the flour mixture dissolves into the sauce. Add the asparagus stems and parsley and cook for 2 minutes.

Add the aspargus tips and cook another minute (Thicker asparagus may need to cook longer so cooking times may vary).

Taste for seasoning and season with salt & pepper as needed before serving. Serve on rice or with the side of your choice.
Nutrition Information:
Calories: 370 (19%)| Carbohydrates: 13g (4%)| Protein: 28g (56%)| Fat: 23g (35%)| Saturated Fat: 12g (75%)| Cholesterol: 167mg (56%)| Sodium: 336mg (15%)| Potassium: 589mg (17%)| Fiber: 2g (8%)| Sugar: 4g (4%)| Vitamin A: 1068IU (21%)| Vitamin C: 6mg (7%)| Calcium: 57mg (6%)| Iron: 3mg (17%)
Erren's Kitchen is written and produced for informational intentions only. We are not certified nutritionists, and the nutritional information found on this site has not been assessed or authorized by a nutritionist or the FDA. The nutritional information found in our recipes is offered as an estimate and should not be considered a guarantee or fact. The estimated data is provided as a courtesy and calculated through a third-party online nutritional calculator, spoonacular API. Although we do our best to provide accurate nutritional information, these figures should be considered rough estimates. Many factors, such as brands or products purchased and the nutritional fluctuations that naturally occur in fresh produce, can alter the effectiveness of the nutritional information in any recipe. Furthermore, various online calculators provide different results depending on their particular algorithms and nutrition fact sources. To obtain the most precise nutritional information in a provided recipe, you should calculate the nutritional information with the exact ingredients you are using when preparing the recipe using your preferred nutrition calculator.