Bay breeze cocktails are perfect for when you want something refreshing & tasty. The tropical flavors give the feeling of being on vacation.
Who doesn't love a delicious and refreshing cocktail? The perfect cocktail can transport you to a tropical island, even on the dreariest days. This vodka, cranberry, and pineapple juice cocktail is the perfect balance of sweet and tart and can be enjoyed any time of year.
Whether making these cocktails by the glass or by the pitcher to celebrate a special occasion, our Bay Breeze Cocktails (AKA Hawaiian Sea Breeze) are perfect for any occasion.
Making A Virgin Bay Breeze or Mocktail
To make these cocktails alcohol-free, instead of vodka, use lemonade or club soda to make the sparkling water version.
What Is A Bay Breeze Cocktail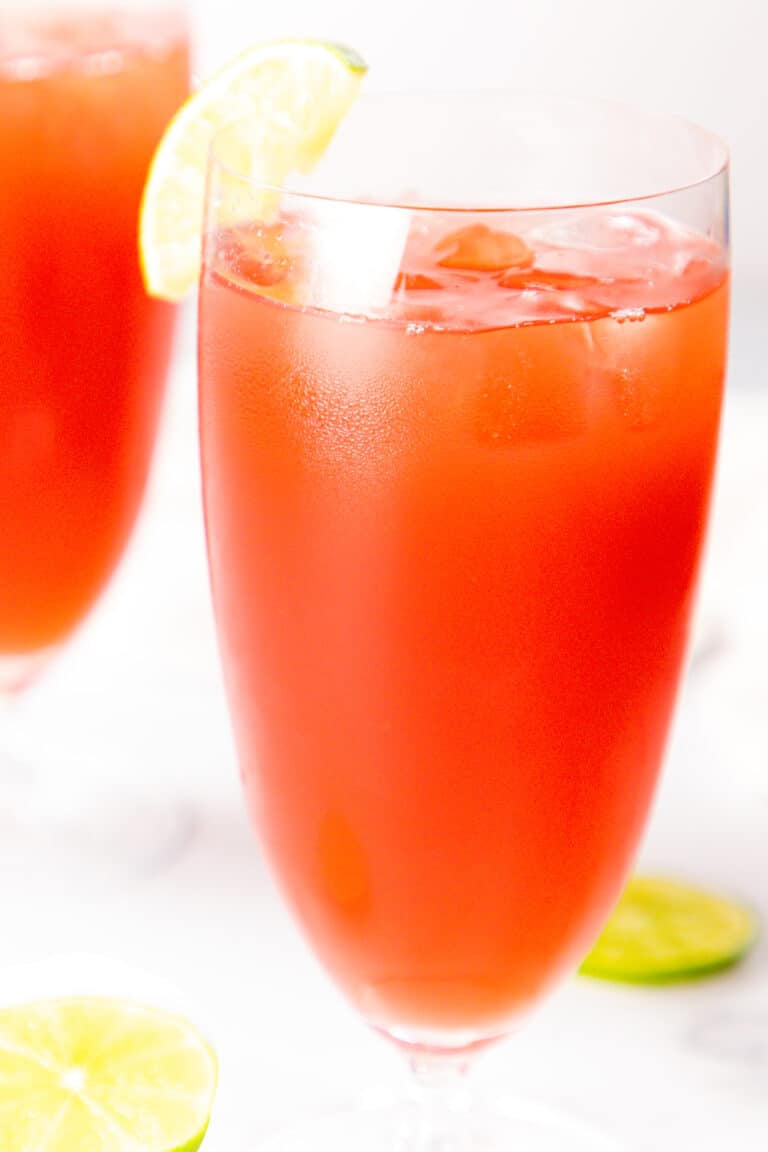 Similar to a Sea Breeze, The Bay Breeze (Also known as a Hawaiian Sea Breeze) is a variation of the Cape Cooder Cocktail (Vodka, Cranberry juice, and simple syrup), but instead of using simple syrup, pineapple juice is added to offer a tropical fruity flavor.
Ingredient Notes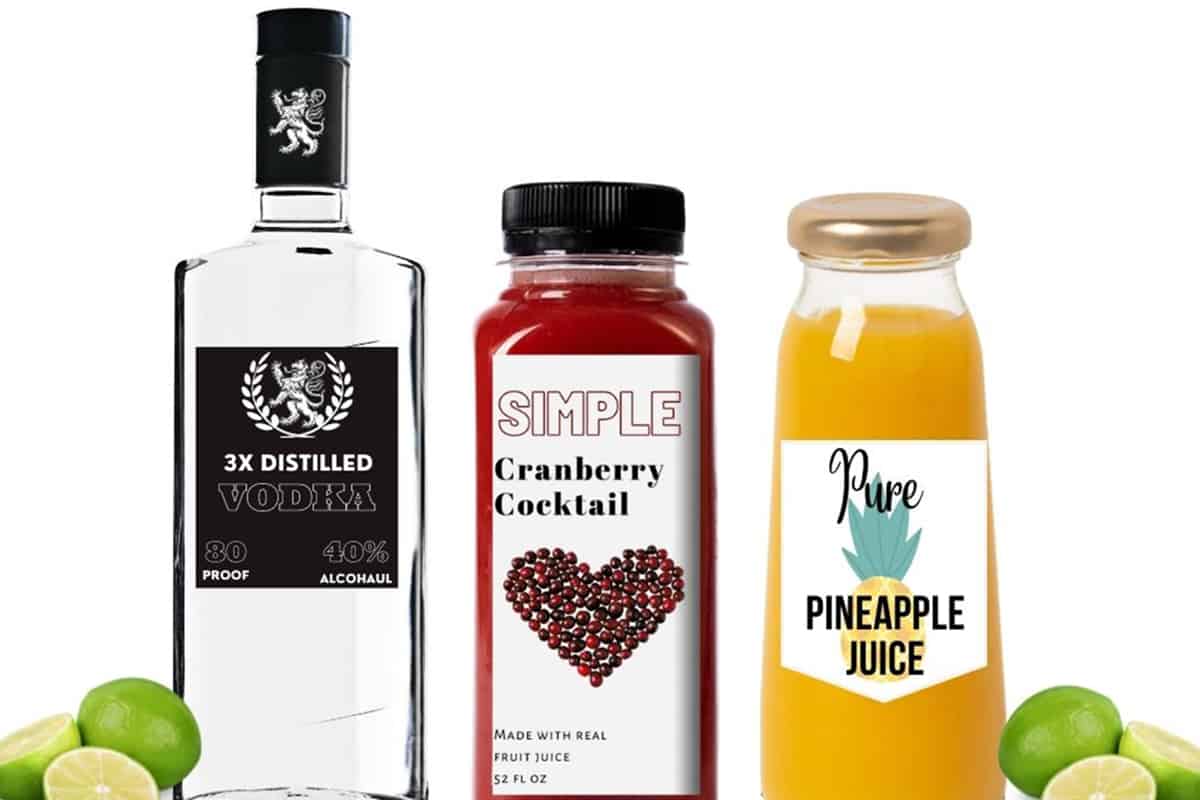 Vodka: We recommend using good-quality vodka for this cocktail. To make it a bit lighter, you can also use citrus vodka.
Cranberry Juice: This recipe can use cranberry juice or cranberry juice cocktail. Just remember that pure cranberry juice is bitter while the cocktail is mixed with other juices to balance the bitterness.
Pineapple Juice: We like to use 100% pineapple juice for this cocktail as opposed to a pineapple juice cocktail which is often loaded with sugar.
Limes: Bay Breeze Cocktails are traditionally garnished with lime. This is optional. You can use any garnish you like.
Step By Step Instructions
By The Glass
Fill a cocktail or highball glass (or any 8oz/236ml glass) with ice and add 1.5 ounces of vodka.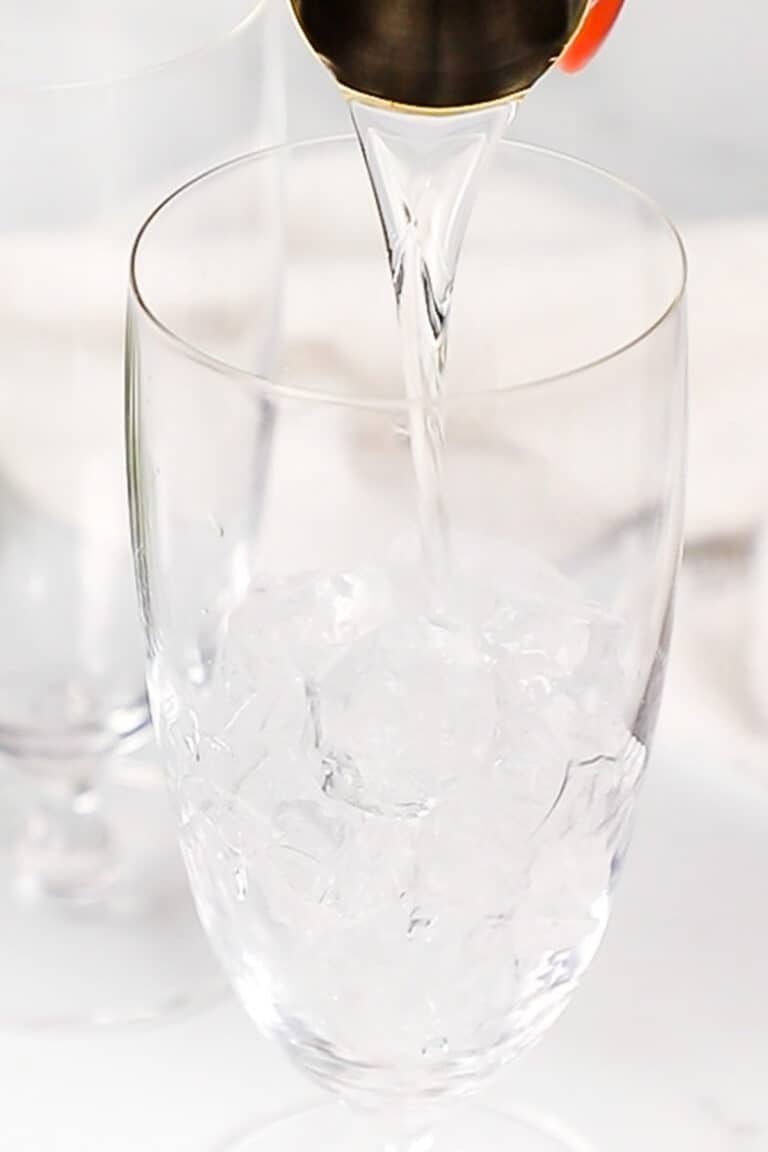 Followed by 3 oz of cranberry juice.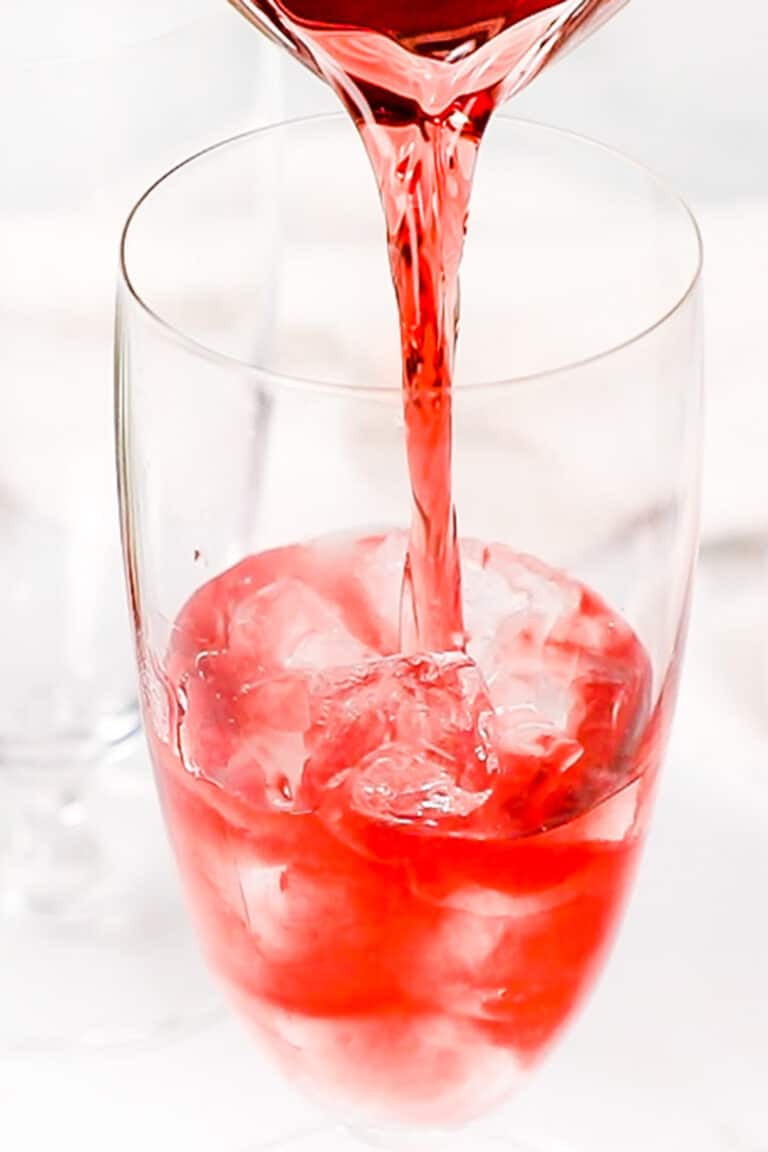 And 1.5 ounces of pineapple juice.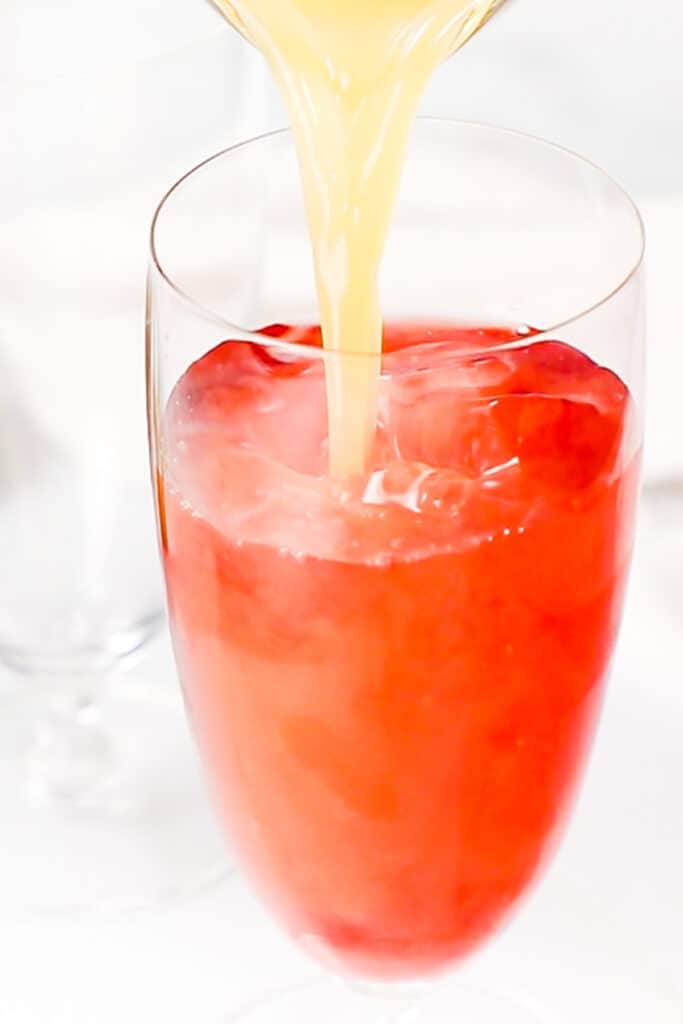 Then give it a quick stir.
Garnish the glass with a slice of lime for a tropical look.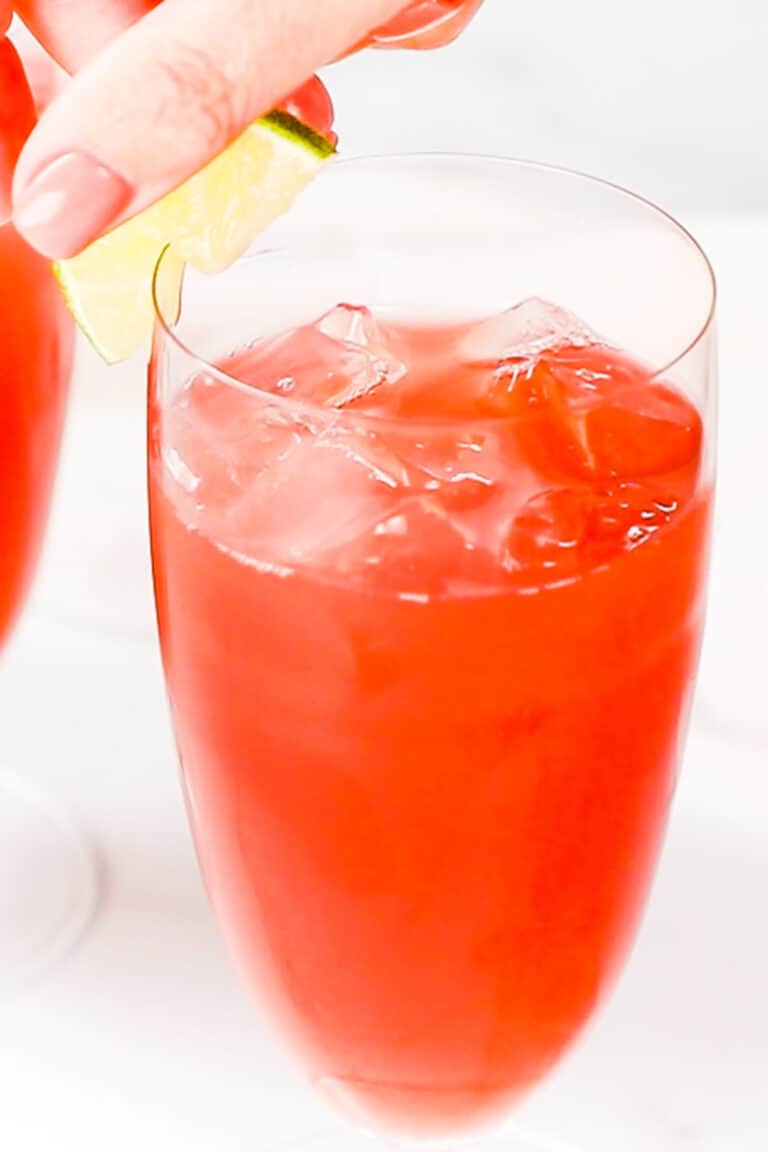 Making A Bay Breeze Cocktail Pitcher
Add 12oz (1.5 cups) of vodka, 32 oz (4 cups) of cranberry juice, and 12oz (1.5 cups) of pineapple juice to a 60oz pitcher and stir to combine.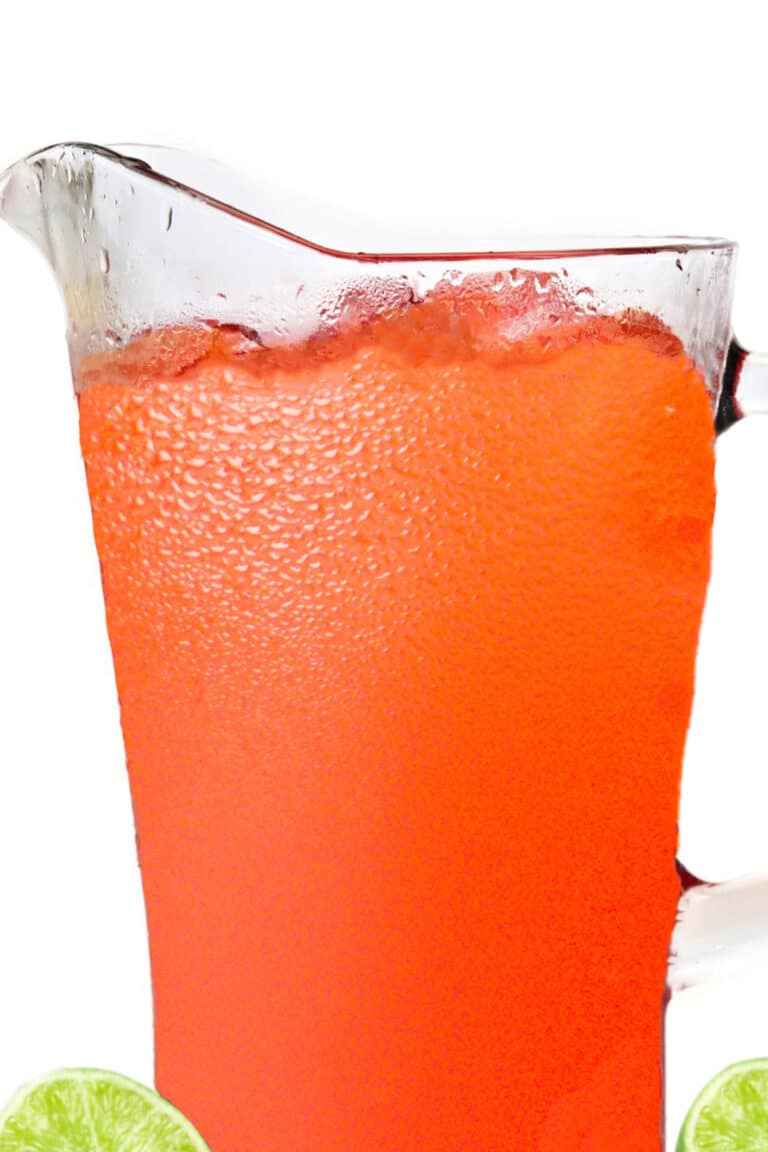 Serve over ice in the glass (not in the pitcher like I did because it looks better in photos).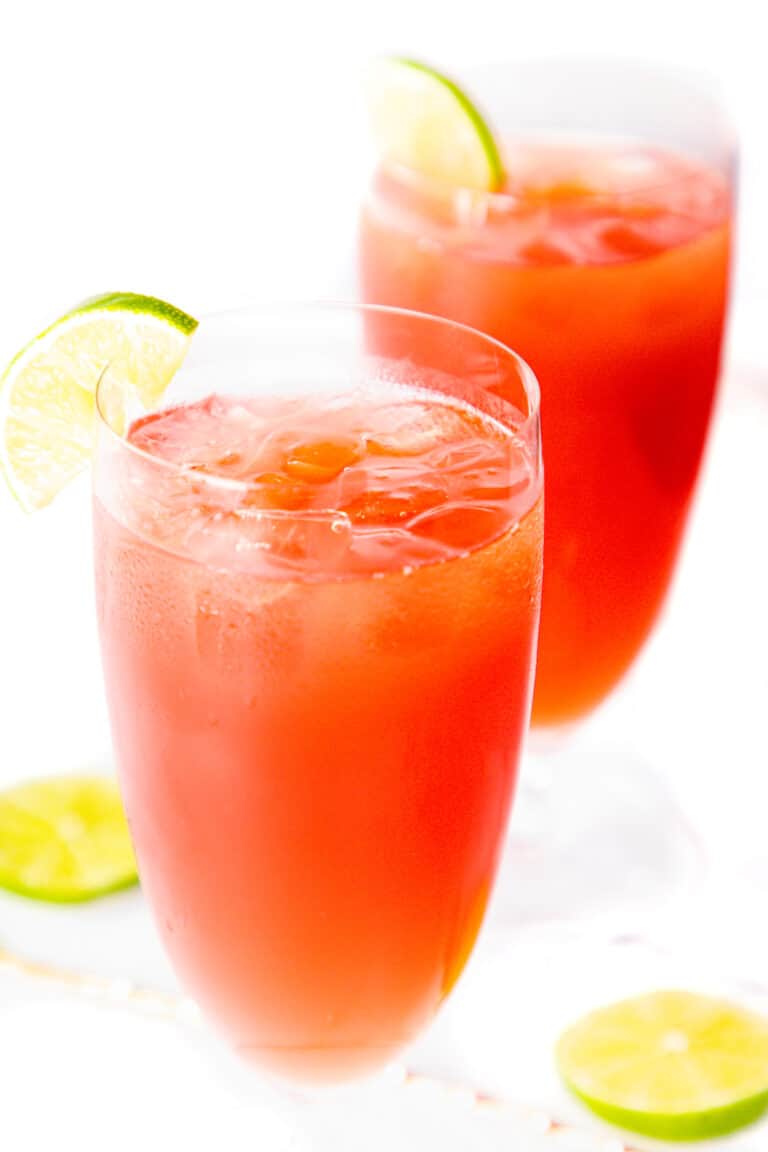 Erren's Top Tips & Variations
For a sweeter flavor profile, use a cranberry juice cocktail as it's mixed with additional juices to decrease bitterness.
If you enjoy a bit of bitterness, use pure cranberry juice.
Add ice to glasses instead of the jug to avoid watering the mixture when making your cocktails by the pitcher.
Make an alcohol-free version by replacing the vodka with club soda, lemonade, or seltzer water.
Stay Updated
Receive new recipes & dinner ideas straight to your inbox!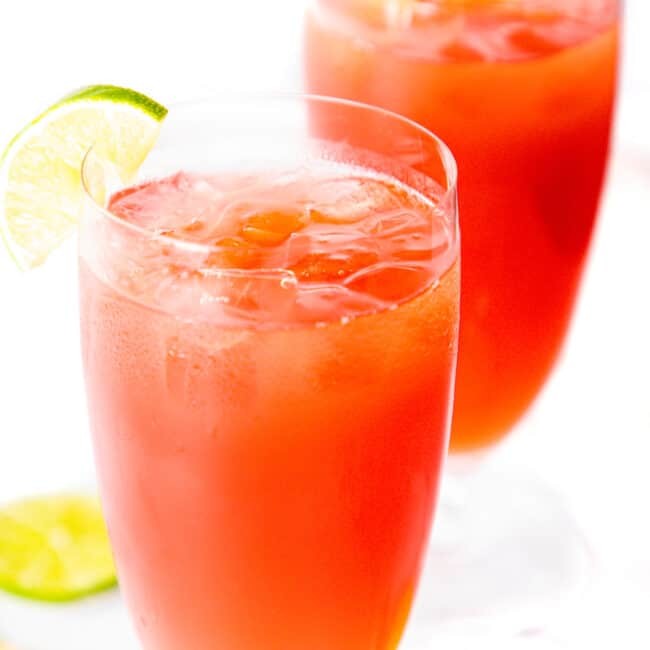 Let's Make Bay Breeze Cocktail (Hawaiian Sea Breeze)
A Bay Breeze Cocktail (AKA Hawaiian Sea Breeze) with cranberry juice, pineapple juice, and vodka is the perfect refreshing drink for summer sipping.
Prep5 minutes
Total5 minutes
Ingredients
By The Glass
1.5 ounces vodka
3 ounces cranberry juice cocktail or cranberry juice
1.5 ounces pineapple juice
lime slices for garnish
By The Pitcher
1.5 cups vodka 12oz/355ml
4 cups cranberry juice 32 oz/946ml
1.5 cups pineapple juice 12oz/355ml
Ice for serving
lime slices for garnish
Instructions
By The Glass
Fill a highball glass (or 8oz/236ml) cocktail glass with ice.

Add the vodka, cranberry juice and pineapple juice and stir.

Garnish with a slice of lime.
By The Pitcher
Add the vodka, cranberry juice, and pineapple juice to a 60oz/1.8-liter pitcher or jug.

Mix and serve over ice.

A pitcher makes 7 (8oz/236ml) glasses
Tips + Notes
Add ice to the glasses instead of your pitcher to avoid watering down your cocktails. To make an alcohol-free version, replace the vodka with lemonade, club soda, or seltzer water.
Nutrition Information:
Calories: 164 (8%)| Carbohydrates: 16g (5%)| Protein: 0.03g| Fat: 0.01g| Saturated Fat: 0.01g| Polyunsaturated Fat: 0.01g| Monounsaturated Fat: 0.02g| Sodium: 3mg| Potassium: 81mg (2%)| Fiber: 0.04g| Sugar: 15g (17%)| Vitamin A: 10IU| Vitamin C: 47mg (57%)| Calcium: 6mg (1%)| Iron: 0.03mg
Erren's Kitchen is written and produced for informational intentions only. We are not certified nutritionists, and the nutritional information found on this site has not been assessed or authorized by a nutritionist or the FDA. The nutritional information found in our recipes is offered as an estimate and should not be considered a guarantee or fact. The estimated data is provided as a courtesy and calculated through a third-party online nutritional calculator, spoonacular API. Although we do our best to provide accurate nutritional information, these figures should be considered rough estimates. Many factors, such as brands or products purchased and the nutritional fluctuations that naturally occur in fresh produce, can alter the effectiveness of the nutritional information in any recipe. Furthermore, various online calculators provide different results depending on their particular algorithms and nutrition fact sources. To obtain the most precise nutritional information in a provided recipe, you should calculate the nutritional information with the exact ingredients you are using when preparing the recipe using your preferred nutrition calculator.