This recipe for Salted Toffee Cookie Bars has crunchy base, thick chocolate and sweet, soft, salted toffee. These wonderful treats are gooey, crunchy and simply sumptuous!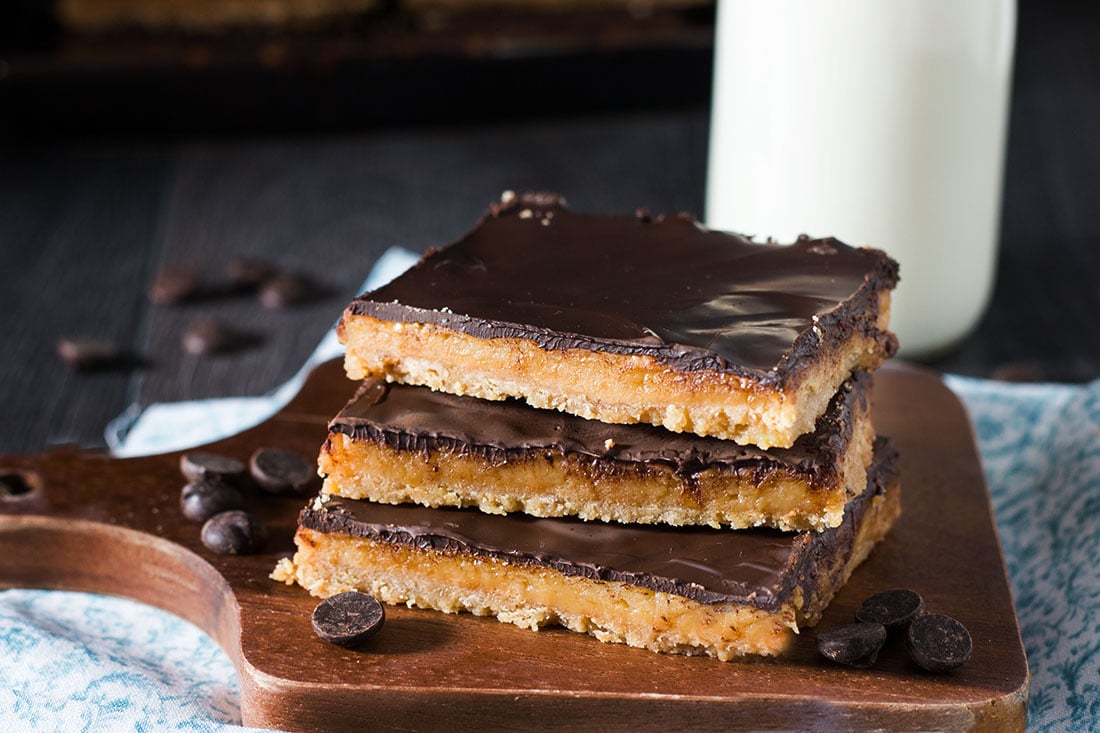 When I was little, a friend's mom used to make bars like these.  I haven't thought of them in years.  The other day, I was looking through my mother's old cookbook and saw a recipe for Toffee Bars and it all came flooding back.
A nostalgic memory of being young and enjoying a homemade treat.  I wanted to share those memories with my little boy and pass them on to him so I created my own version.
The photo is a little misleading because the bars look quite large, but they are delicate and thin and I have them cut into small pieces that are only about 3″ long.  I got 24 bars out of my 13×9 pan.
These wonderful bars are a crunchy sweet and gooey delight of a cookie bar.  I've never made toffee before and was really surprised at how easy it was.
To make them, I started with the shortbread base.  This was super simple to make.
While the base baked, I started on the toffee which is made from sweetened condensed milk, butter, vanilla and salt.
It then get's spread over the baked base and placed back in the oven until golden brown.
I'm sorry I didn't get a photo of the baked toffee, but it was dark in my kitchen when it came out of the oven and the photo didn't come out.
The last step is to cover it with melted chocolate and leave to set.
Tip: to cut them without breaking the chocolate, heat the knife, but be careful!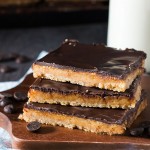 Salted Toffee Cookie Bars
These easy to make butter toffee bars are delicious, made with simple ingredients, and soon to be a family favorite.
Ingredients
For the base:
½

cup

butter

¼

cup

superfine sugar

½

cup

brown sugar

¼

teaspoon

salt

1

cup

flour
For the toffee:
2

14oz cans

cans sweetened condensed milk

4

tablespoons

butter

2

teaspoons

vanilla

1

teaspoon

salt
For the topping:
1

cup

semi-sweet chocolate chips
Instructions
Preheat oven to 350f/170c

Grease a 12x9 inch baking pan

In a medium mixing bowl beat the butter, caster sugar, brown sugar and salt until light and fluffy.

Using a wooden spoon, mix in the flour. The dough may be crumbly, but as long as it presses together and holds its shape, its ready to go in the pan.

Press into the prepared pan and bake for 15 minutes or until the edges are lightly browned

Meanwhile, in a medium saucepan heat the condensed milk and butter over medium heat stirring constantly until bubbly.

Cook and stir for 5 minutes until mixture becomes smooth and thick. Stir in the vanilla and salt.

Speed over baked base and bake for 12-15 minutes more or until golden.

Remove from the oven and sprinkle the chocolate chips evenly over the hot base.

Makes 24 bars