Rich Vanilla Cake with Chocolate Fudge Icing – You can't go wrong with this classic party cake. This cake is perfect for anything from birthdays to weddings. Every bite will bring a taste of nostalgia.
I made this for a friend's birthday last week. It was the third cake I made in about 5 days and to be honest, it was the last thing I felt like doing, but she's having a rough time right now and I wanted to do something special. I have to say that I really came through because it came out just beautiful and she just loved it.
Nevermind how beautiful it turned out for a second and let me tell you that when my son tried it, he actually did a little dance because he said a cake that good deserves a dance! The cake itself is rich, moist & fluffy and the icing is velvety smooth with the perfect amount of sweetness. Once you try it, you'll be making it again and again.
For those of you who want to know how I did the decorating – To pipe the roses on top, I used a large Wilton 2D Tip (pictured below). If you're in the US, you can one like mine here from Amazon You'll find it under Decorating Products & Ingredients. If you're in the UK, click here). (As an Amazon Associate, a small commission is made from qualifying purchases).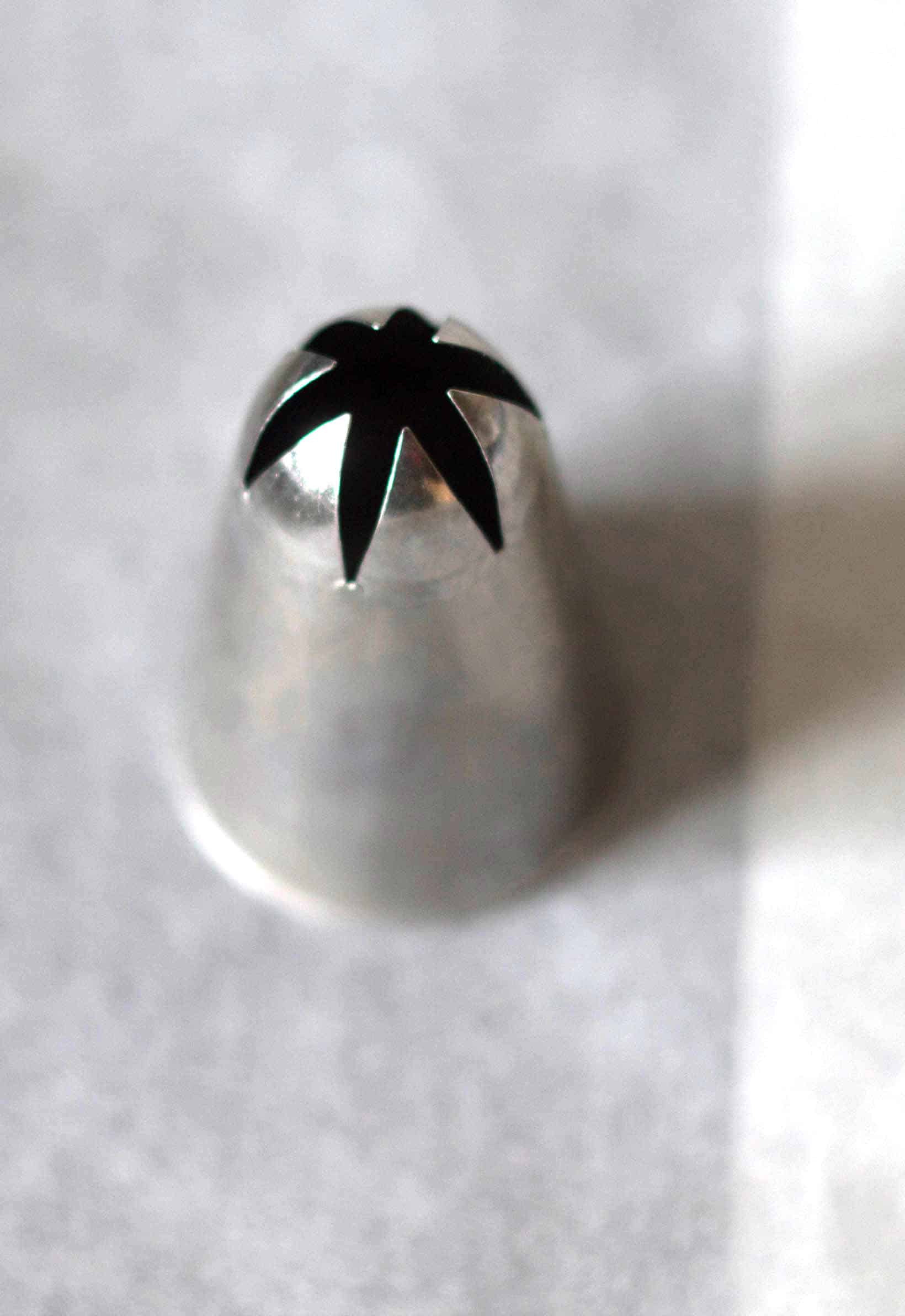 I just swirled them from the middle out. Nothing really fancy. If you want to practice, do them on the bottom layer (pictured below) before stacking the cakes. That way you can get the hang of it before you start the top of the cake. You can see in the photo, it took a while for me to figure out how to do it. If you need more time, just scrape it off and do it again!
Once the bottom layer was done, I just smoothed the icing in a thin layer all over the cake.
For the sides, I used a normal leaf tip that I just ran in long strips. It was super simple. It took very little time, but I did chill the icing in the fridge (as well as the iced cake) before I piped on the decoration. I did that because it was a warm day, the icing was a little soft and I wanted it to hold its shape.
I have to admit that cutting it kinda hurt, but the taste of it took the pain away pretty quickly!
More Frosting Options
Stay Updated
Receive new recipes & dinner ideas straight to your inbox!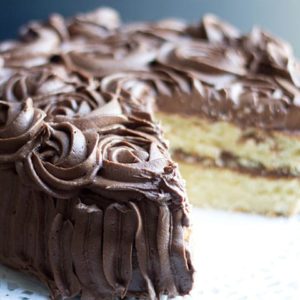 Let's Make Rich Vanilla Cake with Chocolate Fudge Icing
This rich vanilla cake with chocolate fudge icing is truly a decadent cake, this will bring back wonderful childhood memories.
Prep15 minutes
Cook25 minutes
Total1 hour
Cooling Time: 20 minutes
Serves: 8 slices
Ingredients
​⅔ cup butter at room temperature
1⅓ cups sugar
2 eggs at room temperature
2 teaspoons vanilla extract
2 cups all-purpose flour
2 teaspoons baking powder
¼ teaspoon salt
1 cup buttermilk at room temperature
For the frosting:
½ cup butter at room temperature
6 ounces dark chocolate roughly chopped
⅓ cup cocoa powder sifted
1 teaspoons vanilla extract
2-3 cups powdered sugar sifted
⅔ cup sour cream
Instructions
Preheat the oven to 350°F. Grease two 8-inch round cake pans.

Beat the butter and sugar until the mixture is light and fluffy.

Add the eggs and vanilla extract. Mix well until combined.

Sift the flour with the baking powder and salt.

Add these dry ingredients to the butter mixture in two additions, alternating with the buttermilk.

Divide the batter evenly between the two pans.

Bake the cakes for 25-30 minutes, until a toothpick inserted in the center comes out clean.

Allow the cakes to cool for 20 minutes before taking them out of the pan. Let them cool completely on a rack before frosting.
For the frosting:
Melt the butter and chocolate in a small pan on over a low heat stirring gently until melted.

Once completely melted, remove from the heat and let cool.

Add the cocoa, vanilla extract and 1 cup of the powdered sugar.

Beat in the sour cream and another cup of the sugar until smooth.

Add more sugar a little at a time if needed until you reach the desired consistency.
Nutrition Information:
Calories: 808kcal (40%)| Carbohydrates: 101g (34%)| Protein: 8g (16%)| Fat: 42g (65%)| Saturated Fat: 25g (156%)| Cholesterol: 125mg (42%)| Sodium: 379mg (16%)| Potassium: 428mg (12%)| Fiber: 4g (17%)| Sugar: 70g (78%)| Vitamin A: 1065IU (21%)| Vitamin C: 0.2mg| Calcium: 138mg (14%)| Iron: 4.8mg (27%)