This dazzling dessert recipe for Rhubarb and Strawberry Crumb Pie is a fruity marriage made in heaven. Sharp, punchy rhubarb and sweet strawberry with a crunchy crumb topping. Simply the best fruit dessert combination for summer entertaining!
Why not serve with my Easy No Churn Vanilla Bean Ice Cream, treat yourself!
The Best Fruit Pie You Will Ever Make
I'll be honest, I never had rhubarb before I moved to England. I don't even think I ever heard of it. When we first met, my husband told me that rhubarb crumble was his favorite dessert and I really thought it was an English thing.
I didn't know it's just as popular in America. I had never come across it before.
That said, I have lived in the UK for over a decade now and I still have only had it once before making this pie. Let me tell you – I've been missing out!
What is Rhubarb and Strawberry Crumb pie?
Rhubarb and strawberry crumb pie is a hybrid of a traditional fruit crumble and a pie, it's the perfect way of mixing the best summer fruits with the best dessert, simply the best!
How To Make Rhubarb and Strawberry Crumb Pie
Mix 2 eggs into some flour, sugar, brown sugar, orange zest and whisk it together. Then mix in the rhubarb and strawberries before adding it to a blind-baked pie crust (for more detailed information on making homemade pie crust, see my post on how to make pie crust)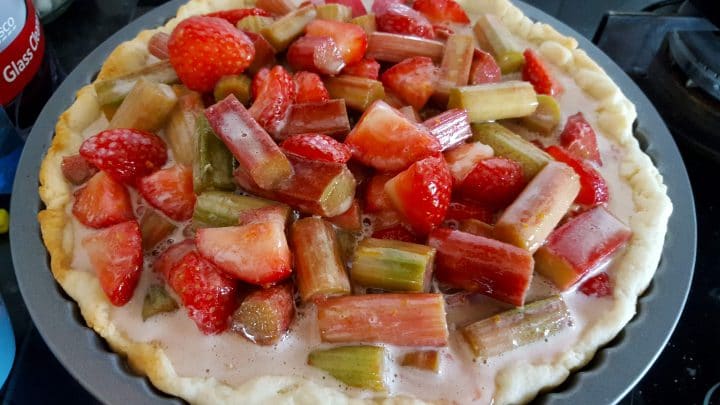 Pile the fruit quite high (my pie pan is pretty shallow). Then create the topping using a food processor and crumble it over the top.
Bake for 45 minutes (I covered it with foil to keep it from browning too much after 35 minutes).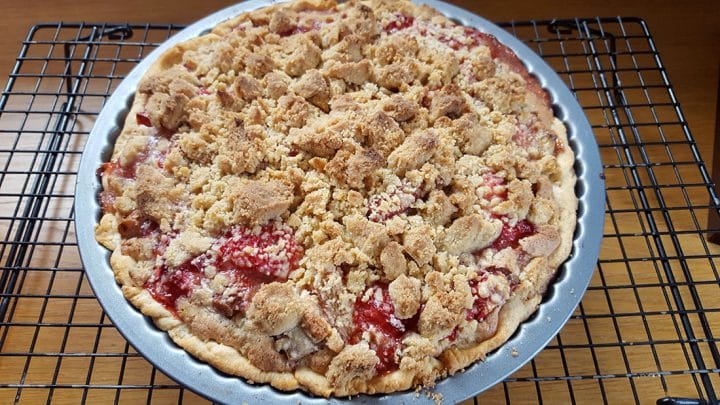 It came out truly amazing! The filling turned out a lovely pink color. It stayed nice and thick with just the right amount of juice. It wasn't too sour or too sweet (I was worried as rhubarb could be quite sharp and Strawberries can be really sweet).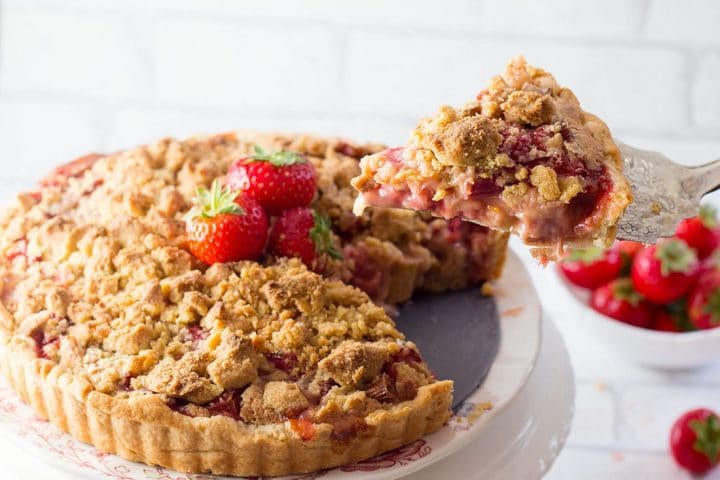 It really had a perfect balance and the crispy topping is fabulous!
Tips for working with freshly picked rhubarb:
When working with freshly picked Rhubarb, it's important to know that Rhubarb roots and leaves are toxic. Only the stalk is edible. Be sure to cut off the leaves and the tops and bottoms of each stalk with a sharp knife.
Rinse the stalks with cold water. Using a vegetable peeler, remove any brown spots. You don't need to peel the skin off from the stalk.
Fresh rhubarb can be frozen for up to 6 months.
Tips for cleaning fresh strawberries:
Before cleaning freshly picked strawberries, sort through them and discard any that are damaged or bruised.
It's best to clean strawberries by wiping them with a wet paper towel to keep them from becoming saturated. If necessary, they can be washed with cold water.
Immediately after washing your strawberries be sure to dry them completely with a dry paper towel.
To remove the strawberry stem, simply cutting the stem and hull out with a paring knife or you can use a huller if you have one.
FAQ
How do I store Rhubarb and Strawberry Crumb Pie? Store in the refrigerator for up to 3 days.
What can I serve with a Rhubarb and Strawberry Crumb Pie? My Homemade Whipped Cream goes great with this pie. Alternatively, try topping with vanilla ice cream.
Can I freeze a Rhubarb and Strawberry Crumb Pie? You can freeze fruit pies before or after baking, I recommend freezing unbaked. To freeze an unbaked Rhubarb and Strawberry Pie, wrap it in a double layer of plastic wrap and place it in the freezer. Unwrap the pie and just pop it in the oven while still frozen. Bake the pie for 15 minutes at 425 F, then reduce the temperature to 350F for the remaining baking time, plus about 15 minutes.
Love pie? Check out my recipe for caramel apple pie.
★ Did you make this recipe? Please give it a star rating below!
Stay Updated
Receive new recipes & dinner ideas straight to your inbox!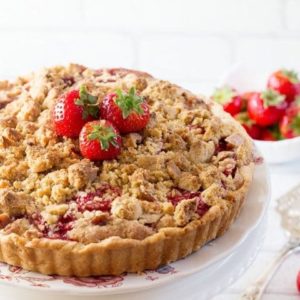 Let's Make Rhubarb and Strawberry Crumb Pie
This dazzling dessert recipe is just heavenly. The sharp rhubarb balances out the sweet strawberries perfectly and the crunchy crumb topping is the grand finale.
Prep30 minutes
Cook45 minutes
Total1 hour 45 minutes
Cooling Time: 30 minutes
Serves: 8
Ingredients
For the crust:
1¾ cups all-purpose/plain flour
½ cup butter
1 teaspoon salt
1 teaspoon sugar
3-6 tablespoons ice water
For the filling
¾ cup sugar
¼ cup packed brown sugar
3 tablespoons all-purpose flour
1 teaspoon orange zest
2 eggs lightly beaten
1 pound of chopped fresh rhubarb
12 ounces strawberries cut in half or quarters (to keep them the same size)
For the topping:
1 cup all-purpose flour
⅓ cup packed brown sugar
½ cup butter
Instructions
For the crust:
To make the crust, sift the flour onto some baking paper and then add it to a food processor.

Add the sugar, and salt and pulse a couple of times to mix. Followed by half of the butter and pulse several times.

Then add the rest of the butter and pulse 6 to 8 times until the largest pieces of butter are about the size of large peas.

Sprinkle the mixture with about 2 tablespoons of the ice water (leaving the cubes behind) then pulse again.

Then add more ice water, a tablespoon at a time, pulsing once or twice after each addition until the dough just barely begins to hold together.

You know that the mixture is ready if when you pinch some together with your fingers and it holds together. Be careful with the amount of water you add, too much and the crust will be tough.

Empty the crumbly dough mixture from the food processor onto a clean, dry, floured surface.

Form a mound with the mixture and knead briefly (just a couple of turns). Form into a ball, cover with plastic wrap and chill for at least 1 hour (although it can be up to a few days or even frozen at this point).

Once chilled, let the dough sit at room temperature for 10 minutes before rolling.

Preheat the oven to 400F/200C

Roll out the crust on a lightly floured surface to about ¼ inch thick. Transfer it to a 9" pie pan. Trim the edge or crimp if desired. Prick the bottom with a fork.

Cover the crust with baking paper and fill with baking beads. Blind bake for 10 minutes. Remove the paper and baking beads and set the crust aside.
For the filling:
In a large bowl, combine the sugars, flour and orange zest. Add the eggs and whisk until smooth. Gently stir in rhubarb and strawberries. Add the filling to the pie crust.
For the topping:
Add all of the ingredients to a food processor and pulse until combined.

Squeeze to form lumps and crumble over the pie.

Bake for 45-50 minutes (covering with foil if it starts looking too brown). Cool on a wire rack for at least 30 minutes before serving.
Nutrition Information:
Calories: 982kcal (49%)| Carbohydrates: 129g (43%)| Protein: 11g (22%)| Fat: 48g (74%)| Saturated Fat: 29g (181%)| Cholesterol: 162mg (54%)| Sodium: 728mg (32%)| Potassium: 395mg (11%)| Fiber: 4g (17%)| Sugar: 64g (71%)| Vitamin A: 1535IU (31%)| Vitamin C: 29.9mg (36%)| Calcium: 123mg (12%)| Iron: 4.6mg (26%)
Update Notes: This post was originally published on Jun 27, 2016, but was republished with an updated recipe, new photos, step by step instructions and tips in August of 2019.