This wonderfully simple recipe for Creamed Spinach is a side dish made in heaven, make spinach the new star dish at your holiday dinner table.
Serve with the main dish of your choice and roast potatoes, for the perfect mid-week banquet.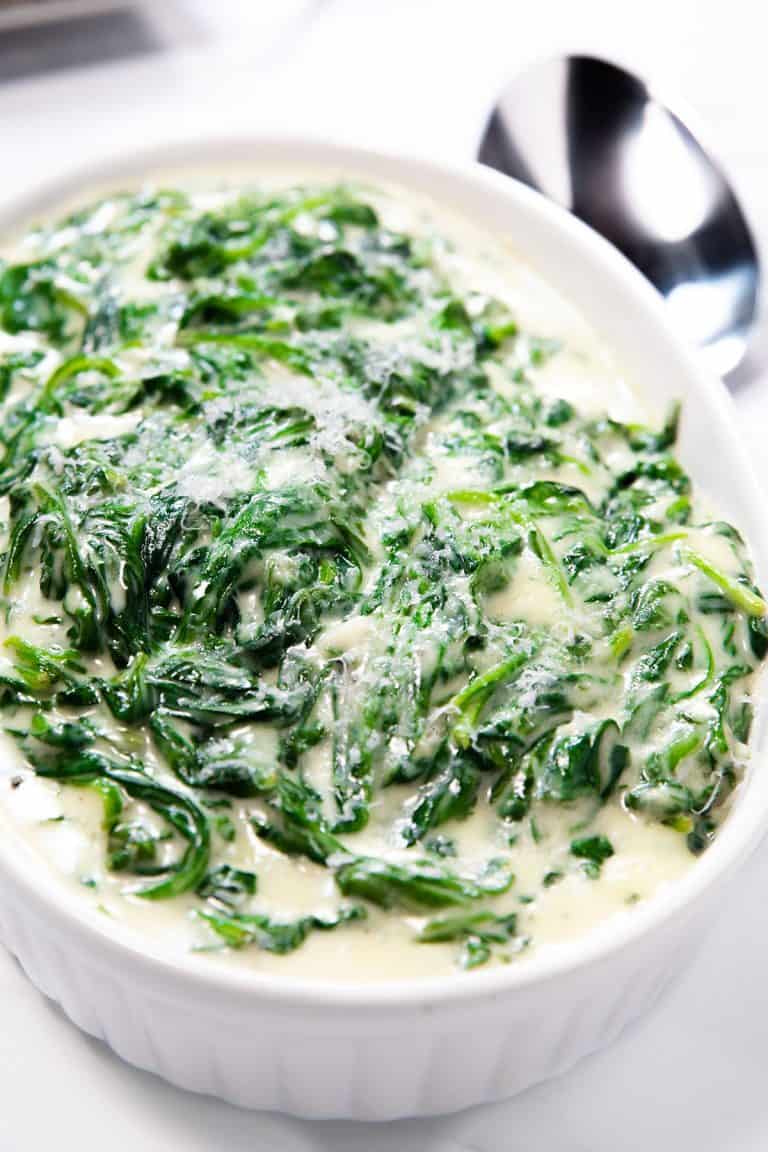 This understated dish is a secret showstopper in its own right, spinach may not be your favorite but once you've made this, it will be! I love seeing the looks on my guest's faces when they find out they do love spinach after all.
This is a great way to introduce spinach into your side dish repertoire. It can be served with anything from roast turkey, fish, or steak, it's so versatile you'll be serving it with everything!
Why This Recipe Works
Garlic and parmesan cheese compliment the cream, giving it a fabulous flavor profile.
The simple ingredients and method make this quick, easy, and delicious.
This Creamed Spinach recipe can be made up to two days ahead, just gently reheat until piping hot, saving time for other great dishes on the day.
What is creamed Spinach?
Creamed spinach is exactly what it says it is, wonderfully nutrient-rich spinach leaves wilted in a gorgeously silky cream sauce. Flavored with garlic and parmesan cheese it really is the best way to serve up this understated ingredient. Of all my spinach recipes, this one is my absolute favorite.
Spinach Buying Guide
When buying fresh spinach, look for dark green colored leaves and avoid any that look like they are wilting or yellowing in color.
Avoid packs with sour or musty odors or slimy leaves as they are starting to go bad.
The Benefits of Eating Spinach
Spinach is really healthy. It's loaded with vitamins such as vitamins A and C and a good source of iron. Spinach is not only full of nutrients, but it's also rich with antioxidants.
What Cream For Creamed Spinach
When cooking with cream, it's always good to use a cream with a high-fat content as it thickens as it cooks without the need for a lot of thickening agents.
Heavy cream, whipping cream, double cream in the UK, and thickened cream in Australia are all good options.
How To Make Creamed Spinach
Melt the butter and sauté the garlic.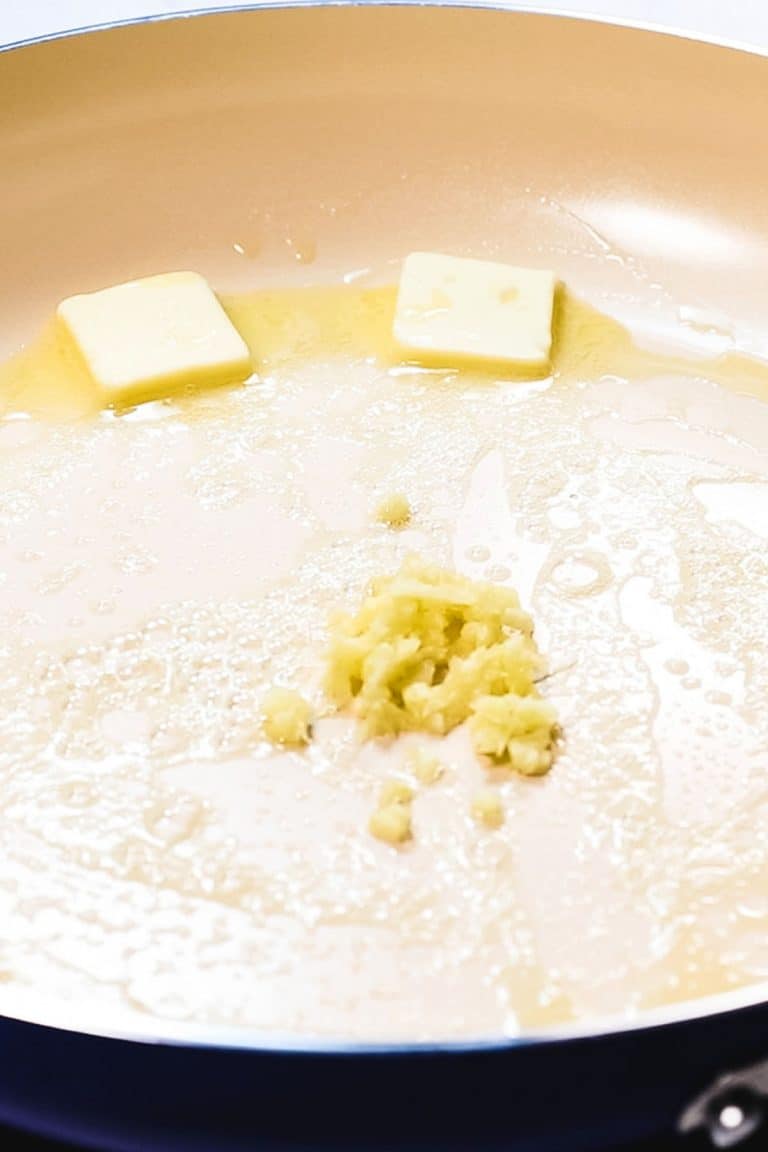 Add the cream.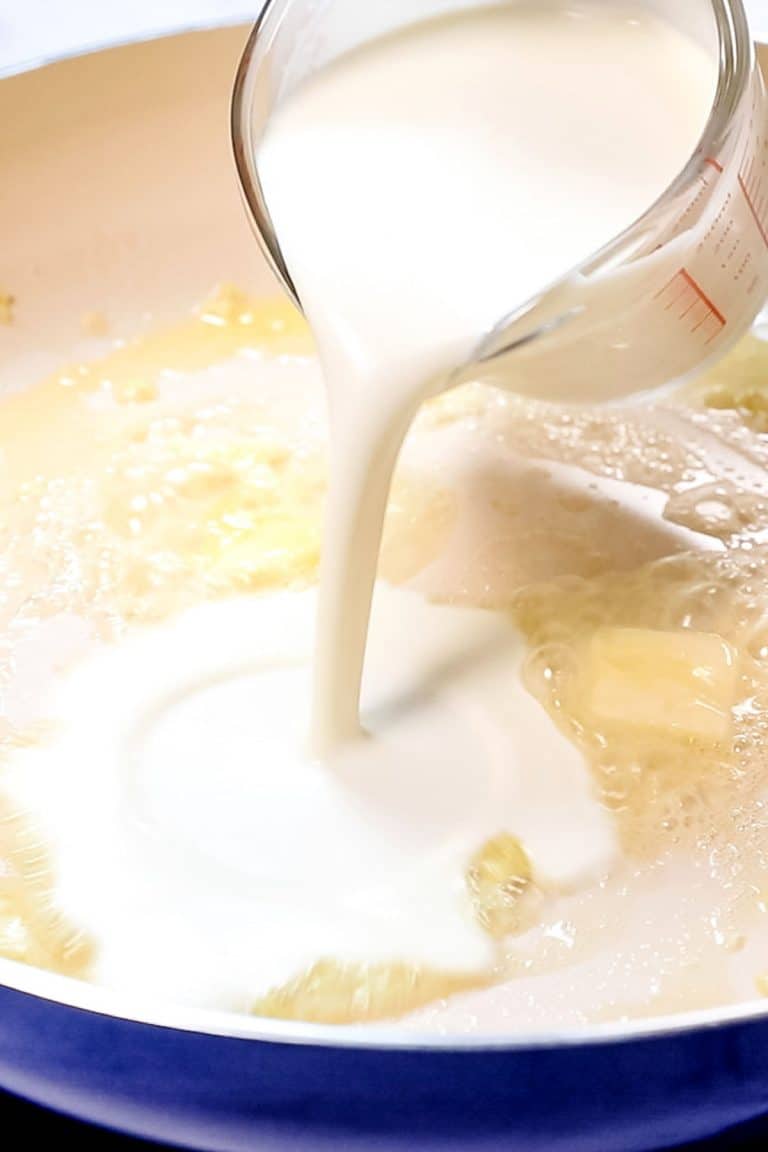 Add the parmesan cheese along with the salt and pepper. Stir until melted and the sauce thickens.
Add the spinach and cook in the sauce until wilted.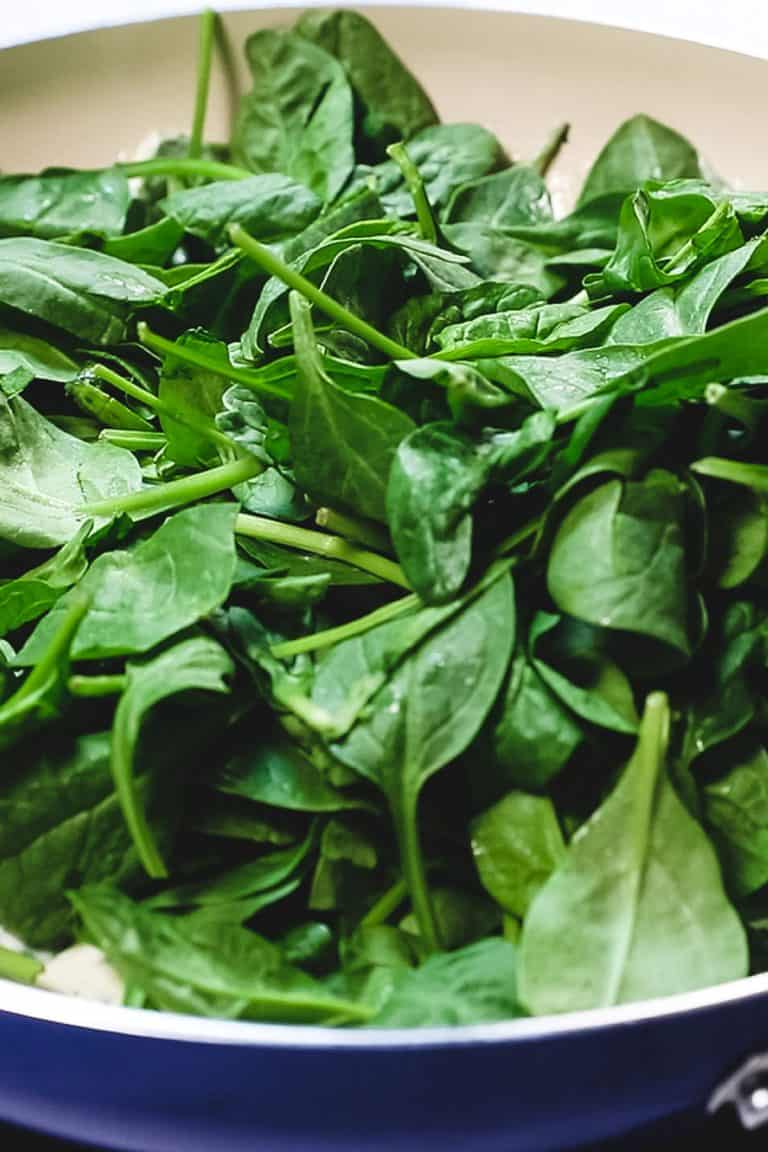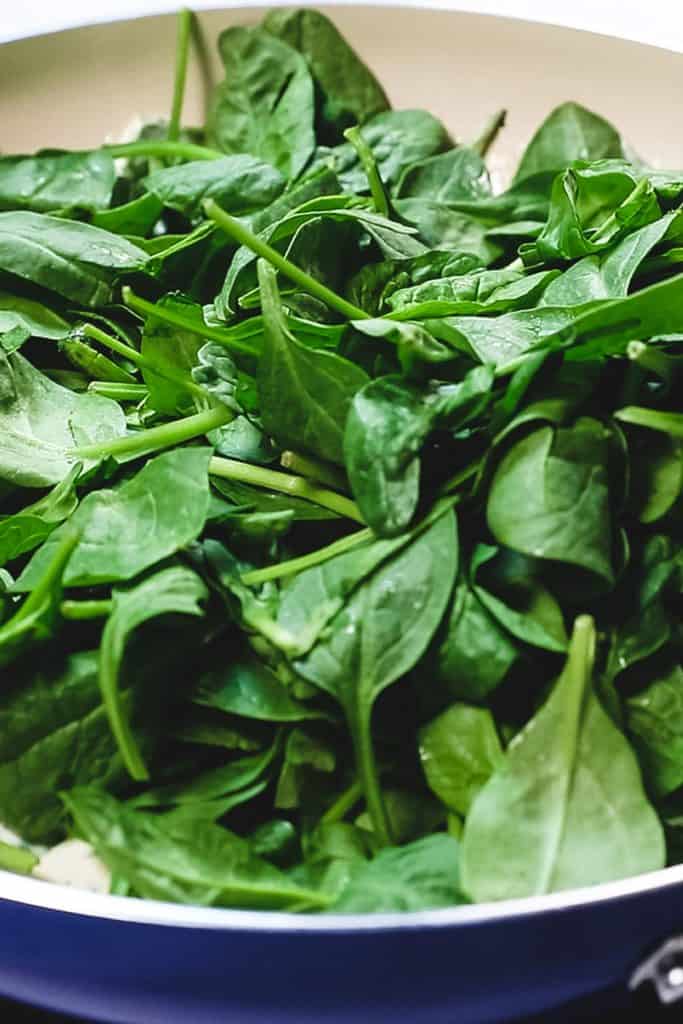 Serve and enjoy.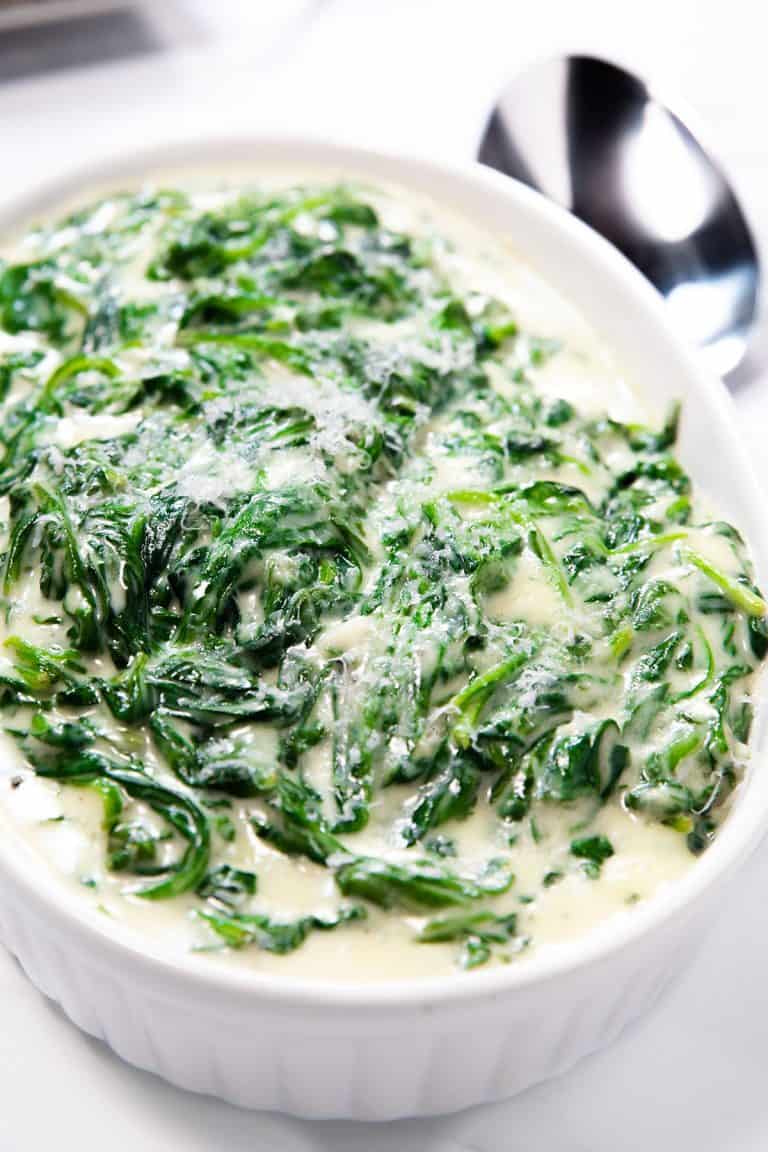 Keto and Low Carb Friendly
This Keto Creamed spinach recipe is low carb and great for Keto diets. Being on a low carb diet myself, I eat this recipe on a regular basis because it's so easy to make and unbelievably delicious!
Make Ahead and Freezing Instructions
Making Ahead: You can make it up to a couple of days before and by adding the spinach and cook until just undercooked. Then reheat it on the stovetop or microwave until warmed and the spinach is cooked.
Freezing: Freeze in a freezer-safe, airtight container for up to three months,
Recipe Variations
Add bacon or pancetta to your creamed spinach to bulk up this amazing side dish.
Switch up your cheese, don't have parmesan? Use pecorino, grand Padano, any hard cheese will do.
You can use cream cheese for this recipe, just mix it into the butter and garlic until the sauce is silky.
Make this dish a full-on midweek meal by pouring over gnocchi. Simply cook your gnocchi as per the packet instructions and add to the cooked creamed spinach.
Add toasted pine nuts to your creamed spinach to give it an extra crunchy layer of texture.
FAQs
Is creamed spinach healthy?
Due to the use of cream and other fats this dish isn't low fat, however, it's still a great way to benefit from those wonderful spinach nutrients!
Can I use frozen spinach for this recipe?
Yes, you can use a 16oz pack of frozen spinach, just defrost and squeeze as much liquid from the spinach before you add it to the sauce.
How can you thicken the creamed spinach sauce?
You can make a simple roux of butter and flour, add to the sauce, mix in and stir until thickened.
Stay Updated
Receive new recipes & dinner ideas straight to your inbox!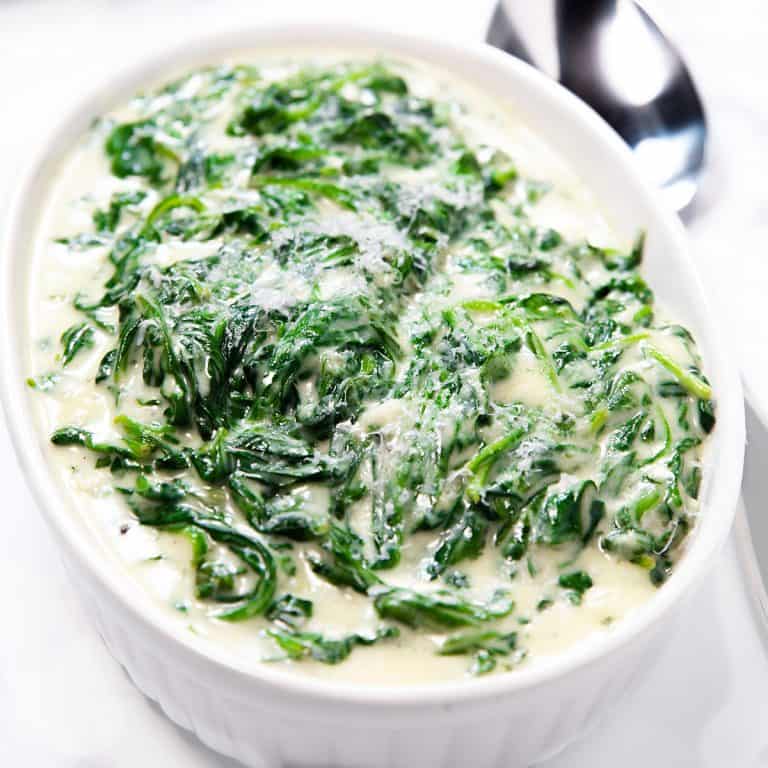 Let's Make Creamed Spinach
What could be better than spinach in a creamy, silky garlic and parmesan sauce? It will be the secret star of the show on any holiday dinner table.
Prep5 minutes
Cook20 minutes
Total25 minutes
Ingredients
2 tbs butter
2 cloves garlic
1 cup heavy cream whipping cream and double cream will also work.
⅓ cup parmesan cheeese grated
½ tbsp salt
½ tbsp pepper
1 lb spinach washed
Instructions
Melt the butter in a pan.

Add garlic and sautee the for around 2 minutes.

Add the cream cream, salt and pepper to the pan.

Mix in the parmesan cheese then melt into the sauce, and cook until thickened.

Finally, add the spinach and cook until it has wilted into the sauce.
Nutrition Information:
Calories: 322kcal (16%)| Carbohydrates: 7g (2%)| Protein: 8g (16%)| Fat: 31g (48%)| Saturated Fat: 19g (119%)| Cholesterol: 104mg (35%)| Sodium: 1163mg (51%)| Potassium: 698mg (20%)| Fiber: 3g (13%)| Sugar: 1g (1%)| Vitamin A: 11757IU (235%)| Vitamin C: 33mg (40%)| Calcium: 249mg (25%)| Iron: 3mg (17%)