Italian Sausage Meatballs cooked in a tomato, onion, and garlic pasta sauce makes a delicious meal in no time flat.
Serve with my Garlic Bread for an easy midweek meal.
Easy Sausage Meatballs
I first saw this recipe made on a cooking show when I was living in England, but for the life of me, I can't remember who it was that made it.
Whoever it was, I'd like to thank them because this meal has saved me on many busy nights when I needed a quick meal.
Why This Recipe Works
Using Italian Sausage to create mini meatballs gives this dish a punch of flavor.
Adding a stock cube adds flavor and cuts the acidity of the tomatoes.
A pinch of cyan pepper adds a little zing that elevates the dish.
Time Saver Tip
Use ready-made tomato sauce for an even speedier dish.
How To Make Italian Sausage Meatballs
Remove the sausage meat from the casings
Separate into small clumps so that they look like little meatballs.
Cook in a pan until all pink is gone.
Make the tomato sauce
Simmer the Sausage Meatballs in the sauce while the pasta cooks
Serve on a bed of pasta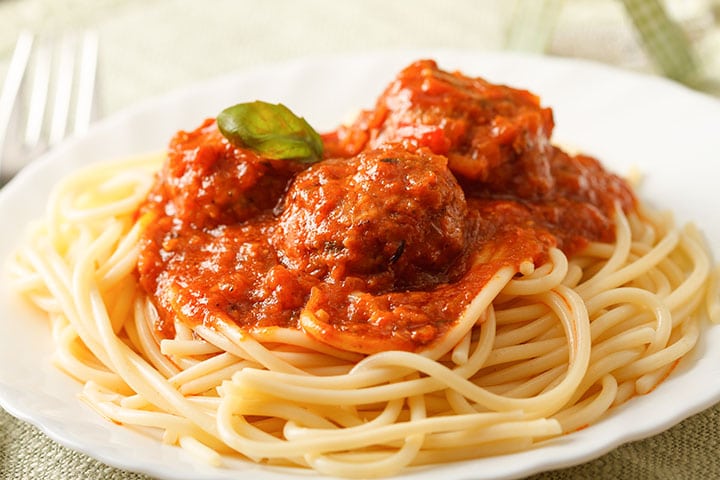 For More Traditional Meatballs
If you want a more traditional meatball consistency, mix the sausage meat with a half cup of moistened breadcrumbs, an egg and a half cup of parmesan cheese. Then pan fry before adding to the sauce.
Recipe Tips
For an extra depth of flavor, allow the onions to brown in the pan and scrape any crispy bits from the bottom of the pan when you add the tomatoes.
Stir often to keep the sauce from sticking to the bottom of the pan.
Other Italian Dishes You'll Love
Stay Updated
Receive new recipes & dinner ideas straight to your inbox!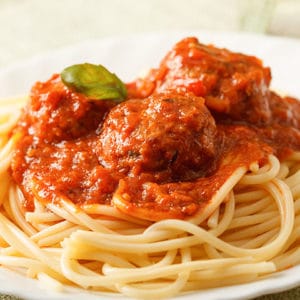 Let's Make Italian Sausage Meatballs & Spaghetti
Italian sausage is made into mini meatballs for an easy supper to throw together last minute.
Prep15 minutes
Cook20 minutes
Total35 minutes
Ingredients
6 Italian Sausages
2 tablespoons olive oil
2 garlic cloves finely chopped
1 medium onion finely chopped
28 oz crushed or chopped tomatoes
½ teaspoon dried oregano
½ teaspoon dried basil
1 Knorr Chicken stock cube optional
1 pinch cayenne pepper
1 handful fresh parsley chopped
salt and pepper
1 pound dried pasta
Instructions
Boil a pot of water for your pasta.

To start, remove the sausage meat from the casings in small clumps so that they look like little meatballs.

Heat the olive oil in a large saucepan add the sausage clumps and brown the sausage until there is no pink left drain the fat from the pan. Transfer to paper towels and set aside.

Add more oil to the pan if nessasary. Add the chopped onion and the and cook until they are soft and the sausage balls are a golden brown. Add the garlic and fry for another minute.

Add the sausage meat, tomatoes, herbs, a pinch of cayenne pepper and if using, crumble the stock into the mixture. Bring to a boil, lower the heat and simmer covered over a medium heat for about 20 minutes. Add salt and pepper to taste before serving.

When the sauce has about 10 minutes to go, cook the pasta and reserve some water before draining. Drain and serve with the sausage & sauce (if the sauce has gotten too thick, add some of the reserved pasta water to help loosen it).
Nutrition Information:
Calories: 885kcal (44%)| Carbohydrates: 88g (29%)| Protein: 34g (68%)| Fat: 42g (65%)| Saturated Fat: 12g (75%)| Cholesterol: 91mg (30%)| Sodium: 821mg (36%)| Potassium: 609mg (17%)| Fiber: 4g (17%)| Sugar: 4g (4%)| Vitamin A: 180IU (4%)| Vitamin C: 4.7mg (6%)| Calcium: 58mg (6%)| Iron: 3.4mg (19%)