This recipe for Strawberry Drizzle Cakes is a summery twist on lemon drizzle cake.  It's secret ingredient is cream cheese which makes them  rich, moist and  decadent!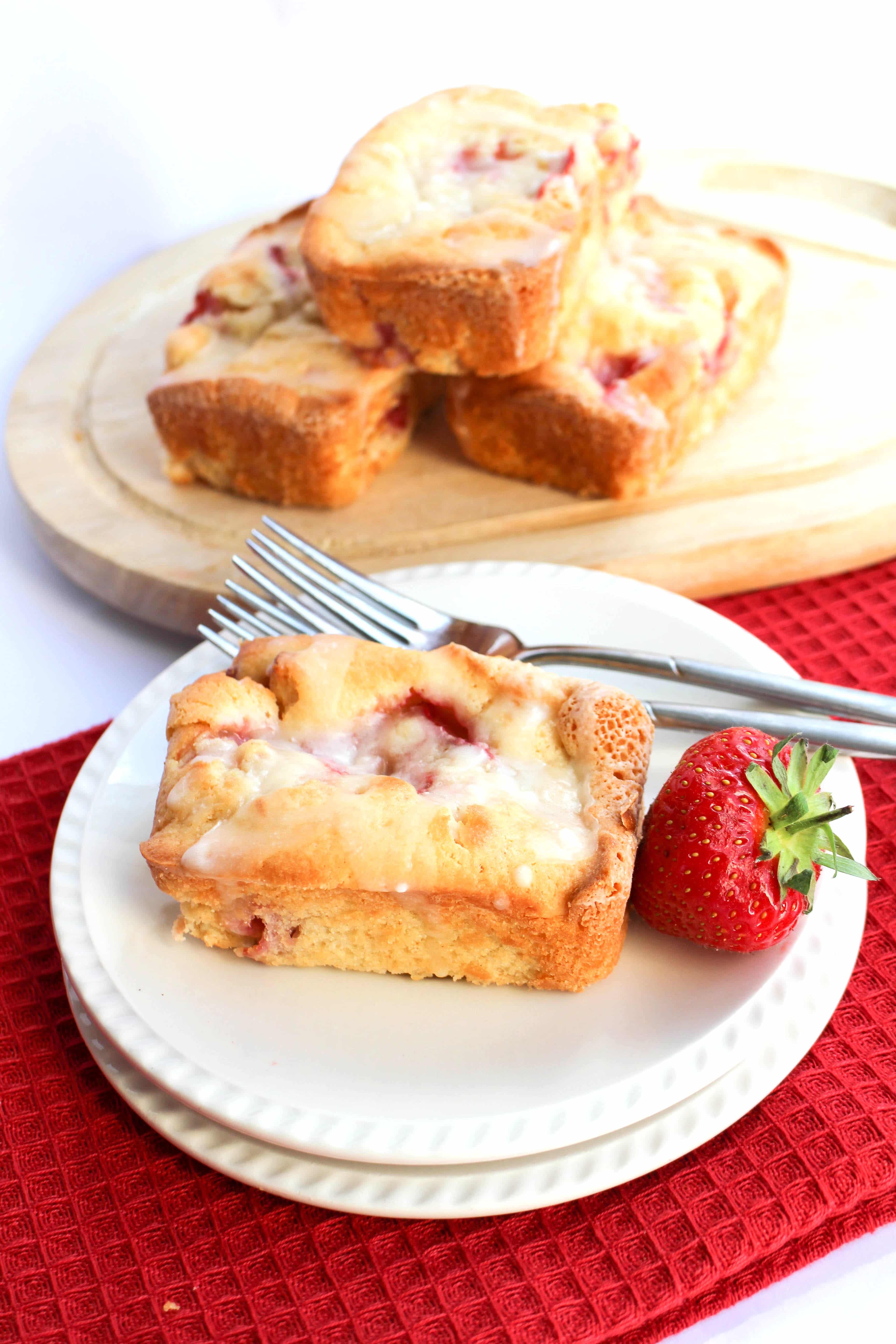 Since moving to England, I fell in love with the British dessert, Lemon Drizzle Cake. It's a zesty lemon cake with a delicate sugar crust topping.  I was going to make my recipe lemon drizzle cake, but I had strawberries I needed to use so I ended up creating this recipe instead.
I made individual cakes, but  If you don't have a bar or brownie pan, click here to get one, or it can easily be adapted to be a loaf cake or made into muffins.  Muffins would take the same amount of time to cook if you use a ice cream scoop to fill the muffin pan.  A loaf pan would take about 10 additional minutes, but I'd keep and eye on it and test it after 20 minutes.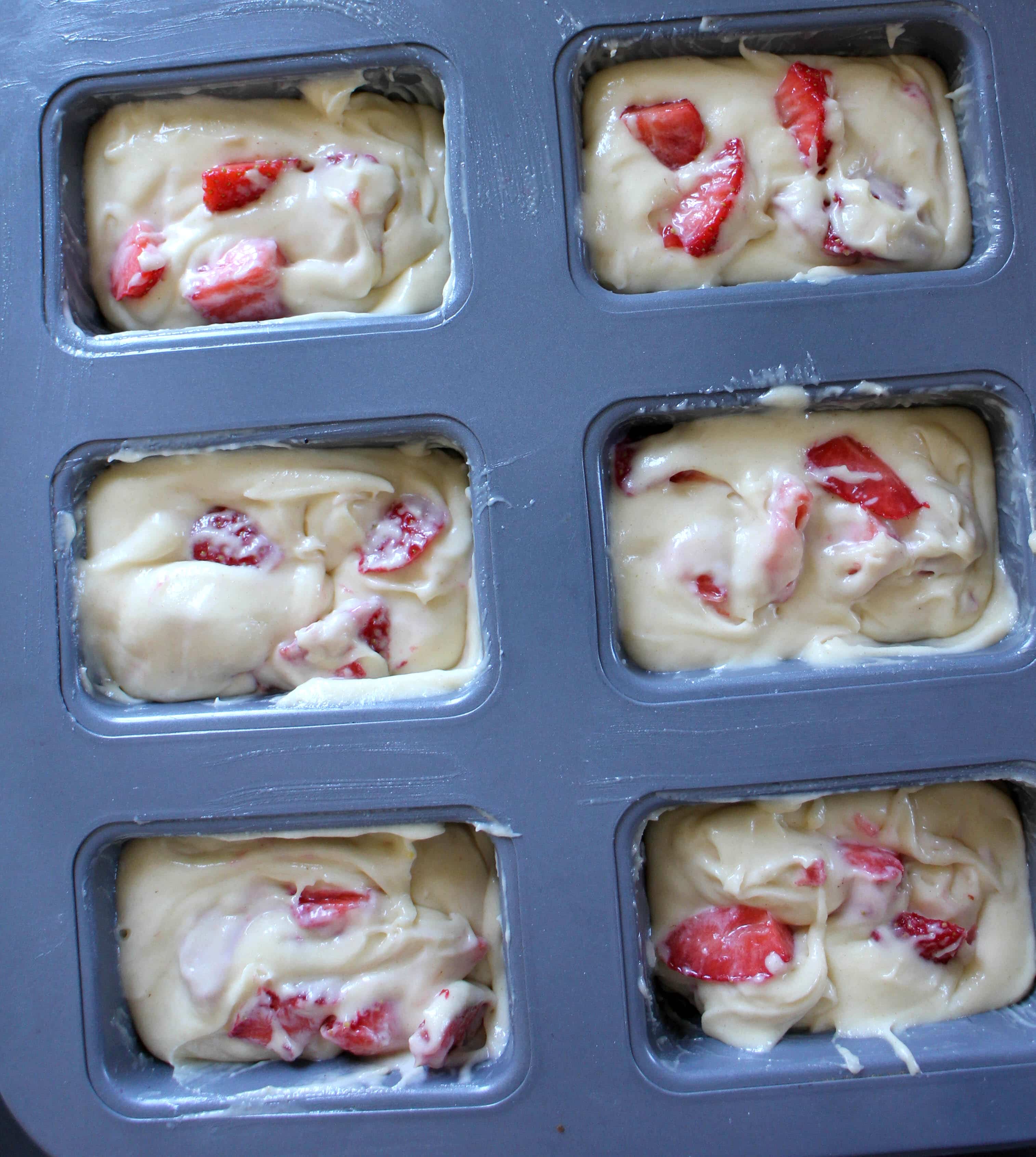 I love to play around with ingredients and nothing tastes better together than strawberries and cream cheese.  With that in mind, I decided to add cream cheese to the recipe.  I used sour cream as well and skipped adding milk all together.  I added lemon zest to enhance the flavors and the end result, was a really moist and beautiful cake!
Now I know some people will probably give me a lot of grief for this, but I used a food processor to make the batter.  I saw Nigella Lawson do a cake recipe where she just threw everything into the food processor, blitzed it  together and hey presto, it was done!  I had to try it and let me tell you – it works!
Now if you don't like this idea or you don't have a food processor, please do it the old fashion way, but this took 5 minutes!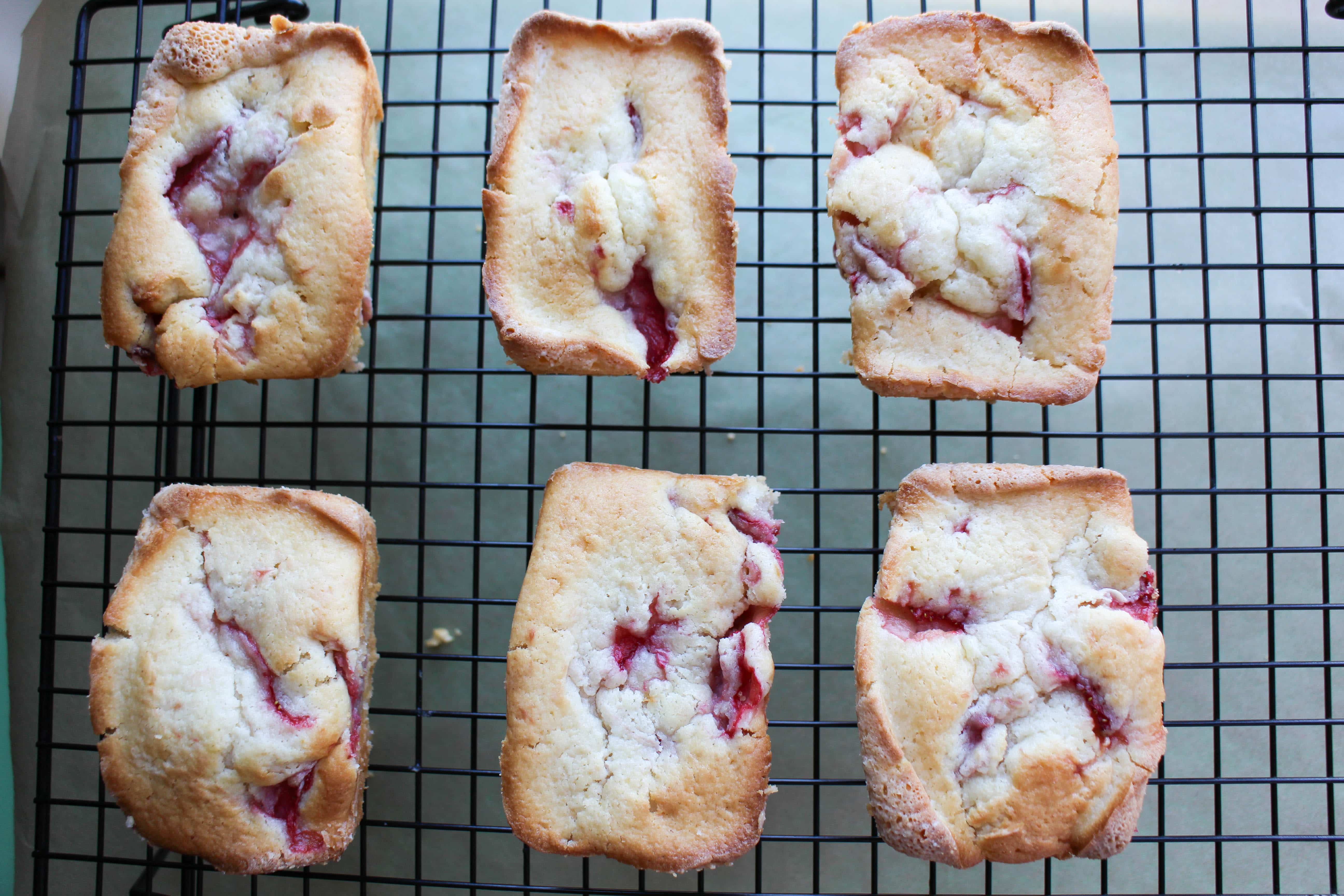 Lemon drizzle cake usually has a harder crust made from granulated sugar, but after tasting the cake, I decided to go with  a drizzle made from powdered sugar because I wanted the icing to be a bit less sweet.  If you're a fan of drizzle cake and like the crust, I'm sure it would go just as well.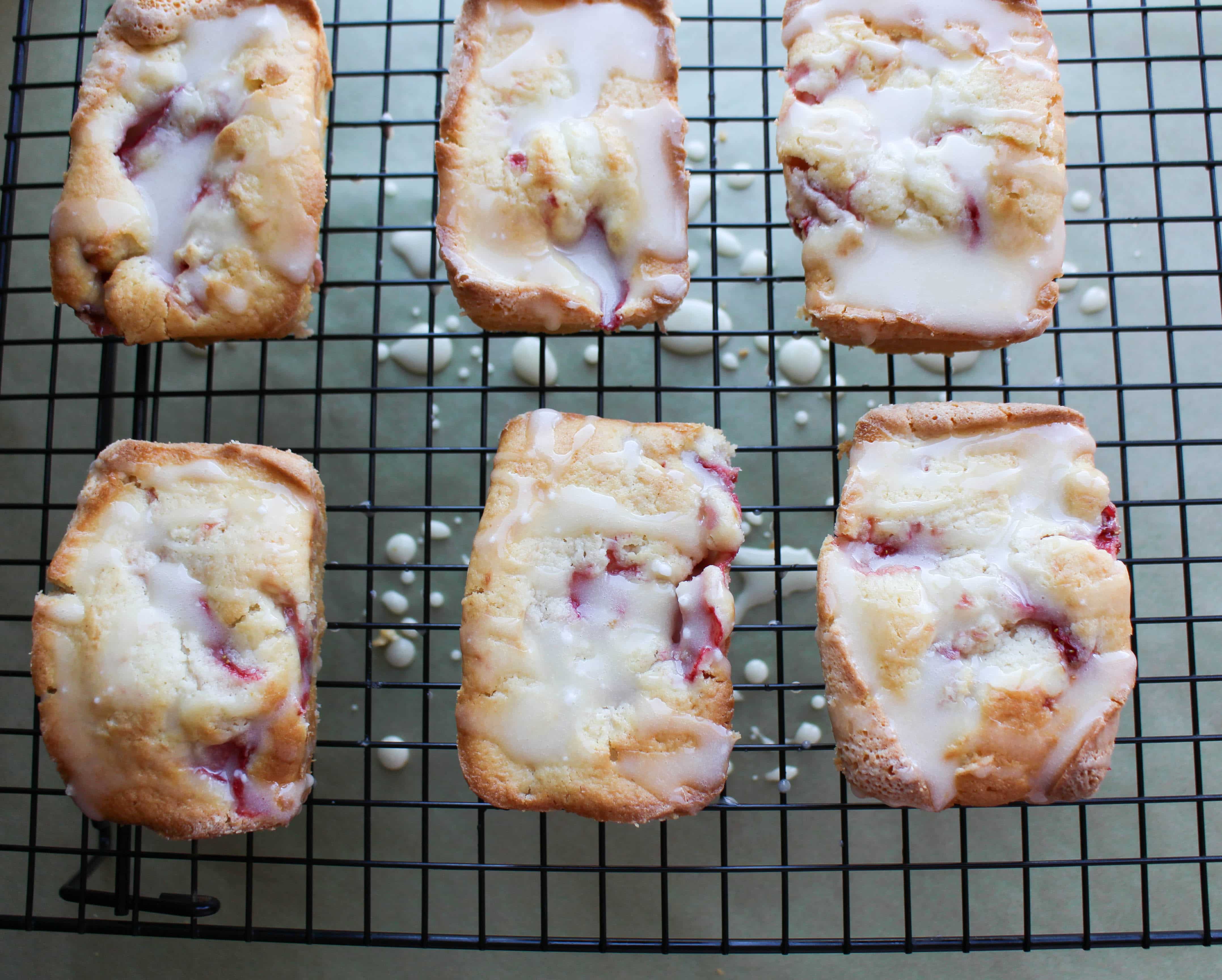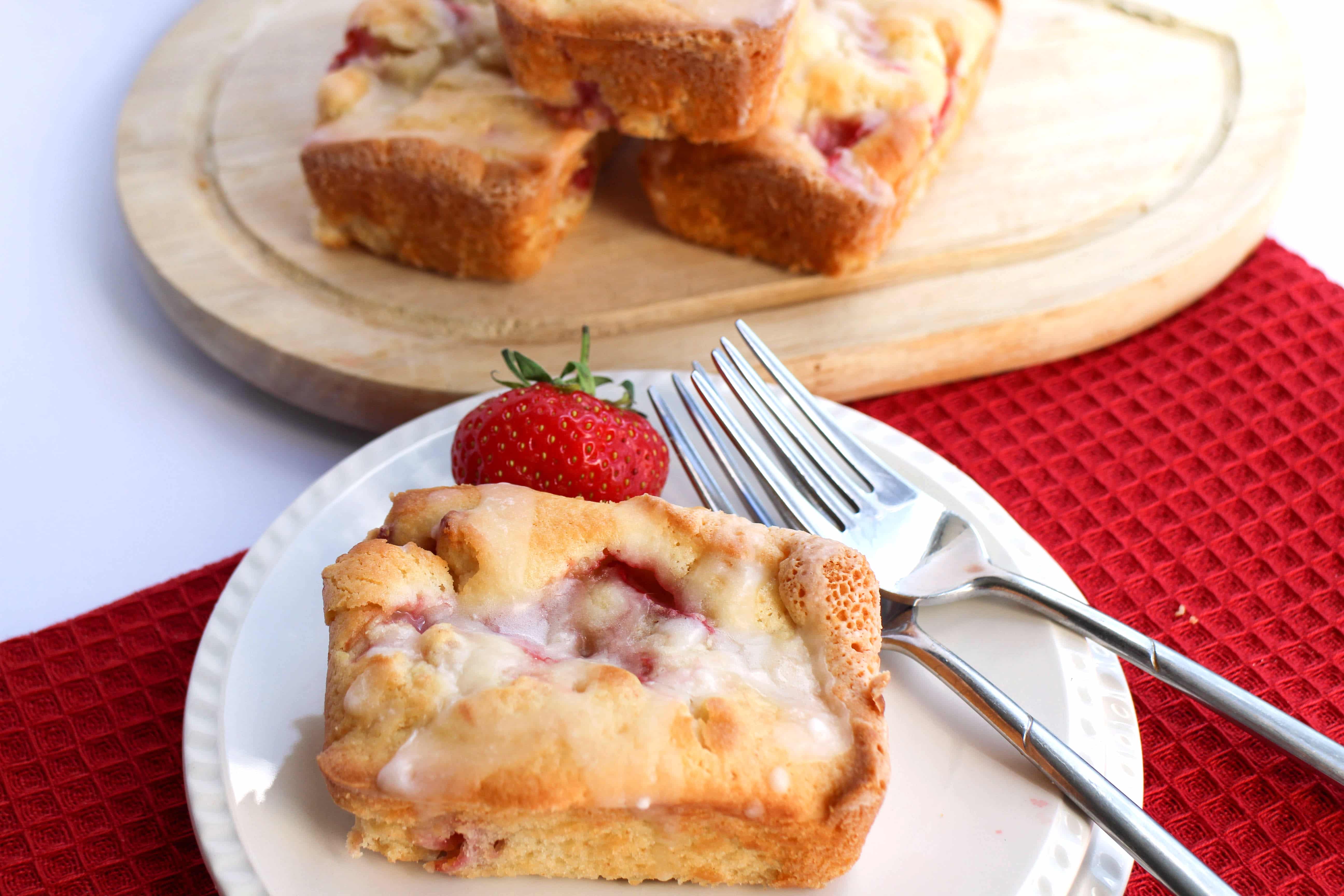 Strawberry Drizzle Cakes
Author:
Erren @ Erren's Kitchen
Ingredients
1½ cups all-purpose flour
2 teaspoons baking powder
½ cup sour cream
¼ cup cream cheese
1 egg, lightly beaten
½ cup butter, melted
1 cup diced fresh strawberries
½ cup sugar
For the Drizzle:
3-5 tablespoons milk
2 tablespoons butter, melted
1 cup powdered sugar
½ tsp vanilla extract
Instructions
Preheat the oven to 375/190C
Grease a brownie/bar pan and set aside. (If you do not have a brownie pan, a muffin pan can be used in it's place).
In a small heat-safe bowl, soften the butter and cream cheese together in the microwave until very soft, but not completely melted.
In a food processor, mix all of the ingredients (except the strawberries) until combined. Clean the sides with a rubber scraper and mix a few seconds more to mix any remnants into the batter.
Remove the blade from the food processor and fold in the strawberries.
Using a ice cream scoop, fill the sections equally (with one scoop in each section).
Bake Bake for 20 to 25 minutes, until a cake tester comes out clean, and the tops are nicely browned.
Let cool in the pan for 5 minutes before transferring to a wire rack.
For the Drizzle:
In a mixing bowl whisk together 2 tablespoons of the milk, the melted butter powdered sugar, and ½ tsp vanilla extract.
Add in more milk as needed 1 teaspoon at a time until it is the desired consistency.
Once the cakes have cooled ten minutes, drizzle with the glaze and serve.