This recipe for Quick & Easy Spinach, White Bean & Pasta Soup is a simple and tasty soup that's the perfect lunchtime meal. It's satisfying and healthy too.
This recipe is great for a night that you want a home-cooked meal, but don't have the time to cook. Fresh spinach cooks in no time, but you can always substitute it for frozen (just defrost it first, squeeze out the liquid, and add it a few minutes before serving).
This dish is just as good with the frozen because you are using fresh garlic, it really adds a homemade taste without the hassle.
Every time I eat this recipe, I'm brought back to my childhood and all the wonderful things that my Italian Grandmother used to cook for me. Another childhood recipe you might like is my Pasta Fagioli, a true classic!
Perfect for a weeknight meal – once you try it, you'll make it over and over!
Other Italian Food You'll Love
You can cook the pasta in the soup or separately. I have provided instructions for both…
Stay Updated
Receive new recipes & dinner ideas straight to your inbox!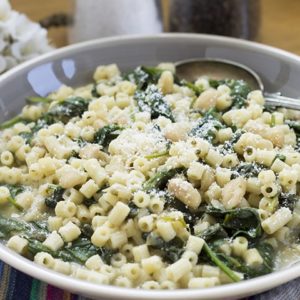 Let's Make
Quick & Easy Spinach, White Bean & Pasta Soup
This amazing pasta dish is healthy and ever so tasty too!
Prep5 minutes
Cook15 minutes
Total20 minutes
Ingredients
1-2 tablespoons olive oil
3-4 cloves garlic chopped or finely sliced
4 cups chicken stock
12 ounces fresh baby spinach or 9oz Frozen Leaf or chopped Spinach
15 ounces can of cannelloni beans
1-2 cups Ditalini Pasta
salt and pepper to taste
grated Parmesan cheese for serving
Instructions
Start a pot of water for your pasta, bring to a boil and cook the pasta while you cook the soup.

In a separate stock pot, heat the olive oil in a large pot over medium heat.

Add the garlic and lightly brown it in the oil. As soon as you see it start to brown add the chicken stock, and beans.

Increase the heat and bring to a boil.

note: at this point, you can also add a cup of the pasta right into the soup. This makes the dish into more of a pasta dish than a soup, but it's still very good. After adding the pasta, turn down the heat to low and cook about 10 minutes or until the pasta is cooked to your liking.

Turn down the heat to a medium heat and cook for 10 minutes.

If using frozen spinach, cook it in the microwave and squeeze out the liquid.

Add the spinach and cook until wilted.

Serve with pasta & topped with grated cheese.
Nutrition Information:
Calories: 265kcal (13%)| Carbohydrates: 35g (12%)| Protein: 16g (32%)| Fat: 6g (9%)| Saturated Fat: 1g (6%)| Cholesterol: 7mg (2%)| Sodium: 352mg (15%)| Potassium: 865mg (25%)| Fiber: 6g (25%)| Sugar: 4g (4%)| Vitamin A: 280IU (6%)| Vitamin C: 1.3mg (2%)| Calcium: 106mg (11%)| Iron: 4.5mg (25%)