Easy to make and ready in under 30 minutes, these glazed Spiced German cookies with their Gingerbread flavor make the perfect holiday treat.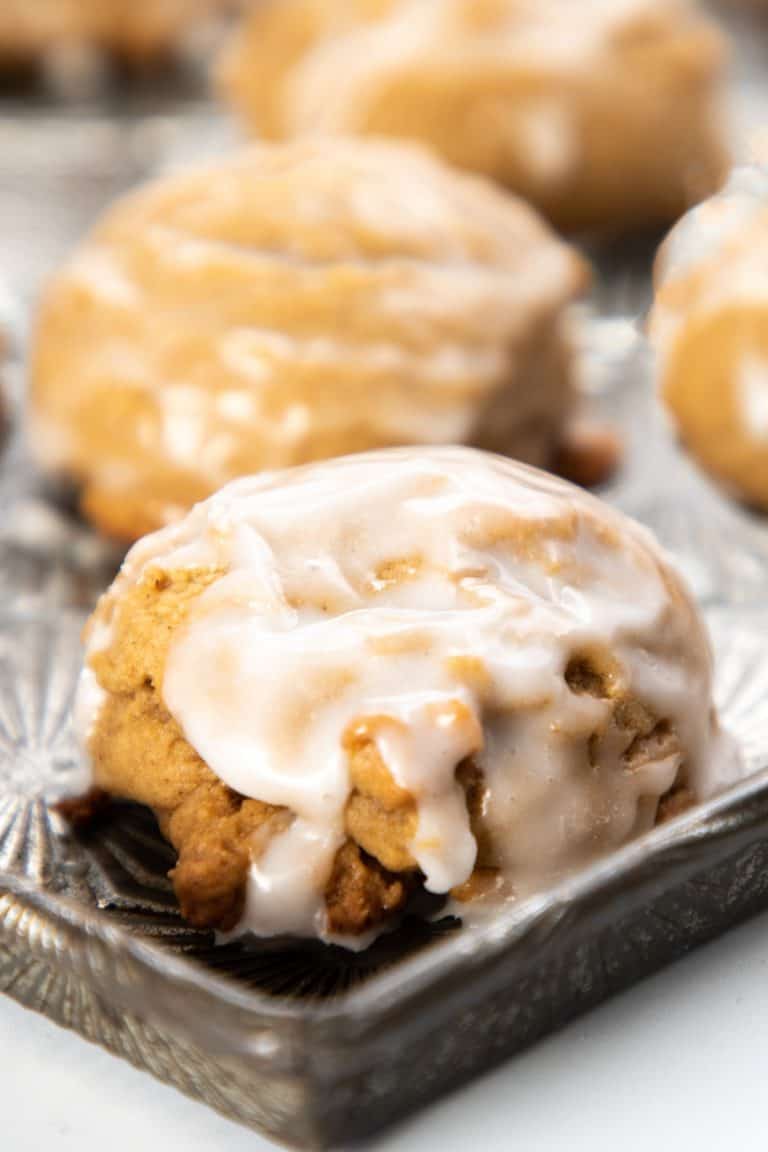 I always associate cooler weather with spiced baked goods. Whether it's my Pumpkin Spice Sticky Buns, Oatmeal Raisin Bars, or these gingerbread flavored German cookies, I just love them all!
These cookies are the most aromatic and richly flavored cookies I have ever made. The first time I had similar cookies, I was uncertain about the flavor combination. I mean warm spices, white pepper and a lemon glaze? I would never have thought that up myself, but I can't tell you how delicious they are! When my son first tried them, he said, 'The flavors hit you in the face like a truck – but in a good way! ' 😂 I warn you, They are truly addictive!
Why This Recipe Works
The combination of white sugar, brown sugar and molasses helps give these cookies a deep rich flavor.
Ground ginger, cinnamon, allspice and nutmeg ensure that traditional spiced cookie taste.
The tangy lemon glaze finishes, these cookies off perfectly.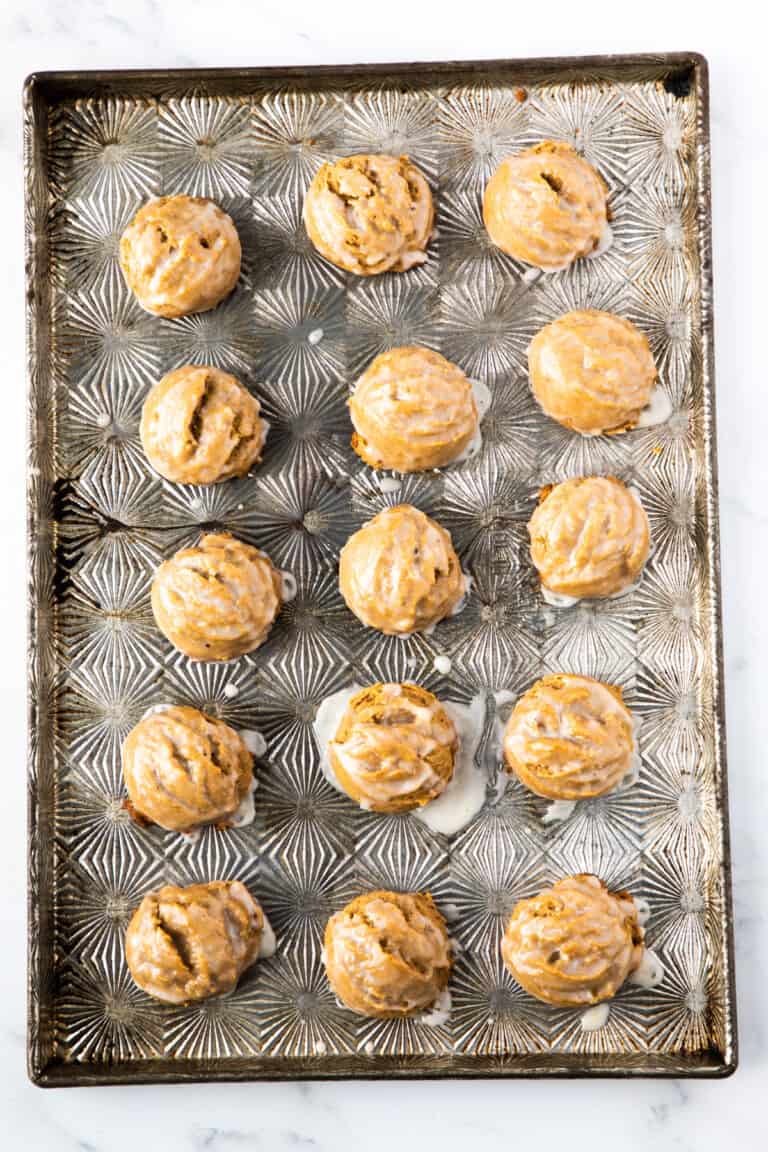 How To Make Spiced German Cookies
Melt the butter, brown sugar, sugar, honey, molasses and vanilla until dissolved. Set aside to cool.
Combine flour, baking soda, ginger, cinnamon, allspice, and nutmeg.
Mix eggs into the butter mixture.
Add wet and dry ingredients together to form a dough.
Bake in the oven for around 12 minutes. Allow to cool.
Pour sugar glaze over the cookies.
Serve and enjoy!
Pfeffernüsse Versus My Cookies
Pfeffernüsse cookies are traditional spiced German cookies popular since the 1850's. They are a spiced gingerbread cookie often made with white pepper, covered in a lemon icing glaze.
This is my take on those spiced German cookies. Authentic Pfeffernüsse are a drier, crunchier cookie made without fat. Mine is a tender, more American version made with butter which is why I chose to call them German cookies instead – Because my recipe tips my hat to the traditional German treat.
Ingredient Notes
Butter: I use salted butter in my baking, but you can use unsalted, it works just fine.
Sugar: This recipe calls for two kinds of sugar, brown sugar and granulated. I would recommend not substituting either as it will affect the overall taste of the cookies.
Molasses: Molasses is an essential ingredient, when making these kinds of cookies. If you don't have any it can be replaced with black treacle, or dark corn syrup.
Spices: Always check the date on your ground spices, if they are out of date they may not taste as good.
Flour: I use all purpose flour (plain flour) and do not recommend cake flour for this recipe.
Bread Flour: I use bread flour to keep the cookies from flattening too much. If you don't have bread flour, replace it with all-purpose or plain flour and chill the cookies for ten minutes before baking.
Baking Soda: Baking soda helps the cookies to rise, make sure your baking soda is as fresh as possible. Out of date baking soda won't work as effectively.
Eggs: It's always best to bake with room temperature eggs. If you keep your eggs in the fridge, take them out an hour before you begin making the recipe.
Step By Step Instructions
Put the sugar, molasses, honey, vanilla and butter in a pan.
Melt together the butter, brown sugar, sugar, honey, molasses and vanilla until the sugar is dissolved. Set aside to cool.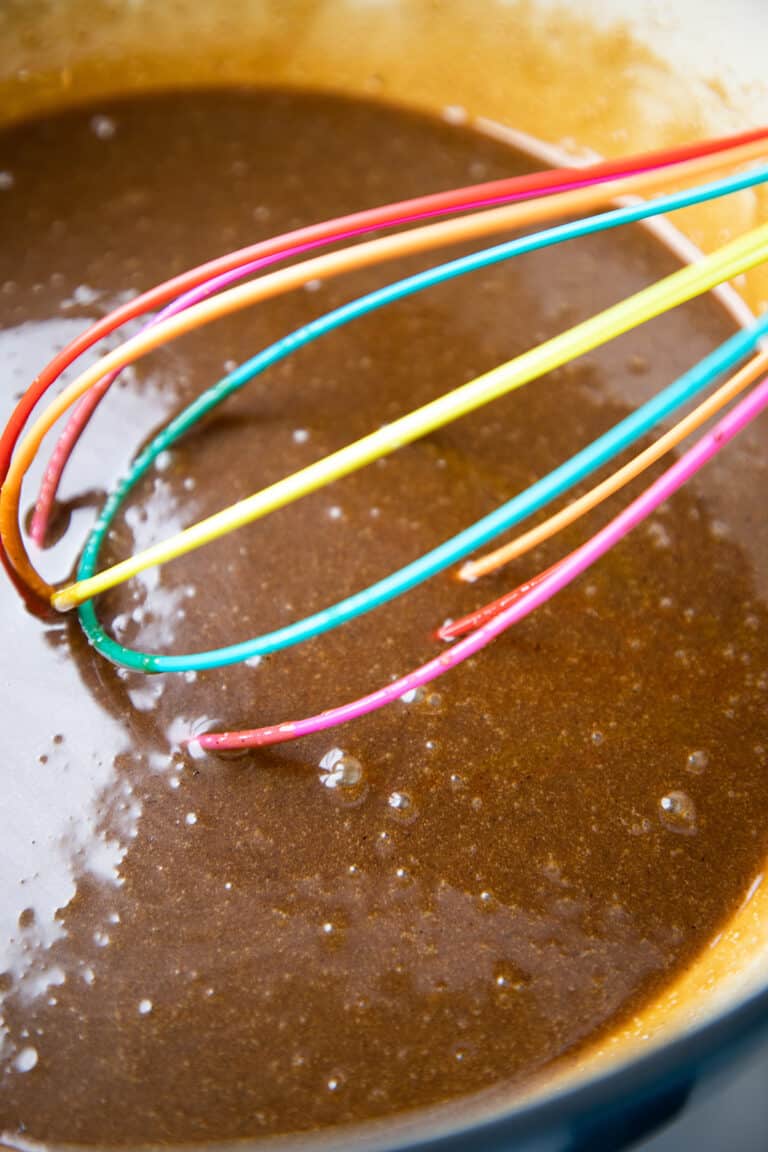 In a separate bowl combine the flour, baking soda, white pepper and spices.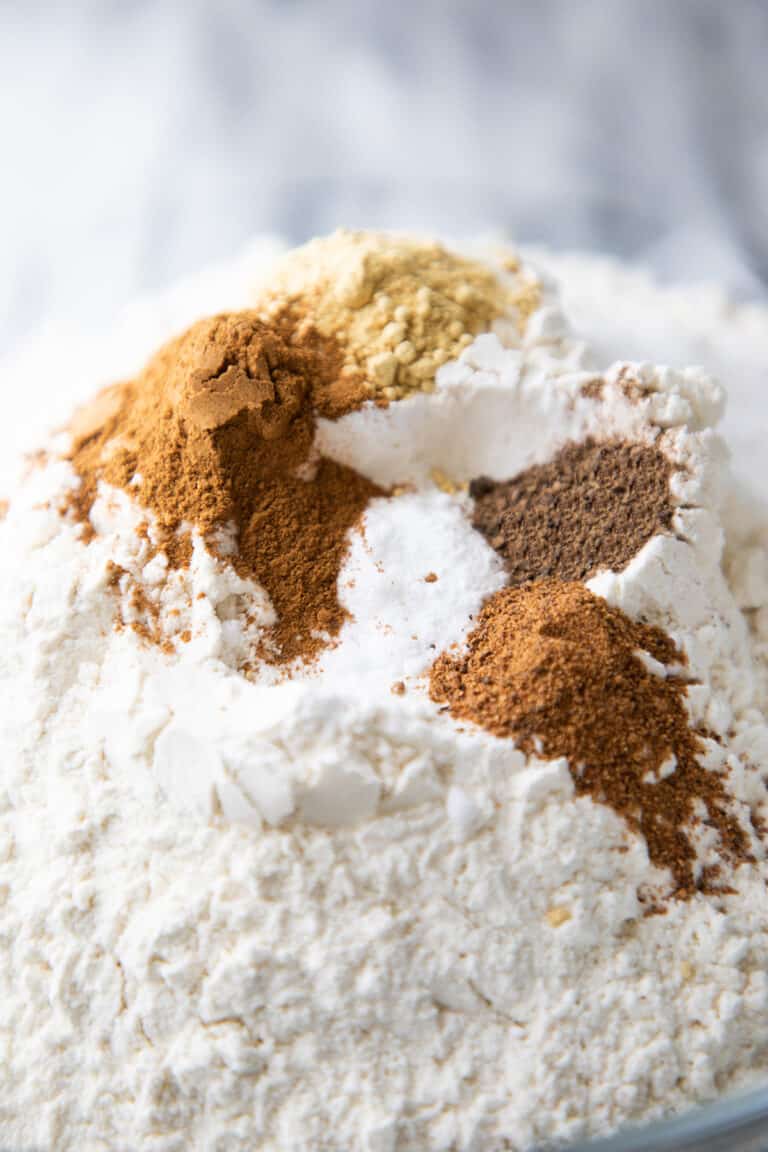 When the batter mixture has cooled, whisk in the eggs.
Add the flour mixture a bit at a time and combine.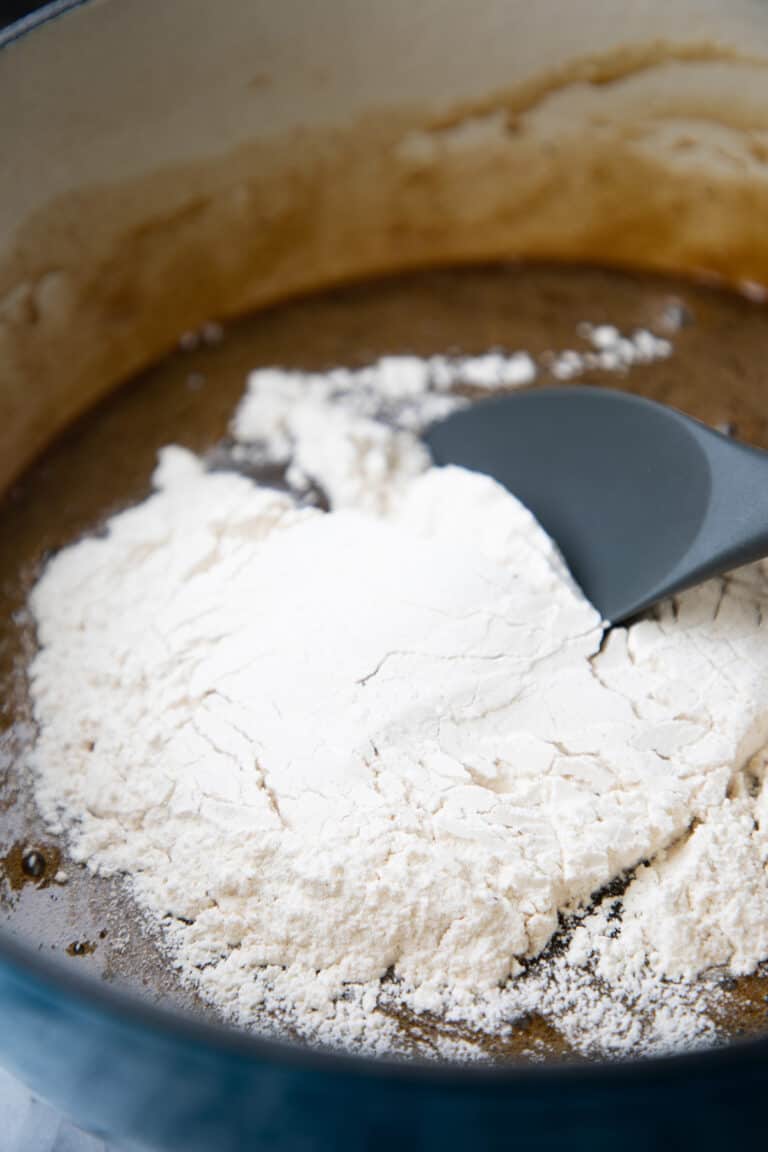 Form into a dough.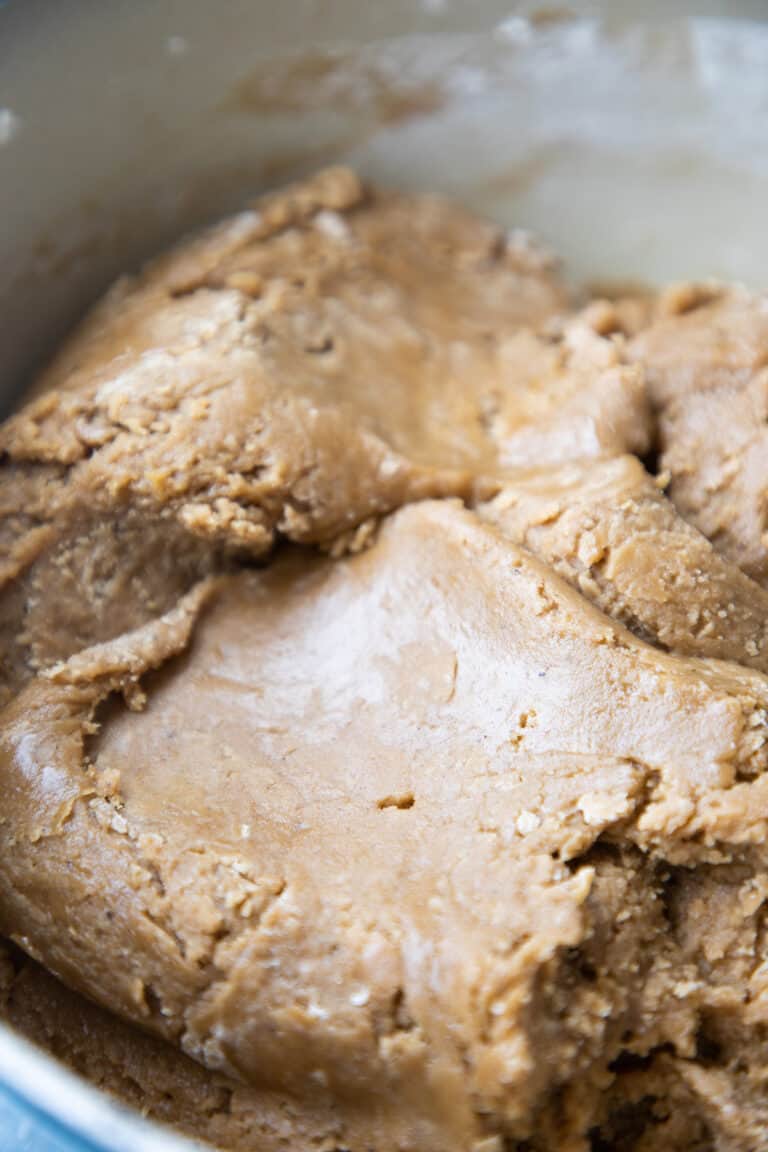 Drop spoonfuls of the dough onto a prepared baking tray.
Bake in the oven for 11 to 12 minutes.
While the cookies are baking make the glaze.
Brush the hot cookies with the glaze, covering as much as you can.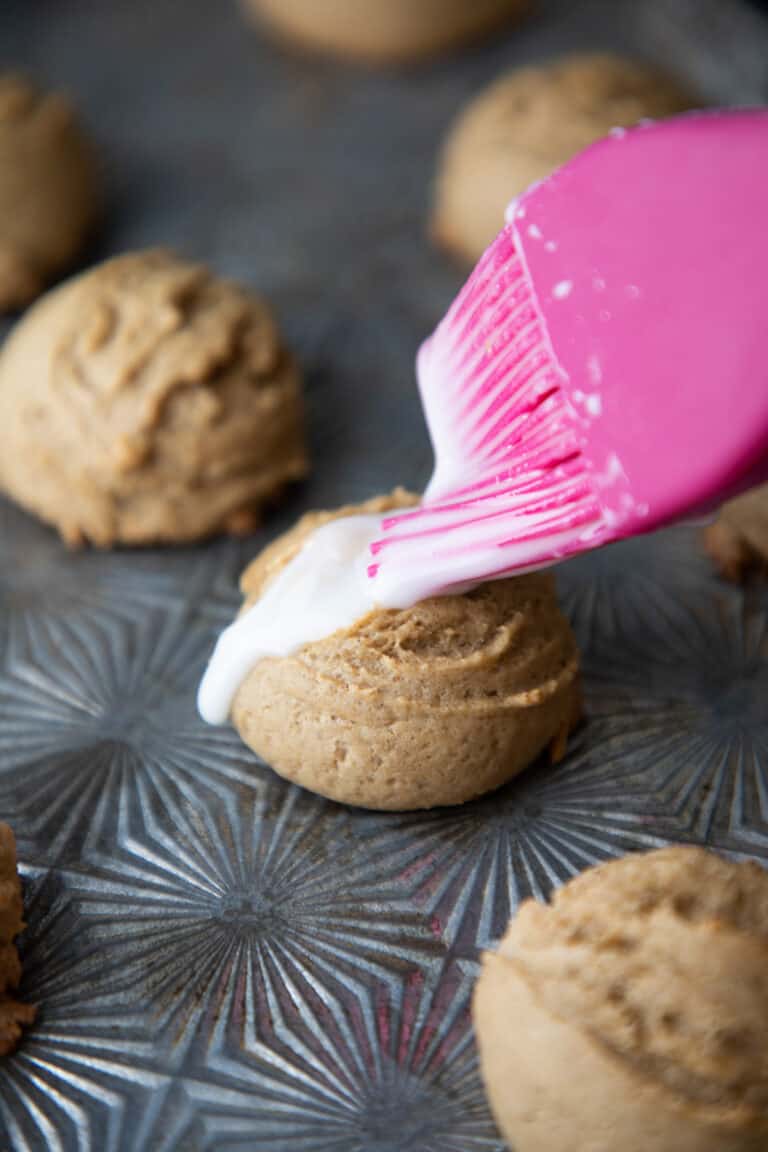 Let the cookies cool on the baking sheet until the glaze is dry to the touch, then move to a cooling rack.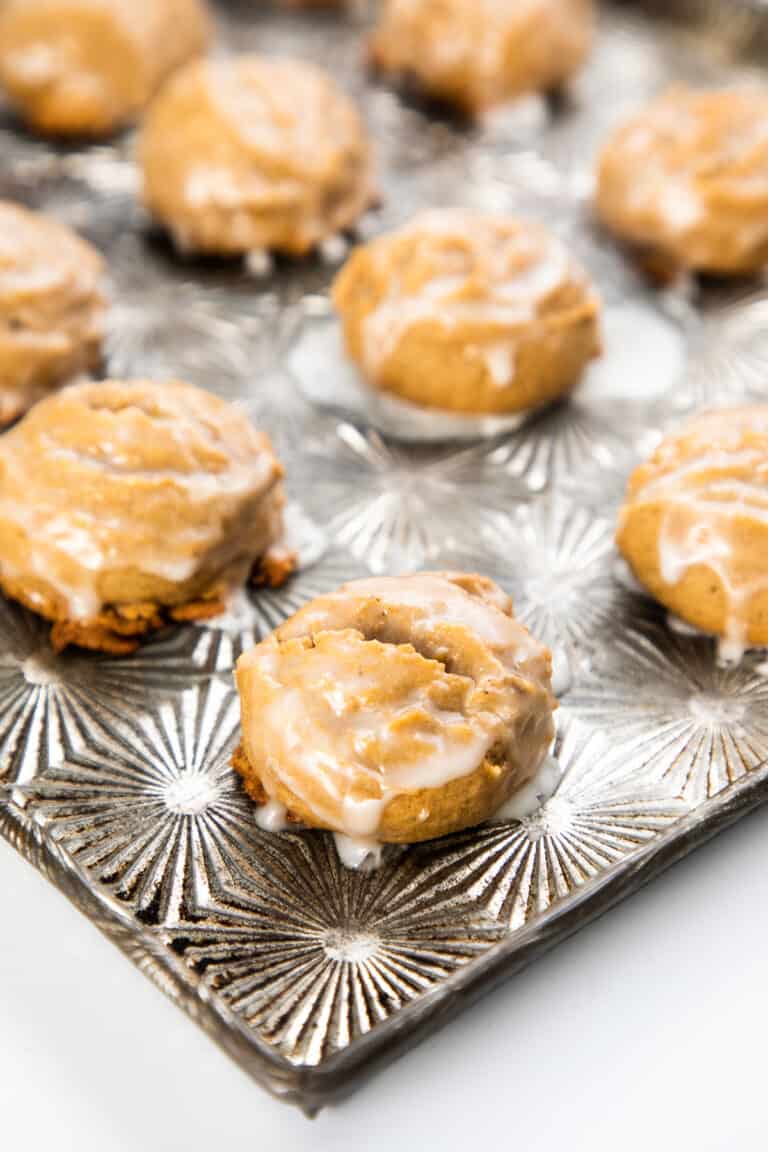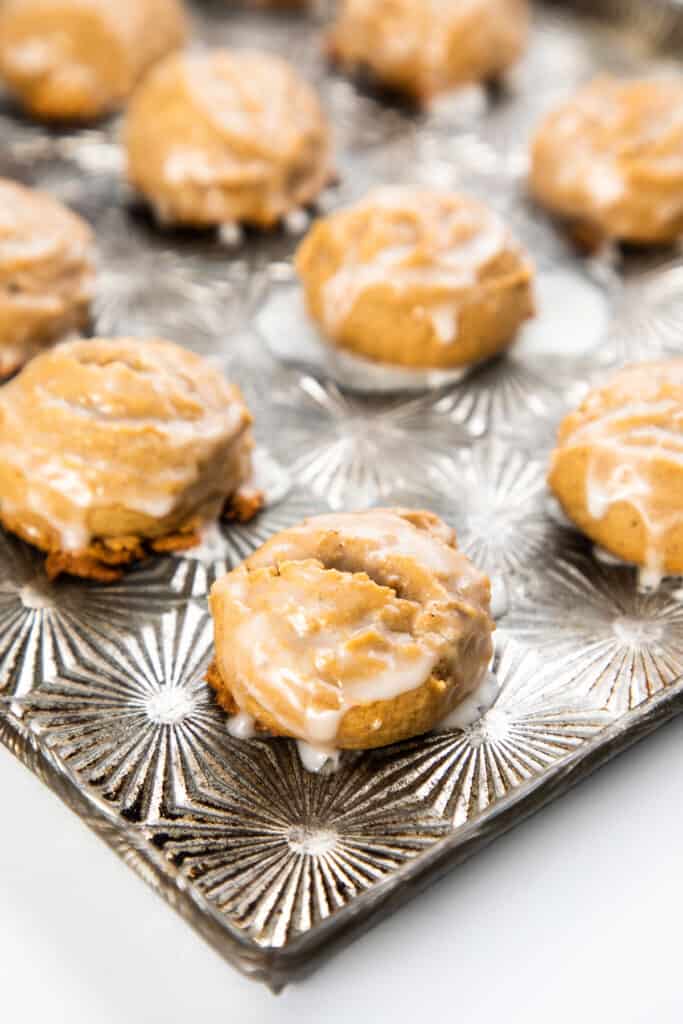 Erren's Top Tips
When melting the butter and sugar mixture, be sure to keep the heat on medium low. You want to gently melt the ingredients together, not cook them. The mixture should not come to a boil.
Be sure to let the butter and sugar mixture cool before adding the egg, you don't want to end up with scrambled eggs in your cookies!
The bread flour is added to keep the cookies from spreading too much, if you don't have bread flour, simply chill the dough for 15 minutes before baking.
Storing and Freezing Instructions ❄
Store these German cookies at room temperature in an airtight container for up to a week.
To freeze the dough balls: Start by freezing on a flat dish or tray separated by at least an inch. Once firm, wrap securely in plastic wrap, or place in freezer bags or a freezer safe container. This will keep them from freezing together. Then you can grab what you need, defrost and bake as the recipe states.
To freeze the baked and cooled cookies (without the frosting): Place in a freezer-safe container or freezer bag and freeze for up to three months.
FAQs
What does pfeffernusse mean in German?
In Germany, pfeffernüsse are a traditional Christmas treat. The name means "peppernuts" but this doesn't mean they contain nuts.
Stay Updated
Receive new recipes & dinner ideas straight to your inbox!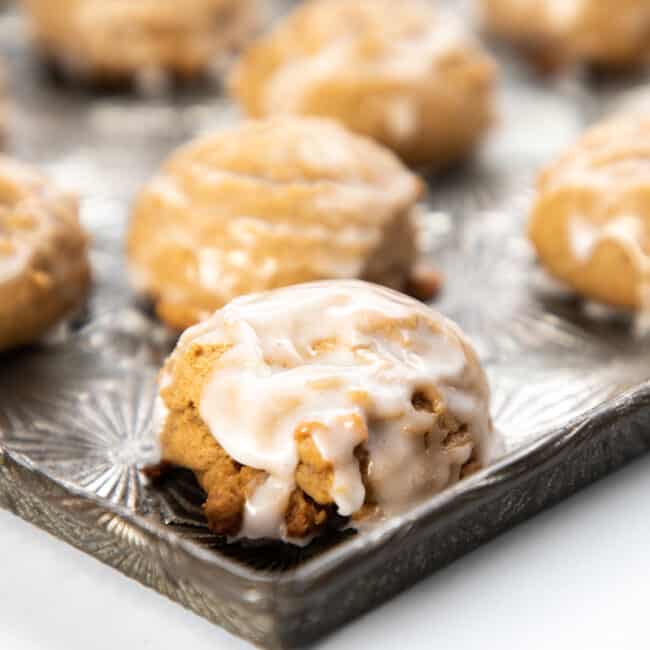 Let's Make Spiced German Cookies
Delicious plump ginger spiced cookies smothered in a lemon glaze. These will be your new holiday favorites, guaranteed!
Prep10 minutes
Cook12 minutes
Total22 minutes
Ingredients
1 cup butter
¾ cup brown sugar
¾ cup granulated sugar
¼ cup honey
2 tablespoons molasses
2 teaspoons vanilla extract
3¾ cups all-purpose flour
¼ cup bread flour
1 teaspoon baking soda
½ teaspoon ground ginger
1 teaspoon ground cinnamon
⅛ teaspoon ground allspice
⅛ teaspoon ground nutmeg
¼ teaspoon ground white pepper
2 eggs
For the glaze
1½ cup powdered sugar sifted
1½ tablespoon lemon juice
1½ tablespoon water
Instructions
Preheat the oven to to 375°F

In a large saucepan over medium low heat, melt together the butter, brown sugar, sugar, honey, molasses and vanilla until the sugar is dissolved. Set aside to cool.

In a mixing bowl, mix together the flour, baking soda, ginger, cinnamon, allspice, nutmeg, and pepper.

When the butter mixture has cooled, mix in the eggs until combined.

Slowly add the flour to the mixture. Stir until well blended. Drop teaspoonfuls of the dough onto cookie sheets about 2 inches apart. Bake 9 to 11 minutes until golden.

While the cookies are baking, stir together the powdered sugar, lemon juice, and water to make the glaze.

Brush the hot cookies with the glaze, making sure to cover as much of the tops and sides as possible.

Let the cookies cool on the baking sheet until the glaze is dry to the touch, then move to a cooling rack.

The cookies improve (the spices mellow and the texture softens) after a day or two in a sealed airtight container.
Tips + Notes
** Please note when baking these cookie in the UK you might need to add more flour (up to a cup more) for the dough to become firm. If this is the case, add a little more spice so the taste isn't dulled down.
Nutrition Information:
Calories: 246 (12%)| Carbohydrates: 41g (14%)| Protein: 3g (6%)| Fat: 8g (12%)| Saturated Fat: 5g (31%)| Polyunsaturated Fat: 1g| Monounsaturated Fat: 2g| Trans Fat: 1g| Cholesterol: 34mg (11%)| Sodium: 122mg (5%)| Potassium: 68mg (2%)| Fiber: 1g (4%)| Sugar: 25g (28%)| Vitamin A: 257IU (5%)| Vitamin C: 1mg (1%)| Calcium: 18mg (2%)| Iron: 1mg (6%)
Erren's Kitchen is written and produced for informational intentions only. We are not certified nutritionists, and the nutritional information found on this site has not been assessed or authorized by a nutritionist or the FDA. The nutritional information found in our recipes is offered as an estimate and should not be considered a guarantee or fact. The estimated data is provided as a courtesy and calculated through a third-party online nutritional calculator, spoonacular API. Although we do our best to provide accurate nutritional information, these figures should be considered rough estimates. Many factors, such as brands or products purchased and the nutritional fluctuations that naturally occur in fresh produce, can alter the effectiveness of the nutritional information in any recipe. Furthermore, various online calculators provide different results depending on their particular algorithms and nutrition fact sources. To obtain the most precise nutritional information in a provided recipe, you should calculate the nutritional information with the exact ingredients you are using when preparing the recipe using your preferred nutrition calculator.