This recipe for Spaghetti With Red Clam Sauce makes an authentic Italian pasta dish that's an easy, yet special main course. With fresh clams and just a few simple ingredients, you have a delectable and impressive meal in just 20 minutes.
I have a small confession to make. I've been eating store-bought clam sauce my entire life. It's a guilty pleasure that was my very favorite thing to eat as a child.
But now that I'm living in England, I can't buy store-bought. If I want clam sauce, I have to make it myself and now that I have, it's turned my world upside down!
Now, I'm not totally knocking store-bought Clam Sauce. It will always be my secret – or not so secret guilty pleasure, but if you're having guests over or you really want to strut your stuff in the kitchen this recipe is the way to go!
It's fresh, it has more flavor, and it's a breeze to make!
This Italian version of Spaghetti With Red Clam Sauce is different than many recipes out there. A lot of renditions are often a heavy tomato sauce like this one from Food and Wine.
I'm not saying there's anything wrong with that type of red clam sauce, but my recipe is a simple tomato-based wine sauce that coats the spaghetti instead of overpowering it, making the clams AND Pasta the stars of the show and it is truly delicious.
To make it start with cleaning the clams. This is a must.
I say clean the clams, but did you know that clams are self-cleaning? Really! Soak the clams for 20 minutes in freshwater just before cooking. As the clams breathe, they filter water. When the freshwater is filtered, the clam pushes the sand out of their shells. After 20 minutes, the clams will have cleaned themselves.
Tip: Instead of pouring the clams and water into a strainer, pull the clams out of the water. The sand will sink to the bottom of the bowl so pouring the water into a strainer will pour the sand back over the clams. Use a firm brush to scrub off any additional sand, or barnacles.
To make the sauce, in large sauté pan over moderately high heat, heat olive oil until hot but not smoking. Add garlic and sauté until just golden, about 30 seconds.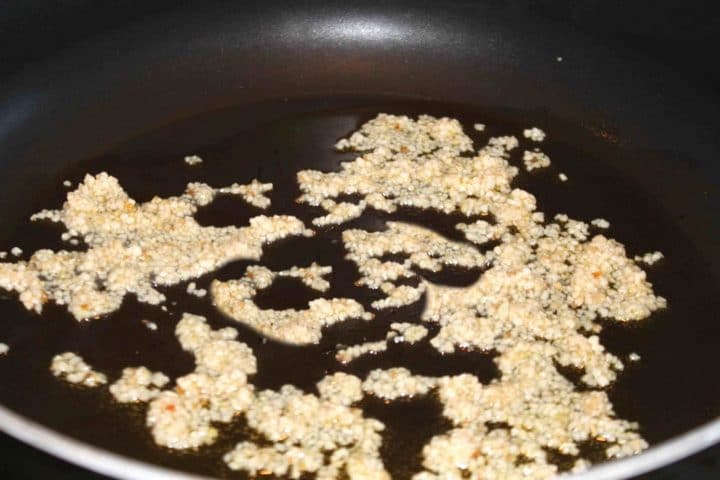 Add white wine, chopped tomatoes and clam juice, and parsley. Bring to a boil.
Add the clams, lower the heat and simmer, uncovered, just until clams open, 7 to 8 minutes.
Then drain the Spaghetti and add it to the pan. Simmer, tossing occasionally, until Spaghetti is just tender, about 1 minute.
Remove from heat, add extra parsley and a little extra-virgin olive oil, tossing to serve.
Other Pasta Dishes You'll Love
Cook's tips:
When buying clams, never choose clams that are already open or chipped, or broken. If wrapped in plastic, make sure to immediately unwrap them at home so they can breathe, and store them in a cool area.
Feel free to vary the seafood to include your favorites such as shrimp, mussels or crab.
★ Did you make this recipe? Please give it a star rating below!
Stay Updated
Receive new recipes & dinner ideas straight to your inbox!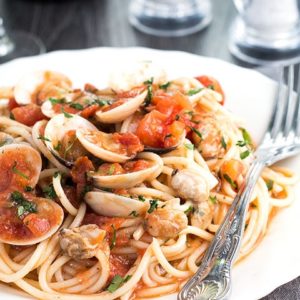 Let's Make Spaghetti With Red Clam Sauce
Indulge in this simple seafood pasta dish with rich, bold flavors that you can create in minutes. An authentic Italian pasta dish perfect for a relaxed dinner with friends or family.
Prep10 minutes
Cook10 minutes
Total20 minutes
Ingredients
1 pound spaghetti
3 tablespoons olive oil
4 cloves garlic (large cloves) chopped
1½ pounds of littleneck clams soaked & scrubbed
1 cup of dry white wine
1 14oz can chopped tomatoes in juice half drained
¼ cup of clam juice
¼ cup fresh parsley chopped
salt and pepper to taste
Instructions
Bring a large pot of salted water to boil, then add pasta and cook until just undercooked (about a 1 minute short of al dente).

Meanwhile, in large sauté pan over medium-high heat, heat 3 tablespoons olive oil until hot but not smoking. Add garlic and sauté until just golden (about 30 seconds). Add wine, tomatoes, clam juice, and all but a tablespoon of the parsley. Bring to a boil.

Add clams, lower the heat and simmer uncovered, just until clams open, 7 to 8 minutes.

Reserve 1⁄2 cup cooking water, then drain the pasta and add to the pan. Simmer, tossing occasionally, until the pasta is just tender (about a minute). If the pasta starts getting a bit dry, add some of the reserved cooking water.

Remove from heat and taste for seasoning. Season to taste. Add the remaining parsley, and drizzle with remaining olive oil, tossing to coat. Transfer to a serving dish and serve immediately.
Nutrition Information:
Calories: 595 (30%)| Carbohydrates: 89g (30%)| Protein: 18g (36%)| Fat: 12g (18%)| Saturated Fat: 1g (6%)| Cholesterol: 7mg (2%)| Sodium: 203mg (9%)| Potassium: 349mg (10%)| Fiber: 3g (13%)| Sugar: 4g (4%)| Vitamin A: 410IU (8%)| Vitamin C: 6.4mg (8%)| Calcium: 50mg (5%)| Iron: 2.4mg (13%)
Erren's Kitchen is written and produced for informational intentions only. We are not certified nutritionists, and the nutritional information found on this site has not been assessed or authorized by a nutritionist or the FDA. The nutritional information found in our recipes is offered as an estimate and should not be considered a guarantee or fact. The estimated data is provided as a courtesy and calculated through a third-party online nutritional calculator, spoonacular API. Although we do our best to provide accurate nutritional information, these figures should be considered rough estimates. Many factors, such as brands or products purchased and the nutritional fluctuations that naturally occur in fresh produce, can alter the effectiveness of the nutritional information in any recipe. Furthermore, various online calculators provide different results depending on their particular algorithms and nutrition fact sources. To obtain the most precise nutritional information in a provided recipe, you should calculate the nutritional information with the exact ingredients you are using when preparing the recipe using your preferred nutrition calculator.