This recipe for Spaghetti Alla Puttanesca is a quick and easy pasta dish for all the family that uses items you can keep in your pantry so it's easily whipped up in a pinch.
*This is a Sponsored post from Peppadew®, but the words and opinions are all my own*
Spaghetti Alla Puttanesca is loosely translated to 'Whore's Pasta'.  Not something you hear everyday right?
The legend is that ladies of the night in Italy would cook this up to lore clientele with its aromas.  The idea that they would use food to get the interest of the local men is pretty amusing to me, nothing like food to get to a man's attention right?
In today's day and age food is not what's used to get a man's attention, but I wish it was.  The internet would be filled with recipes instead of things you have to worry about your kids seeing.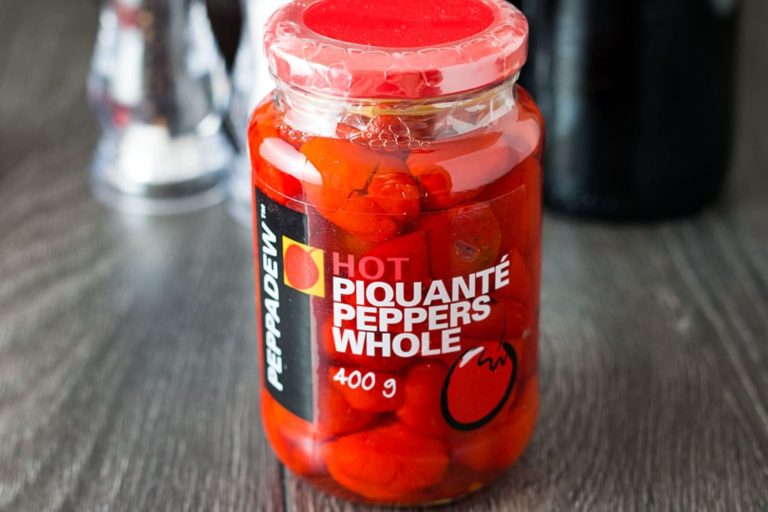 Traditionally it's cooked with olives, anchovies and capers.  I used anchovy paste instead of chopped anchovies and I didn't have any capers on hand so I threw in some Peppadews to add a bit of a sweet heat and balance out the salt of the anchovies and olives.  It really worked a treat.
I use Peppadews a lot.  I like them so much, I've become a brand ambassador.  If you've never heard of a Peppadew®, they are actually a piquanté pepper, but I call them Peppadews because that's the only brand I buy.
These little peppers are a delicious, sweet and spicy, petite pepper. If you're in the UK, Peppadew is available at Tesco, Waitrose, Sainsbury's, Morrison's, Asda and Co-op.  If you're outside the UK, they are available in grocery stores all around the world.  If you have trouble finding them, you can go on the Peppadew® website for more information.
Love Peppadews?  Try these other recipes:
Now back to this pasta – This delicious Spaghetti has the a tomato based sauce with a sweet heat tang and robust saltiness that is one amazing combination.
Best of all, it takes just 15 minutes to prepare and because it uses ingredients that you can store in your pantry, you can easily make it when ever you need a quick and simple meal.
Once you try this recipe, I bet it will make it on to your list if recipes you make again and again.
Never Miss A Single Recipe!
Join the free Erren's Kitchen mailing list and get all the latest tasty goodness straight to your inbox!
Spaghetti Alla Puttanesca
Ingredients
2

Tablespoons

Olive Oil

3

cloves

garlic

1 - 2

teaspoons

anchovy paste

to taste

1

14oz

can chopped tomatoes

1

cup

sliced olives of your choice

1/4

cup

hot or mild peppadew peppers

Crushed red pepper flakes to taste

1

teaspoon

dried oregano

salt and pepper to taste

a good handful of fresh parsley

optional

1

lb

Spaghetti
Instructions
Bring a large pot of water to a boil and cook your pasta according to the package instructions.

While the pasta cooks, heat the olive oil in a large saucepan and saute the garlic for about a minute until lightly browned (being careful not to let it get too dark).

Add the anchovy paste and dissolve into the oil (about 30 seconds)

Add the tomatoes, olives, Peppadews, crushed red pepper flakes, and oregano. stir to combine. Season with salt and pepper and cook, uncovered, over a medium heat for about 5 minutes.

Add the parsley if using.

Drain the pasta and serve covered with the sauce.
*This is a Sponsored post from Peppadew®, but the words and opinions are all my own*